Age: 33 (Delgado); 38 (Tetreau)
Job titles: Co-Founders of TradeSpace
Why they're 2020 Top 40 Under 40s: Daniel Delgado and Jordan Tetreau created the first co-working warehouse in Canada, connecting tradespeople in the city and helping grow small businesses.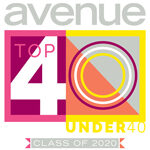 Co-working office spaces are commonplace these days, but Daniel Delgado and Jordan Tetreau have created a unique take on the concept with their "co-warehousing community," TradeSpace. The first of its kind in Canada, TradeSpace is also a collaboration hub where people working in the trades can bounce ideas off of one another and build a community.
"TradeSpace is a platform for growth," says Delgado. "We want people to use the space to grow every aspect of their business, whether it is production, distribution or eCommerce. This can be that place."
TradeSpace opened in April, 2018, and quickly outgrew its original 10,000-square-foot warehouse. In 2019, the company moved into a new 40,000-square-foot space in the Highfield Industrial area, then added an additional 30,000 square feet through the acquisition of existing warehouse space for a total of 70,000 square feet. By June, 2019, there were 15 companies and approximately 45 people (employees and owners of the 15 companies) working out of TradeSpace.
Today, TradeSpace supports nearly 60 companies, and member organizations have hired more than 40 new employees, shared over $1 million in referred business among each other, and contributed an estimated $15 million to the local economy.
"Our members pay for the exact amount of space they need, when they need it, which helps them manage overhead and become more resilient," Tetreau says.
For Delgado and Tetreau, TradeSpace is a way to grow business in Calgary, to welcome start-ups, to encourage growth and innovation, but more than anything else, to build a network of like-minded people. "We want everyone to work together, share ideas, lean on one another," says Delgado. "TradeSpace can be that community."