Ages: 39 (Joshaghani); 32 (Kaminsky)
Job titles: Co-Founder and CEO, Symend (Joshaghani); Co-Founder and Chief Strategy Officer, Symend (Kaminsky)
Why they're 2020 Top 40 Under 40s: Tech entrepreneurs Hanif Joshaghani and Tiffany Kaminsky are transforming the way large companies deal with delinquent accounts by providing a platform that treats customers with empathy and dignity.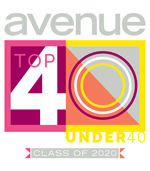 The traditional approach to debt collection is a lose-lose scenario: the service provider loses a customer and the customer faces the ruinous consequences of a poor credit rating. Calgary tech entrepreneurs Hanif Joshaghani and Tiffany Kaminsky are transforming debt-recovery for the better.
The company they co-founded, Symend, helps organizations develop individualized "treatment" programs for at-risk accounts.
"Symend is not collections; we are in the business of helping consumers," Kaminsky says. "We help our clients better engage their customers, while helping the consumers avoid the collections process."
Since launching in 2016, Symend has grown to have more than 200 employees, with headquarters in Calgary and offices in Toronto and Denver. By the end of this year, the company will have treated approximately 100 million customers for clients that include major North American telecommunications providers and financial institutions.
And they're only getting started: Symend recently secured $52 million USD in the largest "Series B-stage" fundraising round in recent Alberta history. The company received the CIBC Fintech Startup of the Year Award for 2019 and both co-founders are rising stars in Canadian tech: Joshaghani is a member of the C100, a national association of technology CEOs, and Kaminsky was named one of Canada's Top 50 Women in FinTech for 2019 by the Digital Finance Institute.
Though Symend is poised to make an impact globally, the co-founders continue to give back locally by volunteering to mentor and coach. They've made charitable giving part of Symend's corporate culture by supporting the Canadian Mental Health Association and the National Alliance on Mental Illness in the U.S.A.
For both co-founders, their mission is as important a measure of success as profits. "Our 'north star' of treating people respectfully and giving them dignity throughout the process has really been our foundation," says Kaminsky.
"We don't view this as a business, but rather a calling and a mission," Joshaghani says. "That's what drives us … it's our fuel."