Ages: 37 (Čilić); 39 (Ramey)
Job titles: Co-Founder and Chief Marketing Officer, Burwood Distillery; Real estate agent, Re/Max Real Estate (Mountain View) (Čilić); Co-Founder and Chief Operating Officer, Burwood Distillery; Professor of Brewing Science, Olds College (Ramey)
Why they're 2020 Top 40 Under 40s: Ivan Čilić and Jordan Ramey have built Burwood Distillery into a maker of award-winning spirits while showcasing Alberta's natural resources and entrepreneurial spirit.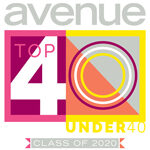 Jordan Ramey had been a professor in the Olds College Brewmaster and Brewery Operations Management program for two years when he bought a house from real estate agent Ivan Čilić in 2015. The following year, the two (along with Čilić's older brother Marko) founded Burwood Distillery.
Today, Burwood is one of Alberta's most esteemed craft distilleries, with revenue expected to surpass $1 million in 2020 and a raft of awards. Ramey and Čilić credit their success to the fact that they "can't sit still" and that they have both diverse skills and backgrounds. Ramey, who holds a PhD in microbiology, knows beverages inside out. Čilić brings entrepreneurial expertise and grew up around community distilling in Croatia.
Burwood is most celebrated for its honey liqueur, Medica, which won double-gold at the last three consecutive international SIP Awards and, as a result, a Consumers' Choice award in 2020. It's made with honey from the Čilić family apiary and Alberta barley. Demand for the popular liqueur is quickly outpacing production. In fact, Burwood is looking for a new, larger location as it prepares to launch its inaugural whisky next year.
As agri-producers, Čilić and Ramey are grateful to this place and the community here. That's partly why they mobilized on hand sanitizer production within days of lockdown orders, soon recalling most laid off staff for assistance. They produced thousands of litres of sanitizer within those first few weeks and gave most of it away. Burwood has since added the sanitizer to its roster of products and it donates partial proceeds to Mealshare, a non-profit society that aims to end youth hunger. "The community has helped us out over the years, and it's our moral obligation to give back," says Ramey.