Ages: 36 (Cormack); 33 (Muir)
Job titles: Executive Director, Femme Wave Arts Society (Cormack); Artistic Director, Femme Wave Arts Society (Muir)
Why they're 2020 Top 40 Under 40s: As co-founders of the Femme Wave Arts Society, Kaely Cormack and Hayley Muir help give women and non-binary artists the stage in safer and accessible spaces.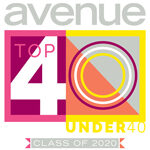 In the summer of 2015, Kaely Cormack and Hayley Muir, friends and bandmates in feminist punk group The Shiverettes, decided to put on an event showcasing women and non-binary artists. That idea morphed into the first Femme Wave Feminist Arts Festival, a four-day event held in November of that year produced with a crowdsourced budget of $5,000.
Five years later, Femme Wave has grown into an annual festival and non-profit society with around 20 committee members, a board of directors and an operating budget of $77,000. As one of very few interdisciplinary feminist arts festivals in Western Canada, it garners artist applications from across North America and beyond. To date, Femme Wave has presented more than 450 acts, all with at least one member who identifies as a woman or as non-binary.
As a cultural and activist non-profit, the true success of Femme Wave is measured less in dollars and more in social impact. Femme Wave didn't invent the concept of safer spaces — a pledge by presenters and venue hosts to do their best to protect artists and audience members from discrimination and harassment — but it has definitely been a trailblazer in Calgary for adopting these practices on a festival-wide scale.
Femme Wave will not present a 2020 festival, and the break from regularly scheduled programming will be a time for restructuring, training and evaluation of how the operations can more closely align to the group's guiding mandates of diversity and inclusion. "What success looks like for Femme Wave [is] fostering the same kind of community internally that we try to foster externally and making sure we've built an organization that can outlive us," says Muir.
It will be a time for big conversations, which suits the co-founders. "We're both talkers," Cormack says. "We come up with ideas just sitting around, hanging out, and talking through things."