Ages: 39
Job titles: Co-founders of Tiny Footprints
Why they're 2020 Top 40 Under 40s: Kristina Oriold and Jen Woods have raised nearly half a million dollars for pregnancy and infant loss programs in Calgary over the last four years and created a powerful community of support for families in doing so.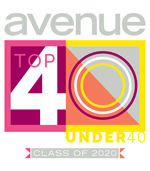 In May 2016, Kristina Oriold went to her friend Jen Woods with the idea to host a fundraiser for pregnancy and infant loss programs.
Just five months later, along with a newly formed committee of Calgary women, they hosted the first Tiny Footprints Gala. Now, proceeds from the foundation's annual event have reached almost a half-million dollars. Tiny Footprints was the primary benefactor for the renovation of the pregnancy and infant loss center in the Foothills Medical Centre, and the group's fundraising has also benefitted programs at the South Health Campus, Rockyview General Hospital and Peter Lougheed Centre.
"We felt the city's need for this support, and that drove us to the next year, and the next year," says Oriold.
The greater value of Tiny Footprints is the community created for Calgary families who have experienced a pregnancy or infant loss. Oriold's own loss her daughter Riley in 2011, motivated the creation of Tiny Footprints. As a nurse, she was able to access support programs quite easily, and she credits counselling with helping ease the acute grief that came with losing a child. She wanted to give back in the hopes of helping other women like her. Given that it is estimated that each year in Calgary one in four pregnancies ends in miscarriage, stillbirth or neonatal death, the need is significant.
Best friends since high school, Oriold and Woods have navigated the highs and lows of life together, and they bring that sense of sisterhood to their organization. They now have a group of well over 100 women who come together in a safe space, free of stigma, to share their personal stories of grief.
"It's really powerful to see women coming together through this, I think that's an amazing component," says Oriold. "People are passionate to give back to this cause."