Wurst's patio is on the south side of the building, which means it can get hot and sunny. The good news is, it has a pergola to break up that sunshine. Plants and lights are hanging from that pergola, making it one of the most stylish patios in Mission. Hang out there in the evening with a boot of beer and a platter of brats. Or, go for Sunday brunch when the Caesar bar cart is in action.
2437 4 St. S.W., 403-245-2345, wurst.ca
La Boulangerie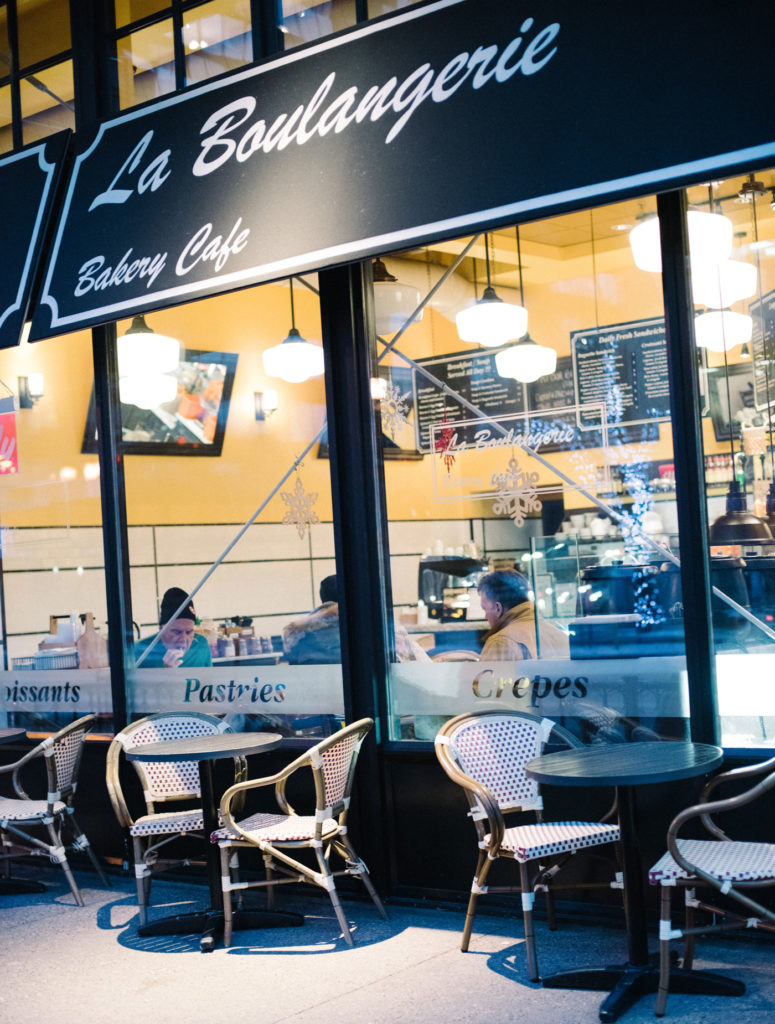 This is a classic sidewalk cafe patio. Order a latte and French pastry – think brioche, eclairs, tarts and meringues – and then settle in under an umbrella at one of the tables and watch the people walk by.
2435 4 St. S.W., 403-984-9294
The entrance to Rajdoot is set a little back from the sidewalk, making room for a small patio on either side. The Indian restaurant has been here for 25 years and is a local favourite. It has lunch and dinner buffets or you can order the curries, tandoori, breads and chutneys a la carte.
2424 4 St. S.W., 403-245-0181, rajdoot.ca
This is one of Mission's most iconic patios and it has undergone renovations over the past few seasons. The patio out front is for the lounge and is a sunny spot for sipping margaritas (go on Monday when the charred jalapeno, coconut mint and sriracha pineapple margaritas are $4). The main patio wraps around the side and the back of the restaurant and is walled in with huge planters and a pergola.
2401 4 St. S.W., 403-228-4141, earls.ca
This patio was built for people watching, with bar height tables along the patio fence so you can pull up a stool and watch people walk by as you drink your beer (there are 72 beers on tap to choose from). Go on Wednesdays for 19 cent wings after 4 p.m. or Sundays for brunch from 9 a.m. to 2 p.m. and the all day happy hour.
506 24 Ave. S.W., 403-541-9168, calgarysbestpubs.com
Vin Room has two patios. The street-level patio is pet-friendly, which means you can bring your dog onto the patio and there are treats and amenities just for them. The rooftop patio is just for people. It has big umbrellas and comfy furniture looking out into the trees.
2310 4 St. S.W., vinroom.com
This Starbucks patio is worth mentioning because it is a rooftop patio. Climb the stairs to find a handful of tables in the direct sun and away from the traffic below.
2219 4 St. S.W., 403-229-3008, starbucks.ca
Just like inside, the patio of this Italian restaurant can get lively and crowded. The dishes here are best served family style and there is a communal sense about dining here, especially if you take advantage of the wine list and order a bottle or two.
2224 4 St. S.W., 403-263-5535, mercatogourmet.com
When the weather is warm, the coffee drinkers spill out onto the street to take up the collection of tables out front of Phil & Sebastian's Mission location. You can also get sandwiches, soups and salads here using ingredients that are either made in-house or brought in from local producers.
2207 4 St. S.W., 403-245-1111, philsebastian.com
The tables lining the front of this cafe are almost always full. Your experience here can be as simple as sipping on a cup of coffee or you can scale it up with a slice of cake, a Nanaimo bar, the soup of the day, a club sandwich or pot roast.
2212 4 St. S.W., 403-244-1300, purpleperk.com
Original Joe's has a cocktail named for drinking on its patio. The Patio Joe has Malibu rum and peach schnapps with pineapple and peach juice. If that sounds too sweet for you, get an Old Fashioned or a beer. It all goes with a menu that has plenty of options, including poutine, cobb salad, butter chicken, burgers and baked lasagna.
2120 4 St. S.W., 403-802-3800, originaljoes.ca
This is the only one of OEB's three locations that has a patio. The restaurant also has a live crepe and waffle station and a coffee bar. The patio is tucked off to the side, mostly in the shade.
2207 4 St. S.W., 587-356-6323, eatoeb.com
This Mexican restaurant's patio is small but mighty, located behind the stone wall that is still short enough to see over onto the sidewalk. Get tableside guacamole here as well as margaritas, tacos, churros and more.
2, 2116 4 St. S.W., 587-353-2656, anejo.ca
You may know this as the place where you can order bacon and eggs, a reuben sandwich, a roast beef dinner, ginger beef, chow mein and egg foo yung all off the same menu. It also has a patio.
2100 4 St. S.W., 403-229-1505, westerncoffeeshopcalgary.com
This patio has been home to several restaurants over the years. Now, it's where you'll find Due Kitchen & Chocolate Bar. The menu is equally sweet and savoury with Mediterranean dishes including falafel, souvlaki and shawarma, as well as desserts like crepes, waffles and molten cake.
2005B 4 St. S.W., 587-433-2383, d2uecalgary.com
Shokunin's patio features a few tables out front, which is all the better for people to glance over and wonder what you are eating. Your best bet is to go with a small group and order a bunch of yakitori and small plates to share. Bison tataki, sweet pickled eggplant, pork belly, braised beef gyoza and miso steamed clams are all currently on the menu. And definitely order a cocktail. They are inventive and a little different than what you would find at other restaurants in Calgary.
2016 4 St. S.W., 403-229-3444, shokuninyyc.ca
This is the first year that Seed N Salt is around for a full patio season. It's where to go for salads, grain bowls, smoothies, smoothie bowls and avocado toast. In the summer, it stays open a little later.
2008 4 St. S.W., 403-460-9904, seednsalt.com
This sushi restaurant has been in Mission since the late '90s and has all the favourites including tataki, tempura, sashimi, rolls and cones. Bento boxes are available for lunch from 11:30 a.m. to 2 p.m.
1807 4 St. S.W., 403-229-1499, hanasushi.ca
This bar is technically on 17th Avenue, but the patio is on the 4th Street side so it makes this list. The main attraction at Pinbar is the pinball machines inside, but the patio is a good place to dig into the snacks and drinks when you need some fresh air. The food menu includes pizza pops, Cubano sandwiches, mac and cheese and curried jackfruit. There's a pretty extensive cocktail list and plenty of beer on tap or in bottles.
501 17 Ave. S.W., 403-930-8175, pinbaryyc.com