If you're looking to improve your sleep, alleviate some stress or simply focus your thoughts, meditation may be exactly what your mind needs. And now, there's a brand new Calgary studio where you can do just that.
Sisters-in-law Lisa James and Sarah Webb opened Modern + Mindful Meditation Studio, the first modern meditation studio in the city, at the beginning of January. It's a concept that is gaining popularity in cities like New York and Los Angeles, and the pair saw a need for one in Calgary too.
"I think because it helped transform my life [and] I knew the benefits of what meditation offers, we saw that there's a need. The economy's not the greatest right now and people are maxed on their stress, and meditation can help with so much of that. There's more and more neuroscience research coming out on the benefits of meditation, so we saw that there's a fit here for that," James says.
So what exactly is modern meditation and how does it differ from other meditation offerings in the city? The answer is a combination of accessibility, aesthetics and class length. At Modern + Mindful, all the classes are suitable for beginners and are only 30 minutes long. Classes are offered throughout the day, making it easy to stop by in the morning or during a work break later. There are five main class offerings (Meditation 101, Breathe, Focus, Mindfulness and Pause), as well as classes for children and teenagers on weekends. And don't expect to see any Buddha figurines around Modern + Mindful. Instead, the 1,000-square-foot secular studio strives for a relaxing spa-like vibe with a neutral colour palette and natural wood benches.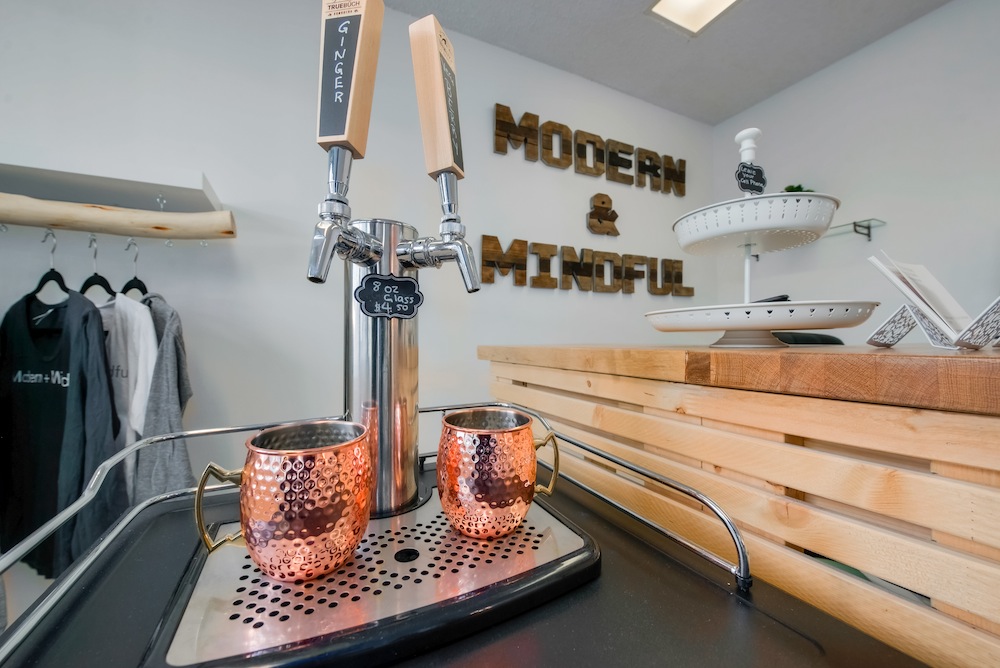 The front lobby features retail products like water bottles, Wrinkle and Crease paper products, mala beads, apparel, salt lamps and more. True Buch kombucha is also available on tap and you can even purchase a growler if you want to take some home.
During the classes, which accommodate 20 people, guests sit on zafu and zabuton cushions filled with buckwheat while an instructor leads them through meditation and breathing techniques. According to James and Webb, regular meditation can ultimately help with issues like anxiety, stress, depression, focus and memory.
"I hope that everyone leaves [the classes] just a little bit calmer and a little bit happier and there's a trickle down effect into their families and their workplaces. And that Calgary as a whole will then benefit," Webb says.
343 11 Ave. S.W., 403-690-2256, modernandmindful.com