We've compiled winter-related things to do to keep you entertained and out of the house from November through to the first day of spring, March 20. Make this the year that you take full advantage of all that winter in Calgary (and the mountains) has to offer.
---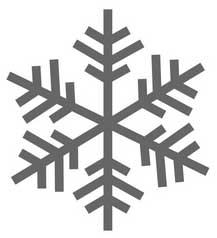 Outdoors
Whatever the temperature, there is a coat that will keep you warm and an activity made for the outdoors.
photograph courtesy of heritage park
Once Upon a Christmas at Heritage Park.
These two top attractions are filled with tourists in the summer. In the winter, they get into the Christmas spirit. Heritage Park hosts Once Upon a Christmas every weekend from November 25 until December 23. The old timey charm of the historic village decked out for the season is, dare we say it, magical. There are wagon rides, caroling and gingerbread decorating. Once Upon a Christmas also has a breakfast buffet. Get your tickets ahead of time. It always sells out.
At the Calgary Zoo, Zoolights is one of the city's classic winter activities. Zoolights officially opens on November 24 and runs until January 6, except for Christmas Day. Bundle up, bring along a tumbler of hot chocolate and see 1.5 million Christmas lights strung up around the zoo grounds and into animal shapes. Along with the light displays, there are activities and fire pits.
The Calgary Junior Forest Warden Society's "cut-your-own-tree" lot is just off Highway 66 on the Powderface Trail. The lot is manned by volunteers on Saturdays and Sundays between 9 a.m. and 3 p.m. from November 25 to December 17. They'll provide the tools to cut down a Lodgepoll pine. Trees are $5 and that includes the permit to cut it down. A bonfire will keep you warm and bring cash for warm drinks and hot dogs. The gate is open on weekdays in case you can't make it to the lot on the weekend, but you'll have to bring your own tools and drop your payment in an envelope.
Calgary is an Olympic city that kept a lot of its venues in shape for athletes to train on and visitors to try. You can slide down the luge track, jump into a bobsleigh and take a spin around a speedskating track. You can also venture just out of the city to where cross-country competitions take place. You'll appreciate the athletes even more when you watch 2018 Winter Olympics in Pyeongchang.
It's not an Olympic sport yet, but, just in case, you could start training. The Acura Tube Park is on the main hill at Canada Olympic Park and is the biggest of its kind in Western Canada with nine lanes and a total of 200 metres. Buy admission in two hour increments and slide down the hill on the tube provided by Winsport as many times as you can.
WinSport, 88 Canada Olympic Rd. S.W., 403-247-5452, winsport.ca
This activity is weather dependent, but with a chilly winter predicted, you should be able to get out for several outdoor ice skates this season. Popular city rinks include Bowness Lagoon, Olympic Plaza and Prince's Island Lagoon. Or, head out of town for a skate with a mountain view. Lake Louise and The Pond in Canmore are both excellent options.
If you want to get into the deep outdoors this winter, make sure you're doing it safely. There are several options if you're looking to complete an outdoor safety course. Take an avalanche skills training course, crevasse rescue course, outdoor survival course or more through the University of Calgary's Outdoor Centre. Or, head into the mountains and complete an ice climbing, mountaineering or backcountry ski course through Yamnuska Mountain Adventures.
When there's enough snow sticking to the ground, take the toboggan (and the helmet) to one of the City-maintained hills, like the Deerfoot Athletic Park hill, the New Brighton hill, the Royal Oak hill and others.
In the summer, our pathways are packed with walkers, joggers and runners, but there are also plenty of opportunities to run through the winter (and some of them are a little wacky). The Santa Shuffle brings out a sea of people in red hats. The Great Sweater Run encourages wearing those tacky Christmas sweaters. Dashing Through the Glow takes advantage of the evening holiday lights at Spruce Meadows. And, the Resolution Run is for those who want to end 2017 on a healthy note.
If those city runs seem too easy for you, go to Canmore for this extreme winter activity day. Grizzly Mountain Events is hosting a fat bike marathon and relay, a cross-country ski marathon and relay, and a winter triathlon all on February 18. All events are held at the Canmore Nordic Centre and include a Grizzly finisher souvenir and a Grizzly Paw soda. And, by registering to participate, you're supporting MitoCanada, a charity that raises funds and awareness for mitochondrial disease.
Snowshoe and cross-country ski in the city
Spend a few hours making the most of the snow while still in the city limits. If cross-country skiing is your sport, there are groomed trails on the Shaganappi Golf Course, Confederation Golf Course, Maple Ridge Golf Course and Lakeview Golf Course. Weaselhead Park, Edworthy Park, Fish Creek and North and South Glenmore Parks are ungroomed, but ideal if you prefer snowshoeing.
So you don't have your own fat bike, snowshoes or skis. That's okay. You can rent gear for cheap from places like the University of Calgary Outdoor Centre or Mountain Equipment Co-op. But the most efficient option is Nomad Gear Rentals. The independent Calgary-based sports gear rental business rents skis, snowboards, cross-country skis, snowshoes and fat bikes in the winter. Best of all, it offers free delivery and pick-up, so you can spend more time planning your getaway and less time figuring out how to transport all that gear from the rental venue.
587-585-6531, nomadgearrentals.com
---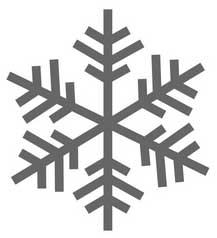 Indoors
Sometimes the best way to embrace the winter is from the cozy comfort of the indoors.
PHOTOGRAPH COURTESY OF YYC HOT CHOCOLATE FEST
The citrus ginger orange hot chcolate from Monogram Coffee for the 2017 YYC Hot Chocolate Festival.
This month-long festival happens every February and is your chance to try as many decadent hot chocolates as you can. The various participating cafes each make a signature drink and proceeds from the sale of those hot chocolates support Calgary Meals on Wheels. And, you can vote for your favourite.
Sometimes when you ask someone if they want to go for coffee, what you are really asking is "Do you want to go for Baileys and coffee on this cold, cold afternoon?" If that's the case, you are in luck. Several Calgary coffee shops are licensed and have comfy chairs just waiting for you to arrive and settle into.
Book a train ride from Aspen Crossing. There's a Polar Express train ride that's based on the popular children's book The Polar Express. You can come in your pajamas, you'll get hot chocolate and sugary treats and all the kids will take home a silver sleigh bell. The train rides start on November 24 and run until December 24.
Aspen Crossing, 1km west of Mossleigh, AB on Hwy. 24, 403-534-2129, aspencrossing.com
Watch sports from the comfort of your arena seat
Sports fans have plenty to be excited about in winter. The Calgary Flames play roughly two games a week between now and March. The Calgary Inferno play on weekends with its last regular season home game on February 25 and the Calgary Hitmen season doesn't wrap until March 18.
Switch up hockey for lacrosse with a Calgary Roughnecks game. The season runs from December 9 until April 28.
Visit Calgary's numerous museums and art galleries
Check out one of Calgary's many museums or galleries while it's too cold to be outside. There's Studio Bell, home of the National Music Centre, Esker Foundation, Glenbow, Canada's Sports Hall of Fame and Nickle Galleries, to name just a few.
Go to a winter festival
We usually think of summer as festival season, but these multi-event and sometimes multi-venue parties make the most of winter.
Dates: January 18 to 21
Address: Various locations
This winter music festival celebrates the thriving Canadian music scene and the tasty, local craft beer. You'll get to experience both while dancing under the stars (and a few heaters).
Chinese New Year
Dates: February 16, 2018
February 16 marks a new year in the lunar calendar. This year, it's the year of the dog. Expect Chinatown and the Chinese Cultural Centre to come alive with dragon and lion dances, traditional food, demonstrations and games.
Dates: February 15 to 17, 2018
Address: Various locations in Inglewood
Local, national and international folk artists perform at Festival Hall, the Lantern Church, the Ironwood Stage and Grill and the Alexandra Dance Hall. This is organized by the Calgary Folk Music Festival.
Dates: February 26 to March 3, 2018
Address: Various locations
The Calgary International Blues Festival isn't for months, but you can still get a taste of the blues. Blues music takes over the city for four days this winter.
---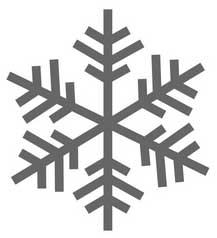 In the mountains
Take a moment to appreciate the view from the city of the mountains against the blue sky and then go to them. It's where winter is most appreciated.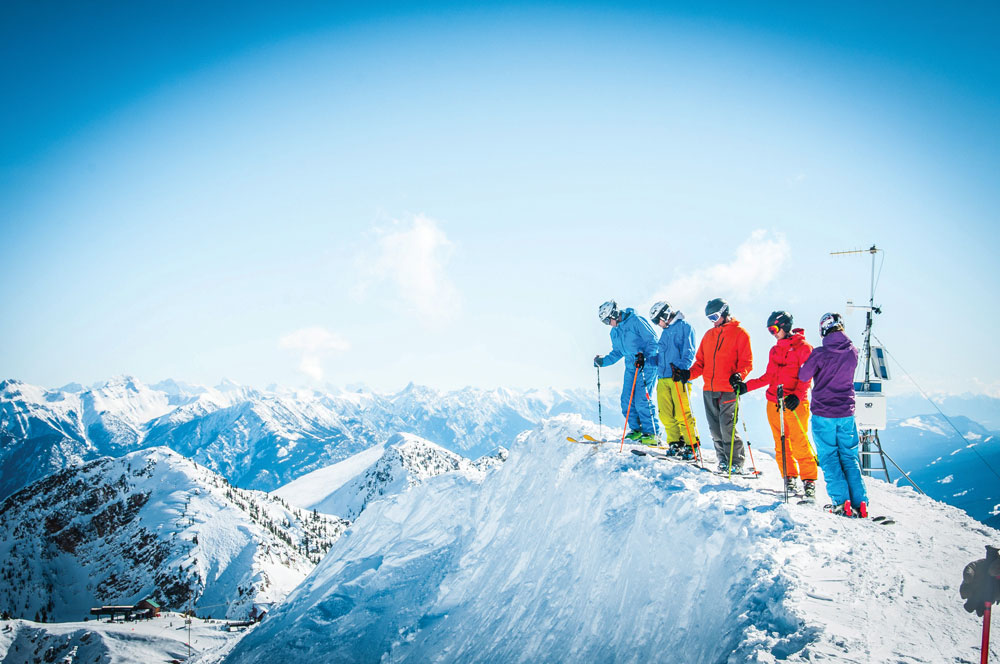 photograph by ian houghton
Revelstoke Mountain Resort.
We're spoiled for choice when it comes to close-by world-class skiing. There are at least 14 hills you can drive to for a day trip. The closest, Nakiska Mountain Resort, is just 83 km from Calgary. Other hills within five hours (so perfect for a ski weekend) include Castle Mountain, Kicking Horse Mountain Resort and Marmot Basin.
Escaping to a cabin in the snowy woods is a dream that is easy to achieve. The Post Hotel & Spa in Lake Louise is close to downhill skiing and Mount Engadine is a good homebase for cross-country skiing and snowshoeing. But, sometimes the destination is all you need. Pack a cozy sweater and some slippers to settle into the comfy fireside chair as you look out to the snow from inside.
Head into the wilderness on your cross-country skis
For an outdoor adventure that isn't too far away, take your cross-country gear to the West Bragg Creek Recreation Area. There is a range of trails groomed by volunteers that are appropriate for beginners and intermediate cross-country skiers – the shortest loop is just 1.5 kilometres and the longest loop is just under 15 kilometres. It's free to ski here.
For trails that are professionally groomed and maintained, pay to use the Canmore Nordic Centre facilities. There are more than 65 kilometres of groomed trails here. You can even night ski – there are 6.5 kilometres of illuminated trail if you want to drive to Canmore for a ski after work. An adult day pass here will cost you $15.
Take the Banff Gondola to the top of Sulphur Mountain this winter. It's just an eight-minute ride to the top of the mountain and to the new four-floor facility. In the facility, there's a coffee shop, a gift shop, family-friendly exhibits, a sit-down restaurant called Sky Bistro, a more casual restaurant called Northern Lights Caf, a theatre and a 360-degree observation deck.
If you're looking for a high-quality music, art or theatre event in the mountains, check out the Banff Centre For Arts and Creativity's events calendar. This winter, performances and shows include The Debaters Christmas Show (December 9), Tom Jackson Christmas 150 (December 17) and Josh Ritter (February 22).
Banff Centre, 107 Tunnel Mountain Dr., 403-762-6100, banffcentre.ca
The Canmore Christmas Market runs November 25 and 26 this year. Pay the $3 admission cost – it supports the Canmore Preschool Society – and browse the items from more than 80 local artists.
Canmore Collegiate High School, 1800 8 Ave., canmoreartisansmarket.com
Head to Banff at some point during this annual festival to experience the best of winter in Banff. There are ski and snowboard competitions, live music, a street party and film screenings. The tentative dates for 2018 are January 12 to February 4.
This is technically part of the SnowDays Festival, but the Lake Louise Ice Magic Festival is worth checking out – and it will require that you drive a little further from Calgary to Lake Louise. From January 18 to 28, see ice artists create masterpieces and admire their finished masterpieces.
After a full day of strenuous activity, you're going to want to treat yourself to some downtime at a spa. Whether you're planning an escape to Banff, Canmore, Kananaskis, Jasper or Lake Louise, we've got spa suggestions for you.
Soaking in an open-air hot spring on a snowy day is a classic Canadian experience. The setting is beautiful, the water is warm and the vibe is completely relaxed.