"The screaming, writhing, fearful horror of life in the grey cold walls. A mental institution grips the writer from that first numb day when she was incarcerated and judged insane."
This script is found in the University of Calgary, it is not, in fact, a freshman's cheeky description of the university. Rather, it's one blurb from the more than a hundred different paperback books on display as part of a new exhibit on display at the Taylor Family Digital Library until May 1st.
David Daley, a mixed collection conservator, and Allison Wagner, a senior rare books and manuscripts adviser with archives and special collections at the University of Calgary, are the brains behind the exhibit. "A lot of this is material that people handled in their daily lives, and it puts it into a contex. It's fun to go into a display and see things that I recognize," says Daley.
The idea for the display stemmed from the collection itself, which includes early editions of Penguin Books, rare books from short-lived publishing houses and works by authors like Isaac Asimov, H.P. Lovecraft and more. "We've displayed some of these collections before but never with the focus on the formatting," says Daley. "The exhibit explores what a paperback is, why they were ubiquitous, why they began to get really popular in the mid late 19th century, and how that turned into the pulp paperback in our exhibit today."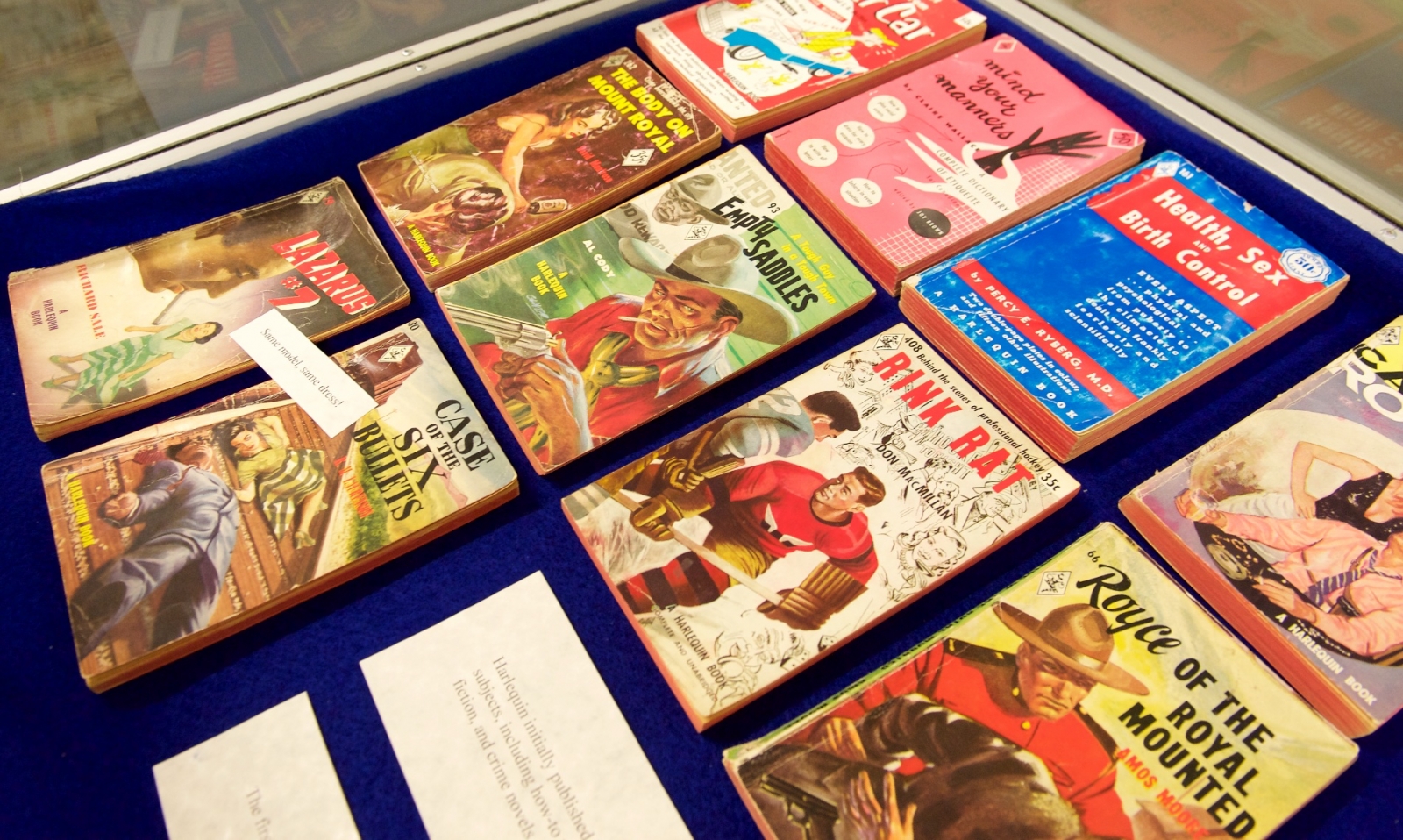 Photo by Dave Brown/University of Calgary
On display are the often brightly illustrated covers of vintage pulps that span genres from science fiction to western, as well as Little Blue Books, post-First World War publications aimed at making itinerant workers more literate, and even penny dreadfuls from the 1880s.
Daley says that the reputation of paperback stories, once regarded as "lowbrow," has been rehabilitated in the last 30 years, with scholars and academics now taking an interest in the works. "They speak very well to different perspectives and times as well as different points in literary history," he says. "They are a history of social and technological progress. "In many ways the books didn't pander to the audiences the way serials do now, they were very challenging."
Indeed, today's perception of Harlequin novels as "trashy" ignores the history and impact they've had. The first 500 books published by the company, many of which are on display as part of the exhibit, spanned a variety of topics from horror to self-help. "After around 500 editions, they began to realize that if they stuck with a cookie cutter romantic formula they could sell more copies and they've been that ever since," says Wagner. Researchers have approached Harlequin, a Canadian publishing company founded in 1949 in Winnipeg, from many angles when it comes to research. "Some of them look at cover art, some look at the author and some are looking form sociological perspectives. But, Harlequin's can be approached from a business standpoint, because it's one of the most successful in the entire world," says Wagner. "At one point they were the biggest producer of books in the world."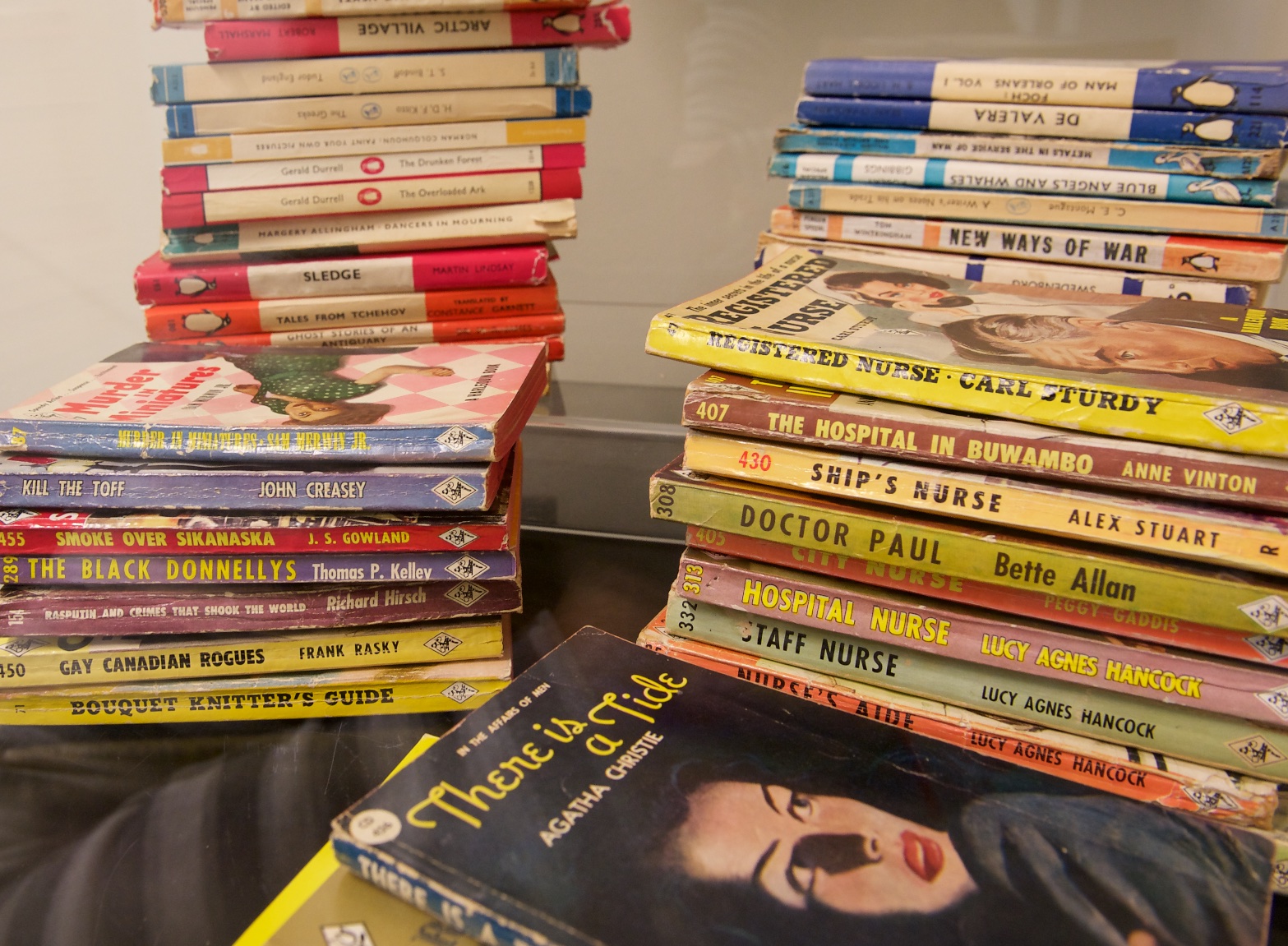 While the pages are under glass, and therefore unreadable until the end of the exhibit, Daley and Wagner say that curious patrons can always ask them for a closer look.
In the meantime, here are a few excerpts from the books that Daley and Wagner enjoy:
From Sister of the Damned: Alone with 20 Loveless Women by Lara Jefferson
"Now, in the middle years of her life, she has left behind both natural modesty and her exalted idea of purity, since madness has claimed her, she has been swept far into unspeakable lewdness, she stands naked before all who may see her, and gives voice to her madness by shrieking such foulness the very air around her is crawling and stinking with it."
From Creepshadow by A. Merritt
"Had Dr Rene Keradel, European brain specialist, and his beautiful daughter, mastered the secrets of the supernatural, of black magic? Alan Aranac, young New Yorker was inclined to scoff at this notion at first, but in the struggled which ensued between himself and the Keradels, he came to believe that they were masters of modern witchcraft!"
From Royce of the Royal Mounted by Amos Moore
"That's a hell of a racket for a man to have to listen to I say," Mitch Ferguson banged his glass angrily down on the bar slab and wiped his mouth with the back of his huge hairy hand. "Why don't you tell them they've got to quit it Max?" He demanded of the bartender. "Why would I tell him that?" The latter wanted to know, glancing indifferently back over his shoulder. "They ain't nobody doing any harm as I can see and they're all friendly and enjoying themselves, besides buying frequent, let 'em go till it hurts, I say."
From Girls in White by Rona Randall
"In ten minutes Janet was due on Cunningham ward and she would sample sister Marlow's wrath if she were late, a stickler for time was sister Marlow, a tyrant in so many ways, nevertheless, Janet could feel no real concern for she had made up her mind ot marry Augustus bailey, it was a pity about his name, but she could always use his second one, Philip, after all, the duke of Edinburgh had that."
The University of Calgary's Paperback book exhibit is on display on the fifth floor of the Taylor Family Digital Library until May 1.