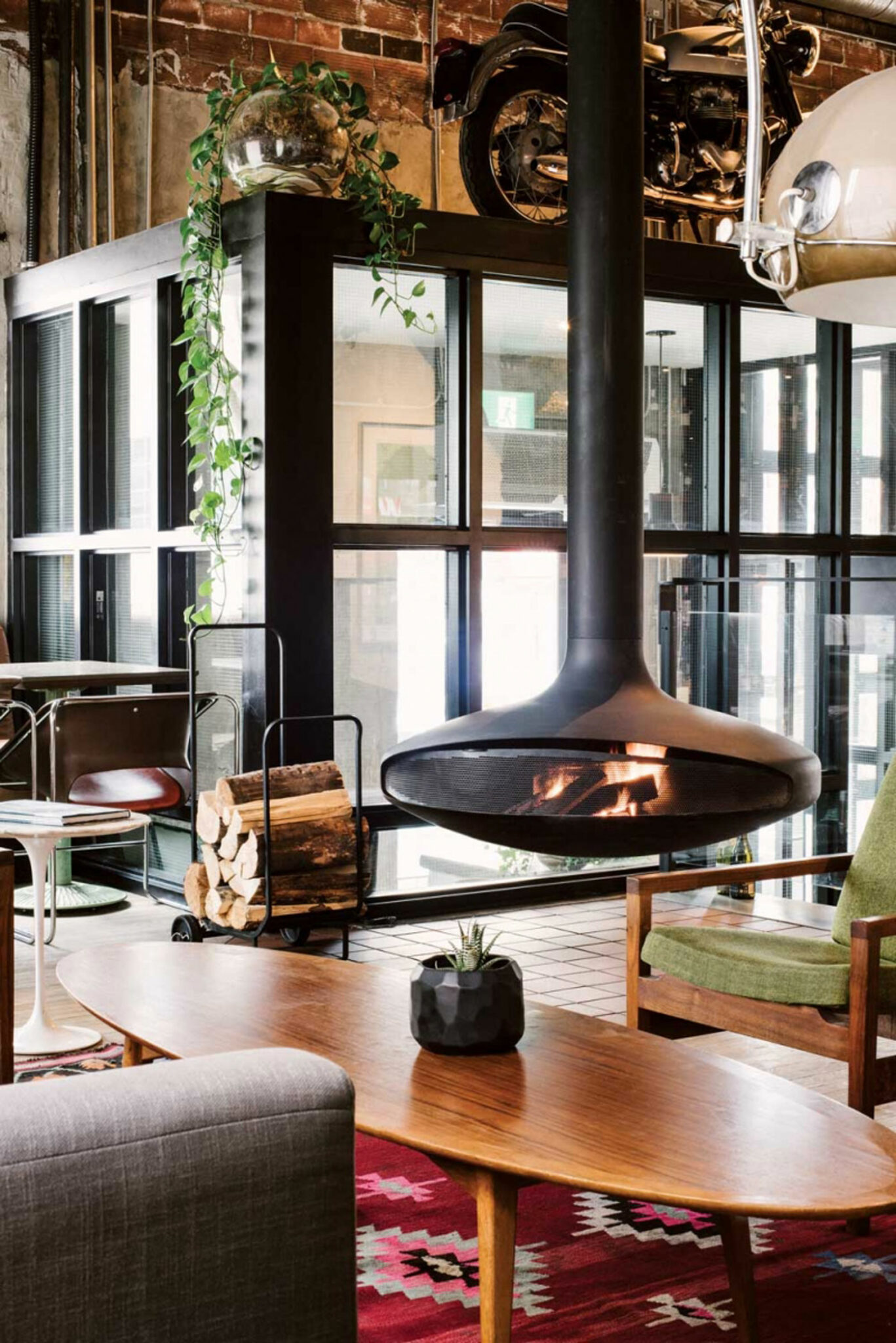 Part of Concorde Group, Bridgette Bar's relaxed, '60s-inspired space is an ideal spot to bring a date for an exceptional cocktail and wood-fired cuisine. The huge wood-burning grill and oven pumps out grilled sausages and bread, roasted cauliflower and cheesy pizzas to enjoy together.
739 10 Ave. S.W., 403-700-0191 (text only), bridgettebar.com, @thebridgettebar
The mixture of hanging plants and wooden beams and furniture at Ten Foot Henry creates an intimate yet energized environment for a date night. Chef Stephen Smee's share plates are served family-style and include options like fried potatoes and bucatini cacio e pepe. And remember, nothing says romance like splitting a butterscotch pudding with sponge toffee for dessert.
1209 1 St. S.W., 403-475-5537, tenfoothenry.com, @tenfoothenry
Nestled within the overhanging trees and surrounding pathways of Prince's Island Park, River Café is an escape within the city. For over 25 years, owner Sal Howell has provided Calgarians with an elegant space to enjoy Canadian-sourced ingredients in dishes like Borderland bison tartare and hog wild boar with seasonal vegetables. Pro tip: the chef's seasonal tasting menu is a must-try here.
25 Prince's Island, 403-261-7670, river-cafe.com, @rivercafeyyc
Lulu Bar is definitely one of the cooler spots to go to on a date in Calgary, a title achieved not only thanks to its energetic vibe but also its amazing cocktails and innovative share plates (the fried coconut squid can be seen on most tables at the start of their meals). Lulu Bar's customer service is equally impressive.
510 17 Ave. S.W., 403-519-0444 (text only), lulubar.ca, @thelulubar
Klein / Harris has been serving "coast to coast Canadiana" cuisine on Stephen Avenue for almost five years and continues to be an innovative and exciting lunch and dinner spot. The menu is split into sections such as "roots/stalks" (salads and grain-based items), "tides/currents" (seafood such as scallops and grilled humbolt squid) and "wild/farm" (proteins including candied pork belly and a sausage and bell pepper skillet).
110 8 Ave. S.W., 403-262-8100, kleinharris.com, @klnharris
Rain Dog Bar opened right at the start of the pandemic and is one of the newest spots in Inglewood. Located on the second level above Gorilla Whale, the bar's drink list is expertly curated and head chef Chris Lorenz's affinity for fermentation and pickling makes for some truly unique and exciting dining options. For a special date night treat, note that the menu is a homemade zine created by co-owner Bill Bonar and includes a challenging crossword.
1214B 9 Ave. S.E., 403-457-7263, raindogbar.com, @raindogbar
Named one of Calgary's best new restaurants in 2020 by Avenue, Flores & Pine continue to serve up mouth-watering takes on classic Canadian cuisine. The fresh and welcoming space is relaxed and allows for intimate conversation over a glass of wine or shareable plates of fried Brussels sprouts and meatballs and perogies.
254028 Bearspaw Rd., 403-241-7611, floresandpine.com, @floresandpine
Using local ingredients to create beautiful, innovative dishes that blend Asian, Indian and Mediterranean flavours, co-owner Uri Heilik and co-owner/chef Rogelio Herrera have moved Alloy into the upper echelon of Calgary dining. Alloy fosters a comfortable, intimate dining experience to enjoy must-try dishes like the vanilla-braised beef short rib served with parmesan cheese risotto and roasted vegetables.
220 42 Ave. S.E., 403-287-9255, alloydining.com, @alloydining
Last year saw some significant changes at Deane House, including the arrival of new chef Christopher Barton and a revamped menu featuring a mix of old favorites and new family-style shareables. The new menu features dishes like charred Sudo Farms cabbage and toasted pumpkin seeds, poached Alberta trout and A Study of Carrots, which features River Café salumi, Poplar Bluff Organics carrots, capers and nasturtium. The Deane House space is among the best with its wood paneling and ever-present aura of history.
806 9 Ave. S.E., 403-264-0595, deanehouse.com, @deanehouseyyc
Over the past few years, the National Music Centre and Calgary Municipal Land Corporation have turned The King Eddy into one of the city's premier venues and pubs. The live music, local beers on tap from places like Cold Garden and Wild Rose Brewery, and a killer house-made hummus all help make The King Eddy an exciting date night option.
438 9 Ave. S.E., 403-829-6016, kingeddy.ca, @kingeddyyyc