Artist: M.N. Hutchinson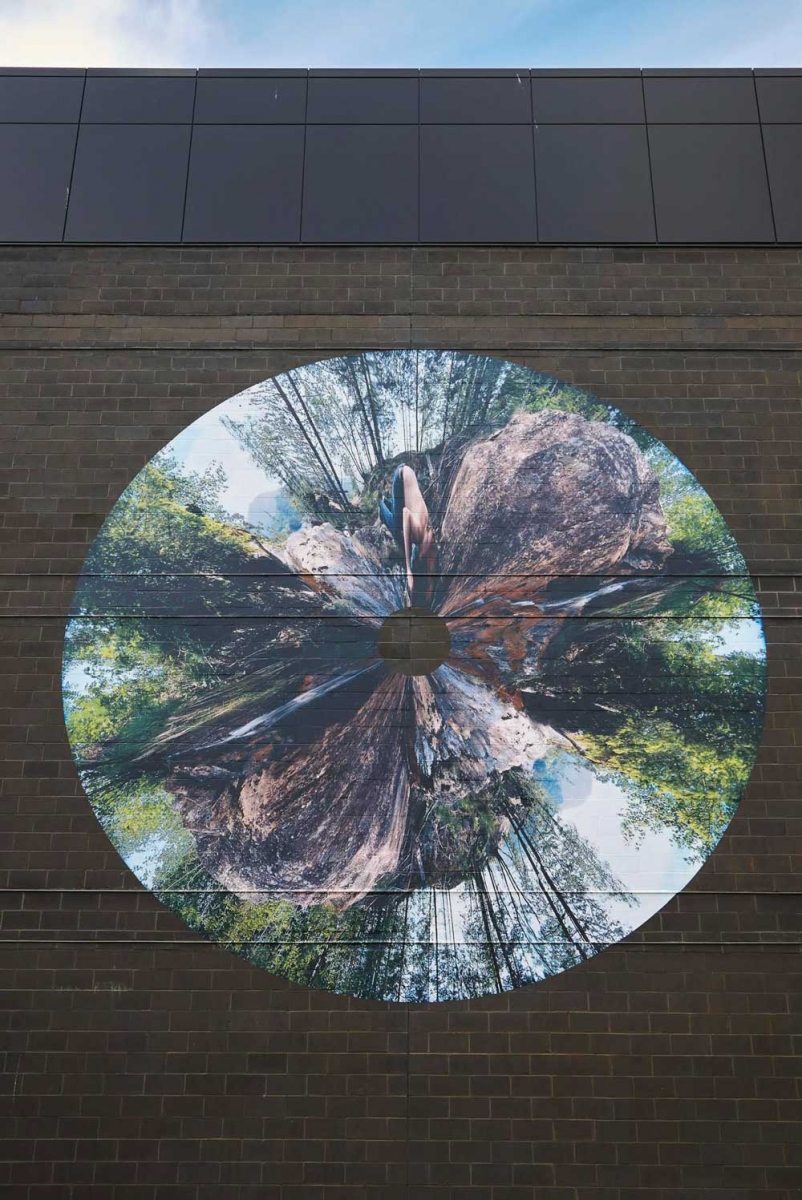 Title: Site 9, 2017, based on the series, Location Photographs for the Pre-History of MN Hutchinson, 2006-2009
Artist: M.N. Hutchinson
Medium: Foil-backed vinyl of digital print on concrete wall, printed and installed by Anvy Digital.
Size: 28 feet in diameter.
Location: 2044 33 Ave. S.W.
Notes: Commissioned through Paul Kuhn Gallery for the Odeon Building.
---
Artist: Blake Chorley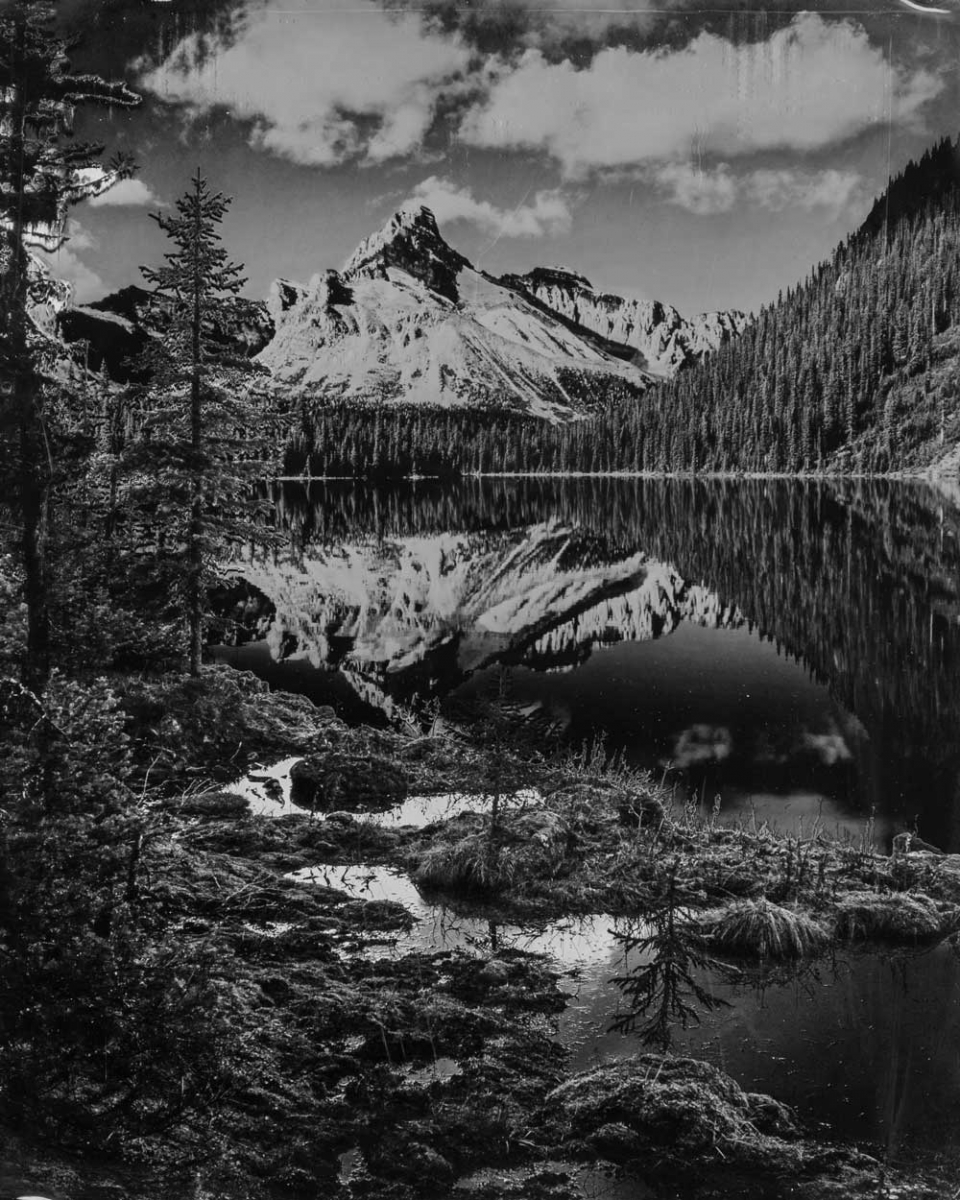 Title: Lake O'Hara, 2016
Artist: Blake Chorley
Medium: multi-layer ambrotype (photograph on glass)
Size: 24 inches by 20 inches
Location: Part of Exposure Photography Festival 2018, exposurephotofestival.com
Notes: Blake Chorley is represented locally by Christine Klassen Gallery. For information on hiking to some of the best-known landscape locales in the regional mountain areas, consult the Hiker's Guide to the Art of the Canadian Rockies (1999), or, for the Lake O'Hara region specifically, The Lake O'Hara Art of J.E.H. MacDonald and Hiker's Guide (2003) by Calgary author Lisa Christensen.
---
Artist: Tamara Lee-Anne Cardinal

Title: Untitled [Home Fire]
Artist: Tamara Lee-Anne Cardinal
Medium: Stones. (Cardinal acknowledges Soloman Chiniquay and Neil Fleming for their help in building the formations.)
Size: Approximately 60 feet in diameter.
Location: West of the northwest parking lot at Grey Eagle Resort and Casino on Tsuu T'ina First Nation, accessible from the southwest corner of 37th Street and Glenmore Trail S.W.
---
Artist: Bee Kingdom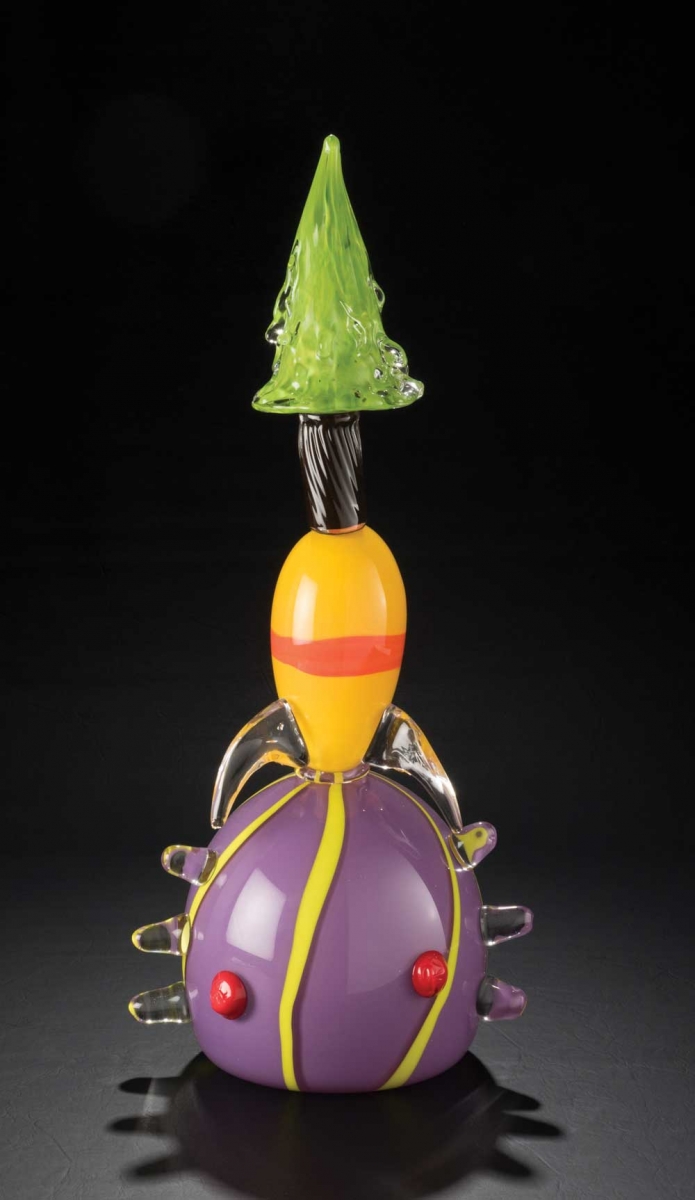 Title: Mythopoet, 2011
Artists: Bee Kingdom
Medium: Glass
Size: 58.4 centimetres high; 22.8 cm in diameter
Location: Calgary Foundation offices, 1180, 105 12 Ave. S.E.
Note: Gifted by Bee Kingdom to the City of Calgary public art collection.
---
Artist: Ron Spickett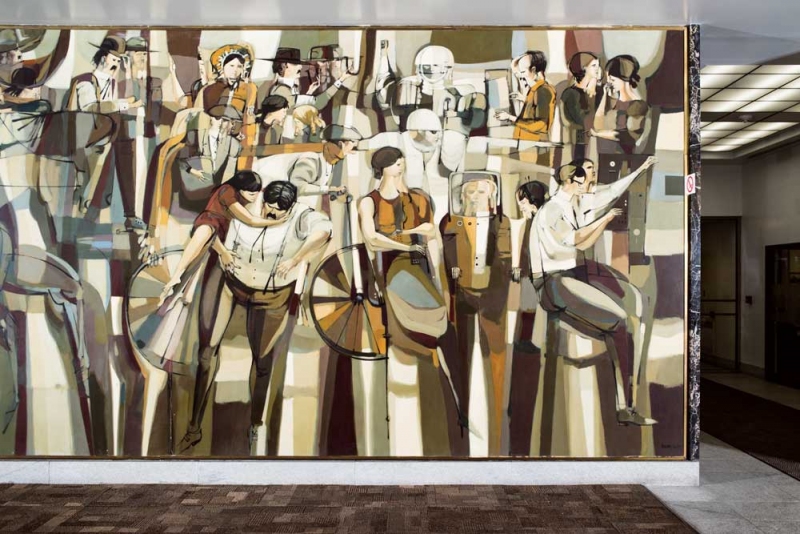 Title: John J. Bowlen Building Mural, 1969
Artist: Ron Spickett (Buddhist name, Gyo-Zo)
Medium: Acrylic on wall primed with latex paint.
Size: 11-feet-6-inches high by 44-feet long.
Location: John J. Bowlen Building, 620 7 Ave. S.W.
Note: To learn more about the artist, read Spirit Matters: Ron (Gyo-Zo) Spickett, Artist, Poet, Lay-Priest (2009) by Geoffrey Simmins, University of Calgary Press.
---
Artists: Michelena Bamford and Lane Shordee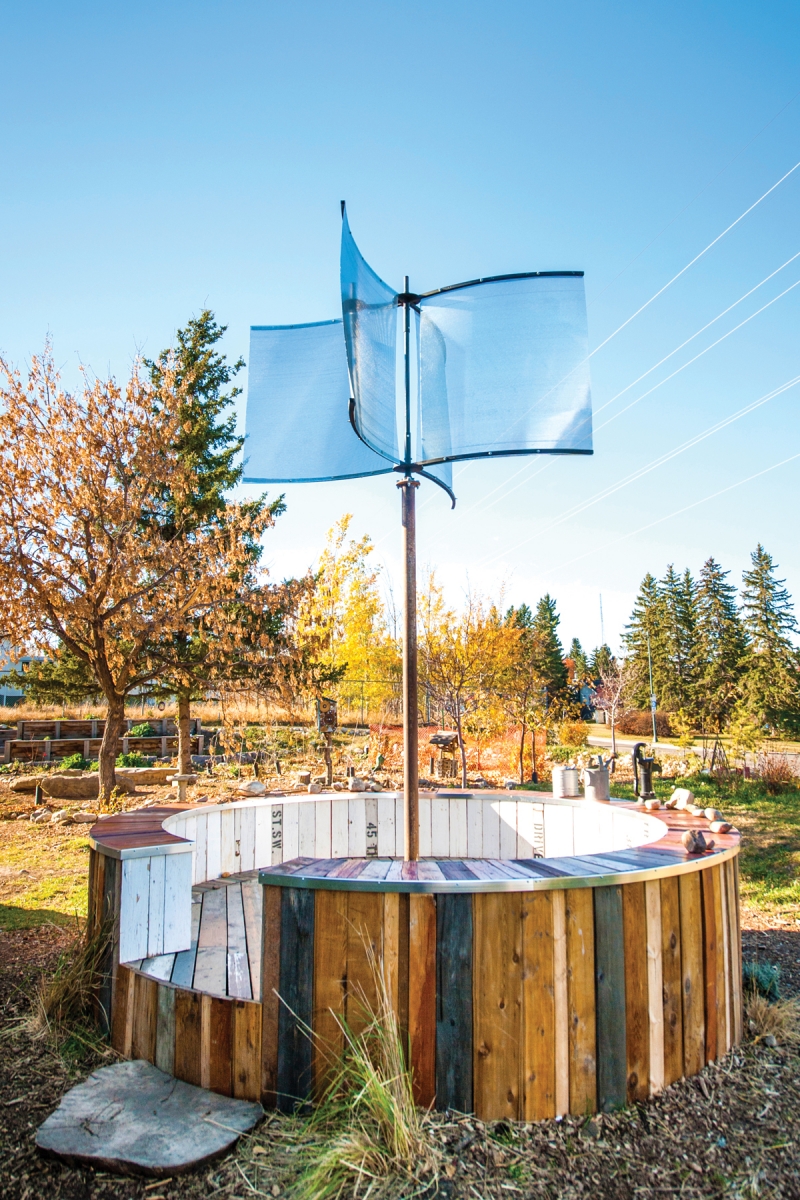 Title: The Water Spiral, 2014
Artists: Michelena Bamford and Lane Shordee
Medium: Reclaimed wood and metal, water.
Size: 12-feet high by 12-feet in diameter (above ground); eight-feet deep (underground).
Location: 4411 Spruce Dr. S.W.
Note: This project received support from the Wildwood Community Association and Calgary Economic Development, in partnership with the Calgary Foundation, through their Soul of the City Neighbour Grants, as well as individual donations and sweat equity from community volunteers.
---
Artist: Tyler Los-Jones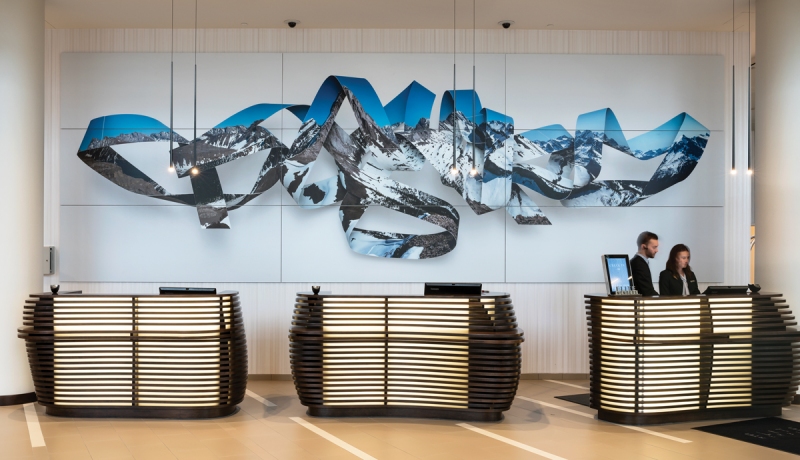 Title: To keep the promise, 2016
Artist: Tyler Los-Jones
Medium: Archival inkjet print on aluminum composite panels.
Size: Nine-feet high by 27-feet wide.
Location: Calgary Airport Marriott In-Terminal Hotel reception, 2008 Airport Rd. N.E.
Note: Tatar Art Projects commissioned this work on behalf of the Marriott with the assistance of Jarvis Hall Gallery, which represents Tyler Los-Jones. The printing was done by Resolve Photographic Services, mounting by Pro-Lam and the aluminum cradle was created by Big Print Sign Company.
---
Artist: Charles R. (Bob) Boyce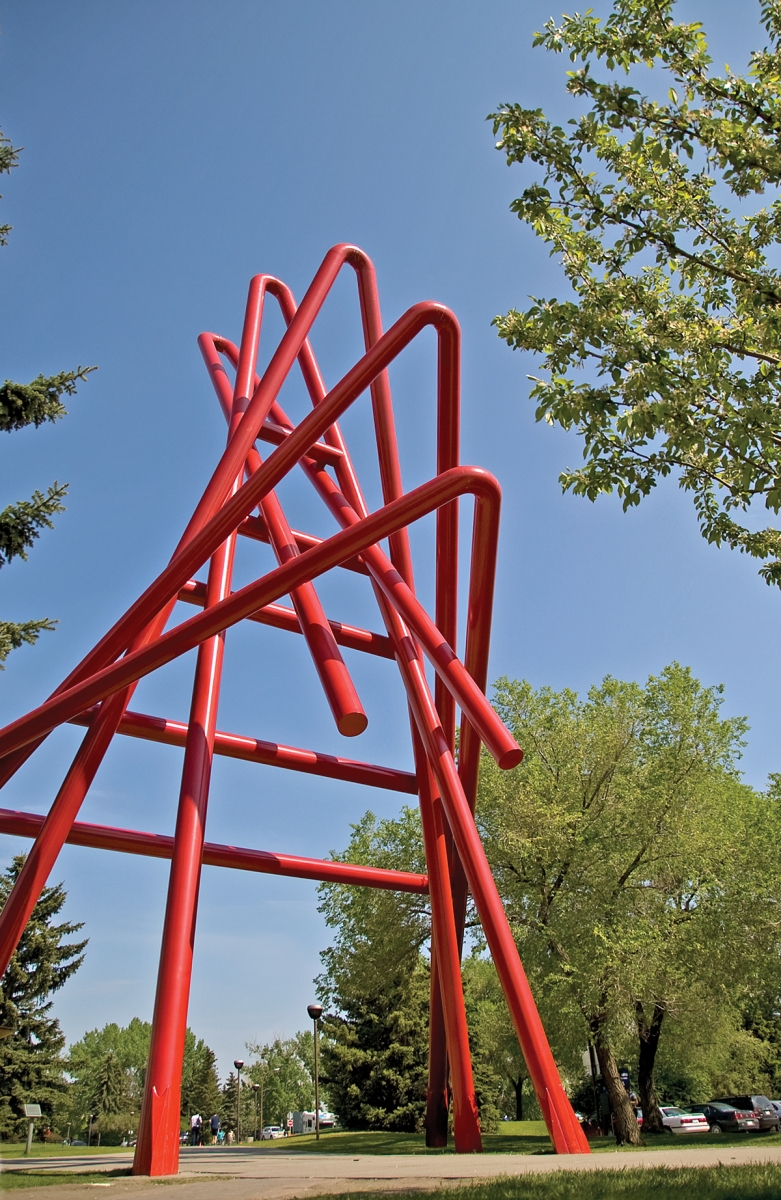 Title: Spire (1987)
Artist: Charles R. (Bob) Boyce
Medium: Endura polyurethane on 16-inch tubular steel.
Size: 19.88-metres high, by approximately 30-m wide, by approximately 21-m long.
Weight: 20 tonnes.
Location: Olympic Oval, north entrance, University of Calgary.
Note: This work was commissioned by the Government of Canada with construction by Viking Steel. Other local works by Boyce include The Bridge (1980), currently at the Kiyooka Ohe Arts Centre (KOAC) in Springbank and The Archimedian (c. 1990)  at 909 11 Ave. S.W.
---
Artist: Geoffrey Hunter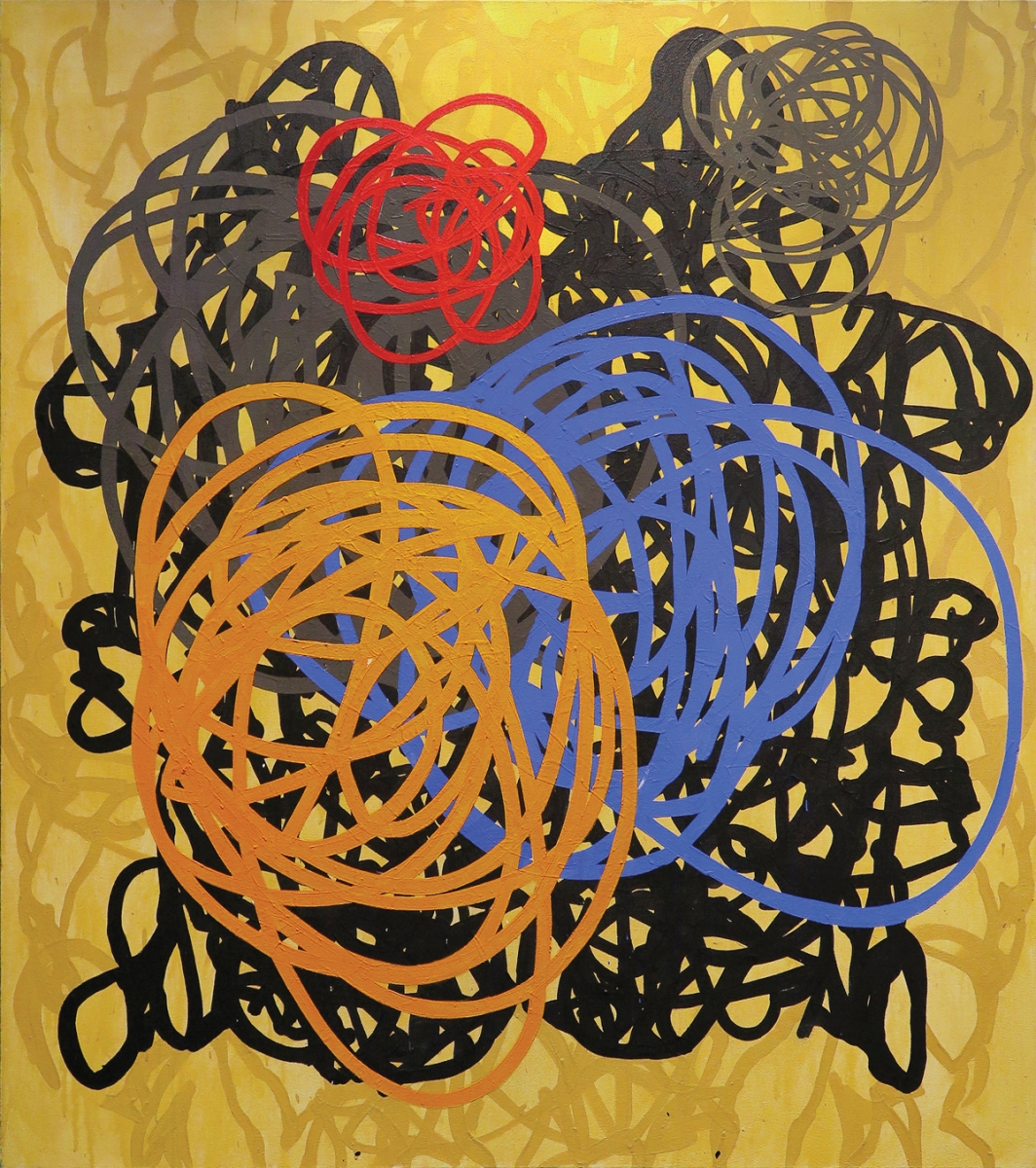 Title: Little Moses (Part Two), 2007
Artist: Geoffrey Hunter
Medium: Oil and acrylic on canvas.
Size: 137.2 centimetres by 122.1 cm by 4.4 cm.
Location: First balcony walkway, Southern Alberta Jubilee Auditorium, 1415 14 Ave. N.W.
Note: Other paintings from the Alberta Foundation for the Arts Collection at the Southern Alberta Jubilee Auditorium include Dry Bones (second balcony lobby) and Blue Garden (first balcony walkway). Hunter is represented in Calgary by Newzones Gallery of Contemporary Art and also has paintings on permanent display in the north and south campuses of Bow Valley College.
---
Artist: Suzanne Morrissette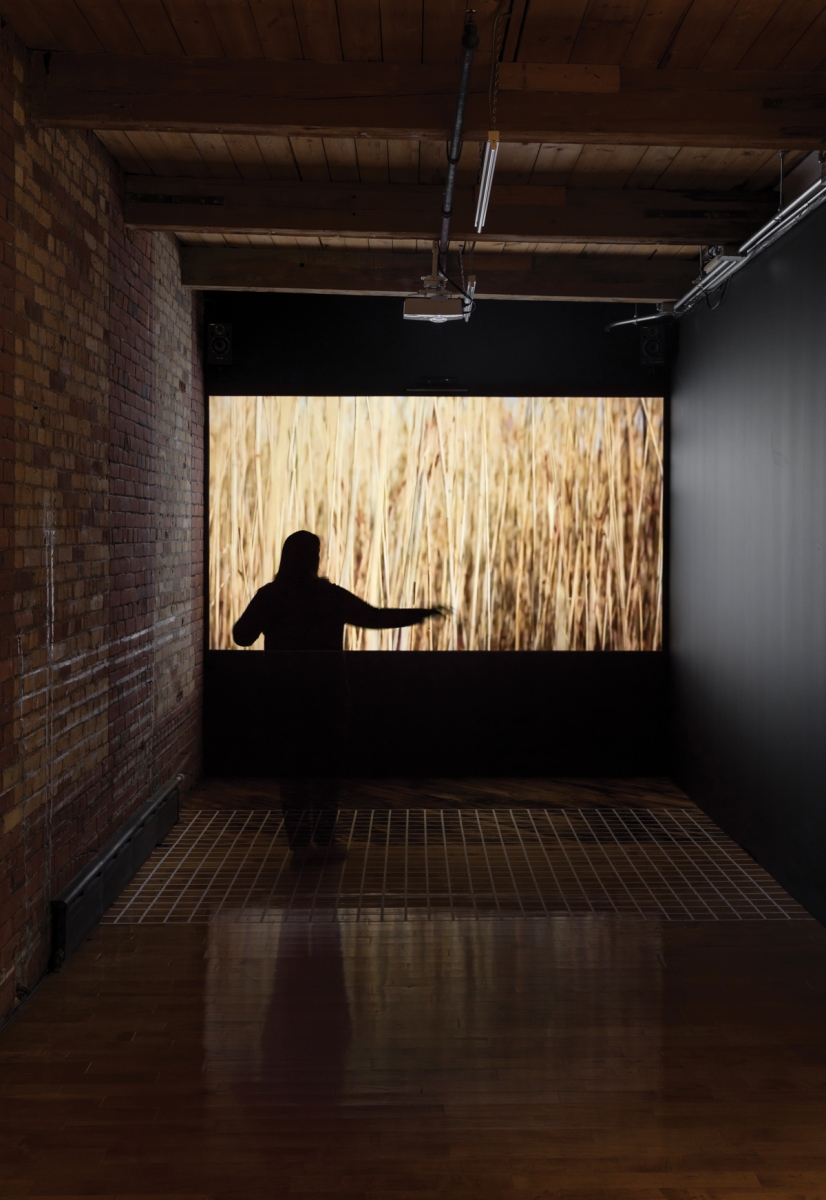 Title: one and the same, 2016
Artist: Suzanne Morrissette
Medium: Interactive installation with video and audio using MAX MSP software and Kinect hardware. (Kyle Duffield served as lead developer and technical consultant).
Location: Stride Gallery, 1006 Macleod Tr. S.E., on display until Nov. 9 as part of touring exhibition wnoondwaamin | we hear them (Autumn Chacon, Jeneen Frei Njootli, Melissa General and Suzanne Morrissette, artists; Cheryl L'Hirondelle, project mentor; Lisa Myers, curator).
Note: Morrissette's one and the same was produced with the support of the City of Toronto through the Toronto Arts Council. The exhibition at Stride Gallery is part of Contemporary Calgary's nomadic programming while it prepares to move into the Centennial Planetarium. Contemporary Calgary and Stride Gallery are co-presenting the exhibition in Calgary. Throughout the exhibition, there will be an assortment of public programs developed in conjunction with M:ST Mountain Standard Time Performative Art Festival.
---
Artist: Adad Hannah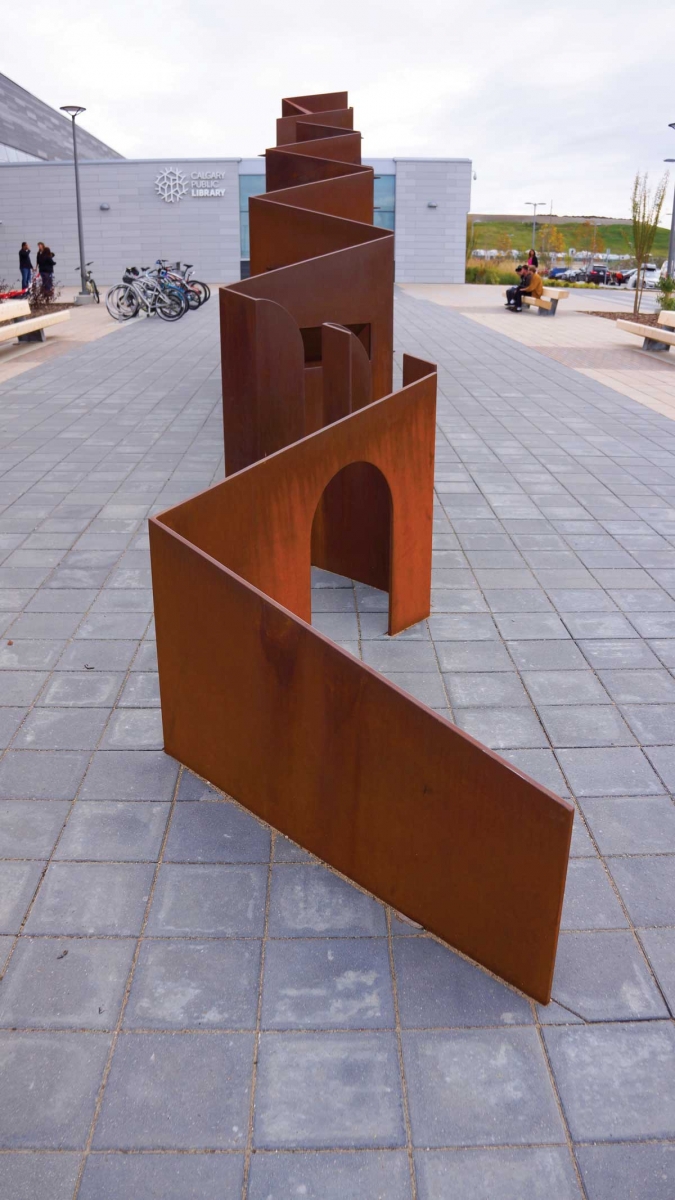 Title: The Fold, 2016
Artist: Adad Hannah
Medium: Weatherizing steel.
Size: 12.8-feet high by 130-feet long by 5.6-feet wide (measurements include the span of the gap).
Location: Quarry Park Recreation Facility, 108 Quarry Park Rd. S.E.
Notes: Commissioned by the City of Calgary Public Art Program via an open international call. Fabricated by George A. Wright & Son (special thanks to Paul Dykstra). The Fold was one of 10 works acknowledged in the 2017 Public Art Year in Review at the 2017 Creative City Summit in Halifax, N.S.
---
Artist: Dale Chihuly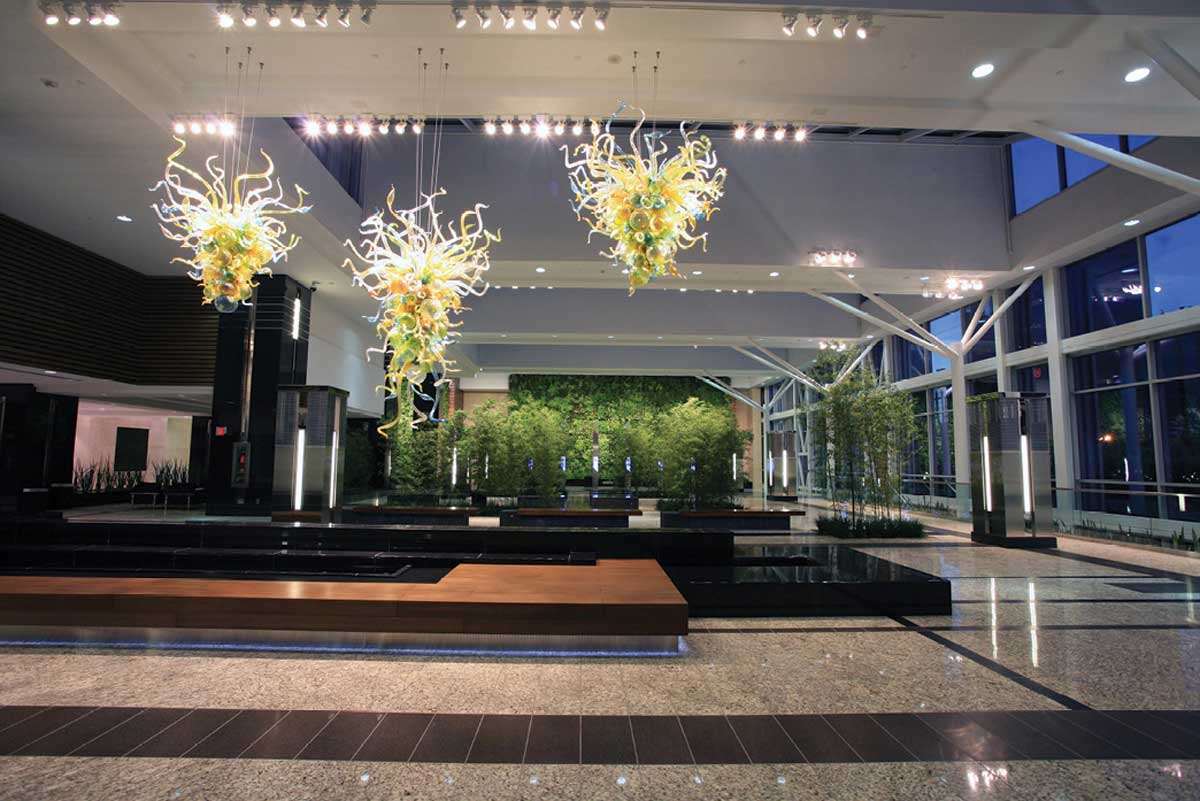 Title: Winter Garden Chandeliers, 2009
Artist: Dale Chihuly
Medium: Glass
Size: Chandelier 1 (north), 94-by-82-by-82 inches; Chandelier 2 (middle), 127-by-80-by-78 inches; Chandelier 3 (south), 84-by-60-by-64 inches.
Location: Plus-15 level, Jamieson Place, 308 4 Ave. S.W.