Altadore has a little bit of everything. The inner-city community claims the south side of the Marda Loop district – one of Calgary's busiest outdoor shopping areas – and includes top coffee shops, laid-back pubs and specialty restaurants. The area's vibrant culture really spreads its wings every August with Marda Gras, a New Orleans-themed festival that draws 35,000 Calgarians annually.
The eclectic nature of the neighbourhood is reflected on the streets themselves, with multi-million-dollar infills going up alongside a wide array of character homes. But it's not all about the trendy urban experience, either. The neighbourhood borders the Elbow River and encompasses Sandy Beach Park and River Park – both excellent spots for dog-walking, picnic lunches and a leisurely weekend laze.
---
Where to Eat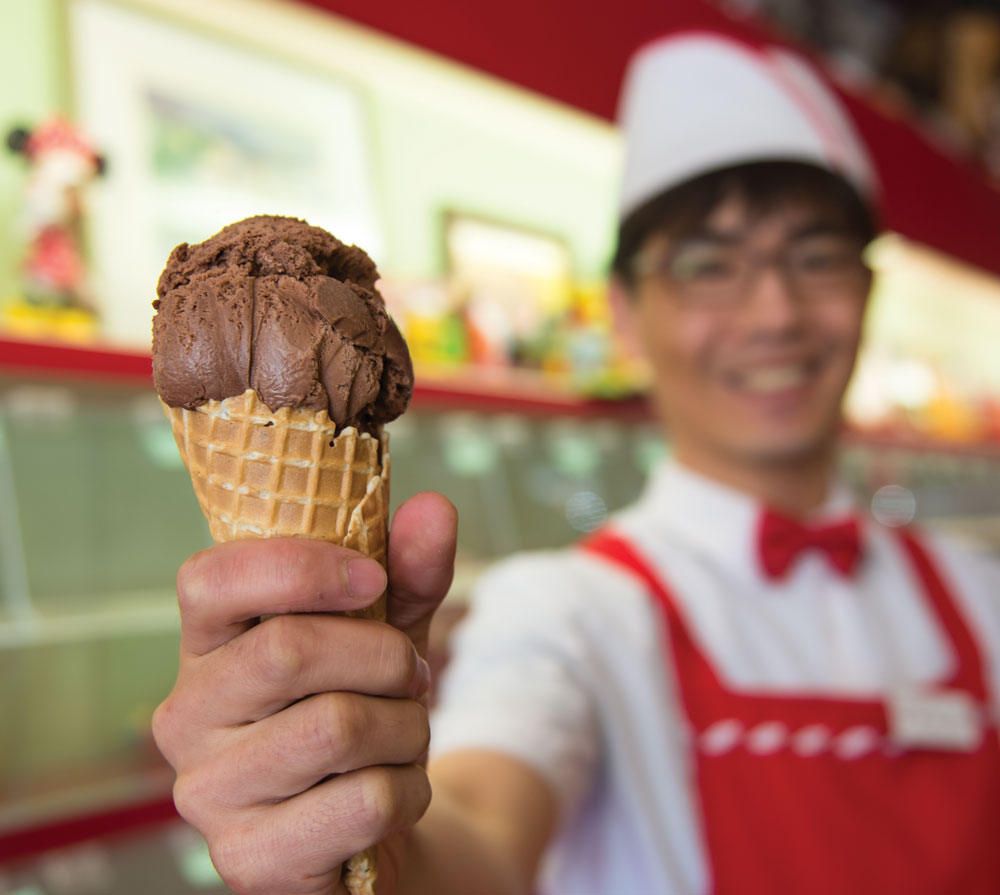 photography by jennifer friesen
For a serious nostalgia trip, My Favorite Ice Cream Shoppe is better than binge-watching old Scooby-Doo cartoons. With ice cream selections that include everything from birthday cake and "moose tracks" to lemon sorbet, it's a must-stop in the summer. Surrounded by old Coca-Cola bottles, a milk separator and a century-old grand piano, it's easy to get distracted from the task at hand – choosing one of the 72 flavours.
2048 42 Ave. S.W., 403-287-3838, myfavoriteicecream.com
For truly original Greek food that hasn't been altered by food trends, Pegasus Greek Restaurant can't be beat. Every item is made from scratch, from the pitas and the moussaka to the tzatziki sauce. A seat on the sunny patio is the perfect place to relax in the spring, sip some ouzo and indulge in a plate of authentic calamari.
4824 16 St. S.W., 403-229-1231, pegasuscalgary.com 
Packed with a bevy of true regulars who know every server by name, the Garrison takes things back to the basics. Accented by brick, wood and, of course, sports playing on big-screen TVs, it's a classic watering hole. From house-ground burgers to brunch on Sundays, the simple food is delicious and made with quality ingredients. And, to wash it all down, the Leatherneck Lager house brew is $5 a pint all day, every day.
2040 42 Ave. S.W. 403-243-4483, garrisonpub.com 
This Altadore staple has been around for years, but this spring it changed things up, offering a new free home-delivery service for its prepared takeaway meals (including the popular mac 'n' cheese). Made with organic ingredients from local farmers and producers, the seasonal menu is kept simple to showcase the food of Alberta.
2042 42 Ave. S.W., 587-296-3121, freshkitchen.ca 
In a city where business never sleeps, it's not always easy to eat well. Enter Made Foods, a culinary superhero for the sleep-deprived. It's food to go, with a twist. Made from seasonal, locally produced ingredients and sold at an affordable price ($2 to $15), this is not a choice you'll regret. From breakfast to dinner and everything in between, Made Foods is there when you need it.
3534 Garrison Gate S.W., 587-483-9853, madefoods.com, @made_foods
It may be the new kid on the block, but Monogram Coffee is no rookie, with more than 20 years of experience in the coffee industry among its owners. The company started in 2014 and opened its Altadore location last spring. The minimalist decor and crisp white walls – which were inspired by cafs in Melbourne, Australia – make Monogram an urban escape. The baristas are expertly trained in the art of pulling the perfect shot, so all you have to do is sit back, grab a pastry and enjoy.
4814 16 St. S.W., 403-473-3886, monogramcoffee.com, @monogramco
---
Where to Shop
From denim and dresses to accessories and shoes, Crabapple Clothing Co. is an eclectic one-stop shop for any occasion. A European flair permeates the selections, and the end result is always classic.
3526 Garrison Gate S.W., 403-686-3661, crabappleclothing.com, @crabapplecloth 
There have been rumours going around (okay, it was science) declaring cheese to be as addictive as heroin. While we don't condone the latter, there's no better place to get a cheese fix than Springbank Cheese Co. From marble cheese and specialty Vacherin to local favourite Old Grizzly Gouda from Sylvan Star, Springbank keeps you coming back for more.
3570 Garrison Gate S.W., 403-984-3348, springbankcheese.ca
If there's one place where being comfortable counts, it's your bed; so, why not go to bed feeling like royalty in luxury linens? With Giza Egyptian cottons, goose-down pillows and linens from brands like Bella Notte, St Genve and Sferra, Valerianne is the place to make that happen. The store also carries the best in nightwear, towels and bath and body products.
3566 Garrison Gate S.W., 403-245-4453, valeriannecalgary.com
---
What to Do
Everyone needs to be pampered, so why not indulge yourself? With 53 employees, aVaBien is one of Calgary's largest day spas. Everything here is about going the extra mile – owner Adele Stevens even personally bakes the fresh cookies that are always on hand in the relaxation area. Complimentary dinners and lunches are provided with spa packages, along with services such as hot-stone massages, facials, body wraps and manicures.
2049 42 Ave. S.W., 403-287-7009, cavabienspa.com 
Skip Band of Brothers and take a look into the life of a real soldier. Eight distinct museums are housed under one roof, including the Naval and Air Force Museums of Alberta, the four regimental army museums and the Military Museums Library and Archives. Walk through a First World War trench or explore three vintage fighter jets from the Cold War era.
4520 Crowchild Tr. S.W., 403-410-2340, themilitarymuseums.ca, @tmm_yyc