Despite being on the edge of town, the growing community of West Springs has become a serious foodie destination. Affectionately called "The Hill" by residents, the neighbourhood has attracted a handful of Calgary culinary stars, including Vin Room and Mercato, to open satellite locations. Most recently, the owners of Mango Shiva joined in, setting up shop with its new restaurant, Ace Coffee & Diner.
West Springs is still a relatively new community, under development since 2001, but it continues to make waves. As many residents of the close-knit community will repeat, time and time again: there's really no reason to go anywhere else.
---
Where to Shop
With only 1,000 square feet of space, this carefully curated boutique feels like walking into a friend's closet. Owner and buyer Kim Stern chooses only a size run of each item to ensure the collection is diverse. The unique details of the designer brands, including Sisters and Chaser, mean you can leave feeling confident your outfit won't be seen on anyone else.
8561 8A Ave. S.W., 403-452-5911, shopapt22.com, @apt22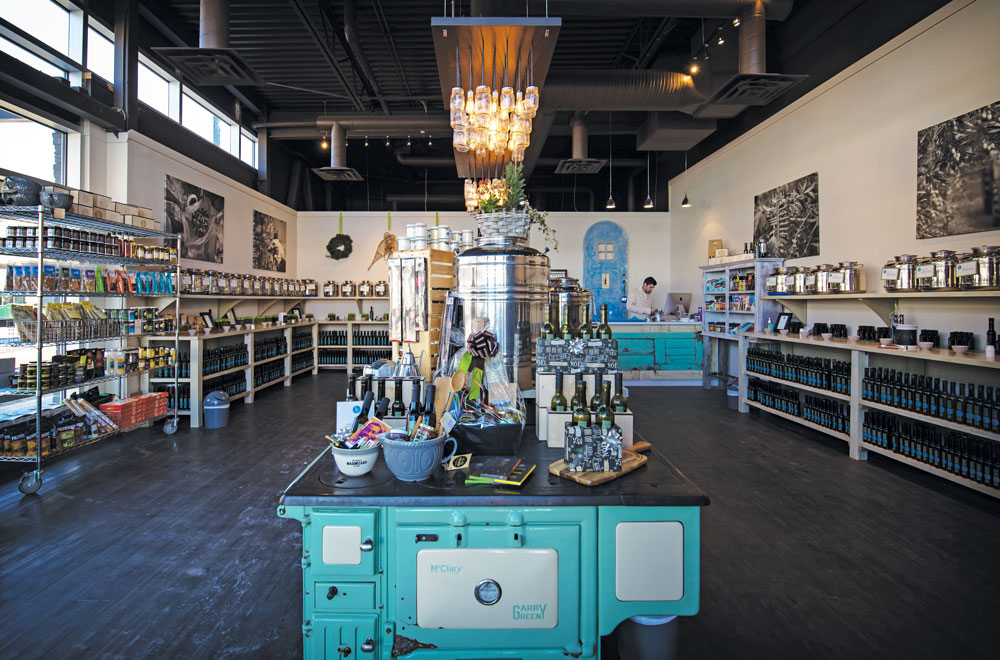 photography by jennifer friesen
Blue Door Oil & Vinegar.
The old adage of "never shop when you're hungry" doesn't apply at Blue Door Oil & Vinegar market, which offers a tasting experience well worth the drive. The open, airy room allows customers to meander around, dipping their bread and choosing the balsamic vinegar and extra-virgin olive oil concoction that fits their taste buds. The estate-grown, high-quality olive-oil options change each season, so be sure to check in regularly to taste what's new.
8561 8A Ave. S.W., 587-353-6888, bluedoorcalgary.com, @bluedoorcalgary
This independent jeweller is where you'll find exclusive Italian brands like Masi Gioielli and Officina Bernardi in unique colours and styles. If you don't see what you're looking for, custom designs are always a possibility. And, rest assured, no one suffered for the jewels; all the diamond and gold in the store is certified Canadian-sourced.
8561 8A Ave. S.W., 403-201-6446, blueicejewellers.ca
---
Where to Eat
After years of living in West Springs, the owners of Mango Shiva decided to give the neighbourhood a family diner. Neil and Kam Dhillon say Ace Coffee & Diner has been "a decade in the making," and finally saw their vision come to life last fall. Wholesome and fresh breakfast is served all day and includes freshly squeezed orange juice and the must-try gluten-free banana bread French toast.
8244 9 Ave. S.W., 403-475-1788, acediner.ca, @acecoffeediner
Boardwalk may be a franchise, but it's not your average fast-food joint. The burger patties are made to order (never frozen) and piled into unique creations, including the Hawaiian and avocado-bacon burgers. Boardwalk also carries milkshake flavours including peanut butter to cookies and cream.
873 85 St. S.W., 403-727-6400, boardwalkfries.com
Cafe Momoko
This unique combination of Korean barbecue and Japanese sushi has been tucked into West Springs since 2010, and it's truly a hidden gem. With more than 100 items on the menu, anyone can find something to binge on. The interior is modest in size (seating only 20 customers, with lots of takeout business), but the authentic dishes pack a punch. The meat for the barbecue short ribs is marinated for 36 hours and then brought to your table, still sizzling, in a cast-iron griddle.
8 Weston Dr. S.W., 403-246-4684
This market-restaurant has been serving authentic Italian cuisine in the inner city for years, before bringing the experience westward. Almost everything is made from scratch, and dishes are served family-style, while a recently added pizza bar nestled inside the market offers a unique and casual dining experience.
873 85 St. S.W., 403-263-6996, mercatogourmet.com
For a swash of rainbow colour, check out the macaron selection at this bakery, where the French pastries and desserts are made fresh daily. Sebastian Judkovski, pastry chef and owner, has more than 25 years of experience, and it shows – the treats keep customers piling into the petite but vibrant storefront, yearning for another salted caramel macaron.
8561 8A Ave. S.W., 587-353-0111, ohhlalapatisserie.com, @ohhlalapatisser
When the spring sunlight starts to shine, there's no better cause for celebration – and no better course of action – than enjoying a glass of prosecco. With 109 wines by the glass to choose from (and another 100 by the bottle), you won't be short of options. For small bites, the tapas menu has been deliberately paired with the wine – and, with preparation styles from Canada and Argentina to Asia, the options err on the side of endless.
8561 8A Ave. S.W., 587-353-8812, vinroom.com, @vinroom
---
What To Do
No experience is needed for these ballet and yoga classes. In its recently expanded studio, Alive Danceworks teaches kids how to move and offers adult recreational classes too. With experienced teachers and small classrooms, it's a comfortable space to test your limits (and your flexibility).
722 85 St. S.W., 403-246-5511, alivedanceworks.com, @alivedanceworks
This upscale, locally owned contemporary art space and accredited-learning art studio has become a hot spot for creativity in West Springs. From drop-in classes on painting pottery to glass fusion, you can make it into a girls' night out or just take a few hours to do a workshop.
8560 8A Ave. S.W., 403-460-1089, colouronfireartstudio.com, @cofartstudio
Parenting is one full-time job that never comes with vacation time – which is why Mama Massage launched in West Springs last fall. Along with customized therapeutic, deep-tissue, prenatal and relaxation massage therapy, Mama offers in-house child-minding for clients who have kids in tow.
8560 8A Ave. S.W., 403-474-6400, mamamassage.ca, @mamamassageyyc
Bust away the calories accumulated at the neighbourhood's culinary hot spots under the orange light of this new interval-training studio. More high tech than your average trip to the gym – with heart-rate monitors that track your vitals on a screen at the head of the class – the training routine has gained attention for producing results since it launched in Florida. It's a different workout every day, insuring nobody and no body falls into a rut.
873 85 St. S.W., 403-727-6776, orangetheoryfitness.com, @otheoryfitness  
[Correction: This story has been updated to reflect the proper menu items at Boardwalk Fries Burgers Shakes.]