Whisper the word "suburbs" to an inner-city dweller and you're likely to get a bit of a shudder in return. It's no secret that the outlying neighbourhoods of many North American cities get a bad rap, especially among those who choose to live in more central communities. But, in Calgary at least, that stereotype of identical, salmon-coloured boxes tucked far away from inspiring places to work, the best parks and independent shops and restaurants is becoming a thing of the past. Developers of new communities have consciously upped their games, building new burbs that attract Calgarians with more than just the promise of a bigger house at a lower price.
Be it in farther-flung neighbourhoods like the upcoming Harmony development out by Springbank Airport or the more central University District (formerly known as the West Campus) in Calgary's northwest, developers are putting together comprehensive plans to create communities that don't just make the most efficient use of their parcels of land but also provide home buyers with the kinds of benefits that draw people to pricier inner-city neighbourhoods: access to parks and pathways, nearby retail districts and workplace opportunities and a lively sense of community.
"Urbanization in Calgary is becoming the new norm and developers understand and are adapting to this," says Corinne Lyall of Royal LePage Benchmark and president of the Calgary Real Estate Board (CREB), which administers the Calgary and area entries for the Multiple Listings System (MLS). "Buyers want to live in areas that generate the same vibrancy and energy you'd find living downtown, but without the higher cost related to inner-city living."
There is an overriding trend in new communities specializing in single-family homes toward drawing potential residents in by asking them to imagine not only the comfort of their nice new home but also the day-to-day lifestyle perks that their new community will provide. The specifics vary from community to community, but the suburbs are changing, bearing little resemblance to the rows of near-identical houses Calgarians saw going up in decades past.
---
Housing Trends
While the community itself is important, homebuyers also need to find a home they can envision waking up in every morning, and the look and layout of houses in new communities has changed considerably over the last decade. Lots are generally narrower than they were in developments built in the 1980s. This means that, while suburban homeowners are still looking for more room at a more affordable cost than they'd find in the inner city, they're also considering clever floor plans that make the most of the space in smaller homes than you'd find in the suburbs built in the 1950s. Many new developments also include the type of semi-detached homes more commonly seen in inner-city neighbourhoods.
"One of the things I've seen is the broad acceptance of semi-detached or duplex homes in suburban developments," says Ian Nash, vice-president of Alberta homes for Brookfield Residential, the developer responsible for the new northwest community of Symons Gate.
"We've also seen people maybe taking a slightly smaller home, but maxing out on the options and really finishing the inside nicely," says Nash.
Of course, that trend toward smaller homes isn't across the board. In fact, many homebuyers are specifically looking for larger homes with four bedrooms to accommodate multi-generational living. But there is a new emphasis on curb appeal for single-family houses of all sizes. Most new community developments have architectural controls limiting the amount of building repetition on any given street, eliminating the cookie-cutter look that dominated the suburbs of the past and making room for a combination of prairie modern, arts and crafts, French country and contemporary architecture, all within a single community.
To further that focus on curb appeal, Kimerie Janzen, sales manager at Baywest Homes, says that, while front-attached garages are still a priority for many homebuyers, builders have moved away from garages protruding from the front of the home, instead choosing to integrate them into the footprint of the house.
"Developers don't want the garage to be the focal point of the home," Janzen says. "You're seeing more trends like front porches, or vestibules, or that upper floor protruding and almost enveloping the front elevation of the home. Architectural details have been very much stepped up."
---
Green Space and Recreational Amenities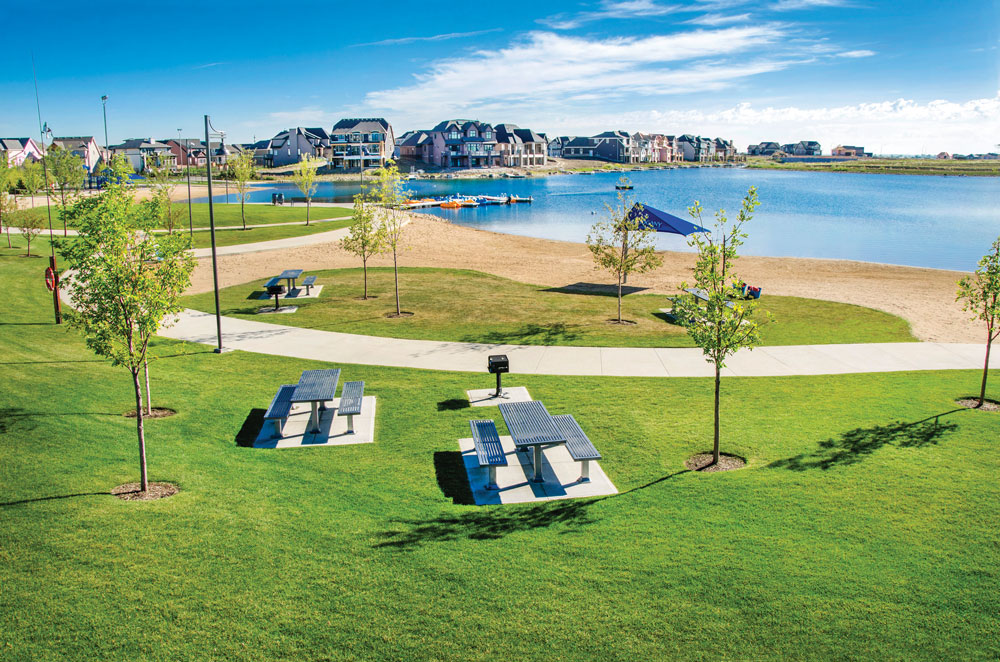 Mahogany Bay.
Proximity to parks and pathways and other outdoor recreational facilities is a priority for many Calgarians, and it's certainly not new for land developers to work plenty of green space into their neighbourhood planning.
Taking that one step further, lake communities have always been prestigious and continue to crop up in the city, with the southeast's Mahogany being one of the newer (and larger) neighbourhoods built around a lake. A lake, as well as a Phil Mickelson championship golf course, is also planned for Harmony in Springbank.
"Lake communities are extremely attractive to young parents who are busy working and don't have time or perhaps the financial capability for a lake cottage several hours from Calgary," Lyall says. "Kids and families have a gathering place to meet for skating in the winter and lake activities in the summer, without having to move far from their doorstep."
---
Sustainability Measures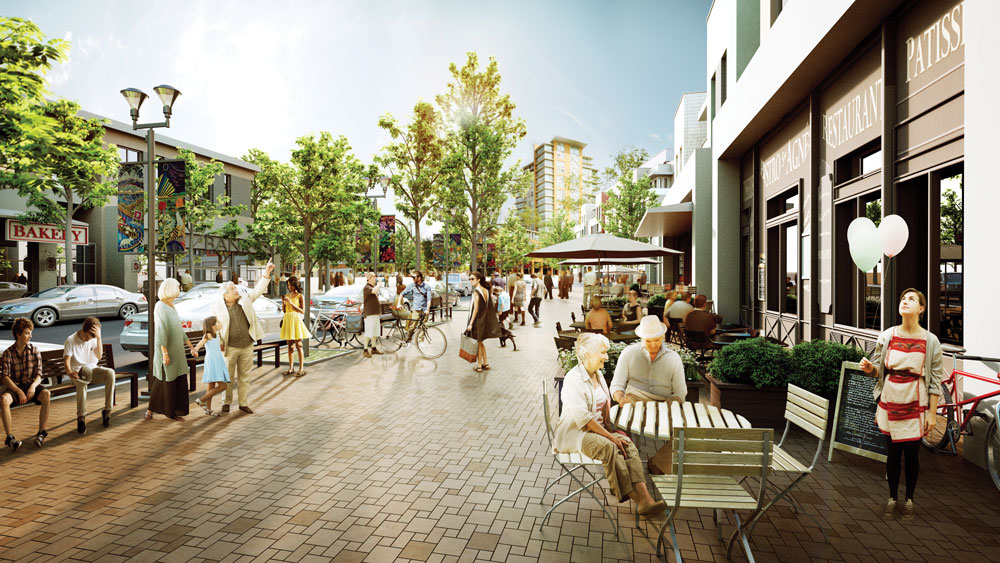 University District rendering.
Tied in to the desire for green space is homebuyers' increased demand that homes and communities be built with sustainability measures in mind. Most builders and developers no longer look at sustainability as a trend, but more as an expectation of buyers that is here to stay.
Almost all major builders adhere to basic sustainability standards, and some also offer special bonuses – for example, Qualico has a tree-planting program and offers new residents rain barrels, and Genstar's Walden development in the southeast is built around a natural wetland to promote sustainability and a quieter, more reflective sense of community.
The University District, which encompasses undeveloped land adjacent to the University of Calgary campus, is perhaps the most cutting-edge when it comes to sustainability. Not only is it planning a highly walkable community to promote reduced motor vehicle use, but it is also aiming to become one of Alberta's largest LEED-ND (Leadership in Energy and Environmental Design Neighbourhood Development) communities, meaning it will receive third-party verification of some fairly strict environmental standards.
"Sustainability is such an inherent part of the development that it has never been viewed as a requirement or a trend, it's just a given," says Emily Allert-House, communications and marketing lead for area developers West Campus Development Trust. "The entire community plan incorporates leading-edge sustainability ideas considered through the lens of environmental, financial and social sustainability, with all systems working together to deliver a highly walkable, livable and vibrant community."
---
Retail Amenities and Work Opportunities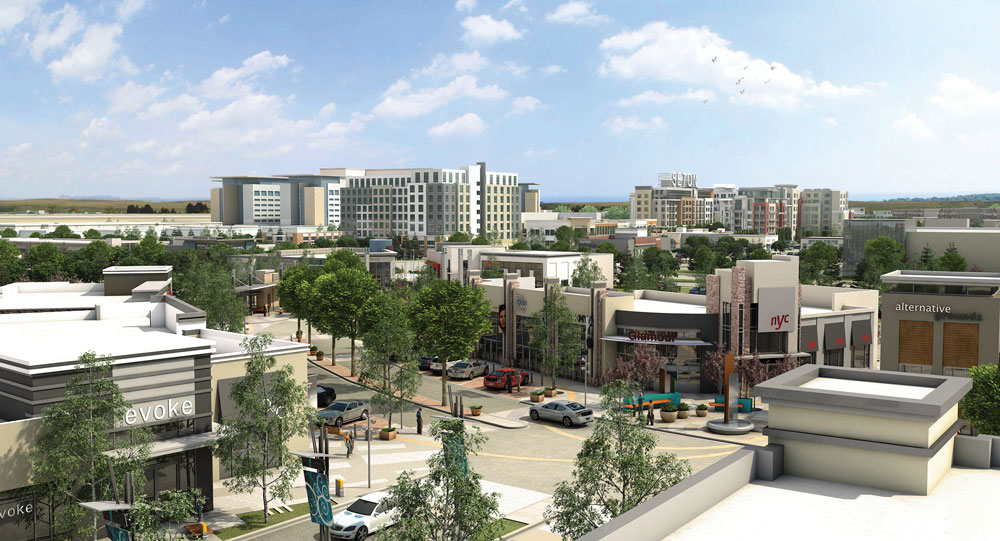 Seton development rendering.
One of the biggest pieces of combining relaxed suburban living with the conveniences of urbanization is giving residents quick and easy access to retail shops and restaurants, as well as desirable work opportunities. This isn't as easy as adding green space or a golf course to a development, but there is definitely a trend for developers to attract more than just a collection of grocery stores and coffee shops to serve a community.
The University District has a unique advantage in that, being surrounded by long-built-out communities and next door to the U of C, there are already multiple services and major employment areas nearby. And more will be developed within the community itself as it builds out, which in turn will attract residents from more established neighbourhoods.
The new developments that are further afield have to be more creative, and one trend is the creation of developments like Seton, an "urban district" in the city's deep southeast developed by Brookfield Residential, that combines a residential community, retail zones, a business park and a major employment hub in the form of the South Health Campus. It's only natural more of these "core within a core" concepts will pop up in Calgary (Keystone Hills, a proposed development in Calgary's far north, is being planned with a similar vision). In the meantime, developers are realizing that having stores and workplaces nearby (and easy-to-use traffic routes to existing malls and commercial zones) are attractive to buyers who want to spend less time commuting.
"As much as possible, people are looking for retail and convenient amenities," says Scott Hamilton, director of marketing and communications at Hopewell Residential. "Because suburbs by their nature are further from the core, people want amenities close to home. We try to address that on a varying scale so that people know they're close to large retail outside of the community, but can also get a coffee within the community."
---
Community Engagement
Many homeowners say they want a high level of community engagement in their lives, and a lot of the lifestyle features developers are putting into new communities (lakes, pathways, retail facilities with coffee shops or pubs, front porches, community gardens) do contribute to that by virtue of encouraging residents to venture beyond their own houses and yards. But there's also a trend toward developers helping residents set up strong community associations. The community association will take over the maintenance of the amenities once all phases of a development are complete and the developer moves on to other projects, but it also provides a way for residents to connect even while the community is still under construction.
"The community associations are connecting new homeowners with existing homeowners, they're creating programming for residents and opportunities for people to connect so they're not living in bedroom communities where they truly just turn out the lights at the end of the day," Hamilton says. "We're seeing really great feedback from buyers who may have been reticent to buy in the suburbs but are finding there's this whole community there for them to plug into the day they arrive."
Ultimately, the inclusion of all of these trends means developers are working very hard to consider what makes life in Calgary enjoyable and how to give current and future residents the ability to make the most of their community of choice. With so many new developments and so many options in all quadrants of the city, it's become a developer's job to sell customers a lifestyle (and predict what kind of lifestyle they'll want 10 or 20 years down the road), as well as four walls to call their own.
"We're really thinking about putting vision into communities," says Maribeth Janikowski, senior communications manager for Qualico Communities. "It's not just about building houses, it's about creating great places to live.
It's not just marketing, it truly is about creating a vision that will have a lasting impact. Once you build something, it's there – you only have one shot to get it right."