When: November 28 to December 31
There's a new can't-miss holiday attraction in town. Noel is a festive, month-long event that features four themed indoor light parks and an interactive light tunnel spanning 250 feet. There's also an artisan market, food trucks, a Santa's Village and more.
Nutrien Centre, Stampede Grounds, 1410 Olympic Way S.E., noelchristmas.ca
When: November 30 to December 1
Planning to pick up some groceries at a local market this weekend? On November 30 and December 1, swing by Avenida Food Hall & Fresh Market to pick up some fresh fare and, while you're there, sample some tasty soups for a good cause. Between 11 a.m. and 3 p.m., six market vendors (Expat Asia, Wild Rhubarb & Buck, Bumbu Grill, Oishidesu Ramen Shack, Arepas Ranch and Que Chivo Salvadorian Street Food) will be offering fall-inspired soups for the Avenida Soup Showdown. With a minimum $5 donation to the Calgary Food Bank, guests can try all the soups and vote for a winner.
Avenida Food Hall & Fresh Market, 12445 Lake Fraser Dr. S.E., facebook.com
Go for a drive to see some spectacular holiday light displays
When: The Lions Festival of Lights runs from November 30 to January 8; Spruce Meadows' Christmas Lights run from December 8 to January 5, except for Christmas Day
This winter, get ready to be dazzled by Christmas light displays without leaving the comfort (and warmth) of your car. At the Lions Festival of Lights, which returns on November 30, drive down 14 St. N.W. to see more than half a million lights set up in fun holiday displays. And starting on December 8, you can also check out Spruce Meadows' nightly Christmas lights event for an equally impressive display. The best part? It's completely free to drive through both of these holiday light displays.
The Lions Festival of Lights, Confederation Park, 14 Street N.W. and 24 Avenue N.W., lionsfestivaloflights.ca; Spruce Meadows, 18011 Spruce Meadows Way S.W., sprucemeadows.com
View this post on Instagram
Home & Away, the popular local sports bar and restaurant that closed its 17 Ave. S.W. location earlier this year, has found a new home. Visit its newly re-opened location in Victoria Park for elevated pub fare like pizza and burgers, arcade games and a game of standing shuffle board on the downstairs courts.
1207 1 St. S.W., homeandawayyyc.com
Looking for a gift for the foodie in your life? Maybe a stocking a stuffer for a loved one? Avenue's holiday gift guide has 59 suggestions to help you find just the right presents for your friends and family this year.
Read more: 59 Gift Ideas For the Holidays
When: December 1
The Teddy Bear Toss has been a part of the Calgary Hitmen hockey season for more than 20 years. At one game each year, attendees bring teddy bears to donate to a local charity or hospital. But instead of just putting them in a donation box, they throw the bears onto the ice after the Calgary Hitmen's first goal. Last year's game saw nearly 30,000 teddy bears tossed onto the ice and donated, so don't miss the chance to try and beat that amount at this year's game.
Scotiabank Saddledome, 555 Saddledome Rise S.E., hitmenhockey.com
It's not the beach in Mexico, but a visit to one of Calgary's indoor swimming pools is a good way to escape the cold weather within your own city. Whether you're looking for exercise, relaxation or fun water activities, these indoor Calgary pools have you covered.
Read more: Best Indoor Swimming Pools to Escape the Cold
View this post on Instagram
When: December 1 to 31
Buds Collective is once again bringing painted windows to life with the 2019 Northern Reflections exhibit. This year, local artists have teamed up with the arts collective to paint windows with the theme "gather round" at different downtown businesses and spaces. With the help of Augle, an augmented reality app by Buds Collective, Calgarians can turn their phones towards the finished windows to see the paintings come alive with movement and animation.
Various locations, budsofbuds.com
When: December 4
Don't miss the chance to hear from bestselling author Neil Pasricha at this upcoming Wordfest event. The creative mind behind The Book of Awesome and The Happiness Equation will be tackling the topic of resilience in today's society at the Central Library.
Central Library, Patricia A. Whelan Performance Hall, 800 3 St. S.E., wordfest.com
You may have to wait awhile to visit most of Calgary's outdoor skating rinks, but thanks to its refrigerated ice, Olympic Plaza officially opened for skating in November. It's free to skate at Olympic Plaza, and those who need to rent skates and helmets can do so for a small fee at the Skate Hut from Thursday to Sunday.
228 8 Ave. S.E., calgary.ca
When: December 5 to 8
Looking to buy some new art without breaking the bank? At the Under $100 Art Show, every piece of art is (you guessed it) less than $100. Artwork by more than 100 artists will be available for purchase, plus there there will art tours on December 6 at 6 p.m. and December 8 at noon. The show has a $5 admission fee.
4009 11 St. S.E., under100artshow.com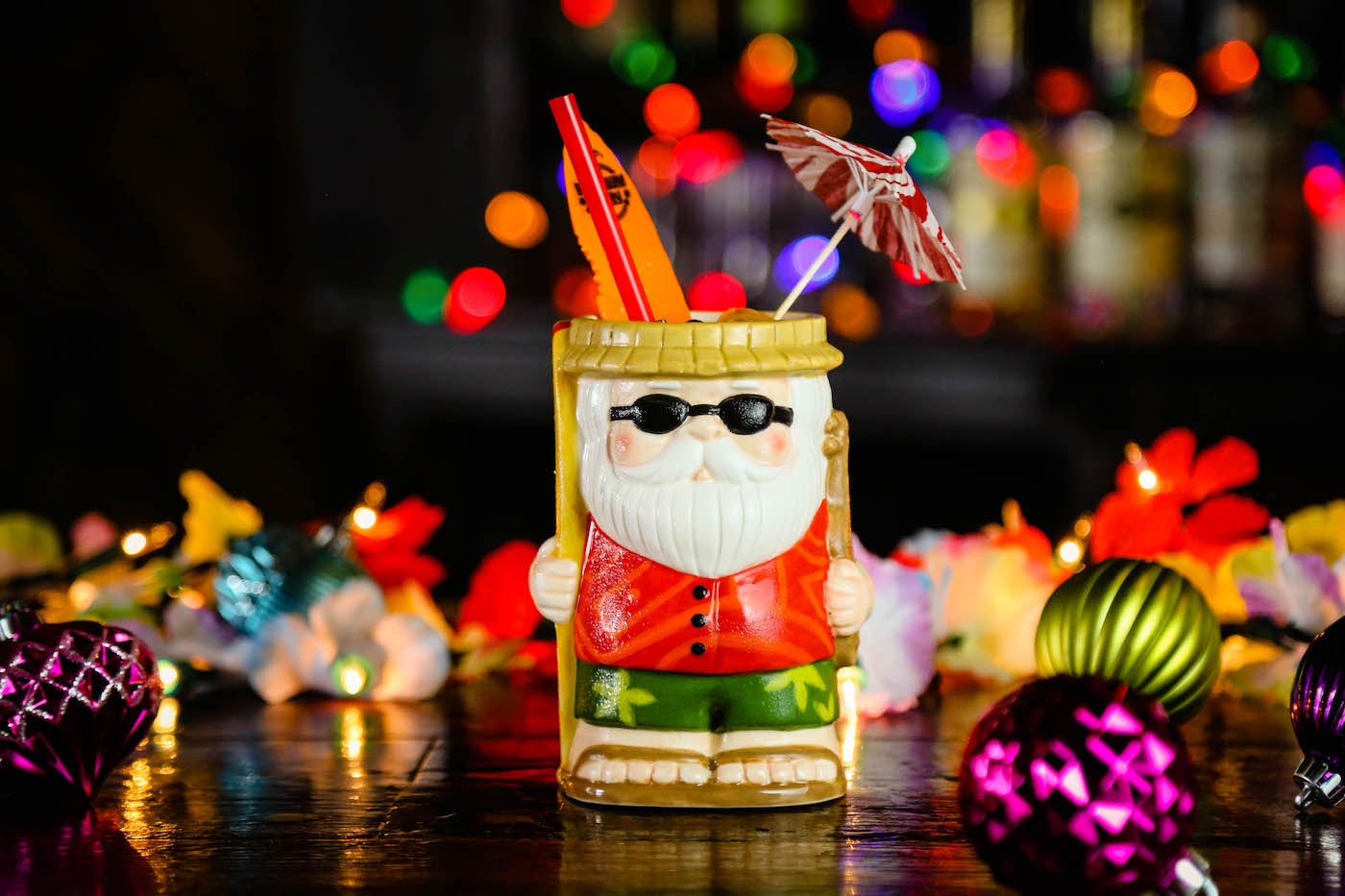 When: Miracle on 1st Street at Proof runs from November 25 to December 24; Sippin' Santa at Ricardo's Hideaway runs from November 28 to December 31; Nightmare on 1st Street at Shelter runs from December 4 to 30.
Christmas has officially arrived at Proof, Ricardo's Hideaway and Shelter, which are all holding holiday cocktail bar pop-ups this month. While each pop-up has its own vibe, all three bars will be decked out in holiday decorations and feature special holiday-themed drinks. Miracle on 1st Street at Proof returns for a second year, while this is the first time Ricardo's Hideaway has hosted the Tiki-inspired Sippin' Santa pop-up. Inspired by the film The Nightmare Before Christmas, the new Nightmare on 1st Street pop-up at Shelter takes a darker approach to the holiday theme.
Read more: Two Holiday Cocktail Bars are Popping Up in Calgary This Month
Proof, 1302 1 St. S.W., 403-246-2414, proofyyc.com; Ricardo's Hideaway, 1530 5 St. S.W., 587-349-2528, ricardoshideaway.ca; Shelter, 1210 1 St. S.W., 403-233-7730, shelteryyc.com
When: December 6 to 8, 13 to 15 and 20 to 22
If you want to give your loved ones locally made gifts, Market Collective is one of the best places to get your holiday shopping done. Swing by one (or several) of the three market weekends to shop from local vendors, listen to live music, check out the indoor skatepark and more. This year's vendors will be selling soap, jewellery, spirits, apparel, chocolate and more.
BMO Centre, Hall C, 20 Roundup Way S.W., marketcollective.ca
Clearing out or building up your wardrobe doesn't have to be difficult or expensive. There are at least 16 consignment stores where you can sell your clothes (and maybe pick up a new outfit for a great price in the process) in Calgary.
Read more: Where to Buy and Sell Consignment Clothes in Calgary
When: December 7
Watching festive movies is one of the best ways to get in the holiday spirit. During Cineplex's Community Day on December 7, you can watch five holiday movies on the big screen at six Calgary theatres from 9 a.m. to 11 a.m. Admission to the movies is free, while proceeds from select discounted concession snacks will support the Boys and Girls Club of Canada. The movie selection includes A Christmas Story, Elf, Gremlins, The Polar Express and National Lampoon's Christmas Vacation.
Various locations, cineplex.com
When: December 8
Embrace the winter weather with your family at the annual Northwestival event at the University District. Attendees can expect a full roster of activities, including a hockey shootout, axe throwing, s'mores, live music, a cabane à sucre station and more.
University District, Northwest Commons Park, facebook.com; myuniversitydistrict.ca
Break a sweat at one of Calgary's two newest fitness studios
View this post on Instagram
There are two new spots where you can get in shape in Calgary. Alberta's first and only Barry's Bootcamp location has landed in the Mission neighbourhood. The Method, a new group fitness studio designed by Amanda Hamilton Interior Design, has also opened its doors over in Victoria Park. Try them out to kickstart your fitness journey.
Barry's Bootcamp, 2306 4 St. S.W., barrysbootcamp.com; The Method, 402 12 Ave. S.E., themethodyyc.com
From Theatre Calgary's annual production of A Christmas Carol to Alberta Ballet's rendition of The Nutcracker, there is no shortage of holiday productions to check out in Calgary this month. These 10 shows will get you in the holiday spirit with their dance, theatre and music performances.
Read more: Buy Tickets Now for These Holiday Productions in Calgary
When: November 9 to December 14
If you've had your fill of holiday-themed activities, Vertigo Theatre's latest mystery production may be just the palate cleanser you need. Sherlock Holmes and the Raven's Curse runs until December 14 and gives audiences a look into Sherlock Holmes' family life (and a family curse) after his uncle dies under mysterious circumstances.
The Playhouse, 115 9 Ave. S.E., vertigotheatre.com
When: December 20
Imaginary horse races used to be a staple at the St. Louis Hotel, and now, they're back. At this lunchtime event, you'll snack on chips and chicken as a fabricated horse race is announced live in the St. Louis Hotel by some special guests. If you're lucky, your horse of choice will win the race.
St. Louis Hotel, 430 8 Ave. S.E., evexperience.com
View this post on Instagram
Whether it's breakfast, lunch or dinner, eating healthier has become a little bit easier since Hart Healthy Food (HHF) joined Calgary's food scene. The East Village eatery serves toasts and sandwiches, cold and hot bowls, soups, smoothies and more. As for that connection to a famous wrestling family? Alex Hart, the owner of HHF, is wrestler Bret Hart's daughter, and they even use wrestler cards instead of traditional table numbers.
612 5 St. S.E., 403-453-8259, harthealthyfood.com
When: December 21
Local improv troupe The Kinkonauts is channeling its comedic chops into a holiday improv show this month. Catch the holiday episode of Apt 33 to see the story of two "man-children" taking on the holidays.
922 9 Ave. S.E., kinkonauts.com
When: December 31
This New Year's Eve, there are plenty of ways to mark the end of 2019 in Calgary. Many local restaurants will be offering special multi-course meals just for the occasion. Adults looking for a night out can choose from masquerade galas, comedy shows, tango dancing and more. And of course, families can also head downtown for the city's annual public New Year's Eve celebration complete with skating and fireworks.
Read more: Calgary New Year's Eve Events to End 2019
When: November 28 to January 11
Artwork can make a great gift, and you may find exactly what you're looking for at Newzones Gallery of Contemporary Art's 2019 Deck the Walls! exhibit. Curated specifically with gift-giving in mind, the exhibit features a range of small and medium-sized paintings, sculptures and more in various styles. There are some really eye-catching pieces in this year's exhibit, so don't be surprised if you're tempted to pick up one for yourself too.
Newzones, 730 11 Ave. S.W., 403-266-1972, newzones.com
Grab a drink at a classic or new coffee shop
Calgary is home to countless local coffee shops. The next time you need a caffeine fix, check out one of the city's newest boutique coffee shops or a beloved classic shop dating back to the 1980s.
Read more: 6 Classic Coffee Shops in Calgary
Read more: 7 New Boutique Coffee Shops in Calgary