Get in the holiday spirit with a festive day in Inglewood or Kensington
Dates: Christmas in Inglewood is on December 1; Christmas in Kensington is on December 1, 8, 15 and 22
Calgary neighbourhoods are getting in the holiday spirit this month. During Christmas in Inglewood on December 1, many of the neighourhood businesses will be decked out in Christmas decor and there will be special entertainment like caroling. Meanwhile, the Christmas in Kensington celebrations on December 1, 8, 15 and 22 will feature horse and wagon rides and holiday movies at Plaza Theatre.
Christmas in Inglewood, inglewoodyyc.ca; Christmas in Kensington, facebook.com
Go for a drive to see some spectacular Christmas light displays
When: The Lions Festival of Lights runs from December 1 to January 8; Spruce Meadows' Christmas Lights run from December 9 to January 6, except for Christmas Day
This winter, get ready to be dazzled by Christmas light displays without leaving the comfort (and warmth) of your car. At the Lions Festival of Lights, which returns on December 1, drive down 14 St. N.W. to see nearly half a million lights set up in fun holiday displays. And starting on December 9, you can also check out Spruce Meadows' nightly Christmas light display featuring a quarter of a million lights. The best part? It's completely free to drive through both of these holiday light displays.
The Lions Festival of Lights, Confederation Park, 14 Street N.W. and 24 Avenue N.W., lionsfestivaloflights.ca; Spruce Meadows, 18011 Spruce Meadows Way S.W., sprucemeadows.com
When: December 6
Calgary singer-songwriter Ellen Doty is the latest Alberta talent to be featured in the National Music Centre's monthly Alberta Spotlight series. Still fresh off the release of her sophomore album, Come Fall, earlier this year, Doty brings her pop-jazz sound to Studio Bell's Performance Hall for one night.
Studio Bell, 850 4 St. S.E., nmc.ca
When: December 7
Bubbles aren't just for celebrations and New Year's Eve — with so many great options out there, you deserve to drink sparkling wine year round. And you can start at Willow Park Wine & Spirits' Bubble Festival on December 7. Expect to try sparkling wines hailing from California, Spain and beyond, as well as French Champagne.
Willow Park Wine & Spirits, 10801 Bonaventure Dr. S.E., 403-296-1640, willowpark.net
When: December 7
Now in its fourth season, this local talk variety show invites Calgarians to celebrate the holidays with host Dave Kelly at the Jack Singer Concert Hall. Expect a night of stories and appearances by The Young Canadians, local artist Mandy Stobo, Village Brewery's Jim Button and The Flat Whites.
Jack Singer Concert Hall, 225 8 Ave. S.E., davekellylive.com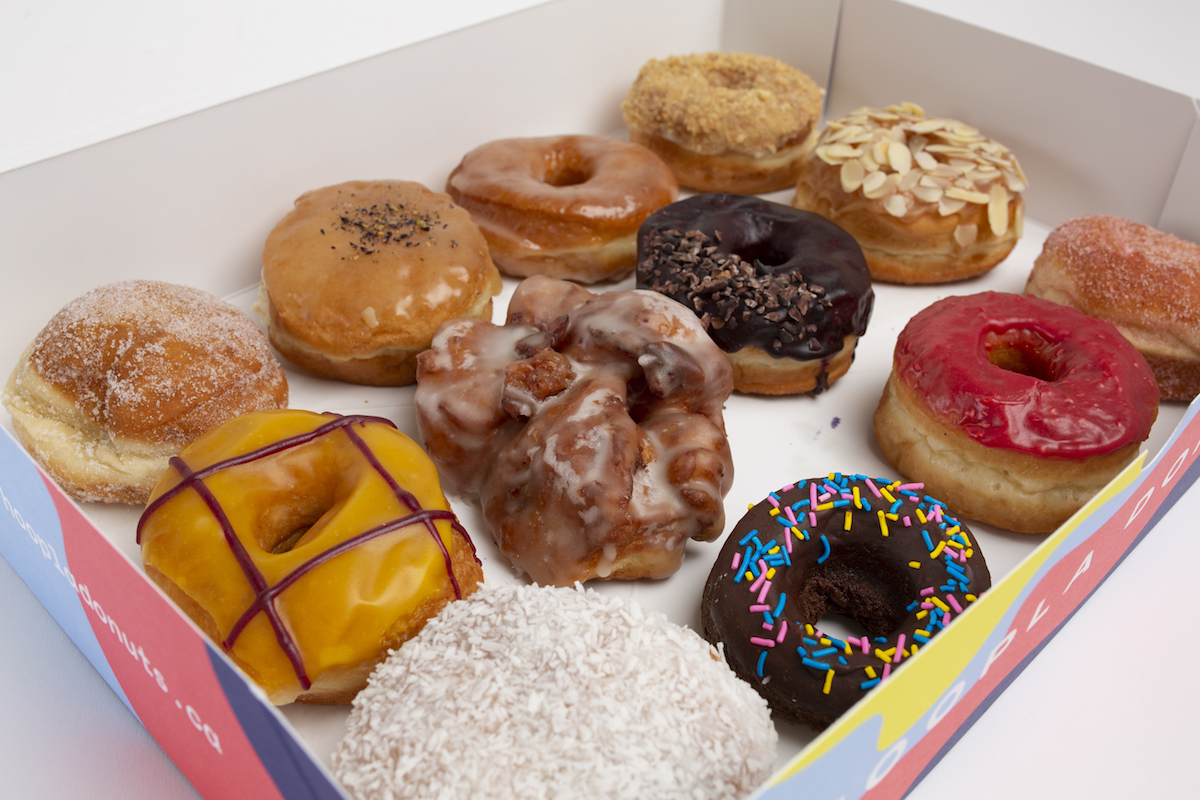 Is there any better way to start the day than with a doughnut? We're going to go ahead and say no, and if you agree, you should swing by the newly opened Hoopla Donuts. Open on weekdays starting at 7 a.m., the new eatery by the team behind Phil & Sebastian Coffee Roasters makes fresh doughnuts in flavours like strawberry gin jam, mango blackcurrant, matcha white chocolate, root beer float and more. For those craving something savoury, there's even a breakfast doughnut with a poached egg, torched cheese, cajun mayo and fresh oregano.
Read more: Hoopla Donuts Opens in Downtown Calgary
248, 414 3 St. S.W., hoopladonuts.com
When: December 7 to 8
Calgary hosted an ISU World Cup Short Track event last month, and now, it's the third stop for the Viessmann Luge World Cup. ​Held at Canada Olympic Park, the two-day event will feature more than 100 lugers taking part in races for the team relay, doubles and singles events. There will also be plenty of activities that the entire family can experience, including the chance to try luging for yourself, live music, a beer garden, cookie decorating and more.
Winsport's Canada Olympic Park, 88 Canada Olympic Rd. S.W., winsport.ca
Craving Indian food? Calgary has a great Indian food scene that's well worth exploring. Whether you're looking for a list of restaurants to check out or want to learn more about some of the families that make these eateries great, this guide to Calgary's Indian food scene will help.
Read more: A Guide to Indian Food in Calgary
When: December 7 to 9 and 14 to 16
The holidays aren't the only thing Market Collective will be celebrating when it returns this month — it's also the local art market's 10-year anniversary. Swing by one (or both) of the two market weekends to shop from local vendors, listen to live music, check out the indoor skateboard park and celebrate the milestone in Market Collective's biggest venue yet. This year's vendors will be selling illustrated prints, soaps, leather wallets, jewellery, pet items, jigsaw puzzles and more.
BMO Centre, Hall C, 20 Roundup Way S.W., marketcollective.ca
Confluence Distilling is the latest addition to Calgary's distilling scene. The distillery is celebrating its grand opening on November 30 and currently makes a Manchester dry gin and a Headwater vodka. Swing by its tasting room in the Manchester district to sip on a cocktail and, if you want to learn more about how the spirits are made, sign up for a 45-minute tour of the facility for $10.
507 36 Ave. S.E., 587-771-1286, confluencedistilling.ca
When: December 9
The Teddy Bear Toss has been a part of the Calgary Hitmen hockey season for more than 20 years. At one game each year, attendees bring a teddy bear to donate to a local charity or hospital. But instead of just putting them in a donation box, they throw the bears onto the ice after the Calgary Hitmen's first goal. Last year's game saw almost 25,000 teddy bears tossed onto the ice and donated, so don't miss the chance to try and beat that amount at this year's game on December 9.
Scotiabank Saddledome, 555 Saddledome Rise S.E., hitmenhockey.com
When: December 9
Winter is almost officially here, but that doesn't mean you can't still enjoy an outdoor movie screening. On December 9 from 12 p.m. to 4 p.m., St. Patrick's Island will be set up with fire pits, a curling sheet, Santa visits and a holiday photo set for its Holiday Fest 'n' Film. Then at 2 p.m., guests can catch a screening of the 2018 animated film Smallfoot at the Amphitheatre.
St. Patrick's Island, evexperience.com
Not sure what to get everyone on your Christmas list this year? Well, don't worry — you don't have to visit a hundred shops in the city to figure it out. Calgary has tons of one-stop gift shops that make finding something for everyone on your list easy.
Read more: Great One-Stop Gift Stores in Calgary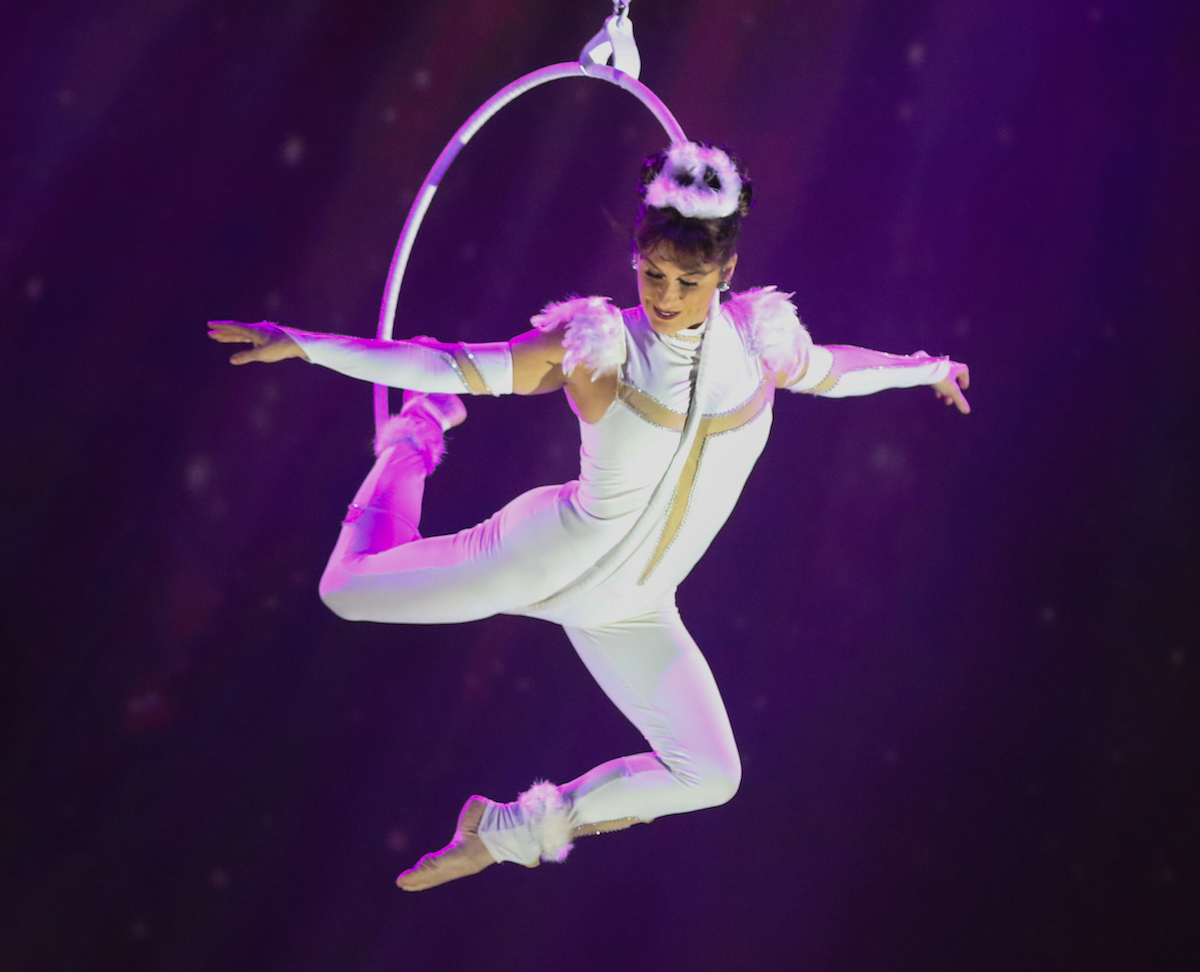 When: December 10
Cirque Musica's Wonderland show takes all the wonder and excitement of a circus production and sets it to live holiday music. Watch as aerialists, acrobats and other performers perform incredible stunts during their only performance in Calgary.
Scotiabank Saddledome, 555 Saddledome Rise S.E. cirquemusica.com
When: December 22 and 23
Local a cappella group The Heebee-jeebees has been making us laugh and dance for more than two decades, and now, it's time to celebrate. To mark their 25th anniversary, the group is holding two concerts at the Bella Concert Hall this month and they promise to be fun, music-filled nights. Calgary Food Bank donations will be accepted at the shows.
Bella Concert Hall, Mount Royal University, 4825 Mt. Royal Gate S.W., taylorcentre.ca
By now, you've probably seen Lime's bright green, electric-assist bikes parked around Calgary — you may have even tried one! The Lime-E bikes made their Calgary debut last month and are similar to Car2Go in that you can rent one to use through an app that lets you pay by the minute. The fact that they're electric-assist bikes makes them easy to pedal and you don't have to worry about finding a parking spot since they can just be left on the sidewalk within the system's parking zone. So keep these in mind if you suddenly need a quick ride this month.
When: Until December 22
After earning three nominations and a win at Calgary's 2017 Betty Mitchell Awards, Lunchbox Theatre is bringing back its production of It's a Wonderful Life: A Live Radio Play for this holiday season. The play, which turns the original 1946 film into a live radio broadcast in the 1940s, still focuses on a suicidal George Bailey as he contemplates his life on Christmas Eve and the guardian angel sent to comfort and save him.
160, 115 9 Ave. S.E., lunchboxtheatre.com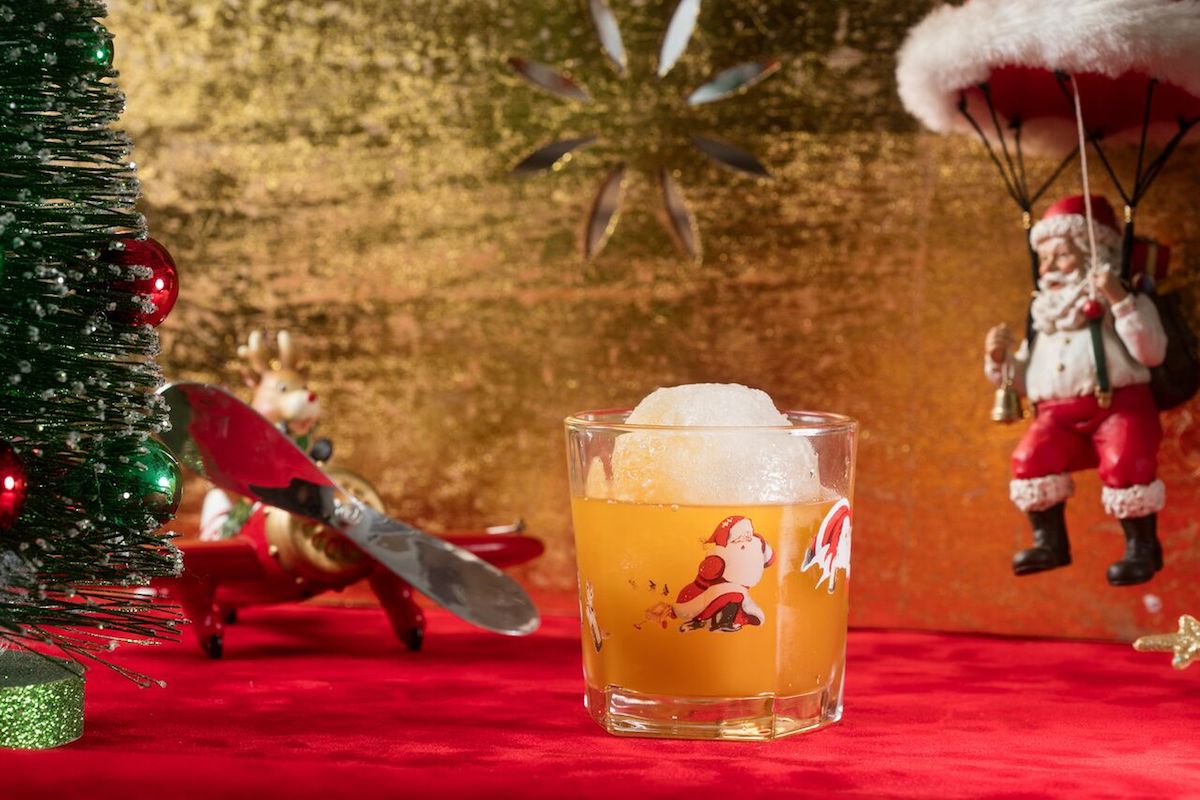 When: Until December 23
Christmas has officially arrived at Proof, which is holding a Christmas cocktail bar pop-up called Miracle on First Street until December 23. Not only is the bar decked out in holiday decorations, but the entire cocktail menu is themed around the holidays. Sip on cocktails like the Gingerbread Flip (made with Bourbon, gingerbread syrup, tiki bitters, whole egg, Elemakule, nutmeg and ginger snap cookie crumbs) or a Christmapolitan (made with vodka, dry vermouth, spiced cranberry sauce, elderflower, rosemary, lime and absinthe mist).
Read more: Proof is Transforming into a Christmas Cocktail Bar for a Whole Month
Proof, 1302 1 St. S.W., 403-246-2414, proofyyc.com; instagram.com
You may have to wait awhile to visit most of Calgary's outdoor skating rinks, but thanks to its refrigerated ice, Olympic Plaza officially opened for skating in November. It's free to skate at Olympic Plaza, and those who need to rent skates and helmets can do so for a small fee at the Skate Hut from Thursday to Sunday.
228 8 Ave. S.E., calgary.ca
When: Until December 23
For many Calgarians, it just wouldn't be Christmas without seeing Theatre Calgary's annual production of A Christmas Carol. The production also wouldn't be the same without local actor Stephen Hair, who is taking on the role of Ebenezer Scrooge for the 25th time this year. Don't miss the chance to celebrate this major milestone of his while taking in one of the most beloved holiday shows ever.
Max Bell Theatre, theatrecalgary.com
Whether you're a seasoned knitter or just getting started, there are at least eight yarn shops in Calgary (as well as some in surrounding cities) that can help. Offering yarn, equipment, classes and finished products, visit these shops before starting your next project.
Read more: Where to Buy Yarn in Calgary (And Beyond)
When: Until December 31
Buds Collective is once again bringing painted windows to life with the 2018 Northern Reflections exhibit. This year, local artists have teamed up with the arts collective to paint windows with the theme "electric winter" at around a dozen different businesses and spaces in the city (though largely in the downtown area). With the help of Augle, an augmented reality app made by Buds Collective, Calgarians can turn their phones to the finished windows to see the paintings come alive with movement and animation. Be sure to cast your vote for your favourite window once you've seen most or all of them.
Various locations, budsofbuds.com
When: December 31
This New Year's Eve, there are plenty of ways to mark the end of 2018 in Calgary. Many local restaurants will be offering special multi-course meals just for the occasion. Adults looking for a night out can choose from charity galas, masquerade balls, comedy shows and more. And of course, families can also head downtown for the City of Calgary's annual NYE celebration complete with a skating party and and fireworks.
Read more: Calgary New Year's Eve Events to End 2018
When: November 29 to January 12
Artwork can make for a great gift, and you may find exactly what you're looking for at Newzones Gallery of Contemporary Art's 2018 Deck the Walls! exhibit. Curated specifically with gift-giving in mind, the exhibit features a range of small and medium-sized paintings, photography and drawings in various styles. There are some really eye-catching pieces in this year's exhibit, so don't be surprised if you're tempted to pick up one for yourself too.
Newzones, 730 11 Ave. S.W., 403-266-1972, newzones.com
Got some energy to burn? Head to Extreme Air Park's 42,000-square-foot trampoline park for some gravity defying fun. The facility lets guests play 3D dodgeball, bounce down a 50-foot trampoline half-pipe that ends with a foam pit or jump across 80 connected trampolines in the Air Zone.
1411 33 St. N.E., 403-265-2733, calgary.extremeairpark.com