When: April 30 to May 27
JazzYYC is bringing us almost a full month of virtual jazz performances during the International Jazz Days Festival. From April 30 to May 27, tune in online for live streamed performances by Canadian jazz artists featuring Latin jazz, a jazz battle and more.
Treat yourself to a fondue night at home
Pandemic or no pandemic, we could all use a little more fondue in our lives. Thankfully, at least two Calgary restaurants — Moonlight & Eli and The Living Room — are selling fondue kits you can enjoy at home right now. Both restaurants offer savoury cheese and chocolate fondue options, so choose your favourite and get eating. Moonlight & Eli offers pickup and delivery while The Living Room is open for pickup.
627 1 Ave. N.E., 587-907-8316, moonlightandeli.com; 514 17 Ave. S.W., 403-228-9830, livingroomrestaurant.ca
When: May 1 to 3
This month, get to know Calgary a little bit better on a Jane's Walk. Normally, these free walking tours of local neighbourhoods are led by a local in-person, but this year, you'll be able to experience the tours virtually. The Jane's Walk schedule will be fully revealed on May 1, so tune in to the organization's Facebook and Instagram accounts to learn more and take part in a virtual walk over the weekend.
janeswalk.calgaryfoundation.org
RNDSQR recently launched a small business box in support of a several of Calgary businesses, and they were so popular that they've brought them back for a second round of ordering. The $148 box comes with pints of Village Ice Cream, a $15 gift card to Vine Arts, a loaf of bread from Sidewalk Citizen, local vegetables and more. Buy it as a treat for yourself or as a gift for someone else in your life. Available for pickup and delivery.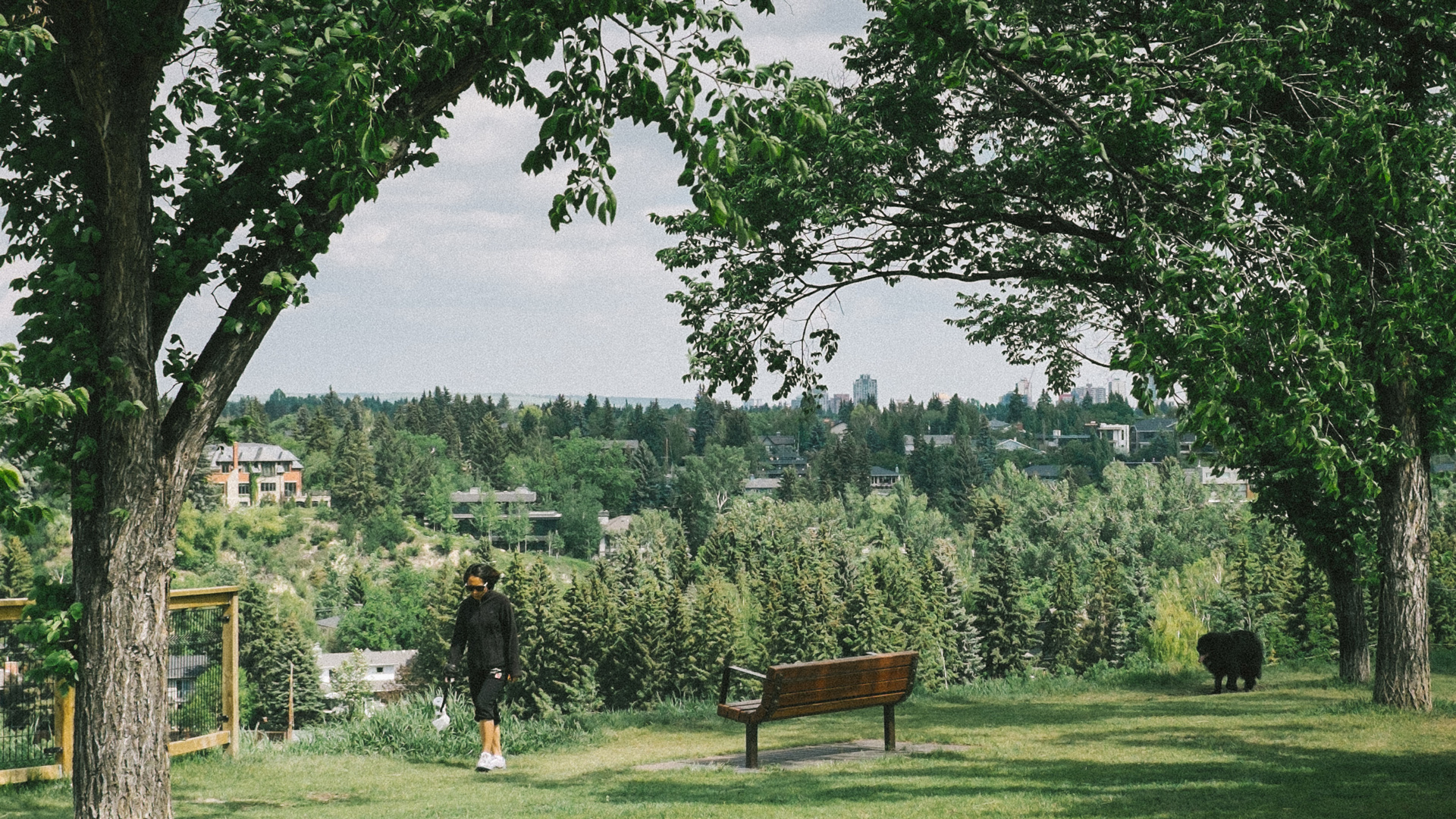 Now that many Calgarians are working from home, more and more people are spending time on Zoom to conduct work meetings or connect with family and friends. The next time you're making a Zoom call, show your love for your city by adding a virtual Calgary background. Here are nine photographs by Avenue photographer Jared Sych that you can use for free.
Read more: Calgary Zoom Backgrounds You Can Download For Free
When: May 4 to 10
YYC Vegan Week is back for a second year, though in a takeout format this time due to the pandemic. Like last year, registered Calgary restaurants will be offering a special vegan meal and/or dessert from May 4 to 10 and diners can vote for their favourites. Each time someone purchases one of these dishes for takeout, $1 goes towards the next VegFest event. Participating restaurants include PB and J YYC, The Street Eatery, Vegan Street and Raw Eatery & Market.
Telus Spark is bringing tons of science fun to us with its current roster of online programming, Spark Science From Home. Check out science Q&As and DIY activities ranging from making egg geodes to liquid rainbows. There are also live events you can tune in for, like the upcoming Instagram Live science happy hour on May 1 and a talk with Dr. Shawna Pandya on Facebook and YouTube Live on May 6.
Over the past few weeks, several local clothing brands in and around Calgary have stepped up to offer special products in support of local charitable organizations. With options ranging from socks decorated with toilet paper to t-shirts dedicated to the Ramsay turkey, you can get a new addition to your wardrobe while supporting a good cause and a local brand.
Read more: Local Clothing Companies Giving Back During COVID-19
Buy a local barbecue kit to grill for dinner
Now that the weather is nice again, it's time to break out your barbecue and start grilling. While you can, of course, pick up supplies from the grocery store, we encourage you to try one of the barbecue kits being offered by several local restaurants right now, which feature everything from Wagyu burger kits to ribeye steaks. Empire Provisions, Modern Steak and Cravings Market Restaurant are just a few of the Calgary spots offering barbecue kits right now.
View this post on Instagram
Pinnovate is now delivering all the crafts you need to keep yourself entertained. The DIY Craft & Art Studio has kits to help you make rainbow string art, banner macramé, doormats, customizable wood pallets and more.
When: May 9
Calgary social service agency Carya is hosting a virtual dinner in support of its COVID-19 Response Fund. Originally meant to be an in-person dinner before the pandemic hit, Everyone At The Table now encourages participants to make dinner at home with the virtual help of Calgary chef JP Pedhirney and Julie Van Rosendaal (meal kits are available for purchase and delivery to help you make the meal). Country music artists Drew Gregory and George Canyon will also make a virtual appearance during the dinner for a special performance. Event registration is free but donations to Carya are encouraged.
eventbrite.ca; caryacalgary.ca
Immerse yourself in the mountains without leaving home
Just because we can't go to the mountains right now doesn't mean we can't experience mountain culture in other ways. From virtual exhibitions to online film festival picks to cookbooks featuring fare from backcountry lodges, we can all immerse ourselves in the mountains in one way or another from home.
Read more: How to Experience Mountain Culture From Home
Treat your mom to a special meal for Mother's Day
When: May 10
Even in a pandemic, you can still show your mom how much you appreciate her with a restaurant meal at home. Several restaurants are starting to reveal special Mother's Day menus: Flores & Pine is offering brunch and dinner packages for pickup, while Vin Room is serving up a three-course brunch for delivery or pickup. You can also get brunch or dinner delivered from Bow Valley Ranche Restaurant on Mother's Day weekend as well.
Flores & Pine, 254028 Bearspaw Rd. N.W, 403-241-7611, floresandpine.com; Vin Room, 2310 4 St. S.W., 403-457-5522 and 8561 8A Ave. S.W., 587-353-8812, vinroom.com; Bow Valley Ranche Restaurant, 15979 Bow Bottom Tr. S.E., 403-476-1310, bvrrestaurant.com
Did you know you can do a lot more than just take out books with a Calgary Public Library card? The digital library offers many online services that are perfect to explore while self-isolating. You can find out more about your personal lineage using the Ancestry Library Edition, watch Lynda video tutorials to learn a new skill, take a language lesson and more. Click here to register for a card today.
Read more: How to Put Your Calgary Public Library Card to Good Use While Self-Isolating
View this post on Instagram
Food truck season has officially started and YYCFoodTrucks has found a way to make sure we can still get our food fix during the pandemic. YYCFoodTrucks is organizing food truck drive-thrus with social distancing measures in the parking lots of Calgary malls. So far there have been drive-thrus on Tuesdays and weekends, but check YYCFoodTrucks' website and social media channels for the latest dates, times and locations.
Read more: YYCFoodTrucks Launches Food Truck Drive-Thrus
When: Launches May 20
It looks like we'll be getting a taste of the outdoor farmers' market season this spring after all. Hillhurst Sunnyside Farmers' Market recently announced that it has received essential service status and will be opening on May 20. The outdoor market will take place in the Hillhurst Sunnyside Community Association's back parking lot and will feature health and safety precautions such as physical distancing measures and a smaller capacity. If you need to pick up some groceries for the week, this is one way you could do so while supporting local producers.
Hillhurst Sunnyside Community Association, 1320 5 Ave. N.W., farmersmarket.hsca.ca
If you're one of the many people cleaning and decluttering their home right now, consider getting a little help from The Upside. The luxury consignment store is currently offering a virtual closet edit service to help you decide whether you should keep, consign or donate your clothes over a 30-minute video call. You can make a request for a virtual appointment now on The Upside's website.
Theatre Calgary has come up with a new way for us to get our theatre and music fix from home. The local theatre company recently launch tcTakeout: The Arts Delivered!, which is a twice-weekly series of videos featuring musical performances and chats with performing artists. There are four videos so far, but check back regularly for new content.
Sled Island is one of the many festivals that were sadly canceled this year due to the pandemic. While it won't quite be the same as being there, you can still get a taste of what might have been thanks to the Sled Island 2020 Alternate Timeline Festival. The festival has released a list of 270 artists that would've been at this year's event for you to check out, as well as a Spotify playlist to listen to.
If you and your kids have run out of shows to watch by now, check out a Calgary streaming service called Kidoodle.TV. The platform offers both free and premium paid accounts that will let you stream kid-friendly shows that have been vetted in advance.
Read more: Kidoodle.TV is a Local Streaming Service for Kids
View this post on Instagram
You don't need a giant yard to exercise your green thumb in Calgary. With Feed Your Flat's urban gardening kits, you can easily start growing vegetables on your stoop or balcony. The kits come in small, large and stackable options, and feature the things you need to get started: seedlings from Urban Grown, soil, landscaping fabric for lining and a wood planter(s) made in Calgary. Free delivery is available.
When: May dates include May 7, 14, 21 and 28
The Brewery & the Beast food festival recently launched a new online cooking experience called Homeschool Series. Every week, a different chef and bartender team will teach participants how to make a specified meal and cocktail (which you get the recipe and ingredient lists for in advance) over video. Tickets are $10 each, which supports the instructors and a selected charity.
Go on a public art tour in your car
Calgary is filled with great public art, and there are plenty of pieces you can see without leaving your car. This month, hop in your car and drive to some (or all) of these outdoor artworks to add a bit of beauty to your day.
Read more: Take a Public Art Tour in Calgary Without Leaving Your Car
Contemporary Calgary has launched a new series of online programming in the wake of COVID-19. The contemporary art gallery's Art Where You Are programming launched online at the beginning of April. So far, it's featured four word challenges to inspire your art, artist talks and challenges ranging from making non-medical face masks to writing Haikus about physical distancing. Contemporary Calgary is also one of 28 Canadian art organizations taking part in Field Trip: Art Across Canada, which features virtual tours, talks and other online art programming from across the country.
Get drinks from a local brewery or distillery delivered to you
Is there anything better than lounging on your deck or balcony with a refreshing drink in hand? We think not. Thankfully, there are dozens of Calgary breweries, distilleries, cideries and a winery offering pickup and/or delivery service to help us make that happen.
Read more: Calgary Breweries and Distilleries Offering Delivery