Calgary is a great city to live in year round, but it's at its best in the summer. Not only is that when some of the city's biggest events like Stampede and Sled Island return for another year, but the weather is perfect for outdoor activities like paddling down the Bow River, cycling and watching outdoor movies. Use this list of activities to make sure there isn't a dull moment this summer.
June 2018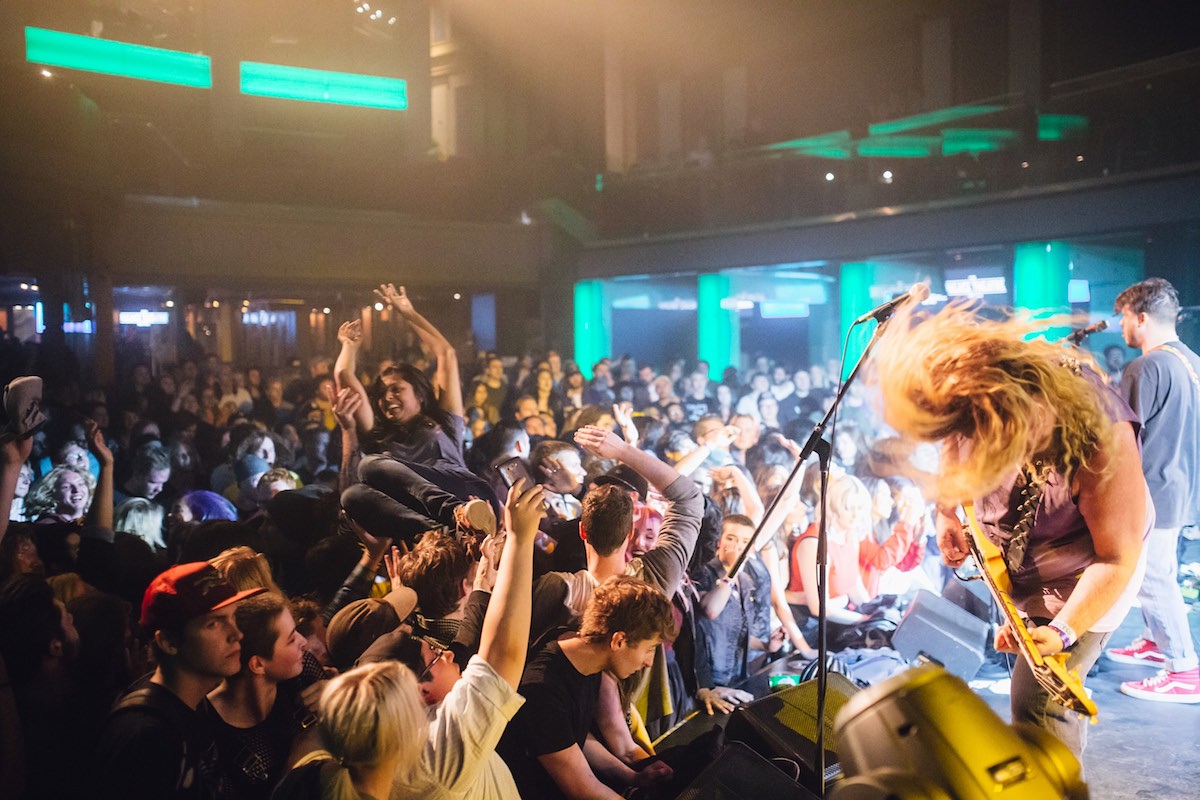 Sled Island.
Thursday, June 21 – Attend a concert, check out a comedy show or attend a film screening at Sled Island (runs from June 20 to 24)
Friday, June 22 – Shop from local vendors set up in colourful shipping containers at East Village Junction
Saturday, June 23 – Shop from more than 50 designers at ParkSale in East Village (runs from June 23 to 24)
Sunday, June 24 – Watch expert and amateur oyster shucking competitions at the Alberta Oyster Festival
Monday, June 25 – Have a picnic or barbecue with some friends or family
Tuesday, June 26 – Play Punk Rock Bingo at Ship & Anchor (here's what you need to know about it)
Wednesday, June 27 – Learn how to salsa (or watch others do it) at Sunnyside Salsa Wednesdays at ContainR
Thursday, June 28 – Get warmed up for Stampede by checking out the Airdrie Pro Rodeo (runs June 28 to July 2)
Friday, June 29 – Watch an outdoor performance of Shakespeare's The Two Gentlemen of Verona during Shakespeare by the Bow's run in Prince's Island Park (runs from June 29 to August 19, no shows from July 23 to 30)
Saturday, June 30 – Bring the family to a '60s-themed block party to celebrate the Calgary Tower's 50th birthday
July 2018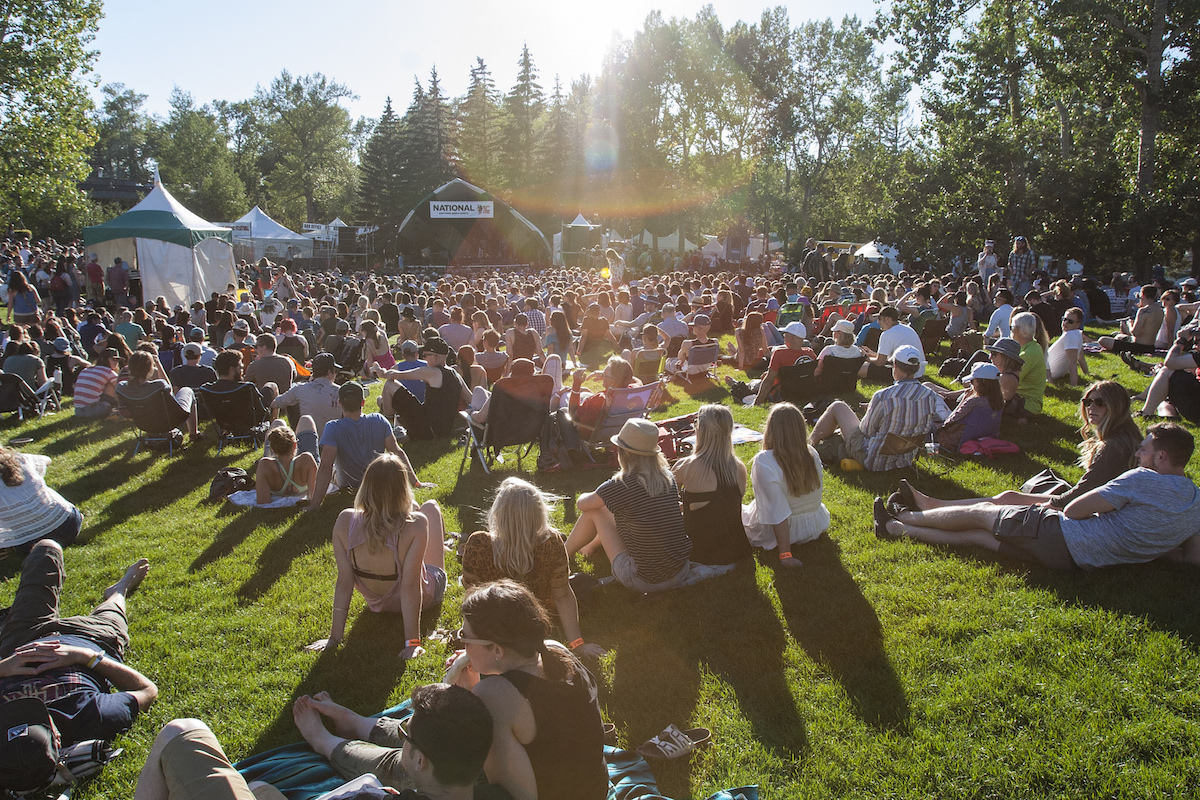 Calgary Folk Music Festival.
Sunday, July 1 – Celebrate Canada's birthday at one of the more than 15 Canada Day celebrations in Calgary
Monday, July 2 – Drive out to Okotoks to watch a baseball game between the Okotoks Dogs and the Regina Red Sox
Tuesday, July 3 – Swim in the wave pool at the biggest YMCA facility in the world
Wednesday, July 4 – Pet some felines that are up for adoption at Calgary's first cat cafe
Thursday, July 5 – Check out the rides and try fun food before everyone else at Calgary Stampede's Sneak-a-Peek event (Stampede runs from July 6 to 15)
Friday, July 6 – Eat tacos, listen to live music and watch Mexican luchadores wrestle at Mexifest, a new festival focused around Mexican culture (runs from July 6 to 7)
Saturday, July 7 – Make sand castles and play in the water at Sikome Lake
Sunday, July 8 – Fill up on pancakes at one of the dozens of Calgary Stampede pancake breakfasts (runs from July 5 to 15)
Monday, July 9 – Watch a live concert inside of the King Eddy during the Bell Live Series (runs during Stampede from July 6 to 15)
Tuesday, July 10 – Get a strike at National Bowl
Wednesday, July 11 – Make a craft at Pinnovate
Thursday, July 12 – Rent a kayak or raft from The Paddle Station and float down the Bow River
Friday, July 13 – Watch Melissa Etheridge and John Fogerty perform during Oxford Stomp's 30th anniversary year
Saturday, July 14 – Join up with other cyclists for a bicycle history tour that runs on Saturday mornings
Sunday, July 15 – Watch the Grandstand Show, which is celebrating its 50th anniversary this year, on the last night of the Calgary Stampede
Monday, July 16 –  Go out for some ice cream at a local ice cream shop
Tuesday, July 17 – Swing by the Market on Stephen Avenue on a Tuesday to do some shopping
Wednesday, July 18 – Explore Reader Rock Garden, then grab lunch at its on-site cafe
Thursday, July 19 – Have a laugh at one of The Tea House's Thursday comedy nights
Friday, July 20 – Celebrate Latin American culture at the outdoor Fiestaval (runs from July 20 to 22)
Saturday, July 21 – Grab your bike and dress up for Cyclepalooza's bike prom ride and/or event (Cyclepalooza runs from July 13 to 22)
Sunday, July 22 – Stuff your face with ribs at Ribfest (runs July 20 to 22)
Monday, July 23 – Try WinSport's newest activity, a harnessed free fall from an eight-storey platform
Tuesday, July 24 – Play arcade games, climb an augmented climbing wall and eat doughnuts at The Rec Room
Wednesday, July 25 – Navigate the corn mazes and check out the petting zoo at the Calgary Corn Maze
Thursday, July 26 – Listen to artists like A Tribe Called Red and Bahamas at Calgary Folk Fest (runs from July 26 to 29)
Friday, July 27 – Splash around at one of Calgary's outdoor swimming pools
Saturday, July 28 – Play garden games, watch a dog parade and tour the Lougheed House at the Beltline Garden Party
Sunday, July 29 – Dress up, play Quidditch and try parasol duelling at Kensington's Fantasy Faire event
Monday, July 30 – Attend the free kick-off party for the Calgary International Blues Festival (runs from July 30 to August 5)
Tuesday, July 31 – Pick your own cherries, Saskatoon berries and blackcurrants at Saskatoon Farm
August 2018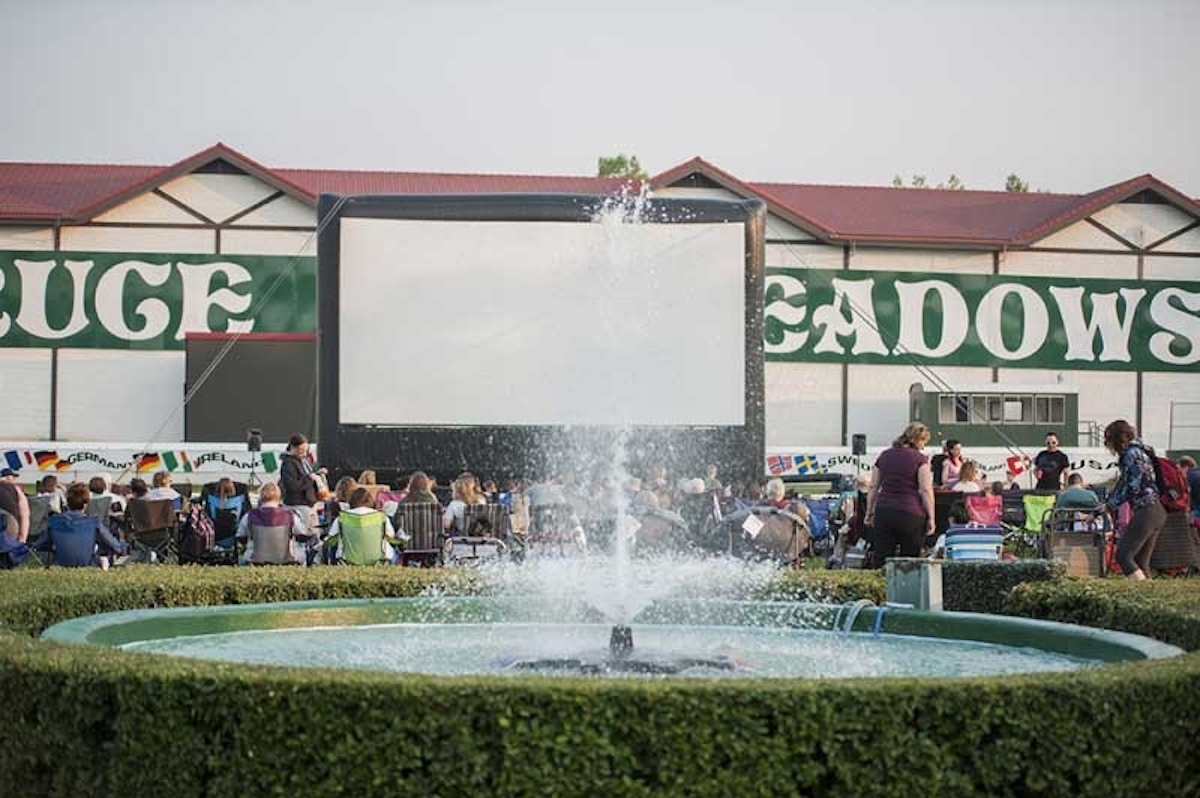 Movies at the Meadows.
Wednesday, August 1 – Watch an outdoor movie at Spruce Meadows (runs on August 1, 8, 15 and 22)
Thursday, August 2 – Check out the new Alex Janvier exhibit at the Glenbow for free (free admission offered every month on the first Thursday from 5 p.m. to 9 p.m.)
Friday, August 3 – Watch a play or improv show at the Calgary Fringe Festival (runs August 3 to 11)
Saturday, August 4 – Soak up the sun and do some shopping in Inglewood at Sunfest
Sunday, August 5 – Watch cyclists compete in the hill climb event at the 2018 Tour de Bowness (runs from August 4 to 6)
Monday, August 6 – Celebrate Heritage Day at Heritage Park
Tuesday, August 7 – Play some board games at the Hexagon Board Game Cafe in Kensington
Wednesday, August 8 – Check out a show at one of Calgary's live music venues
Thursday, August 9 – Buy $1 tasting tickets for snacks and drinks at Taste of Calgary (runs August 9 to 12)
Friday, August 10 – Gaze at the Perseid Meteor Shower at Rothney Astrophysical Observatory's Milky Way Nights (runs August 9 to 11)
Saturday, August 11 – Watch dragon boats race across the water at North Glenmore Park (runs August 11 to 12)
Sunday, August 12 – Check out a classic car show, food trucks and live music at the Marda Gras street festival
Monday, August 13 – Enjoy a three-course meal for $20 to $45 at a local restaurant during Summer Feast (runs from August 9 to 18)
Tuesday, August 14 – Check out the new Paul Brandt exhibit at the National Music Centre
Wednesday, August 15 – Try one of the many water activities in and around Calgary
Thursday, August 16 – Watch a fireworks show at GlobalFest (runs on August 16, 18, 21, 23 and 25)
Friday, August 17 – Sing along at a Dierks Bentley concert at the Country Thunder outdoor music festival (runs from August 17 to 19)
Saturday, August 18 – Shop from more than 50 vendors at the new Farmers & Makers Market on the lawn of cSpace King Edward
Sunday, August 19 – Visit a local farm or ranch during Alberta Open Farm Days (runs from August 18 to 19)
Monday, August 20 – Treat yourself to breakfast and meet the four giant pandas that recently arrived at the Calgary Zoo
Tuesday, August 21 – Play some pinball and try the free meal challenge (if you dare) at Pinbar
Wednesday, August 22 – Shop at the public market and take your kids to the active learning park at Granary Road
Thursday, August 23 – Try to reach the top of the the outdoor climbing wall at Calgary Climbing Centre's Rocky Mountain location
Friday, August 24 – Go on a tour of the Yamnuska Wolfdog Sanctuary
Saturday, August 25 – Cheer on the colourful procession at the Carifest parade
Sunday, August 26 – Pedal to local breweries on a 15-person bike with Urban Pedal Tours
Monday, August 27 – Up your supper game by taking a cooking class
Tuesday, August 28 – Relax on a dog-friendly patio at spots like Vin Room, Oak Tree Lounge and Donna Mac
Wednesday, August 29 – Try your hand at disc golf on a new 27-acre disc golf park along the Rotary/Mattamy Greenway
Thursday, August 30 – Take a tour to see 12 new murals in the Beltline during the inaugural BUMP Festival (runs from August 30 to September 1)
Friday, August 31 – Watch emerging pianists compete during the Honens Festival (runs from August 30 to September 8)
September 2018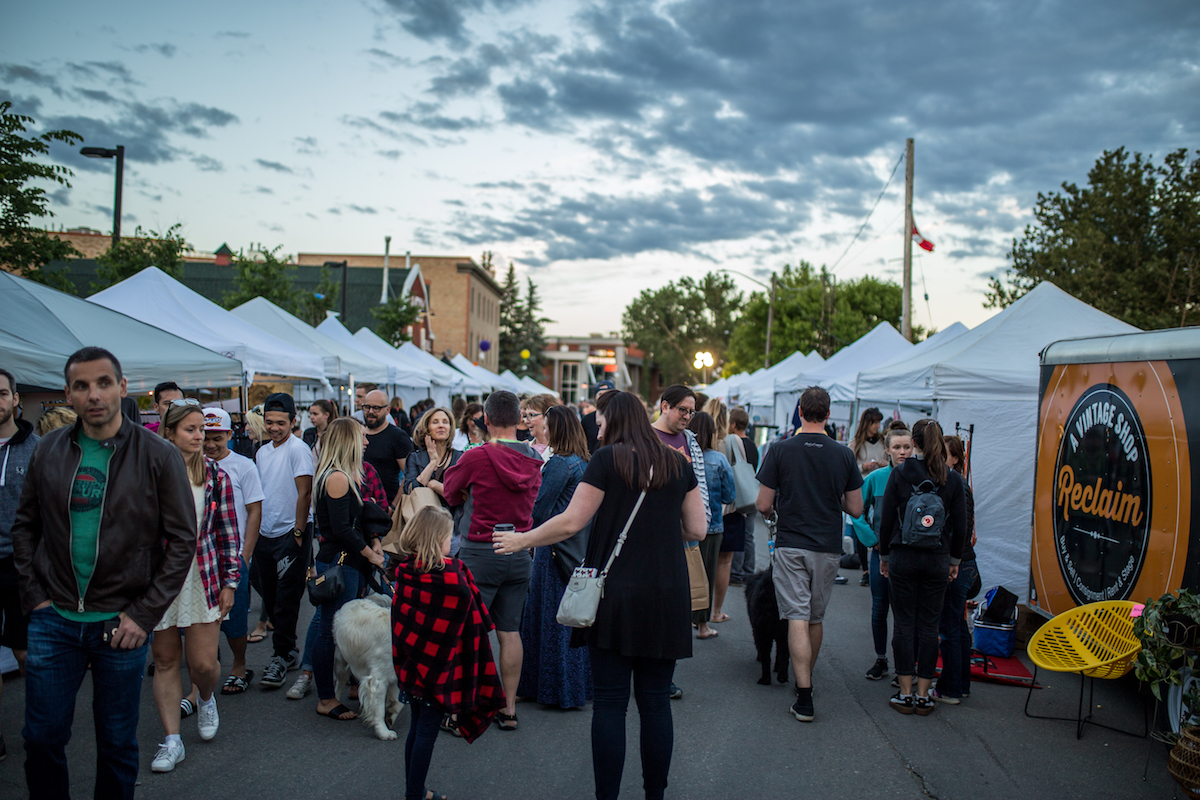 Inglewood Night Market.
Saturday, September 1 – Watch a barbecue competition at BBQ on the Bow (runs from September 1 to 2)
Sunday, September 2 – Wear rainbow coloured clothes to cheer on the Calgary Pride Parade (Calgary Pride runs from August 24 to September 3)
Monday, September 3 – Watch the Calgary Stampeders take on the Edmonton Eskimos at McMahon Stadium
Tuesday, September 4 – Do some people watching from a patio on 17 Ave. S.W., Stephen Avenue Walk or Mission
Wednesday, September 5 –  Watch horses jump at Spruce Meadows' Masters tournament (runs from September 5 to 9)
Thursday, September 6 – Learn how to 3D print, weld and do woodworking at Fuse33 Makerspace
Friday, September 7 – Attend a Stage West dinner theatre production featuring songs by two Tony award-winning songwriters (And the World Goes 'Round runs from September 7 to November 11)
Saturday, September 8 – Watch a wiener dog race at Circle, an annual carnival held in the Currie area
Sunday, September 9 – Go for afternoon tea at a local restaurant
Monday, September 10 – Check out some art exhibits during M:ST's performative art festival (runs from September 7 to October 7)
Tuesday, September 11 – Try a virtual reality escape room
Wednesday, September 12 – Explore downtown Calgary with Mystery Towns Tours
Thursday, September 13 – Learn how to "hack it" at Telus Sparks' Adults only Night
Friday, September 14 – Shop from local vendors during the Inglewood Night Market (runs on July 13, August 10, September 14 and 15)
Saturday, September 15 – Dress up for the Boo Crew Costume Party during this Halloweekend at Calaway Park (Halloweekends run from September 8 to October 8)
Sunday, September 16 – Order a pint at one of the new breweries that have opened in Calgary this summer
Monday, September 17 – Rent a bike and ride around Calgary while it's still nice out
Tuesday, September 18 – Watch Vertigo Theatre's latest mystery about a retired detective (The Thin Man runs from September 15 to October 14)
Wednesday, September 19 – Check out a 12-foot lotus flower that lights up to the beat of your pulse at Beakerhead (runs from September 19 to 23)
Thursday, September 20 – Check out some movie screenings at the Calgary International Film Festival (runs from August 19 to 30)
Friday, September 21 – Go to the Calgary Night Market's final outdoor event of the year before it moves indoors for winter