A growing number of Calgary bars, cafes and restaurants are offering more than food and beverage to keep customers entertained in a competitive market. Oftentimes, that means games — whether that's arcade games, board games, collectible-card games, esports, minigolf, pinball, shuffleboard, video games or other any other types. Here's our guide to Calgary eateries with games and what they offer.
Both Boogie's Burgers locations (the Renfrew location has been open since 1969 and the Marda Loop location launched in 2017) are great destinations for burgers. They also both offer a mix of arcade games and pinball at just a quarter per play. Settle in for a few rounds with an outrageous burger creation and a milkshake or glass of "cardbordeaux," which what Boogie's calls its boxed wine.
Where: 2129 33 Ave. S.W., 403-454-2902; 908A Edmonton Tr. N.E., 403-230-7070, boogiesburgers.com
What games are offered: The Marda Loop location has Mortal Combat 2, Street Fighter 2, Golden Axe, Galaga, Lethal Weapon Pinball and a "multi-cade" equipped with 40 different retro games. The Renfrew location has Donkey Kong, BurgerTime (both are tabletop games), Street Fighter 2 (Champions Edition), Arkanoid, Ms. Pac-Man, Joust and Robocop pinball.
One more thing: The Boogie's in Renfrew hosts an annual Ms. Pac-Man tournament in February where the winner gets a one-year supply of burgers as a prize. All funds raised from Ms. Pac-Man play during February are donated to the Boys and Girls Club of Calgary with a matching contribution from the Boogie's ownership.
Craft Beer Market was an early adopter of the craft beer explosion of recent years and is a solid destination to try a new brew with brunch, lunch or dinner. Now, after a brief closure followed by a grand reopening back in fall 2019, Craft's downtown location also has a new look, new feel and plenty of games to play.
Where: 345 10 Ave. S.W., 403-514-2337, craftbeermarket.ca
What games are offered: Craft's downtown location offers three turf courts for bocce and cornhole (these courts can be reserved in advance and are otherwise first-come, first-serve), shuffleboard, Tiki Toss, and both giant Jenga and giant Connect 4 are available upon request. Craft's rooftop patio will have even more options for games when it opens for the spring-summer season.
One more thing: Craft has a truly massive beer menu. You can take its online quiz before heading out to discover a new beer that suits your personal taste. Or, for the beer-averse, check out their adorable cocktail camper next to the turf courts.
One of the titans of the games-bars scene took over the space that used to house Nite Owl on 10th Avenue in the Beltline in 2018. Greta Bar's blend of nightclub, arcade bar and street eatery elements has proven to be a big success and resulted in second location launching in Edmonton less than one year later.
Where: 213 10 Ave. S.W., 403-984-6405, gretasbar.com
What games are offered: There are more than 50 arcade games on site. Big Buck Hunter, Frogger, Pong, Street Fighter, Tetris and an assortment of Pac-Man-franchise entries make up just a few of the highlights.
One more thing: You can play games for half price every Tuesday from 7 p.m. to close.
Read more: What to Expect at Greta, the New Arcade and Bar in the Beltline
The Hexagon Board Game Cafe  offers its visitors access to more than 700 board games for just $2.50 per hour per person. Beverage options include coffee, tea, soda, wine, craft beer and cider, and snacks like paninis, pastries, snack bowls and dessert are available to keep your energy up while you game.
Where: 200, 1140 Kensington Rd. N.W., 403-209-2881, thehexcafe.com
What games are offered: There are more than 700 board games at Hexagon. From popular franchises like Cards Against Humanity, Pandemic, Settlers of Catan and Ticket to Ride to your next favourite game, it would take at least a couple dozen visits to play even half the games here.
One more thing: Reservations are accepted, subject to availability, all days except Friday, Saturday and Sunday.
Home & Away made its much-anticipated return when it reopened on 1st. S.W. in November, 2019. You can once again enjoy Skee Ball, DJs, sports games and its fabulous fried chicken for either a casual night out or group celebration. New to the scene is its sister bar, Shuffle Club, located on the space's lower level. Shuffle Club boasts retro cocktails like the Blue Hawaii, a Joni Mitchell-inspired nook (the famed songwriter performed on the premises when a previous tenant occupied the space decades ago) and four full-size courts for floor shuffleboard.
Where: 1207 1 St. S.W., homeandawayyyc.com
What games are offered: Skee Ball, Pop-a-shot Basketball, shuffleboard, bubble hockey, giant Connect 4 and a smattering of arcade games are available at Home & Away. Downstairs, there are four 30-foot floor shuffleboard courts.
One more thing: Neither venue permits minors. Bring your inner child only.
16th Avenue N.W. haunt Loco Lou's was reborn in its "2.0" incarnation in November, 2019, with the addition of an impressive collection of arcade games. Located right across from SAIT, the bar still has plenty of pub fare and drink options in addition to a pool table, photo booth and 18 arcade games.
Where: 1324 16 Ave. N.W., 403-284-3366, locolous.ca
What games are offered: In addition to pool, you can play The Walking Dead, Halo Fireteam Raven, Bubble Bobble, Mario Kart Racing (three machines), Mortal Kombat II, Street Fighter II, Teenage Mutant Ninja Turtles, Gauntlet, Aliens Armageddon, Boxer, Down the Clown, 2 Minute Drill and Extreme Shot Basketball (two machines).
One more thing: Sundays feature deals on both Caesars and pizza.
This retailer and game café located near the Blind Beggar Pub on Macleod Trail is all games, all the time. There's no fee to sit down and play board games during regular hours, and there are low-cost events and club meetings just about every night for dice and collectible card games like Magic the Gathering, Keyforge, Pokémon, Yu-Gi-Oh! and Dice Masters. The cheeky, space-themed menu offers things like pizza, waffles and paninis as well as coffee, tea, adult beverages and more.
Where: 4624 Macleod Trail S.W., 403-253-1414, metal-galaxy.com
What games are offered: The list is simply too massive to contain here. A huge selection of board games is available and you can borrow pre-built decks for collectible card-game play.
One more thing: Heavy metal is beloved by the venue and its staff. If that's your bag, head down on Mondays when they play music by local metal bands and offer their merch. Staff even maintain a Facebook page where they post reviews of releases and concerts.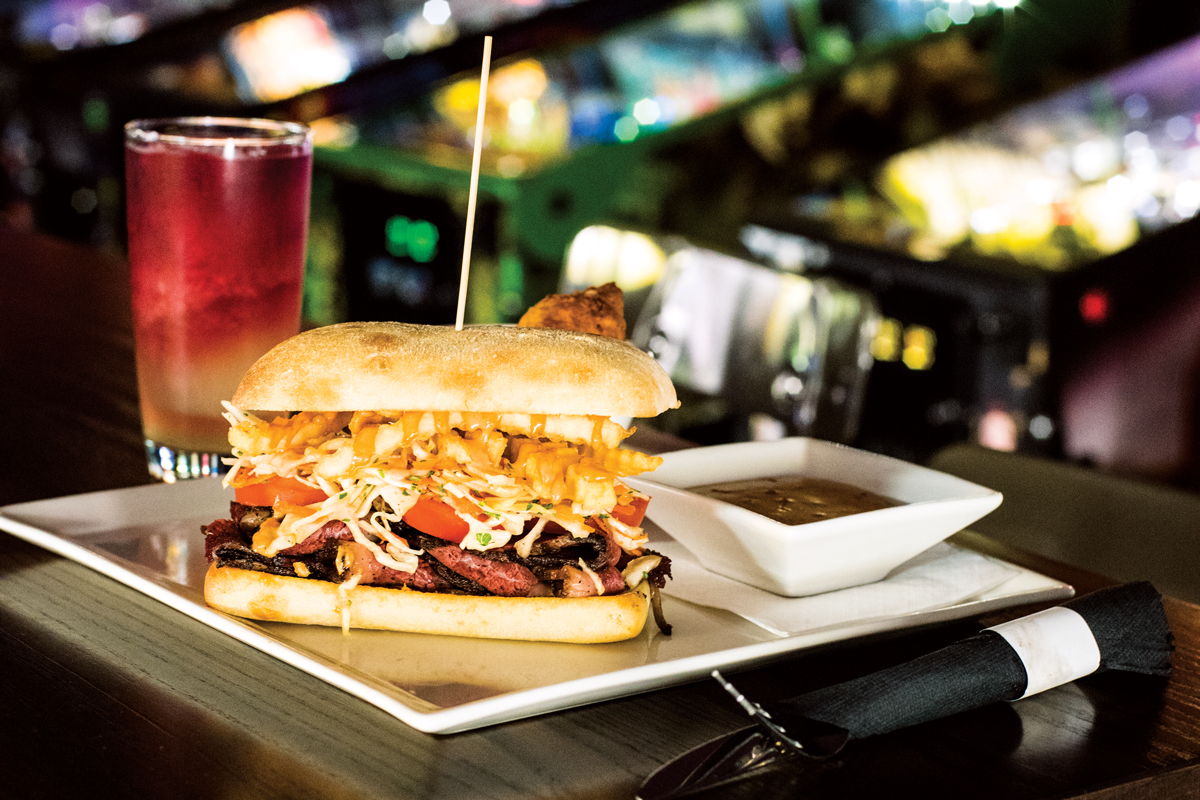 As you may have guessed from its name, this bar on the corner of 4 St. and 17 Ave. S.W. has a massive selection of pinball machines and frosty alcoholic beverages. In addition to these (and a menu featuring both tater tots and hearty sandwiches), Pin-Bar has a number of arcade-style games, occasional DJ nights and league play.
Where: 501 17 Ave. S.W., 403-930-8175, pinbaryyc.com
What games are offered: There are sometimes changes in the roster but some of the most popular pinball games are Black Knight, Medieval Madness, Avengers, Metallica, Aerosmith, Iron Maiden, Batman '66, Attack from Mars and The Walking Dead. Examples of the arcade cabinets are NBA Jam, Streetfighter Alpha 2, Marvel vs. Capcom, Golden Axe and Hit the Ice. We especially like the four-player Pac-Man game situated in the back half of the bar.
One more thing: Visit on Sunday for all-you-can-play pinball for just $10 per individual or $20 per family of four. Minors are permitted until 8 p.m. on Sundays.
Read more: Go to Pin-Bar for the Arcade Games and Classic American Sandwiches
This recent addition to 17 Ave. S.W. offers stations for attendees to play esports (professional level video games) and many screens to watch both esports live streams and broadcasts of conventional athletic events. You can munch on conventional pub fare like burgers, chicken fingers and fries, or try a quirkier item like a pizza dog or fried onion flower while sipping beer, wine or spirits.
Where: 1324 17 Ave. S.W., 403-452-2076, ramcross.ca
What games are offered: Since the games are installed on PCs, you can expect the selection to change as time goes by. The most popular games are Apex Legends, League of Legends, Fortnite, Overwatch and World of Warcraft.
One more thing: The best way to keep up with Ram Cross's screening schedule is to keep an eye on its Facebook or Instagram pages.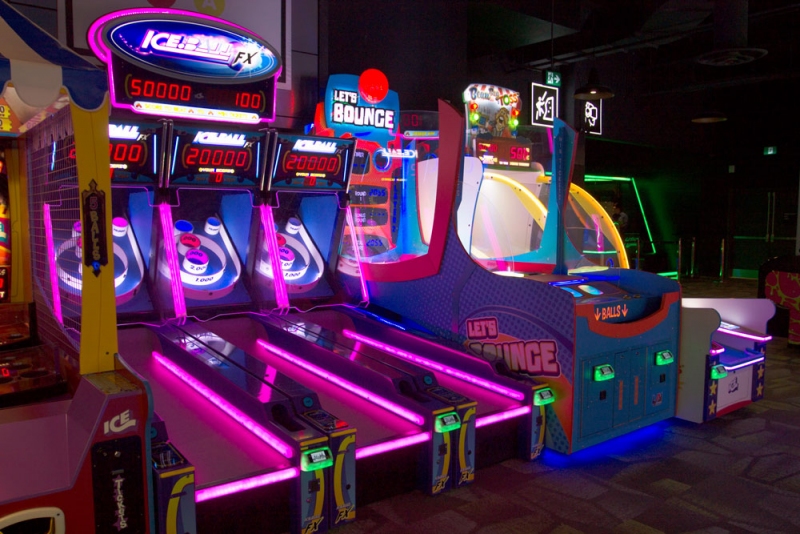 This Cineplex-owned complex includes dozens of games, two restaurants and live entertainment out in Deerfoot City. Perfect for a birthday or other group outing, The Rec Room has more than 80 games to choose from and dining options for just about any palate.
Where: 1180, 901 64 Ave. N.E., 587-535-6077, therecroom.com
What games are offered: There are more than 80 different games to play at The Rec Room. Try pool, shuffleboard, Ping Pong, a golf simulator, video games and redemption games (arcade games where you can earn prizes).
One more thing: The entertainment options here are pretty unique. There's comedy and live music, but also things you won't find elsewhere like a K-Pop video dance party and art battles.
Read more: Inside Calgary's New Rec Room at Deerfoot City
Schanks Sports Grill has operated in Calgary since 1994 and now operates two locations in Calgary and one in Edmonton. The menu includes an indulgent mix of pub and steakhouse dishes with a dash of healthful options like ahi tuna and beet salad, plus drinks of all kinds.
Where: 9627 Macleod Tr. S., 403-253-7300; 103 Crowfoot Terr. N.W., 403-241-2400, schanks.com
What games are offered: Schanks offers minigolf, simulated golf, arcade games, billiards, video trivia and "off track betting" where guests can bet on horse tracks from across the globe.
One more thing: Schanks offers a rare Friday-night happy hour from 4 p.m. to 10 p.m. It includes $5 drink specials and $7 appetizers.
Located just off the intersection of McKnight Blvd. and Edmonton Tr., ShoeBox Games & Cafe is northeast Calgary's destination for collectible-card games, miniatures, table-top games and other gaming pursuits. Its table fee is $3 per person (waived if you spend $3 or more on products) which affords you access to its extensive games library. There's no alcohol served here, but you can have pizza, waffles, pies and more.
Where: 509 McKnight Blvd. N.E., 403-475-7217, shoeboxgc.com
What games are offered: Some examples from ShoeBox's game library are Takaido, Settlers of Catan, Dixit, Terraforming Mars, Mysterium, Deception, Mansions of Madness, Watson & Holmes, Dominion, Betrayal at House on the Hill, Joking Hazard, Bears vs Babies, Forbidden Island, Fluxx and King of New York.
One more thing: ShoeBox says it has the largest variety of Pokémon TCG singles in the city and is also an officially sanctioned Yu-Gi-Oh! venue for tournaments and promotional events.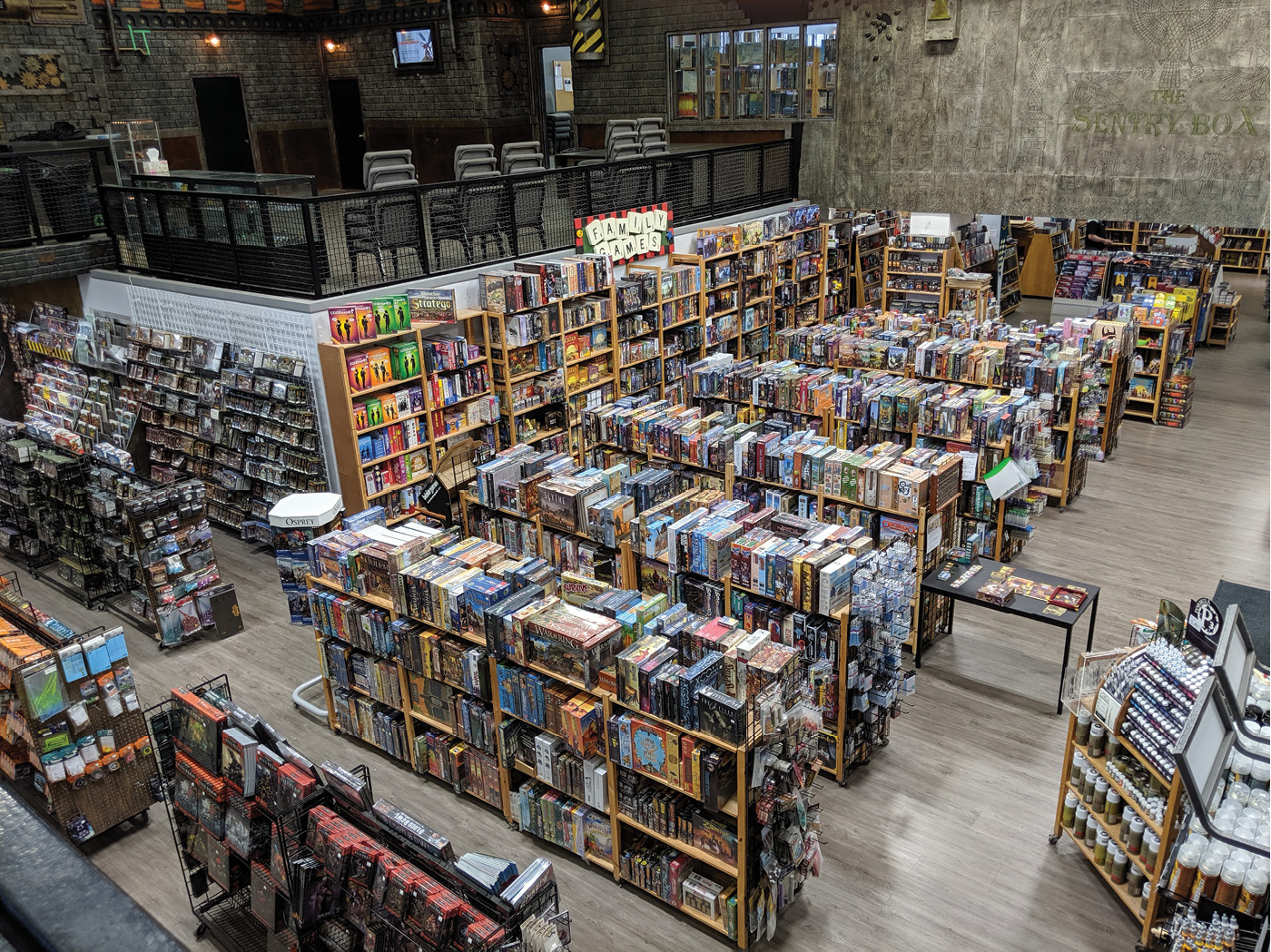 The Sentry Box isn't a bar or a café, but the mere notion of discussing gaming without mentioning The Sentry Box would be a crime. The retailer in Sunalta stocks over 100,000 games and features dedicated play areas where game-enthusiasts can gather for scheduled events or free play when the store's calendar has an opening. A small selection of snacks and non-alcoholic beverages can be purchased at a concession.
Where: 1835 10 Ave. S.W., 403-245-2121, sentrybox.com
What games are offered: You name it, they have it. The Sentry Box's selection of board games is unrivaled in the city. BYO gaming supplies or try a demo game, just make sure to check against its events calendar before showing up.
One more thing: If you're looking for a girls' night out idea, The Sentry Box offers a women's game night event every second Saturday starting at 6 p.m.
Revival Brewcade in Inglewood is both a brewery and an arcade bar, making it a one-of-a-kind establishment in the city. Order original Revival beers or something off the rotating guest taps and settle in for some pinball and arcade-game play.
Where: 1217B 9 Ave. S.E., 587-893-2337, revivalbrewcade.com
What games are offered: There's a rotating selection of arcade games from the '60s through to the '90s. You'll have to visit for yourself to get more specific information than that — "We don't list our games as we want would like people to visit and experience the retro arcade in-person," reads Revival's website.
One more thing: Both owners of Revival hail from Nova Scotia and that's reflected on the menu. Try the east coast donair grilled cheese or an order of Chris Brothers pepperoni for a taste of the Maritimes.
Southland Yard may be located inside Delta Hotels by Marriott Calgary South, but it's nothing like your average hotel bar. In addition to a wide selection of games, Southland Yard serves elevated comfort food alongside its wine, cocktails, beer and cider — much of which is locally sourced. You can even fill up a growler here for $12 or $10 on Mondays.
Where: Inside Delta Hotels by Marriott Calgary South, 135 Southland Dr. S.E., 403-225-8636, southlandyard.com
What games are offered: Southland Yard offers Bocce ball, foosball, shuffleboard, pool, board games and arcade games.
One more thing: There are specials every day of the week, including $10 mussels and half-price bottles of wine on Tuesdays.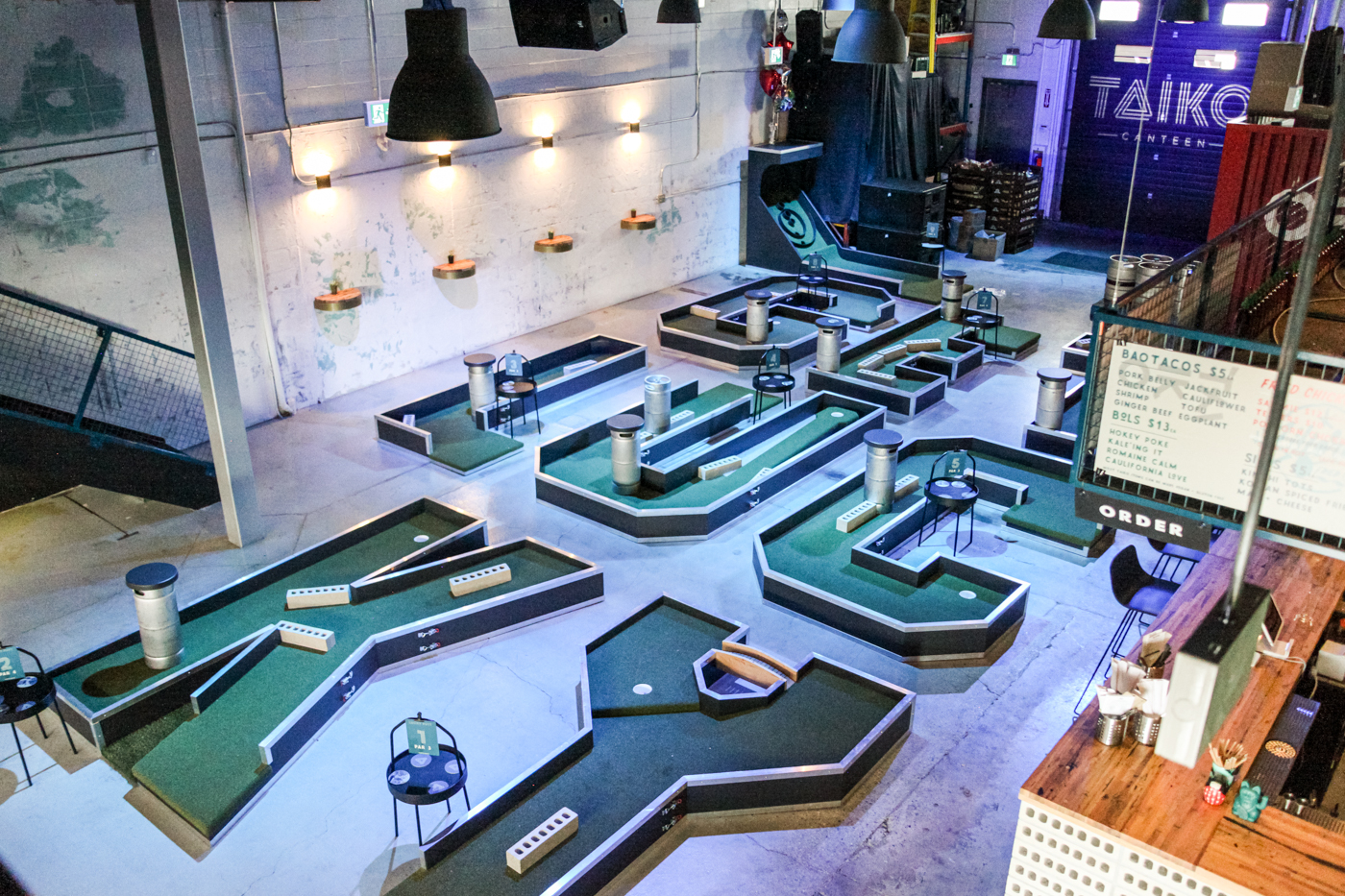 Brought to you by the team behind Fiasco Gelato and the Taiko Taco food truck, this Barley Belt hotspot's star feature is the huge, nine-hole minigolf course. You can eat the foods you love from Fiasco and the Taiko truck (among other items) while enjoying beer and wine from the tap (yes, the wine is also on tap) or an outrageous cocktail like the Cereal Killa made from cereal milk, spiced rum and Lucky Charms.
Where: Taiko Canteen, 107, 3851 Manchester Dr. S.E., taikocanteen.com
What games are offered: Most of Taiko Canteen is taken up by its custom-made, nine-hole minigolf course. Reservations can be made in advance online but drop-in play is welcome and encouraged, too.
One more thing: Coming up in February 2020, Taiko will be launching its "Lucky Putt League" program where minigolf enthusiasts can form a league for monthly play.
Read more: Taiko Canteen Brings Bao Tacos and Minigolf to Manchester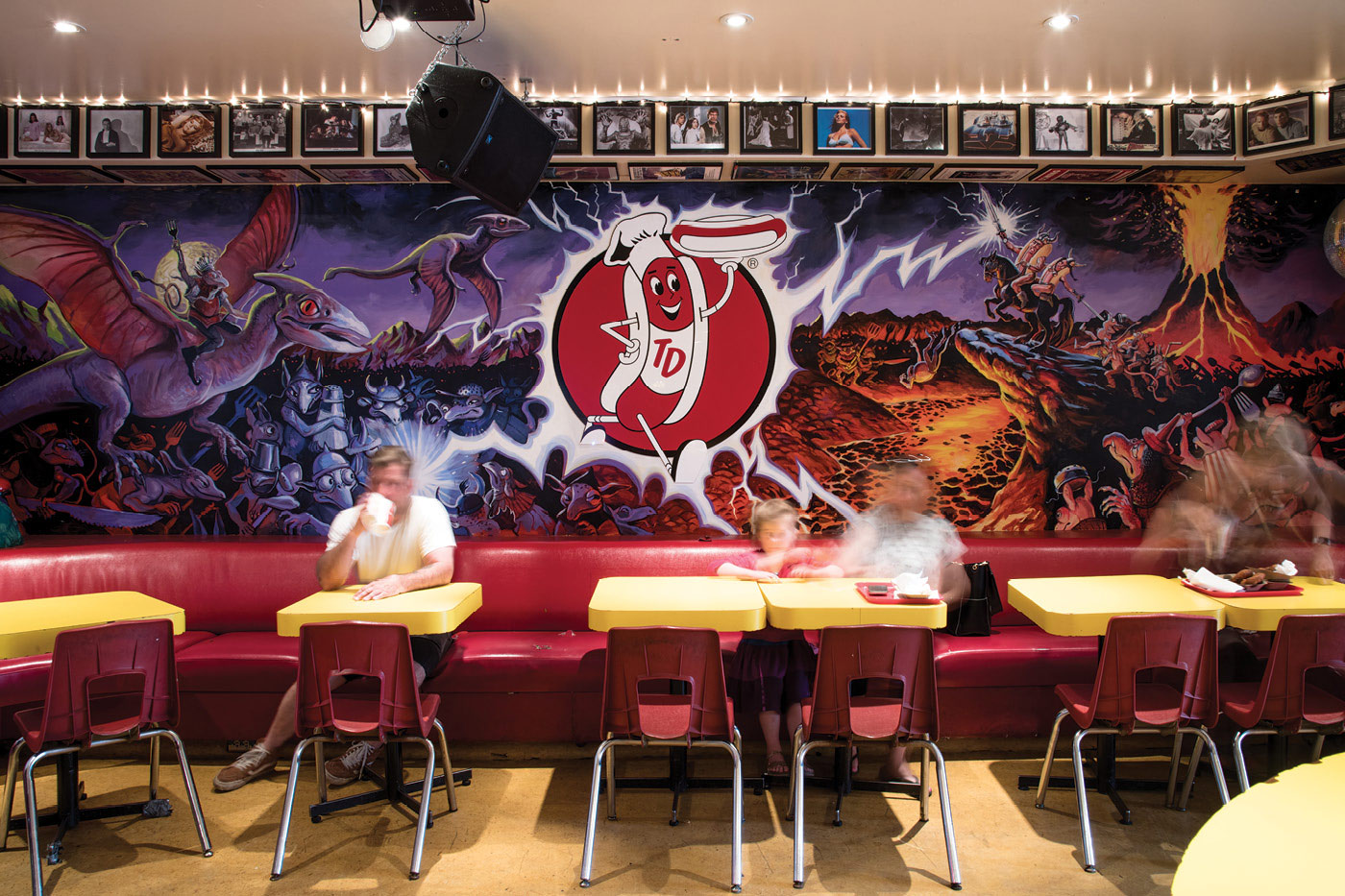 This enduring hotdog shop on 17th Ave. S.W. has its own documentary and is known for its wonderfully over-the-top creations topped with everything from peanut butter and jelly to homemade chili. The licensed restaurant has a collection of different arcade games and pinball machines of the vintage variety.
Where: 103, 1022 17 Ave. S.W., 403-244-0694, tubbydog.com
What games are offered: Arcade games include Double Dragon, Ms. Pac-Man, Tetris, BurgerTime, Area 51
Street Fighter 2 Turbo, Mortal Kombat 3 and a multi-game cabinet with 80 different games. For pinball, there's Star Wars, Ghostbusters, Star Trek, Lord of the Rings and Batman.
One more thing: Not so hot on 'dogs? Check out Tubby tacos on Tuesday evening or Tubby burgers all day on Wednesdays.