There's no way around it: Calgary is a winter city. Our winters are long and cold, but thankfully this means there are plenty of fun activities to keep busy and stay active during our famous cold snaps. Here are a few options in and around Calgary.
Calgary's cold winters mean there are lots of outdoor skating opportunities throughout the city. There are city-run rinks like the one at the Olympic Oval, or you can check out the ice trails at Bowness and North Glenmore parks. Be sure to check if the rink you're going to offers rentals in advance.
View this post on Instagram
Flying down a hill on a tube is a quintessential winter experience. A great place to try tubing is at WinSport's tube park, which has eight lanes to send you down the hill and a magic carpet to bring you back up to the top. The tube park is open on weekends and holidays, and tickets must be purchased online in advance.
88 Canada Olympic Road, 403-247-5452, winsport.ca
Being able to travel over thick snow makes winter hikes much more accessible, and there are a lot of designated snowshoeing trails in the Rocky Mountains. Calgary's Outdoor Centre offers introductory courses in the city that discuss gear, techniques and clothing with an experienced guide. The centre also offers snowshoe day hikes near Calgary.
If you're just looking to rent a pair of snowshoes, the Outdoor Centre also offers rentals outside of its guided programs.
Situated right next to Fort Calgary, the East Village Nordic Loop is a convenient place to go cross-country skiing, whether it's your first time or you're an experienced skier. The Nordic Loop is a one km long groomed trail that's open from 7 a.m. to 10 p.m. Places like Sports Rent and the Outdoor Centre are great options if you need rentals.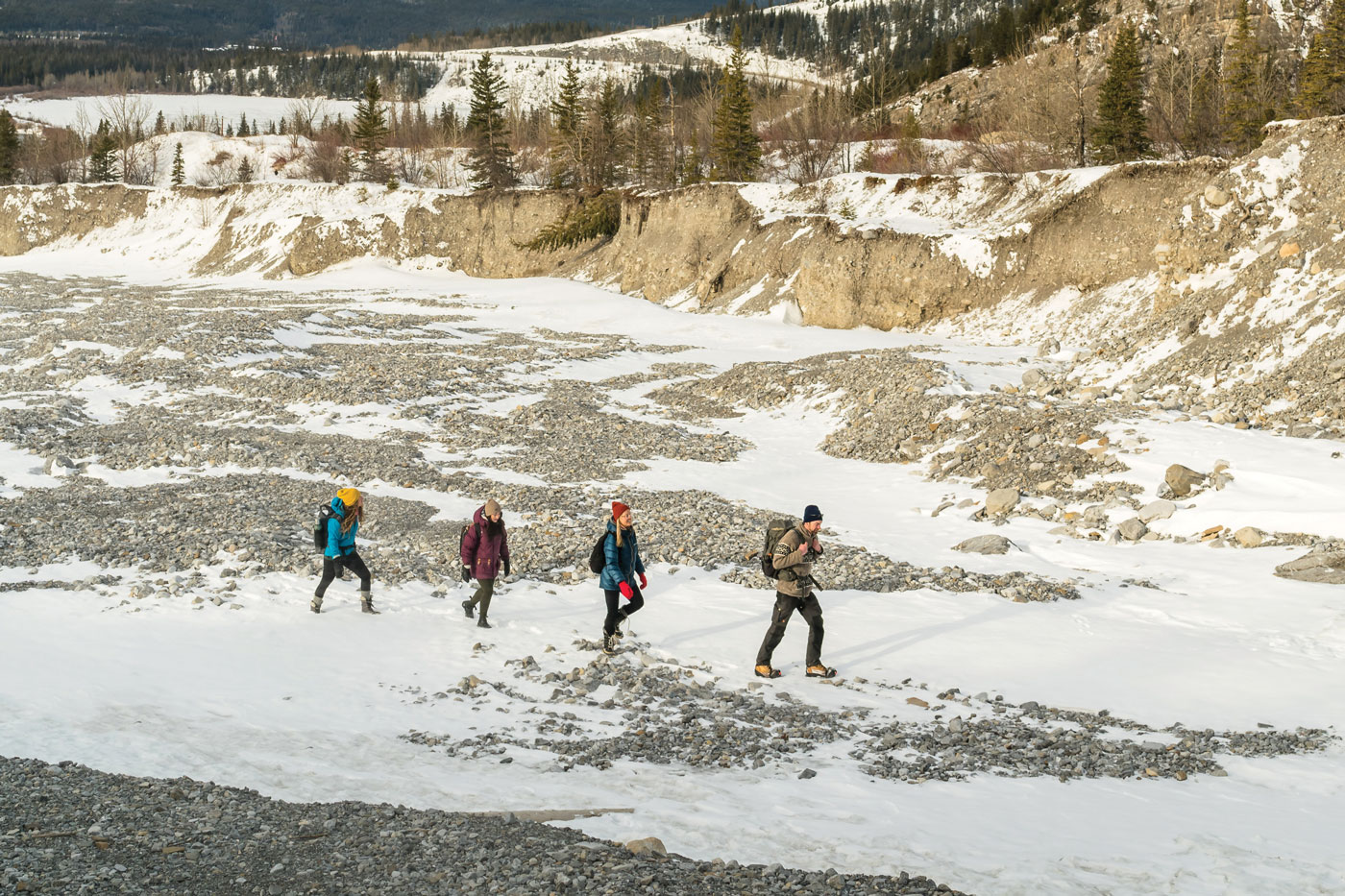 If you plan on spending time in the mountains and foothills near Calgary, there are a number of Indigenous-led tourism companies that offer outdoor experiences ranging from medicine walks to ice-climbing courses. The experiences are led by guides who share their heritage and knowledge of the land.
Read more: Outdoor Indigenous Tourism Experiences Near Calgary This Winter
No list of winter activities would be complete without a bit of skiing. While daytime skiing is available on weekends at WinSport, night skiing offers a completely different experience. WinSport floods the ski hill with bright lights during weeknights from 4 p.m. to 9 p.m. Lift pass prices vary depending on the day, and rentals are available on the hill if needed.
88 Canada Olympic Road S.W., 403-247-5452, winsport.ca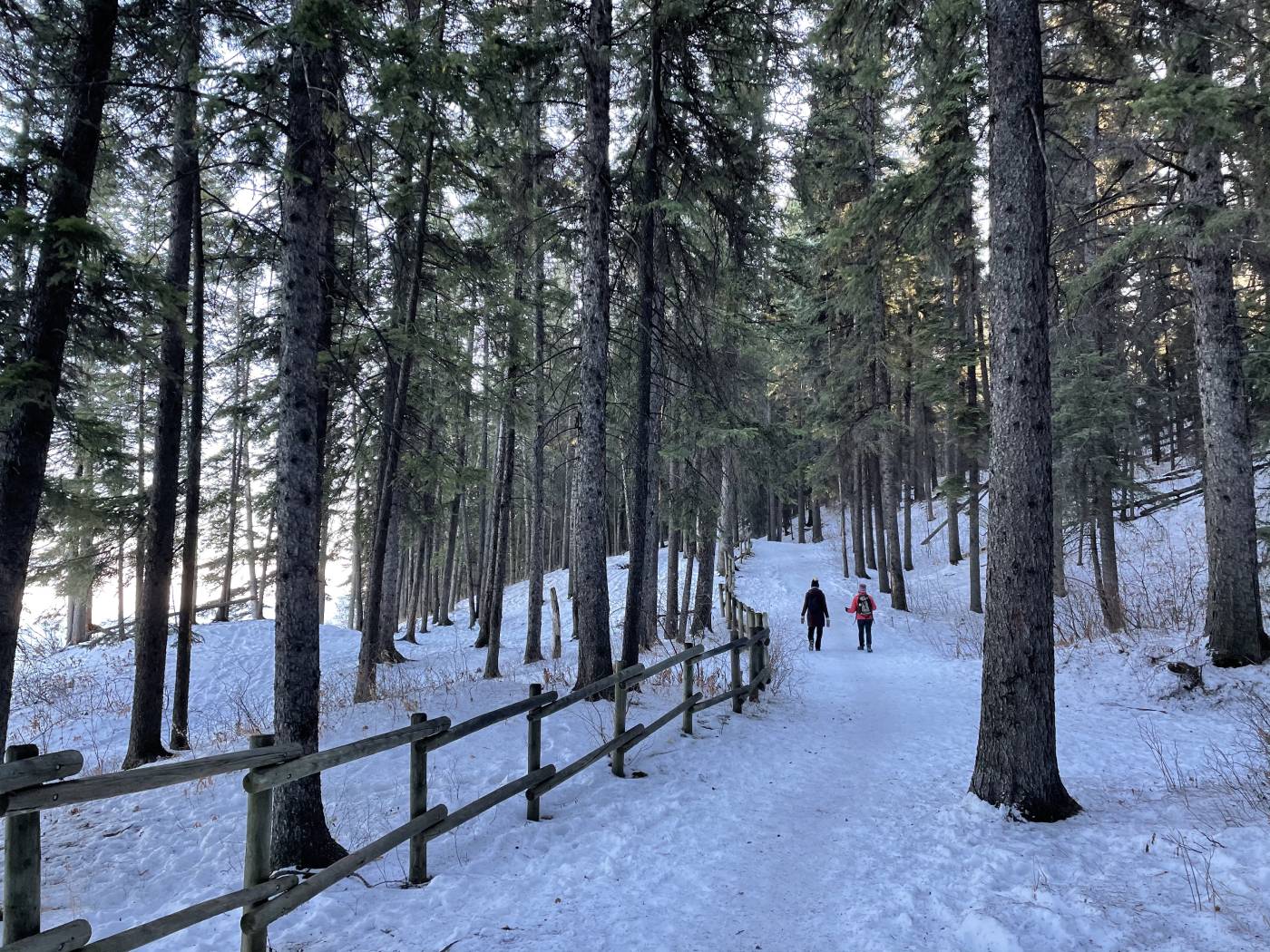 Calgary is home to numerous parks, pathways and trail systems that make the city one of the best places around for outdoorsy-types. In the winter, places with plenty of pathways like Nose Hill and Fish Creek Provincial Parks are great places to explore. Another beautiful spot for winter walking is Douglas Fir Trail, located on the hill overlooking Edworthy Park, which is surrounded by picturesque Douglas Fir trees (hence the name). Lori Beattie, the author of Calgary's Best Walks, also has some winter walk recommendations of her own.
If you do want to venture outside the city, there are also plenty of great winter walks in the mountains near Calgary where you can also snap some awesome photos.
Read more: 4 Great Winter Walks in Calgary
Read more: Winter Walks with Photo Ops in the Mountains