If you haven't been recently, Lake Louise is absolutely worth the two-hour drive. The tiny village of Lake Louise greets visitors off the highway. Here you can grab a fresh cinnamon bun from Laggan's bakery, stock up on Swedish fish at the Old Tyme Candy Shoppe or sample the excellent burger at The Outpost. The road continues another four kilometres up to the actual lake. The glacier-fed water gets its spectacular turquoise colour from glacial sediment refracting light. You can rent canoes and paddle right into its blue-green centre or take one of the many hiking trails to get a birds-eye-view of the water and the Fairmont Chateau Lake Louise. There a multiple options for afternoon tea in Lake Louise, from the sumptuous spread at the Fairmont Chateau Lake Louise, to the rustic tea and scones at the Plain of Six Glaciers Teahouse.
Getting there
182 kilometres from the Calgary Tower | West on Hwy 1
What to do
There are numerous hikes in and around Lake Louise. From the Fairmont Chateau Lake Louise you can take the challenging 7.4-kilometre roundtrip hike to Saddleback Pass or one of the more moderate treks to visit Lake Louise's historic teahouses, either Lake Agnes Teahouse (6.8-kilometres-return) or the Plain of Six Glaciers Teahouse (10.6-kilometres return). Less ambitious amblers can take the paved Lake Louise Lakeshore path for a 4-kilometre roundtrip loop.
Check the Parks Canada website to find a hike in Lake Louise that fits your needs.
Hit the trails on horseback. Timberline Tours and Brewster Adventures offer horseback riding day trips during the summer season from 90-minute to full-day rides in and around Lake Louise.
If you want to see Lake Louise's emerald waters up close rent a canoe from the Fairmont Chateau Lake Louise's Boathouse. For $85/hour your rental includes life jackets, paddles and a bright red canoe. Don't rock the boat! The lake is glacial, so a dip in it is decidedly not fun.
Spa
Post-hike consider booking a session at one of Lake Louise's deluxe spas. The Spa at the Fairmont Chateau Lake Louise's Hikers Foot Therapy focuses on sore foot and calf muscles or try Temple Mountain Spa at the Post Hotel's Timesaver Manicure and Pedicure for a 90 minute treatment for your hands and feet.
The 14-minute ride to the top may be short, but a trip up the Lake Louise Gondola is definitely not uneventful. With almost daily summertime sightings, visitors have a high chance of seeing Grizzly bears in their natural habitat. At the top you can hike, visit the Wildlife Interpretative Centre and dine at one of several restaurants including the Whitehorn Bistro.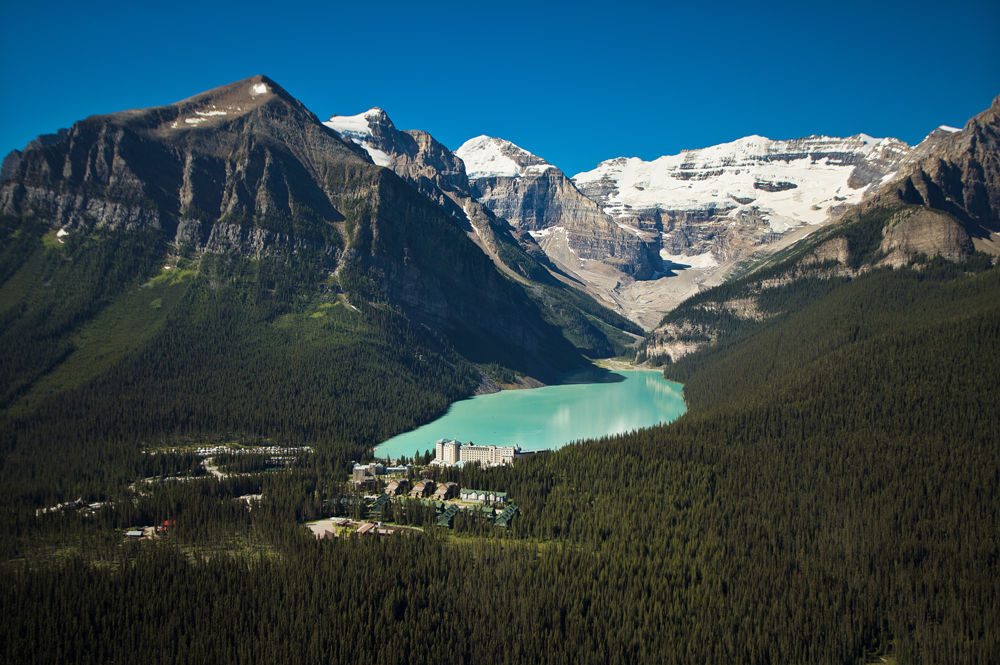 The Fairmont Chateau Lake Louise sits on the emerald waters of Lake Louise.
Where to eat
With views of Mount Victoria Glacier, Deer Lodge's Caribou Lodge is warm and rustic. Order the Rocky Mountain charcuterie platter. The plate for two includes elk salami, smoked pepper duck and Sylvan Star Gouda. It highlights what CRMR does best, sustainable game and locally sourced ingredients.
109 Lake Louise Drive, Lake Louise, 403-522-3991, crmr.com/deer
The highlight of the Lakeview Lounge is unobstructed views of the lake and mountains behind. Seating at this casual spot is first-come, first-serve and is ideal for a post-hike cocktail or early evening tapas. Try the signature Maple Rum Old-Fashioned, a blend of Oakheart rum, maple syrup and bitters.
111 Lake Louise Drive, Lake Louise, 403-522-3511, fairmont.com/lake-louise
Laggan's bakery has served scratch-baked goods and tasty sandwiches since 1987. Located in the Samson Mall in the Lake Louise Village, Laggan's is a must-stop for a post-hike coffee and snack. The display cases are packed with croissants, scones, cookies, bars, pies and more. It serves locally-roasted Frog Friendly Wild Coffee and Kusmi premium tea. Try the B.O.B. (breakfast in a bun) or Laggan's famous health cookie.
101 Village Road, Lake Louise, 403-522-2017, laggans.com
The Post Hotel has several gourmet options, but for a casual pub-style meal The Outpost is where to go. Grab a seat around the large fireplace. The Outpost burger with gruyere and mushrooms and fresh cut fries is definitely tasty, but if you're really hungry post-hike, order the Hungarian beef goulash with buttery sptzle and red cabbage.
200 Pipestone Road, Lake Louise, 403-522-3989, posthotel.com
The Station Restaurant and Heritage Railway Station was built in 1910 and served as the local depot for the Canadian Pacific Railway. The historic space has four different dining areas inside as well as a heritage dining car for private reservations outside. The gift shop is definitely worth a visit. The casual menu includes burgers, ribs and pasta and features local-ingredients like Carmen Creek bison.
200 Sentinel Road, Lake Louise, 403-522-2600, lakelouisestation.com
Where to have tea
Lake Agnes Teahouse sits on the pretty glacier lake it's named for. It's been serving tea since 1905 and has more than 100 different types to choose from. To get there, it's a gentle one to two hour hike from Fairmont Chateau Lake Louise. Get details here.
Smoked salmon pinwheels, fresh seasonal berries and rosehip shortbread are just some of the delicacies on the menu at the Fairmont Chateau Lake Louise's afternoon tea. It's available daily between 12 p.m. and 3 p.m.
Scones are made daily in the Plain of Six Glaciers backcountry kitchen. Sip tea on the balcony overlooking the Victoria glacier. On hot days it's not uncommon to witness chunks of the glacier cracking and crumbling off and landing with a 'boom' in the rocks below.
Tea and a selection of fresh pastry and cakes are served daily from 2 to 5 p.m. at the Post Hotel. During the summer take yours on the patio or front lawn.
Things to know
Like many mountain destinations, Lake Louise is especially busy in the summer. Plan to arrive earlier in the day to avoid parking lot and hiking trail crowds. If you leave Calgary by 7 a.m., you'll be in Lake Louise by 9 a.m. The early-bird willing to do the two-hour hike gets scones fresh out of the oven from the Plain of Six Glaciers Teahouse.