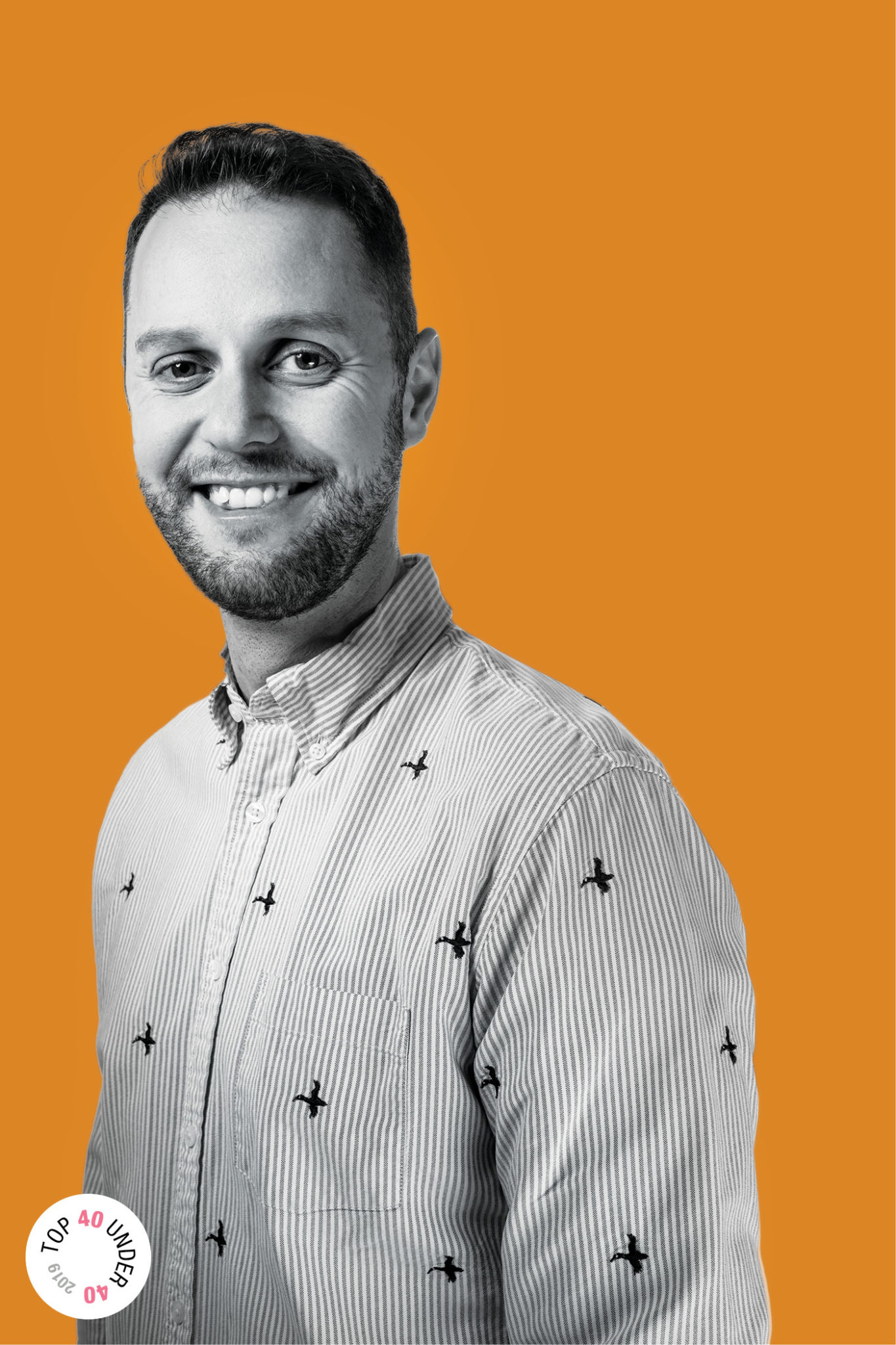 Age: 32
Job title: President, Oneball Charitable Cancer Organization; Digital Solutions Architect, Spartan Controls.
Why he's a 2019 Top 40 Under 40:
Christopher Lloyd is president of Oneball Charitable Cancer Organization, a group changing how men deal with testicular cancer through stigma-busting humour and by funding research that has had national and international impact.

The moment Christopher Lloyd cites as his proudest might tell you all you need to know about him. It was the moment he first laid eyes on the seven-foot-tall testicle mascot costume that he designed and had made for the Oneball Charitable Cancer Organization. "It will probably remain the most ridiculous thing I'll ever do in my entire life," says Lloyd. "Love it or hate it, you won't forget it."
A two-time testicular cancer survivor, Lloyd got involved with Oneball after struggling to speak openly about his diagnosis. Even though testicular cancer is the most common form of cancer affecting men ages 15 to 35, when Lloyd was first diagnosed at age 18, he found most of the patient-peers in local support groups were 30 to 40 years his senior.
Oneball's "ballsy" approach to eliminating the stigma surrounding the disease immediately resonated with Lloyd. Testicular cancer has a 99 per cent localized survival rate, so instead of focusing on finding a cure, Oneball strives to make a positive impact on cancer journeys. This has led to a research funding partnership with the Tom Baker Cancer Centre to improve emotional and psychological impacts for patients and families, along with campaigns to raise funds for treatments otherwise not possible.
Last year, Lloyd spearheaded a $65,000 GoFundMe campaign to provide trial medication for a patient. While the medication was unsuccessful, Oneball helped the family access palliative care.
The trial also helped move the medical knowledge of treatment forward and Lloyd takes pride in eliminating lingering "what ifs" that can follow similar situations. The campaign inspired Lloyd's latest pursuit, to engineer a completely digital platform to streamline existing financial assistance and allow Oneball to help more patients as a result.
With puns and dad-jokes galore, and events like a 40-Year-Old Virgin-inspired chest-waxing fundraiser, Lloyd and the entire Oneball team spread awareness while keeping things light. Oneball's direct effects keep him working to ensure this small charity makes a big difference. "We can have a very meaningful impact on patients' lives," says Lloyd. "I don't think there's anything more satisfying than that."