Calgary's Best Neighbourhoods 2020
Our annual data-driven look at the best places to live in Calgary.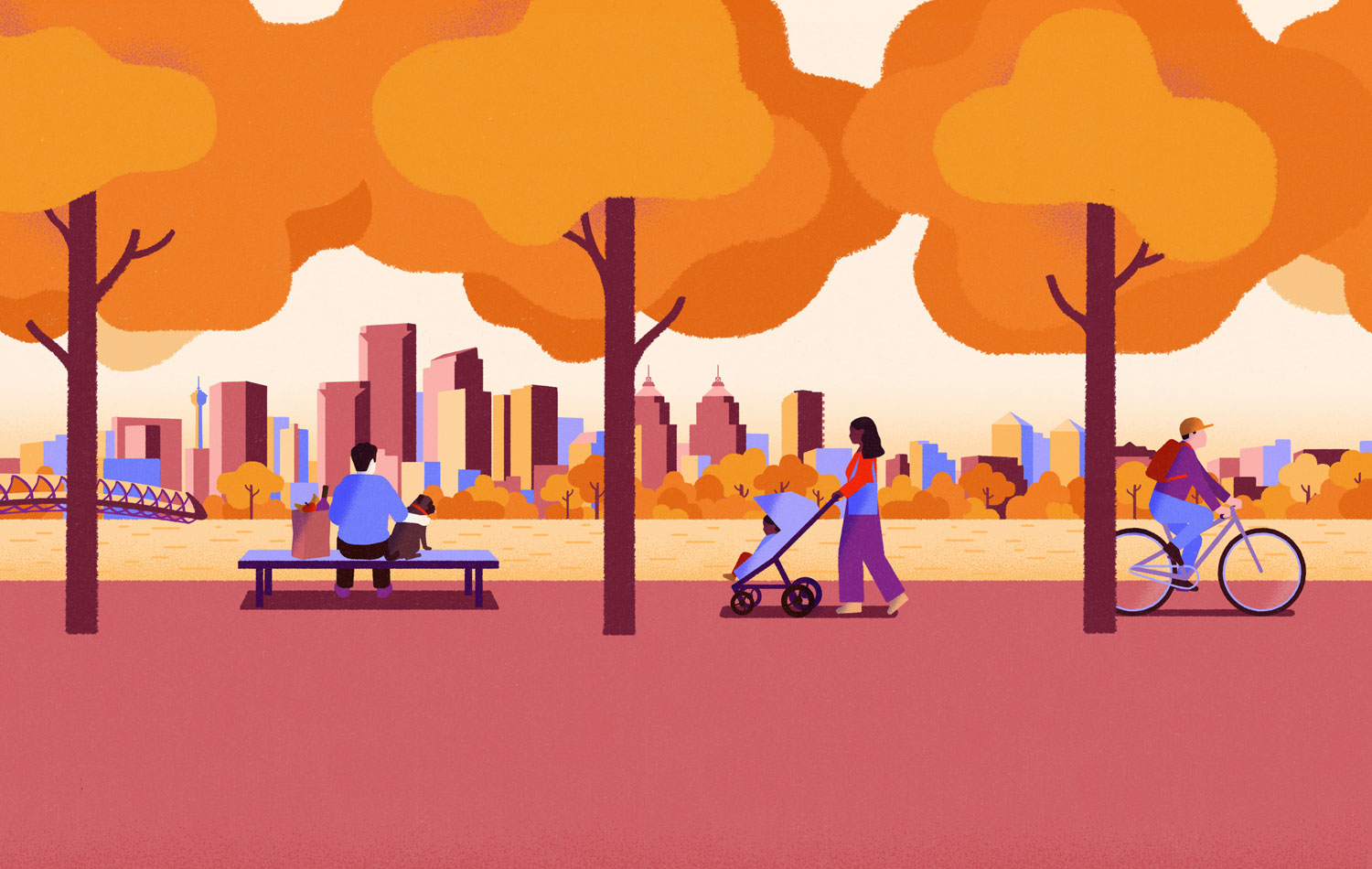 Since March, many of us have spent more time in our neighbourhoods than ever — sticking close to home in social isolation at first and, as business in the city resumed, not venturing as far as we might normally.
Even at the best of times, with more than 208 neighbourhoods in the city, it's impossible for anyone to know them all well. Our annual Best Neighbourhoods list, presented in association with Excel Homes, is a starting point that we hope makes you look a bit differently at what the city's neighbourhoods offer and gives you a peek beyond the communities you know.
It's not hard to find a good place to live in Calgary; every neighbourhood in the city has a range of offerings for its residents. A lot of what makes a neighbourhood great is highly personal. Many of us want to live close to family or friends, in the neighbourhood we grew up in, or close to work. Or, we just love the look of a particular home on a particular street or the feeling of a place. All that aside, this is our data-driven approach to ranking Calgary's residential neighbourhoods. We use city-wide data from the City of Calgary and other groups for our calculations.
Our annual Best Neighbourhoods survey asks respondents to rank the most important characteristics of a great place to live. This year's survey closed just as we headed into the pandemic lockdown. Despite that, the characteristics seem more relevant in our current state.
This year, park space and pathway-system access ranked in the top two spots followed by high Walk Score and easy access to grocery stores. Most notable in this year's results was that proximity to a lot of restaurants dropped significantly for the second year in a row. Having lots of restaurants was ranked 11th in making a neighbourhood great — just after having lots of trees.
While the top two spots were taken by perennial high scorers Brentwood (number one last year) and Varsity (number one in 2017), there were also some new appearances in the top 20.
Because Crescent Heights, Sunnyside and Hillhurst all scored so highly and are so close together we focused on that area of the city in our reporting. You'll also find here the complete list of neighbourhood rankings.
Calgary's Best Neighbourhoods: The Complete List
The Area of Calgary That Has It All
The neighbouring communities of Crescent Heights, Sunnyside and Hillhurst have everything Calgarians want.
Read More
More Top Neighbourhoods
The neighbourhoods with the highest Walk Score, most trees and highest community engagement points.
Read More
Try Our Filter to Find Your Best Neighbourhood
Use our filter to enter how important various neighbourhood characteristics are to you.  The filter will show you all of the neighbourhoods in Calgary that match your personal criteria and remove any that don't.