Photography by Erin Brooke Burns
Calgary's Chinatown has seen its fair share of challenges. Originally located near Stephen Avenue, the great fire of 1886 forced Chinatown to relocate to 10th Avenue S.W., and then the construction of the Palliser Hotel and the CPR's new route meant another move. In 1910 Calgary's Chinatown relocated to its third (and present) location off Centre Street and 3rd Avenue S.
The area has come a long way in more than 100 years. While it's now the fourth largest Chinatown in Canada, its challenges didn't stop in the early 20th century. In the 1980s, it almost ceased to exist after developers put forward a plan to build skyscrapers in the area. This would have meant the growth of downtown but the deterioration of Chinatown as a cultural centre.
Today, Chinatown is a bustling, distinctive neighbourhood visited for its array of authentic restaurants, unexpected small shops and cultural charm.
Where to Eat
Silver Dragon Restaurant
Walk upstairs to this restaurant at midday on the weekend and you'll have a dim sum experience similar to one you might have if you were visiting Hong Kong. Packed with diners celebrating big family gatherings and bustling with servers delivering favourites like potstickers and ginger beef on carts, this restaurant is the one to go to if you're brunching with a crowd. Don't skip the steamed pork and shrimp dumplings.
106 3 Ave. S.E., 403-264-5326
Thi Thi Vietnamese Submarine
Don't be deterred by the long line that forms outside this restaurant every lunch hour. The line trails out the door in part because the space can only comfortably fit three or four people, but mostly because the Vietnamese subs here are some of the best you'll find outside of Hanoi. Order beef, chicken or a combination of both, and make sure the sandwich has plenty of pickled carrots and fresh cilantro.
209 1 St. S.E., 403-265-5452
U & Me Restaurant
When you wake up at 3 a.m. with mad cravings for steamed garlic sauce spareribs or congee, head to Chinese restaurant U & Me in order to satisfy them. As the restaurant is open 20 hours a day – it opens at 8 a.m. and closes at 4 a.m. – diners can come for an affordable breakfast, eat a quick lunch or organize a fancier dinner of Beijing duck.
223 Centre St. S., 403-264-5988
Even More Great Eats
1 Pot
123 3 Ave. S.E., 403-708-8088
Diamond Bakery
113 Ave. S.E., 403-269-1888
107 2 Ave. S.E., 403-269-2211, goldeninn.ca
Kim Chi House
303 Centre St. S.W., 403-265-8098
Kingfisher Seafood
Dragon City Mall, 328 Centre St. S.E., 403-294-1800
Soban Korean BBQ
Dragon City Mall, 328 Centre St. S.W., 403-452-7595
Sushi Tokyo
Dragon City Mall, 328 Centre St. S.E., 403-232-8868
Thai Tai
303 Centre St. S.W., 403-269-9380
Where to Shop
While this isn't the kind of mall you'd venture to if you're on the hunt for a Burberry coat or a Ralph Lauren polo, it does have some treasures if you're willing to search for them. Inside the three-storey shopping centre you'll find small, independent shops selling music, Chinese art, trinkets and affordable clothing, plus lots of restaurants. Shopping here is similar to browsing the family-owned stalls in buzzing shopping districts in Singapore.
328 Centre St. S.E., chinatowncalgary.com/dragoncitymall
Golden Music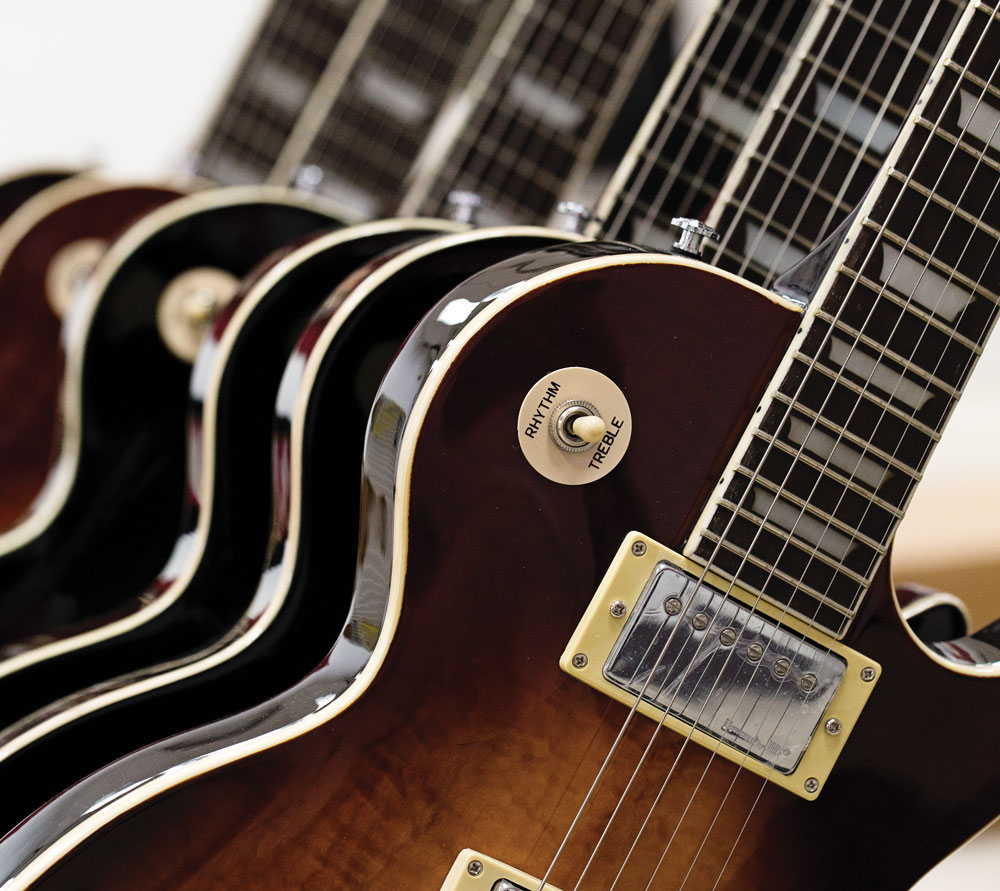 photograph by erin brooke burns
This music shop, which celebrated its grand opening in December 2013, sells everything from guitars and amps to classical stringed instruments and brass instruments suitable for school band practice. Golden Music also rents more than 30 different instruments, which budding musicians can pay to take home for up to one month.
233 Centre St. S.W., 587-955-9229,
Hing Wah Imports
While this convenience store is packed with a variety of products – there's everything from kitchenware to decorative trinkets – the real appeal is the simple stationery. Buy multiple jotters in different colours without spending more than $10. You can also post a letter here at the in-store post office.
312 Centre St. S.E., 403-264-1542
Even More Places to Shop
iTea Bubble Tea and Coffee
312 Centre St. S., 403-999-9801
Kwok Tai Chinese Herb Centre
111 3 Ave. S.E., 403-237-7818
Wah Pek Chinese Herbs
308A Centre St. S.E., 403-262-6629
Things To Do
Calgary Chinese Cultural Centre
Construction on this $10-million facility, which was an integral part of the area's revitalization plan, finished in 1992. Since then, the centre has been a cultural hub, offering martial arts and Tai Chi courses; lessons in Latin, ballroom and Chinese cultural dance; and Mandarin and Cantonese language classes. The Cultural Centre Chinese Learning Academy, which opened in 1993, also motivates Calgarians to learn Chinese languages and better understand the culture through classes in calligraphy and table tennis.
197 1 St. S.W., 403-262-5071, culturalcentre.ca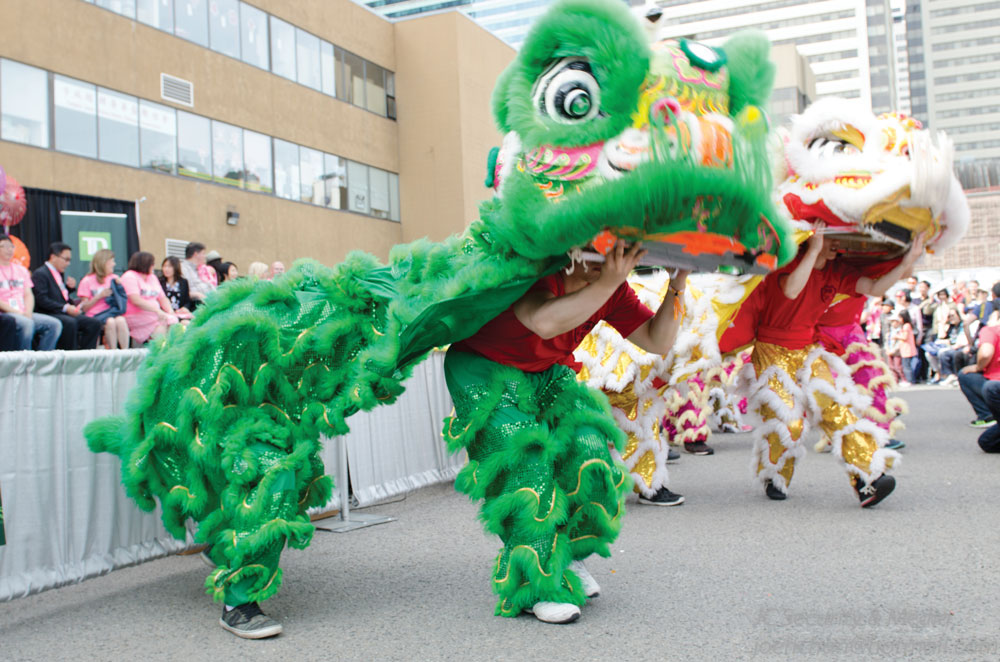 photograph by erin brooke burns
Every August, Chinatown attracts tens of thousands of visitors for its annual summer festival. The festival boasts six different zones, each with different shopping, entertainment and attractions. Between the six zones – cultural, sportif, merchants, food, performance and hidden gems – festival attendees can watch traditional Chinese performances, test their golfing skills and sample a range of authentic Chinese dishes.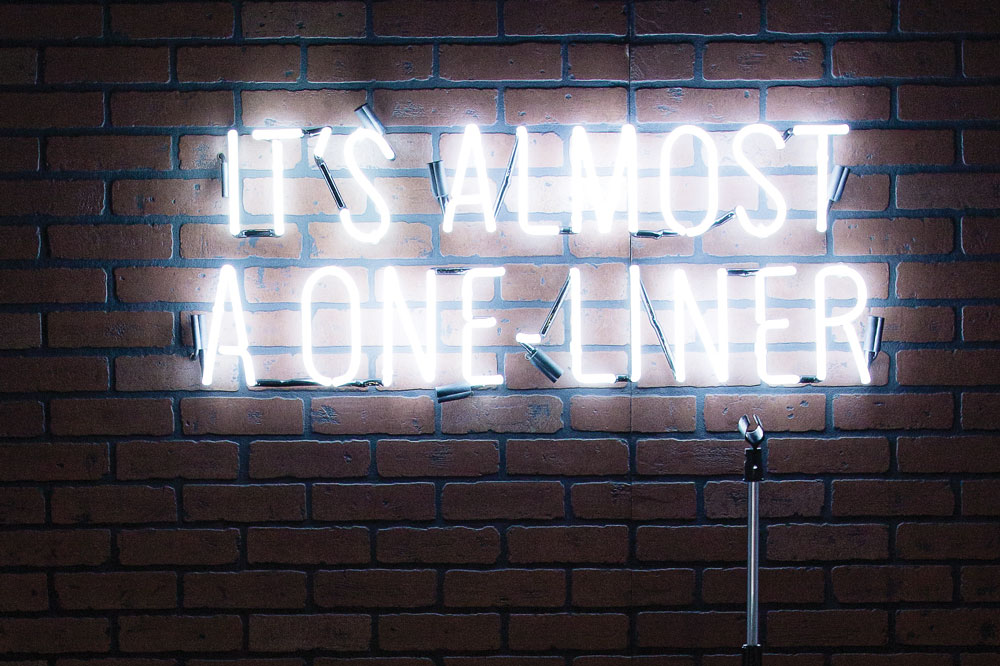 photograph by erin brooke burns
For more than three decades, The New Gallery, a not-for-profit, artist-run centre, has been housing innovative contemporary artwork. All exhibits in the gallery are selected using a peer jury process involving gallery staff, artists and board members. A few of the more popular shows that The New Gallery has exhibited recently include Felix Kalmenson's HLS-F71 and My Le Nguyen's Water Torture.
208 Centre St. S.E, 403-233-2399, thenewgallery.org
To Watch For
Chinatown is a hot spot for food and shopping, but right now, the area is a little more limited when it comes to housing. That will change this summer when the new condo development Elements on First by Can-City Developments Corp. opens. The eight-storey, 32-unit condo building is located along the Bow River on the edge of Chinatown. While its proximity to downtown and Prince's Island are appealing, what will make this condo particularly desirable are the in-house retail shops, the private fitness centre and the luxurious rooftop terrace.