Fall is one of the most exciting times of the year to be in Calgary (even if the weather isn't always great for all of it). Not only does Calgary's cultural scene light up with new music, theatre, dance and art programming, but big holidays like Halloween and Christmas mean there are always tons of fun, seasonal events to check out. Use this list of activities to make sure there isn't a dull moment this fall.
September 2018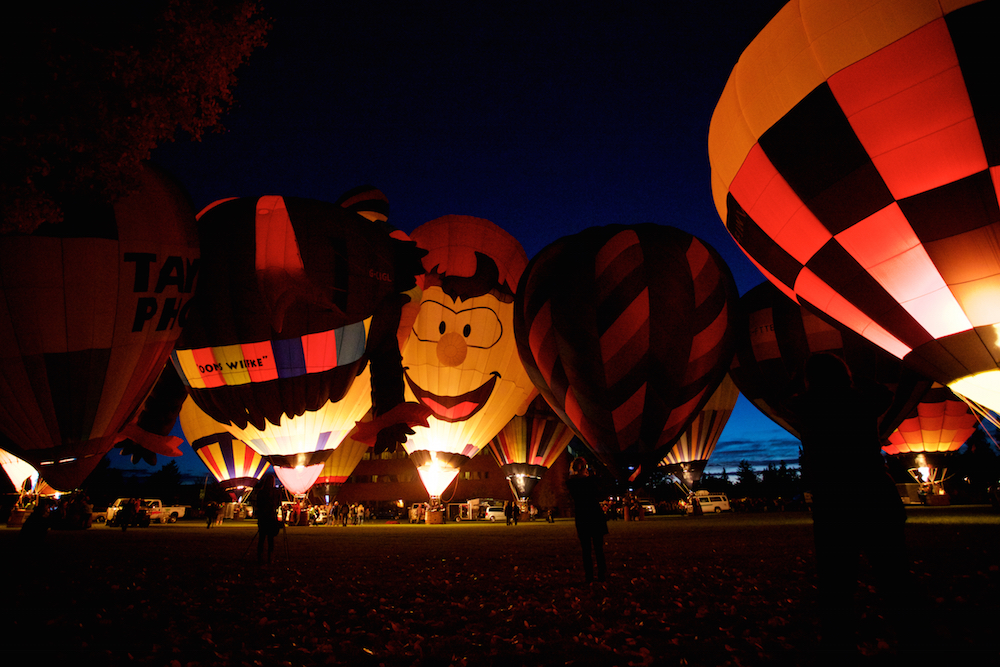 Saturday, September 22 – Sip on awesome ciders, beers and spirits at a new festival called The Mashing (runs from September 21 to 22)
Sunday, September 23 – Go behind the scenes at the Olympic Oval, Tool Shed Brewing Company, Calgary Meals on Wheels and more during Doors Open YYC (runs from September 22 to 23)
Monday, September 24 – Try a special pizza creation at a local restaurant during YYC Pizza Week (runs from September 21 to 30)
Tuesday, September 25 – Dine in complete darkness at Dark Table restaurant
Wednesday, September 26 – Go for a walk around the Beltline to check out the 12 new murals that are part of the Beltline Urban Murals Project
Thursday, September 27 – Ride from Telus Spark to the Calgary Zoo in an electric autonomous shuttle
Friday, September 28 – Go to the Balloon Glow night at the Heritage Inn International Balloon Festival (runs from September 26 to 30)
Saturday, September 29 – Support a local improv troupe as they perform for 26 hours straight (runs from September 28 to 29)
Sunday, September 30 – Spend the last day of Alberta Culture Days watching printmakers create huge prints using a steamroller (Alberta Culture Days runs from September 28 to 30)
October 2018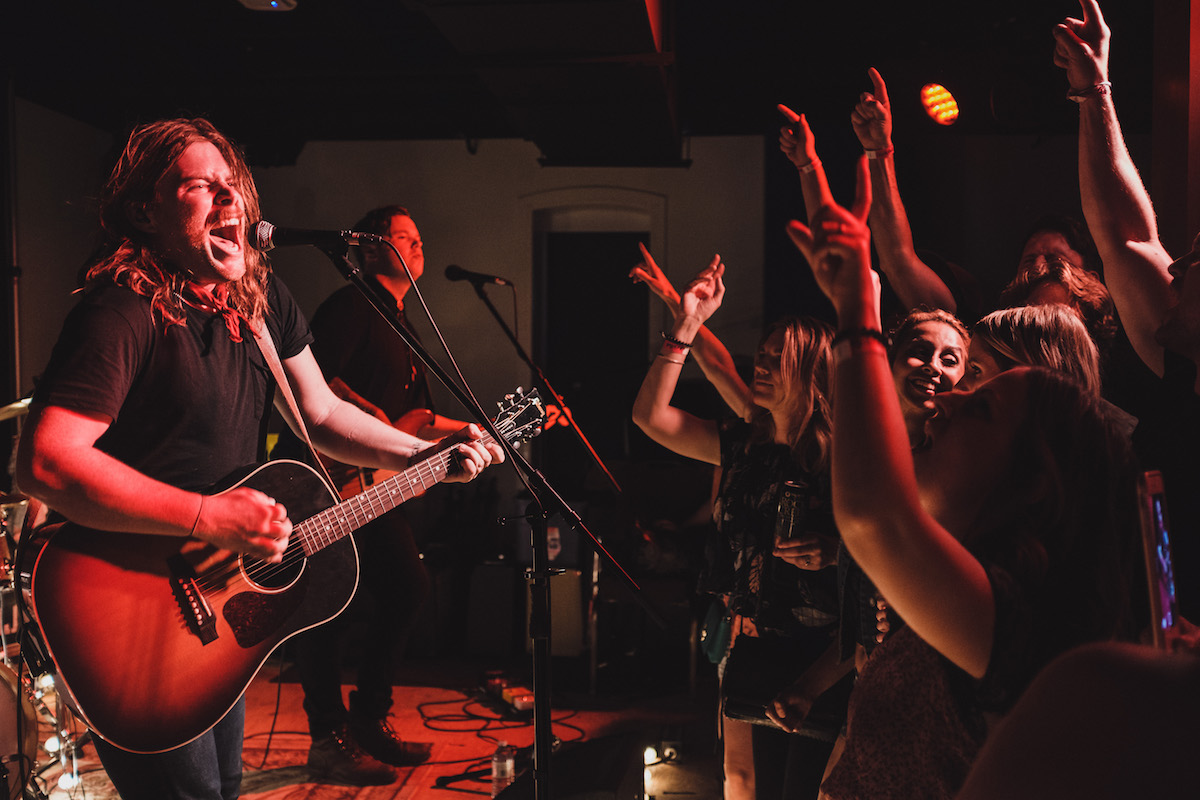 Monday, October 1 – Treat yourself to a manicure or facial at Drift Luxury Nail Bar
Tuesday, October 2 – Ride your bike to Bridgeland to grab a coffee at Bike and Brew
Wednesday, October 3 – Explore our fascination with outer space at the Glenbow's new Cosmos exhibit (runs from September 29 to January 6)
Thursday, October 4 – Check out contemporary art at the Herringer Kiss Gallery's new location on its grand opening night
Friday, October 5 – Watch Beauty and the Beast while the Calgary Philharmonic Orchestra plays along (runs from October 5 to 6)
Saturday, October 6 – Catch live music performances at the King Eddy during Eddy Fest  (runs from October 4 to 7)
Sunday, October 7 – Sample everything from produce to chocolate on a tour of the Calgary Farmers' Market
Monday, October 8 – Order any food dish on the menu for just $5.95 at El Furniture Warehouse on Stephen Avenue
Tuesday, October 9 – Take a fellow theatre fan to see Rosencrantz and Guildenstern are Dead (runs from October 9 to 21)
Wednesday, October 10 – Treat yourself to dinner and a show featuring Stage West's season opener And the World Goes 'Round
Thursday, October 11 – Go to a movie night at the Hangar Flight Museum
Friday, October 12 – Go see some of the nearly 25 concerts going on during this night of Wide Cut Weekend (runs from October 11 to 13)
Saturday, October 13 – Sample wine, beer, snacks and more at the Rocky Mountain Wine & Food Festival (runs from October 12 to 13)
Sunday, October 14 –  Check out the Rolling Stones Mobile Studio, an instrument that's more than 400 years old and more during one of Studio Bell's Backstage Pass Tours
Monday, October 15 – Watch Tanya Tagaq close out this year's edition of Wordfest (festival runs from October 8 to 15)
Tuesday, October 16 – Watch a professional men's tennis tournament at the Osten & Victor Alberta Tennis Centre (runs from October 13 to 21)
Wednesday, October 17 –  Dine at a participating restaurant on the night of Restaurants for Change
Thursday, October 18 – Immerse yourself in dance and contemporary art during Fluid Fest (runs from October 18 to November 3)
Friday, October 19 – Go for a scary ride on the Train of Terror (select days from October 12 to November 3)
Saturday, October 20 – Shop from some of the best things to eat in Calgary at Avenue's first pop-up market
Sunday, October 21 – Pick out the perfect pumpkin for Halloween at one of Butterfield Acres' harvest pumpkin hunts
Monday, October 22 – Learn about latte art at this Phil & Sebastian workshop
Tuesday, October 23 – Take on the ramps at the B-Line Indoor Bike Park
Wednesday, October 24 – Play with a cat at Regal Cat Cafe in Kensington
Thursday, October 25 – Have a laugh at a local comedy venue
Friday, October 26 – Get spooked on a ghost tour through Inglewood
Saturday, October 27 – Spend 12 hours at Globe Cinema for a Halloween movie marathon
Sunday, October 28 – Play volleyball on an indoor beach at The Beach YYC
Monday, October 29 – Go shopping at the New Horizon Mall (grand opening on October 27)
Tuesday, October 30 – Watch a biographical musical about singer-songwriter Carole King (runs from October 30 to November 4)
Wednesday, October 31 –  Get scared in six haunted houses at the last edition of ScreamFest (runs on October 5, 6, 12, 13, 19 to 21, 25 to 28, 30 and 31)
November 2018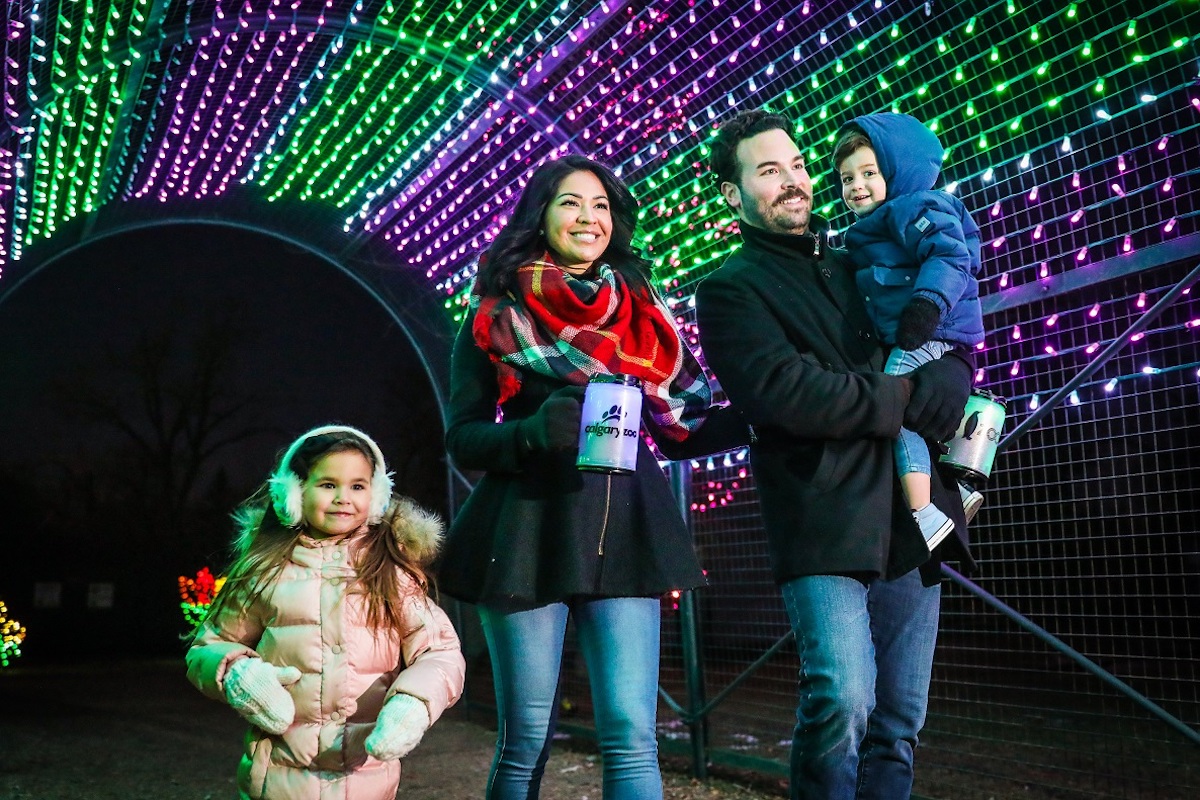 Thursday, November 1 – Check out the New Central Library on its opening day
Friday, November 2 – Spend the weekend in Banff at the Banff Mountain Film and Book Festival (runs from October 27 to November 4)
Saturday, November 3 – Watch a film from Albania, Italy, Serbia or Switzerland at the Calgary European Film Festival (runs from November 3 to 11)
Sunday, November 4 – Shop from more than 250 vendors at the Festival of Crafts (runs from November 1 to 4)
Monday, November 5 – Take advantage of the quiet reading hours on Monday nights at Société Coffee Lounge
Tuesday, November 6 – Learn how to knit in just two classes with Stash
Wednesday, November 7 – Use our Chinese food guide to help you decide where to go for Chinese food in Calgary
Thursday, November 8 – Listen to jazz performances during the Canadian Jazz Festival (runs from November 8 to 11)
Friday, November 9 – Spend your date night at a ceramics workshop at Workshop Studios
Saturday, November 10 – Grab a bite at The Dandelion, a new vegan cafe in Ramsay
Sunday, November 11 – Spend Remembrance Day at the Field of Crosses Memorial Project (runs from November 1 to 11)
Monday, November 12 – Stay warm with some cheese, chocolate or salted caramel foundue
Tuesday, November 13 – Learn the truth about Dracula at a new Vertigo Theatre production (runs from November 10 to December 9)
Wednesday, November 14 – Check out Tonto Week at the National Music Centre (runs from November 14 to 18)
Thursday, November 15 – Check out a feminist arts festival with music, film, comedy and visual art programming (runs from November 15 to 18)
Friday, November 16 – Start your holiday shopping early at Spruce Meadows' International Christmas Market (runs from November 16 to 18, 23 to 25 and November 30 to December 2)
Saturday, November 17 – Grab a beer at a new brewery inspired by the Calgary Winter Olympics and the 1980s
Sunday, November 18 – Learn about hand lettering and calligraphy at one of Recess Shop's workshops
Monday, November 19 – Throw an axe at a target
Tuesday, November 20 – Grab your skateboard and drop in to try the six-foot half-pipe at The Compound
Wednesday, November 21 – Watch the Calgary Opera take on the romantic story of Roméo & Juliette (runs on November 17, 21 and 23)
Thursday, November 22 – Try a hot yoga class and check out the coffee shop at Yoga Nova Studio
Friday, November 23 – See what the Calgary Zoo looks like at night when it's decked out in colourful light displays for Zoolights (runs from November 23 to January 5)
Saturday, November 24 – Put on a Christmas sweater and run three, five or 10 kilometres at the annual Great Sweater Run
Sunday, November 25 – Take a Christmas baking class with Cookbook Co. Cooks
Monday, November 26 – Spend your lunch break seeing Lunchbox Theatre's production of It's a Wonderful Life: A Live Radio Play (runs from November 26 to December 22)
Tuesday, November 27 –  Try the $20 paint night on Tuesdays at Raw Canvas in Kensington
Wednesday, November 28 – Sing your heart out at open mic night at the Ironwood Stage & Grill
Thursday, November 29 – Decorate a gingerbread house at Sauce Italian Kitchen & Market
Friday, November 30 – Watch a documentary film (or a few) at the fifth CUFF.Docs festival (runs from November 29 to December 2)
December 2018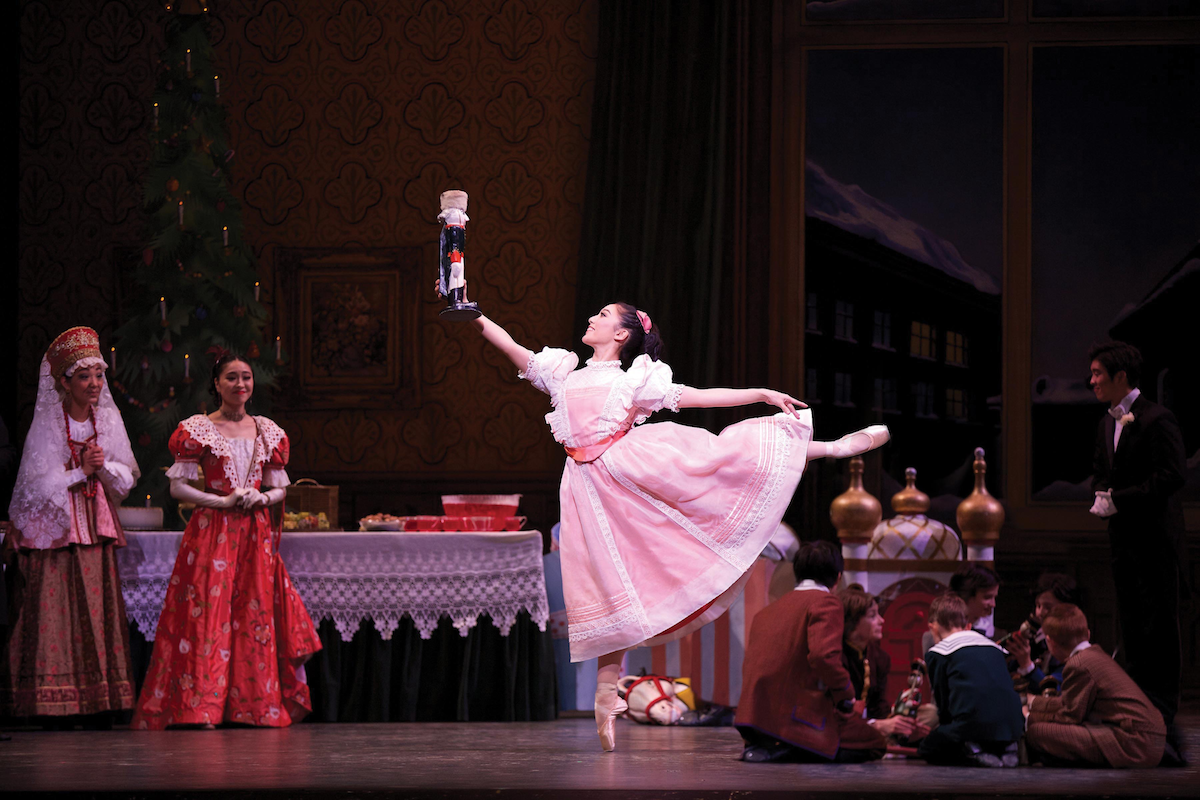 Saturday, December 1 – Embrace your nerdy side at the Calgary Expo Holiday Market (runs from December 1 to 2)
Sunday, December 2 – Go rock climbing for free at MEC (select times on Sundays and Wednesdays)
Monday, December 3 – See an improvised soap opera about Calgary oil companies in the 1970s
Tuesday, December 4 – Find out how much you know about everything from pop culture to outer space at Broken City's weekly trivia night
Wednesday, December 5 – Try out the trampoline park or military obstacle course at InjaNation
Thursday, December 6 – Check out one of Calgary's best happy hours with a few friends
Friday, December 7 – Go to the Christmas edition of Dave Kelly Live
Saturday, December 8 – Shop from local artisans at Market Collective's 10th anniversary market (runs December 7 to 9 and 14 to 16)
Sunday, December 9 – Toss a teddy bear onto the ice at the Calgary Hitmen's Teddy Bear Toss Game
Monday, December 10 – Pick up some goodies from the Italian Centre Shop. Here's what you should buy
Tuesday, December 11 – Order snacks right to your seat before watching a movie at the new VIP Cinemas in Seton
Wednesday, December 12 – Have sushi delivered to your table on a bullet train at Point Sushi
Thursday, December 13 – Swing by Butter Block & Co to start your morning off with an 81-layer croissant
Friday, December 14 – Drop in at Archery Games to play some archery tag
Saturday, December 15 – Go on a wagon ride, listen to Christmas carols and decorate gingerbread cookies during Heritage Park's Once Upon a Christmas festivities (runs from November 24 to December 23 on Saturdays and Sundays)
Sunday, December 16 – Attend Alberta Ballet's annual production of The Nutcracker (runs from December 14 to 16 and 20 to 24)
Monday, December 17 – Warm up with some noodles
Tuesday, December 18 – Watch local actor Stephen Hair play Scrooge for a 25th year at Theatre Calgary's production of A Christmas Carol (runs from November 29 to December 23)
Wednesday, December 19 – Order a pint, some fries and dipping sauces at Marda Loop Brewing Co.
Thursday, December 20 – Go for a swim at one of Calgary's many indoor pools