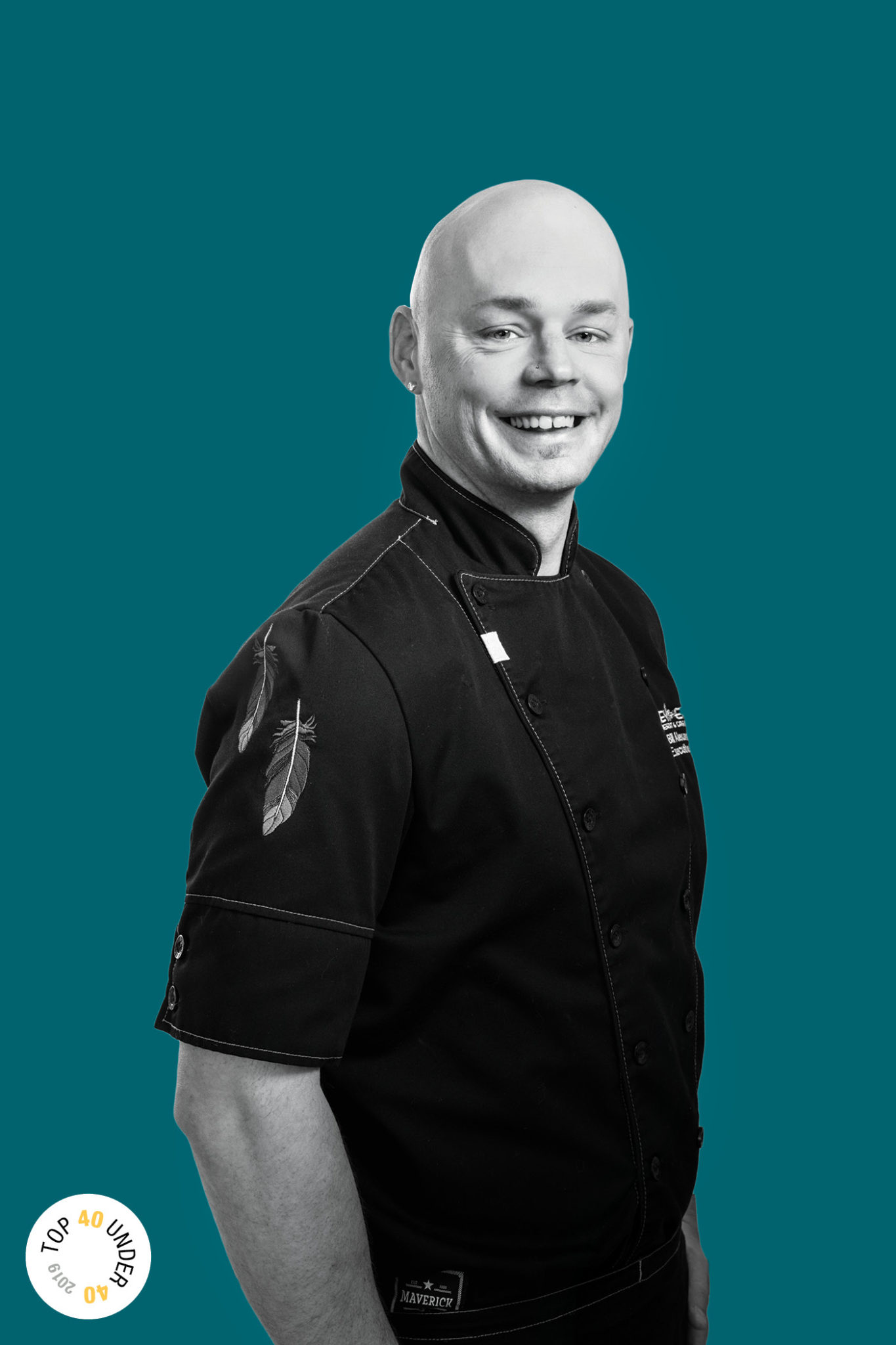 Age: 39
Job title: Indigenous Consulting Chef, WestJet; Executive 
Chef, Little Chief Restaurant, Grey Eagle Resort & Casino.
Why he's a 2019 Top 40 Under 40:
Bill Alexander is taking Indigenous culinary tourism to 
the world in his roles as executive chef of Little Chief 
Restaurant and as the first-ever Indigenous consulting chef for WestJet, as well as the chair of the Indigenous Culinary of Associated Nations and the Canadian Ambassador for ITB Berlin, the world's largest tourism trade fair.

Bill Alexander uses food to share his culture and create better understanding between Indigenous and non-Indigenous people. But Alexander didn't originally consider cooking to be a lifelong career. In fact, only after 10 years of being a head chef did he start to think that he might be cooking for the rest of his life. "I was very fortunate 
to love what I was doing," he says, "and [cooking] never seemed like something I was forced to do. Now I find myself in a situation where what I'm doing is more than just cooking food."
His many roles have allowed Alexander to use his platform for creating inter-culinary experiences. He is the executive chef at Little Chief Restaurant, the Indigenous consulting chef for the WestJet 787 Dreamliner and the Indigenous Tourism Association of Canada (ITAC) and the chair of the Indigenous Culinary of Associated Nations, a non-profit organization he founded in partnership with ITAC.
When people taste his dishes, he says, it prompts them to ask questions about the ingredients, which leads to the history of the people who have survived off the same food for time immemorial. "It creates 
a situation where food is the most powerful conduit toward people being able to ask questions," he says.
When asked what an Indigenous-themed menu looks like, Alexander says he lives by the "what does the land provide" philosophy of using locally sourced ingredients and staying 
true to the original diet. Bison, venison, elk, 
rabbit and duck make up most of the proteins 
on his menus. Frybreads, bannock and Saskatoon berries are other staples in his restaurant and Little Chief also makes its own preserves from foraged ingredients.
Alexander hopes to create positive dining experiences for his guests so that Indigenous cuisine is no longer niche. "[I'm working to] create an environment where it's the new normal 
to wake up in the morning and go, 'I feel like having Indigenous cuisine today.'"