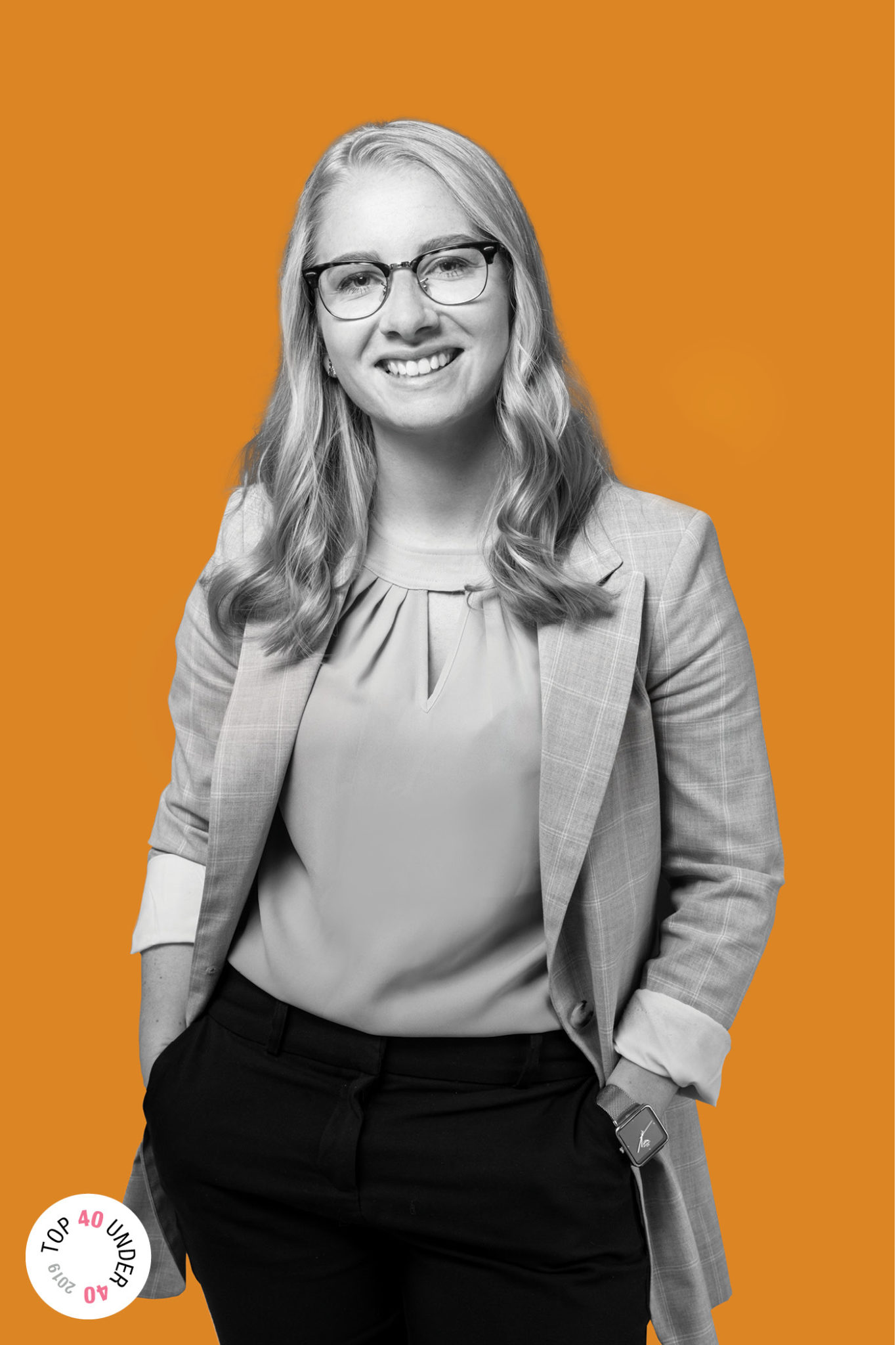 Age: 21
Job title: Student, Bachelor of Health Sciences, UCalgary; Researcher; Board Director, Alberta Lymphedema Association.
Why she's a 2019 Top 40 Under 40:
As a teenager, Catharine Bowman came up with an idea for a potential pharmacological treatment for lymphedema. Now in her early 20s, her idea is moving closer to reality as she continues to raise awareness about this common and sometimes painful condition associated with cancer.

When she was just eight years old, Catharine Bowman watched her mother struggle with lymphedema, an inflammatory condition that often develops following cancer treatment. "I promised her then that I would develop one of the first pharmacological treatments for the disease," Bowman says. It was a pretty impressive promise for a kid. But even more impressive was that seven years later, she was well on her way.
At 14, while reading a story about the lupine flower in Canadian Gardening magazine, Bowman had her eureka moment. She wondered if the anti-inflammatory compounds in the flower could be used to reduce the swelling and pain of lymphedema.
She wrote to scientists across Canada looking for someone working on something similar and eventually connected with Dr. Pierre-Yves von der Weid at the University of Calgary. In the summer before Grade 11, Bowman flew from her home in Hamilton to Calgary to start her research. "I'm really grateful to have mentors who looked beyond my age and instead, focused on my abilities. That made a difference," she says.
She gives credit, too, to her older brother, a scientist who taught her advanced statistics while she was in junior high.
Now 21, Bowman is in her last year of study for her bachelor of health sciences degree at UCalgary with plans to pursue an MD/PhD. She continues to lead a research project into the same compound she learned about six years ago, and presents at international and national conferences, applies for grant funding and partners with researchers and patients across Canada.
She is now also studying the psychosocial aspects of lymphedema, which helps her better understand what her mother went through, and is exploring non-invasive lymphatic imaging technology.
"As a scientist, people think of us looking in microscopes and things like that. But I'm motivated to produce work that has the ability to help people and connect people," Bowman says.
While she is obviously focused on her research question she still finds time to relax by writing and playing music. She sings, plays guitar, piano, bass, drums and ukulele, and performs as a busker or at long-term care homes and church. "It's a different way to share a part of myself," she says.