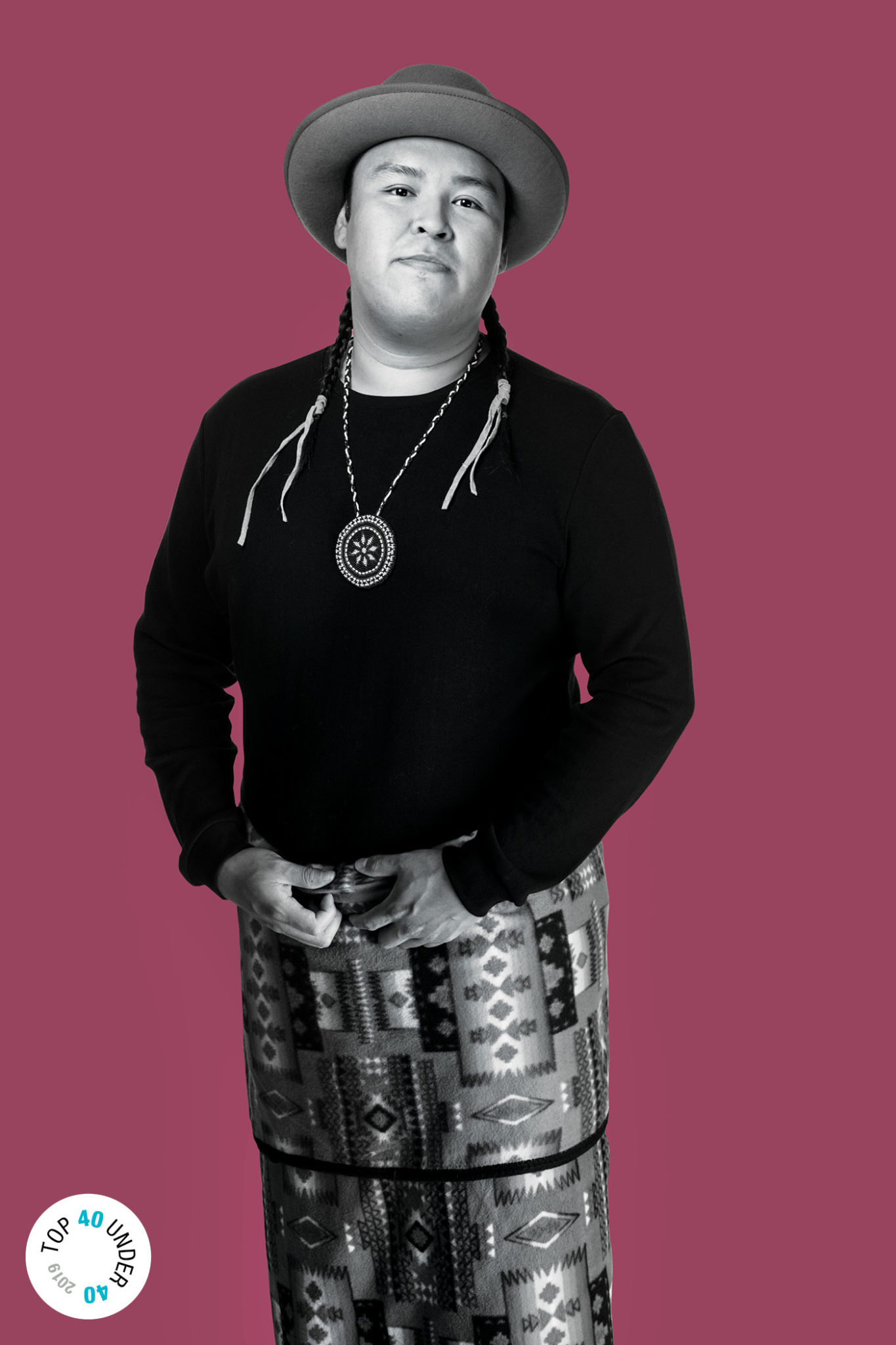 Age: 28
Job title: Executive Artistic Director, Indigenous Resilience in Music.
Why he's a 2019 Top 40 Under 40:
Curtis Running Rabbit-Lefthand, host of The Good Medicine Show on CJSW 90.9 FM, found a lack of Indigenous representation in the music industry so he started Indigenous Resilience in Music, an organization that creates workshops for Indigenous youth and works to Indigenize Calgary's music festivals.

Curtis Running Rabbit-Lefthand was 12 years old when he first picked up an instrument, and since then music has been a constant throughout his life. Though he has a bachelor's degree in political science from the University of Calgary, it's his musical expertise that he uses to create change within the city.
In the winter of 2016, Running Rabbit-Lefthand was touring as a fill-in (providing music and entertainment between songs) for a band called Heavy Weather. When the group hit Saskatchewan, local Indigenous youth came out to watch Running Rabbit-Lefthand perform — even though the band wasn't Indigenous-centered. It was through that interaction that Running Rabbit-Lefthand realized the need for a permanent space for Indigenous musicians to mentor Indigenous youth. "I saw Indigenous youth wanting this, and they didn't have it," he says. So he created Indigenous Resilience in Music (IRIM).
IRIM is an Indigenous-led organization with a mandate to create space for Indigenous musicians and support them in mentoring Indigenous youth through music. The organization provides a space for Indigenous youth to reclaim their identity through workshops and artist residencies and a platform for Indigenous musicians to showcase their work.
Running Rabbit-Lefthand has forged connections with the Sled Island festival and the Calgary Folk Music Festival, allowing IRIM to help curate and create Indigenous content for them, as well as a number of other music festivals. IRIM also hosts and facilitates music workshops and showcases curated by Running Rabbit-Lefthand at a variety of venues including Studio Bell, home of the National Music Centre. In addition, he hosts a weekly Indigenous-focused music show on CJSW 90.9 FM and performs his own music.
Running Rabbit-Lefthand says IRIM encourages and inspires Indigenous youth to pursue a career in music and gives them the tools to do so. "Because we're doing what we're doing [with IRIM], opportunities for the youth are no longer missed," he says. "We're filling a major gap that a lot of people don't work to fill for Indigenous people and for the music industry."