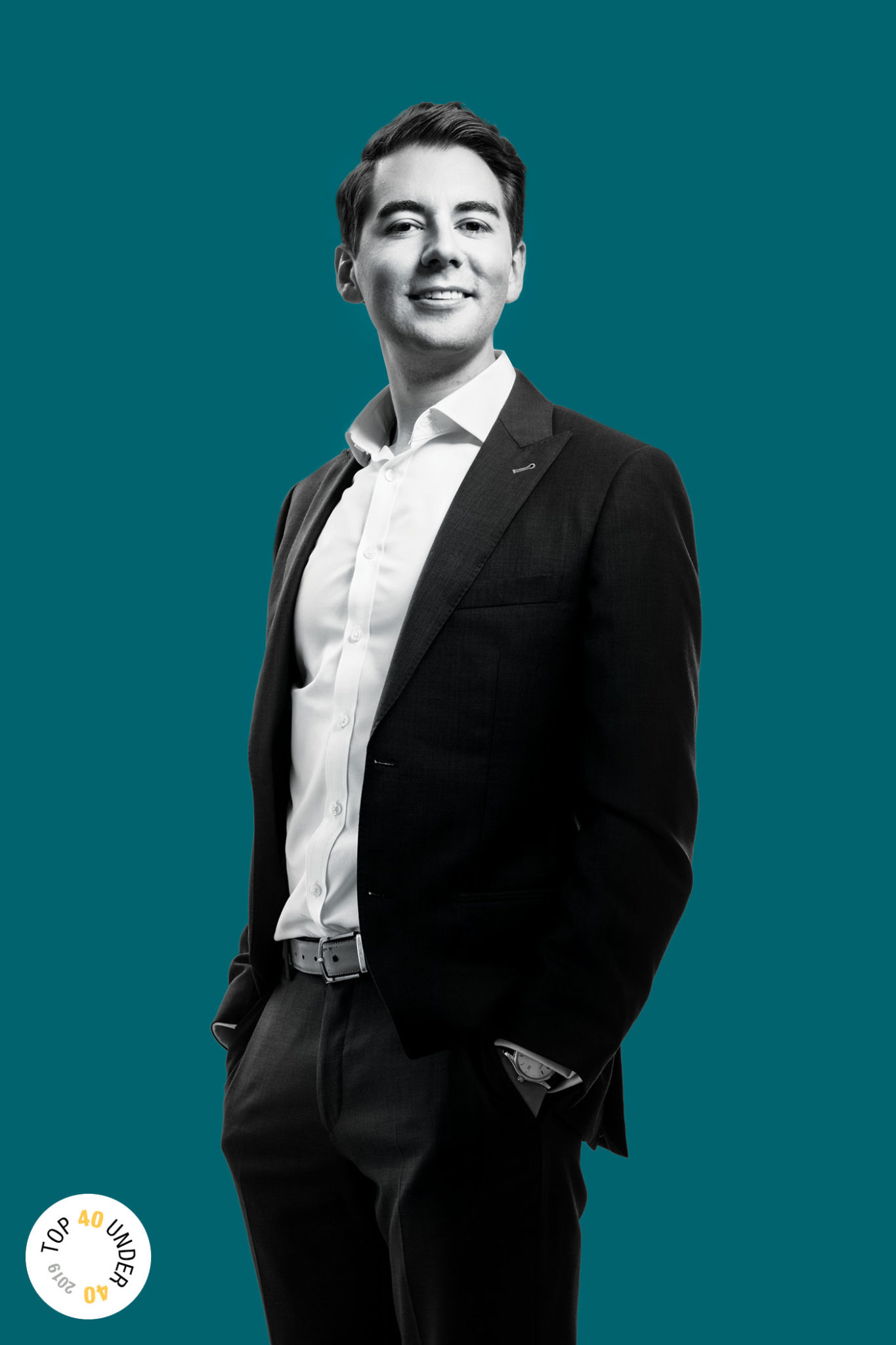 Age: 33
Job title: CEO, headversity; Psychiatrist, Foothills Medical Centre; Clinical Lecturer, Department of Psychiatry, Cumming School of Medicine, UCalgary.
Why he's a 2019 Top 40 Under 40:
A practicing psychiatrist on a mission to improve the mental health of Canadians, Dr. Ryan Todd founded headversity, a start-up that measures, tracks and trains mental health resilience in the workplace.

At two o'clock every afternoon, Dr. Ryan Todd blocks off 10 minutes for himself. He heads into his office, closes the door and meditates, before stepping back into his roles as physician, entrepreneur, public speaker, husband and father to a toddler and a newborn. "I can get disjointed throughout the day, going from one thing to the next. I've learned to meditate every day to reverse that," he says.
Todd is practicing what he preaches. He's a psychiatrist at the Foothills Medical Centre, where he works with patients dealing with extreme adversity: athletes facing career-ending injury or people struggling with the effects of chemotherapy, for example.
He believes mental health skills can and should be trained. That's why, in 2018, Todd launched headversity, a start-up that measures, tracks and builds resilience among employees in the workplace. Headversity uses techniques from psychiatry, sport psychology and neuroscience to train people to strengthen their resilience. "We set the goal that we want to impact a million people — arbitrary and audacious and maybe foolish, but we're not going to stop until we accomplish that," he says.
Headversity employs eight people and has partnered with more than 10 organizations, including the United States Hockey League and ATB Financial. Now in the second phase of its business plan, the company has raised $1 million from angel investors and is valued at $5 million.
Todd's love of sport is woven into his life. He grew up in small-town Saskatchewan where he says "there was nothing to do" other than play sports. During his medical residency, he fundraised for and produced the documentary A Dark Room to raise awareness of mental health in hockey. Endorsed by the National Film Board of Canada, the film is now screened in high school physical education classes.
He volunteered as the crisis intervention team psychiatrist for Canada during the 2018 Olympic Winter Games and has worked with UCalgary to develop a mental health care strategy for young athletes.
"I think you need to dig into life," Todd says. "You need to engage, you need to build skills, you need to not avoid things that are difficult."