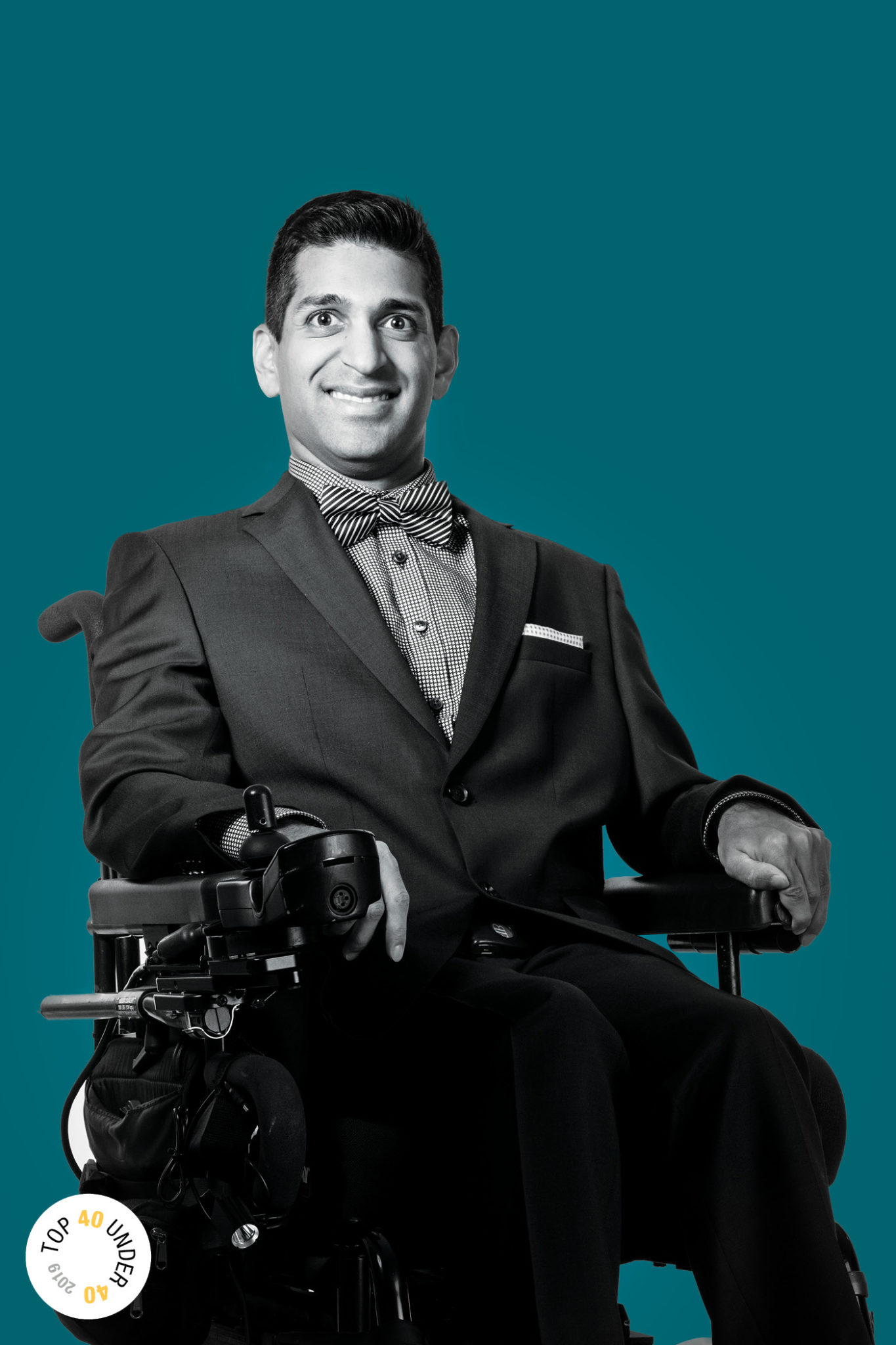 Age: 33
Job title: Manager, Strategic Atlantic and Real Estate Finance, Strategic Group; Co-founder, Bricolage.
Why he's a 2019 Top 40 Under 40:
A tireless advocate for universal accessibility, with several innovative local start-ups to his credit, Nabeel Ramji works to make Calgary the most accessible city in the world.

Many people overcome significant obstacles in their lives. Only a few then dedicate their lives to reducing those obstacles for others.
Nabeel Ramji was born in Karachi, Pakistan. After being adopted by Canadian parents at six months old, he was diagnosed with a rare form of cerebral palsy that would affect his life so much, the adoption agency gave his parents the option of returning him. They didn't.
Ramji started using a wheelchair around age four and couldn't speak until he was eight. Now 33, he has spent years working to reduce the daily accessibility challenges faced by people with disabilities.
In his day job, Ramji works for Strategic Group evaluating the financials for 63 apartment buildings on the East Coast. But his passion is increasing accessibility in Calgary.
As a consultant with RK Access, a design consulting firm that focuses on accessibility, Ramji has helped bring inclusive design to projects in an elegant, holistic way, rather than as something that "gets tacked on at the end."
Through the non-profit Bricolage, which Ramji describes as his "favourite" among his many projects, he works to improve accessibility in areas like housing, arts and culture, and technology. One of the group's initiatives is a Google Maps-style app called Pedesting that displays accessibility barriers in Calgary — when you have a movement disability, something like an unexpected curb or stair can throw your route, even your entire day out of whack.
Ramji's ultimate goal is to make Calgary the most accessible city in the world. Part of that lies in improving our physical landscape, but another part is storytelling, so that disability and accessibility become better understood through art and media. "I'm really passionate about storytelling and having equal representation," Ramji says.
He admits Calgary has a long way to go to truly be an accessible city, but he's also optimistic that change is possible. As he points out, it's in the city's best interests to create an environment that is universally inclusive. "Calgary can be a more successful community and more innovative community because of that," he says.