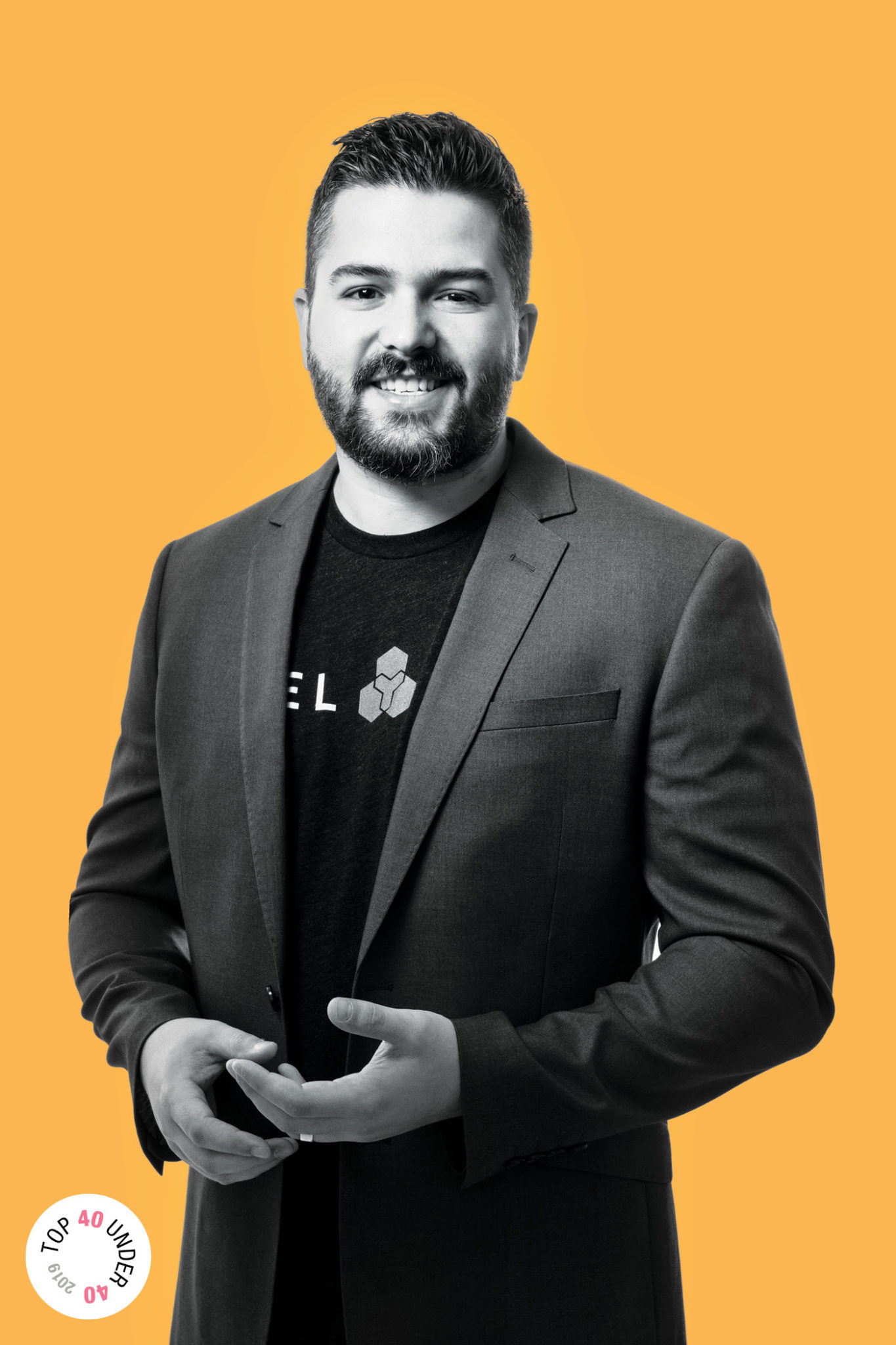 Age: 34
Job title: Founder and CEO, Helcim.
Why he's a 2019 Top 40 Under 40:
With his bootstrapped fintech start-up yielding $48 million in revenues, Nicolas Beique is leading the way for Calgary's emerging tech sector by showing that successful start-ups can be built here — and live here.

Most people wouldn't necessarily consider a move to Calgary as integral to building a career in tech, but for Nicolas Beique there's a critical link. When Beique was 12, his parents announced they were moving the family from Montreal to Calgary. They offered a bribe to their two sons to sweeten the deal: the family would adopt a dog and get a new computer. Both sparked lifelong passions for Beique, still a dog owner, and now head of the fintech company he built thanks to the coding skills he started learning on that computer. "In my bedroom there was a small bed in the corner and three different computer desks," he says. "I had multiple work stations set up."
By the time he was in high school, Beique was working as a freelance web designer building e-commerce sites for local businesses and noticing the difficulty many had processing payments online. He founded Helcim in 2007 to help solve the problem, but soon encountered a hurdle of his own — he still needed to partner with a mainstream financial institution and the banks weren't interested in a deal with a 23-year-old.
Beique wasn't discouraged. It took more than two years, but he managed to ink a deal with a subsidiary of U.S. Bank and has since built Helcim into a made-in-Calgary success story. In the last five years, the company has grown from two employees to more than 50, providing payment infrastructure for more than 6,500 businesses across the U.S. and Canada and processing more than $2.5 billion in payments.
With revenues of $48 million, Beique says the company has stood up to competition from much higher profile companies like Shopify, PayPal and Square by being ultra-transparent in an industry known for tricky contracts and hidden fees. "It really came down to 'let's be the good guys in the not-so-great industry,'" he says. In the process, Beique has also become living proof that you don't have to move to Vancouver, Toronto or San Francisco to run a successful tech start-up. Calgary, like Helcim, can punch above its weight.