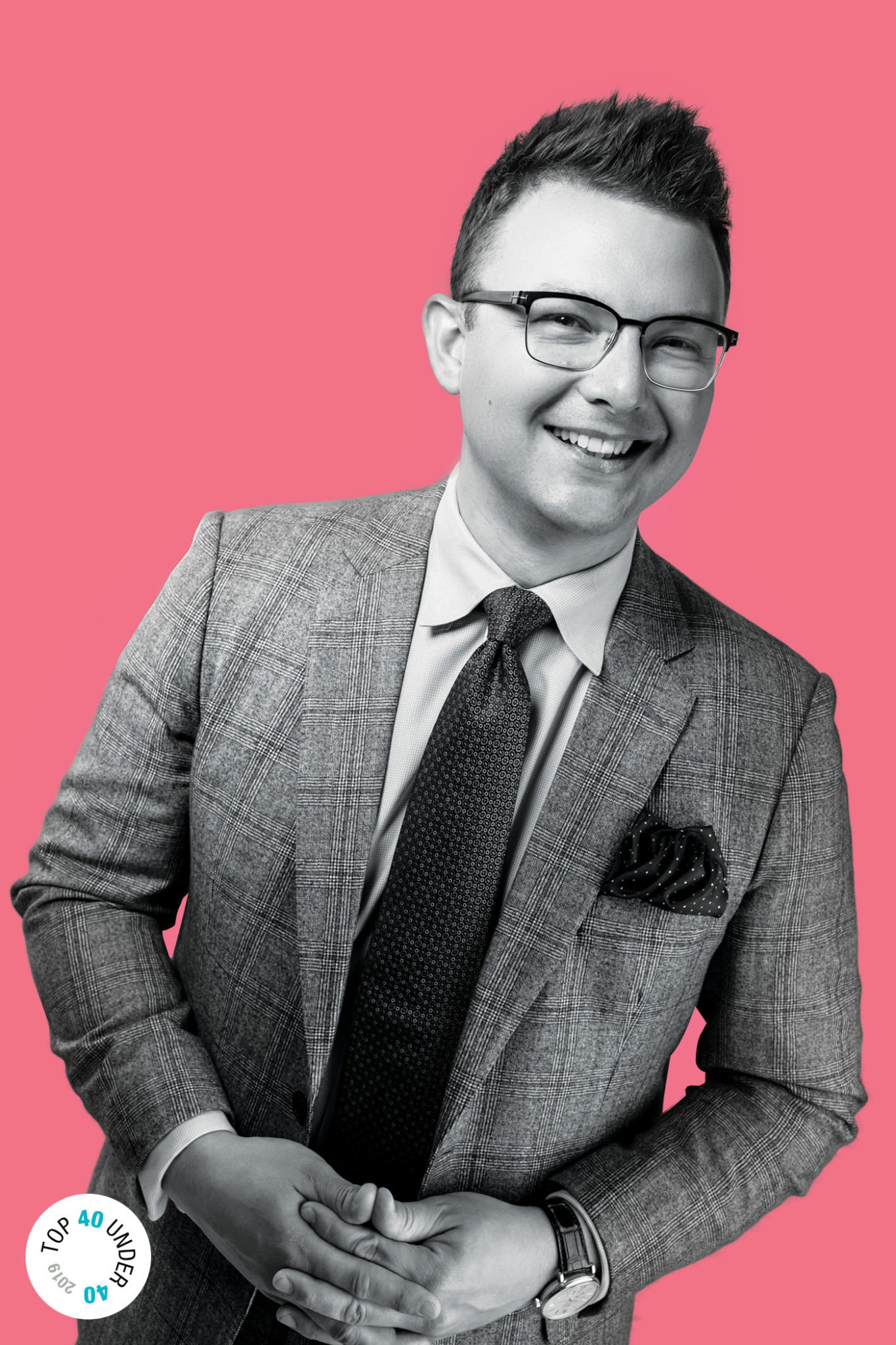 Age: 36
Job title: Director, Advanced Analytics, Suncor Energy.
Why he's a 2019 Top 40 Under 40:
Since moving to Calgary in 2011, Sam Hayes has become an innovative leader in the energy sector, a patron and advisor for the Calgary Philharmonic Orchestra and a hands-on community builder devoted to supporting and creating initiatives for survivors of domestic violence.

Back in 2013, Sam Hayes attended the funeral of Dick Matthews, a successful Calgary businessman, a lifelong supporter of the arts and a beloved family man. Hayes had met Matthews a few times and particularly admired him as a philanthropist. "I thought, 'that's the model of a great Calgarian, that's the model I aspire to,'" Hayes says.
Hayes, who moved to Calgary from London, UK, in 2011, is already well on his way to fulfilling that aspiration. At Suncor, he leads a team of 10 to 15 people tasked with helping to improve processes at the company to the tune of $2 billion by 2023. He's also a committed philanthropist and volunteer.
After noticing the Brenda Strafford Society for the Prevention of Domestic Violence couldn't provide education support for women in the two-year Progressive Housing Program, Hayes and his wife, Angela, established the Hayes Education Fund in 2016 to provide learning resources and scholarships. To date, their fund has supported 19 women. At the Calgary Philharmonic Orchestra, he was asked by the founders of a patron group to be an original member and is now sponsoring an annual family concert, with the first concert in January, 2020.
Not content to simply be a donor, he commits up to 40 hours each month to these organizations, serving as vice-chair of the board for the Brenda Strafford Society and as a board member for the CPO. "You have to be present. It creates more opportunities when you're involved," he says.
Hayes views giving back as a lifelong project. He says he learned early on that it doesn't matter what you give, as long as you get started. He laughs that he has a spreadsheet at home mapping out the next 40 years of his philanthropic efforts. "Most of my philanthropy is ahead of me, and I'm lucky to have learned early what it can mean to my family," he says.