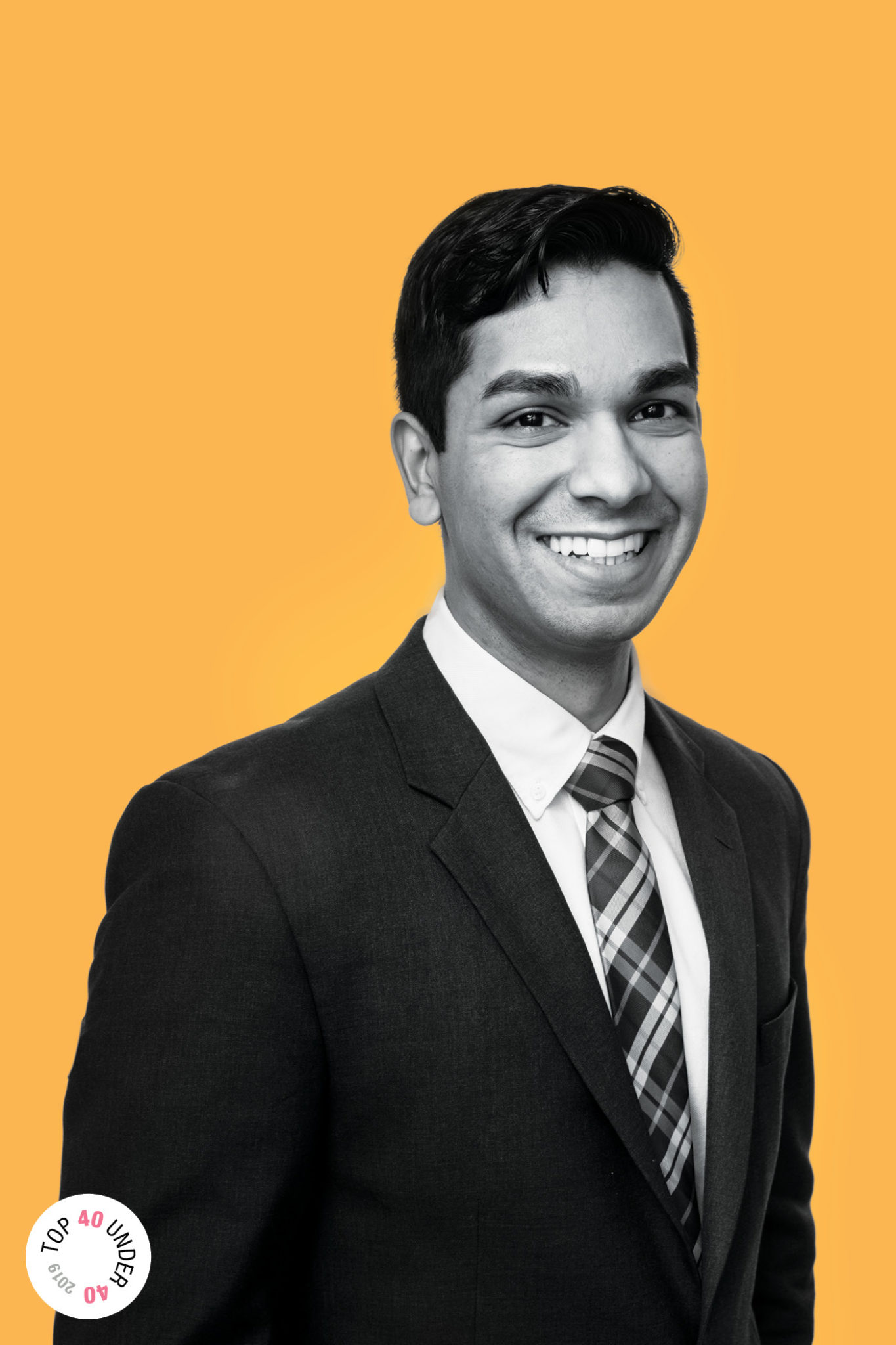 Age: 33
Job title: Manager, PwC Canada.
Why he's a 2019 Top 40 Under 40:
When he's not discussing the future of work with world leaders, Umair Pervez is deeply involved in making Calgary a better place, whether through the Global Shapers Community, helping Syrian refugees, or advising provincial and municipal policy-makers.

Umair Pervez loves Calgary because of a banana peel.
While visiting family here, he was eating a banana on the CTrain and began searching for a bin to dispose of the peel. A woman offered to take it, then got off at the next stop and threw it out. "This would never happen in London," Pervez (who was living in the UK at the time) recalls thinking. He fell in love with the city right then and there.
Since moving here, Pervez has worked relentlessly to help make the city more resilient in his area of specialty — the future of work and the changes that lie ahead. "It is the biggest threat faced by cities right now, and this is what policy-makers should be concerned about," he says.
With a combination of training and experience in psychology, technology and business, Pervez's views on the coming "fourth industrial revolution" have been sought by everyone from the Government of Alberta to world leaders at the World Economic Forum in Davos, Switzerland, where earlier this year he spoke with luminaries including Bill Gates and Jack Ma. An idea he proposed to the World Economic Forum was recognized as one of the Top 50 Global Ideas for helping cities cope with the changing nature of work. Pervez is also a steering committee member for the City of Calgary's resiliency strategy.
In addition to his day job as a management consultant at PwC, Pervez has been involved with numerous wide-ranging projects, from aiding settlement of Syrian refugees, to encouraging charitable giving by Alberta millennials, to helping create a charity that provides free health care to slums in Pakistan. He was an organizer of the Yes campaign for the 2026 Olympic plebiscite, and when he's not volunteering with other local causes, Pervez runs a hypnotherapy practice out of his home office.
Pervez says he doesn't think he's anything special: he just … "does stuff."
"The key to success is resilience," he says. "When you put yourself out there and try and take advantage of opportunities, then a lot of them fail, and you need to get used to it."