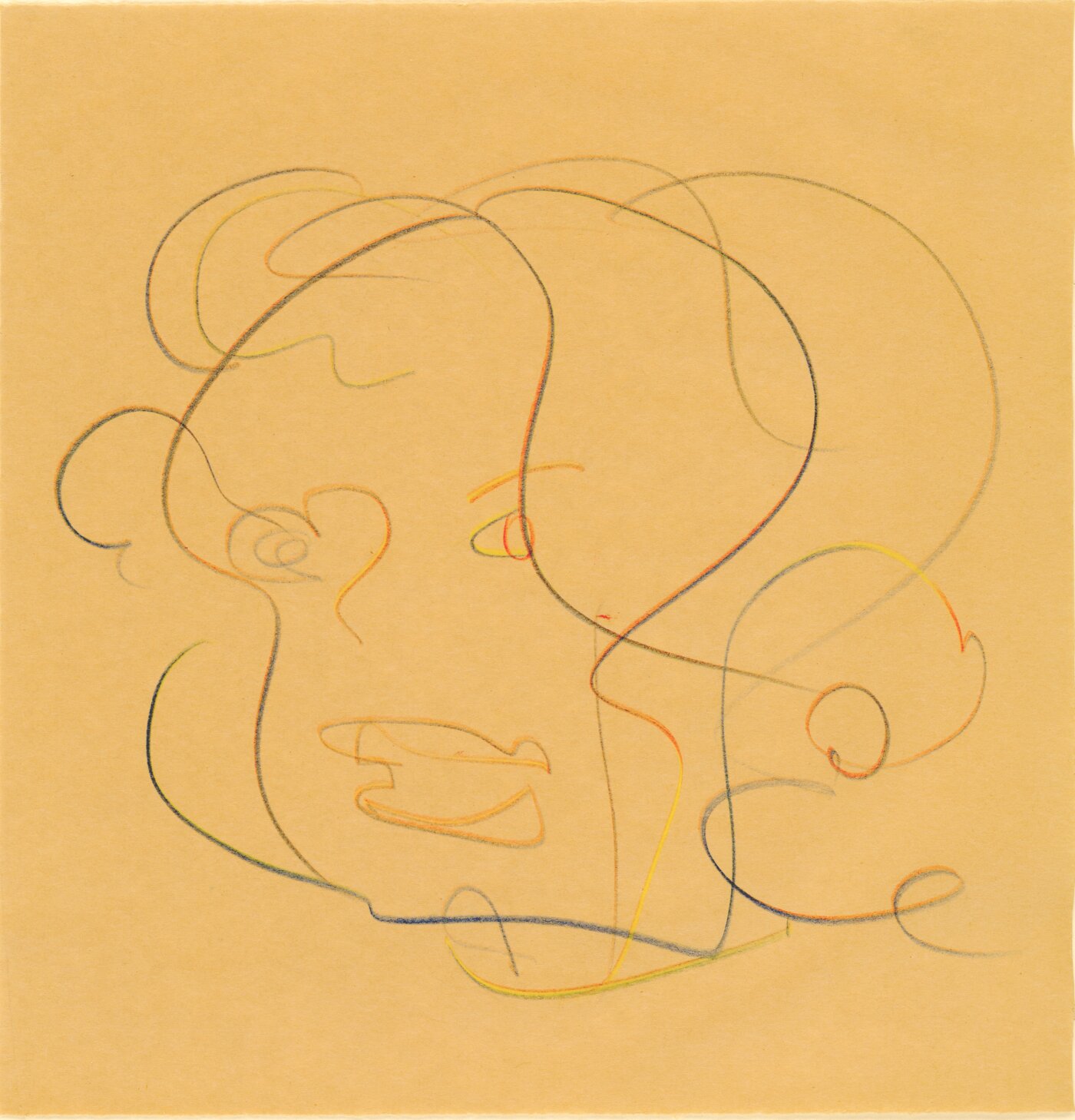 Title: Happy Birthday
Artist: Ron Moppett
Date: 2008
Media: Prismacolor pencil on newsprint.
Location: The writer's home office.
Notes: Scan by Kevin Kanashiro. Ron Moppett is represented by TrépanierBaer Gallery.
Dear readers of Avenue: After a seven-year run, this month marks my last appearance on the last page of this magazine.
My first assignment set the template for the 75 articles to come: A profile of a noteworthy artwork that's free to experience in an accessible public space. I did the things I like best as I put the articles together: look at art, talk with artists, do detective work, make connections and be an advocate for the arts. With years of experience as a museum professional and educator at many of the institutions in town, I acknowledge that I'm an insider. (Plus, I'm happily married to an artist, Ron Moppett.) With this column, I wanted to let everyone in on the diversity of artists and art, but also to reveal the ecosystem of the visual arts in Calgary.
Artwork comes into the public realm in many ways: commissions, donations, purchases, loans, collections, memorials, government programs, corporate initiatives, business revitalization and independent activity, just to name a few. You can find publicly accessible art indoors and out, in artist-run centres, museums, galleries, educational institutions, cultural facilities, festivals, corporate and business spaces, or unexpected pop-ups. I set a goal to reveal that mix.
I got to know many artists who were new to me: Honsun Chu, a remarkable sculptor in Cochrane; Jer Thorpe and Ben Rubin, who brought the sounds of Bow Glacier melting into downtown; Sans façon, the artist-leaders of award-winning Dale Hodges Park; Beverly Pepper, whose landform in Ralph Klein Park was an enlightening surprise. I had reason to reach out to senior artists whom I admire, such as Ron Spickett, one of Calgary's first modern artists and a fierce champion of public art; and Katie Ohe, who has engaged Calgarians with her public sculptures since the 1960s.
There were gratifying behind-the-scenes benefits, such as when Avenue's Jared Sych took the first professional digital photographs of Spickett's historic mural. It has been satisfying to hear about people using the articles as prompts to go look at art for themselves and talk about it, from ESL teachers at Bow Valley College, to a colleague at the Military Museums who went on monthly treks with his teenage daughter.
I must admit there are times when the boom-and-bust cycles of Calgary's economy make me fear for the arts, but, in general, I've noticed three key things: that Calgary can hold its own among major Canadian cities as a centre for the visual arts, that more attention is being given to the care and preservation of historic work, and that there is a growing appreciation of the arts as necessary to the life of a vital community.
It has been an honour working on this project, but it's time to move on to new challenges. I hope I've helped broaden your perspectives and have left you with an appetite for more art. Yours truly, Katherine.
P.S.: If I was on a desert island and could have one work with me, I would choose Ron Moppett's mosaic mural, THESAMEWAYBETTER/READER and orient it to catch the morning light with glints of silver and gold, the way it does in East Village.