Instead of staying at home and wishing the rain away, choose an activity that will make the most of it.
---
Visit a museum or an art gallery
Discover the stories behind Canada's best sports heroes in this museum. There are also 12 gallery exhibits that will teach you about more than 60 different sports. See sports artifacts, try sport challenges and learn a little more about the history of sport in Canada.
169 Canada Olympic Rd. S.W., 403-776-1040, sportshall.ca
Admire the 70-foot-high ceiling in the Dr. Henry Fok Cultural Hall, browse the Chinese Artifacts Museum (there are replicas of the life-sized terra cotta warriors and a model of the world's first earthquake detector), and wander through the Orrin and Clara Christie Might Chinese Library.
197 1 St. S.W., 403-262-5071, culturalcentre.ca
Head to Inglewood to see contemporary art exhibits or join in one of the gallery's workshops or programs. After viewing the artwork, take some time to appreciate the beauty of the space itself and have a seat in The Nest.
444, 1011 9 Ave. S.E., 403-930-2490, eskerfoundation.com
Visit the permanent exhibitions, like the historical art from across North America, the Blackfoot gallery and the mineralogy exhibition. There are also temporary exhibitions here that are well worth checking out.
130 9 Ave. S.E., 403-268-4101, glenbow.org
This museum (formerly the Aero Space Museum of Calgary) is all about aircraft and has a collection of warplanes, helicopters, civilian aircraft, jets and gliders. And all the aircraft have played an important part in western Canada's aviation history.
4629 McCall Way N.E., 403-250-3752, thehangarmuseum.ca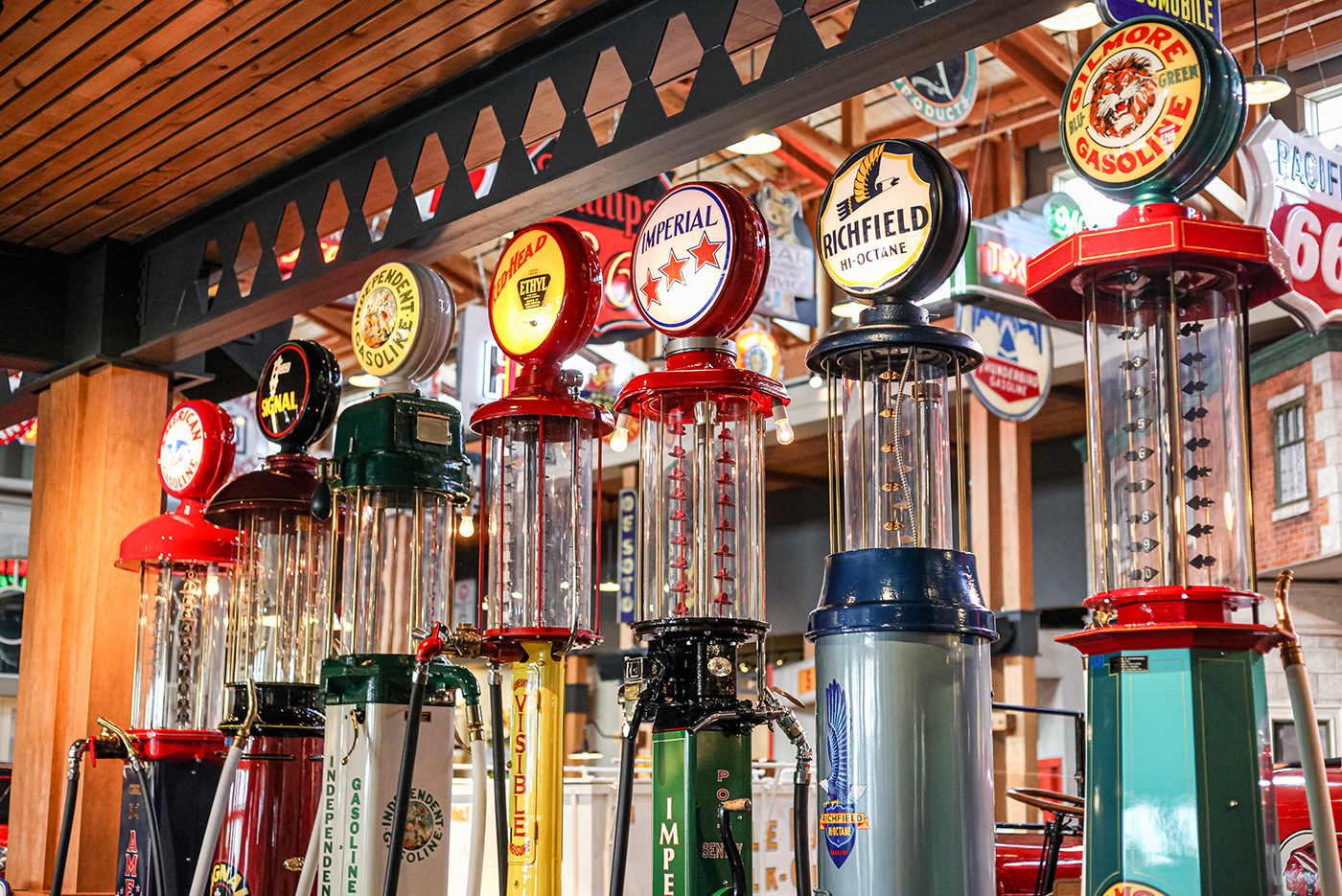 While you might not want to walk around the historical village (open May long weekend to Thanksgiving weekend) in a downpour, Gasoline Alley is a fun place to spend a few hours. Admire antique cars, gas pumps and other memorabilia from the early 20th century.
1900 Heritage Dr. S.W., 403-268-8500, heritagepark.ca
Learn all there is to know about Canada's army, navy and air force. There are eight museums and galleries under one roof and the exhibitions span the late 19th century to the recent conflict in Afghanistan.
4520 Crowchild Tr. S.W., 403-410-2340, themilitarymuseums.ca
Located on the University of Calgary main campus, it's free to visit here and you'll get to explore three galleries that showcase some of the best contemporary art in western Canada.
410 University Ct. N.W., 403-210-6201, nickel.ucalgary.ca
The five-storey building first opened its doors on Canada Day, 2016 and if you haven't been yet, a rainy day is the perfect excuse to check out the various Halls of Fame that celebrate Canadian musicians. You'll also learn a lot about music as you tour the centre. For starters, you can learn to play an instrument, make music with your body, see musical artifacts and start a karaoke competition.
850 4 St. S.E., 403-543-5115, studiobell.ca
This is not just for kids. Try building, designing and creating on the upper floor and improve your scientific knowledge through live demonstrations. You can also watch a movie in the Dome Theatre or stop by once a month when Adults Only Nights take place.
220 St Georges Dr. N.E., 403-817-6800, sparkscience.ca
Bring the kids to the 26,000-square-foot centre that's filled with policing artifacts. You'll learn about Calgary's policing history, touch maggots in the forensics lab and try on riot gear. Bonus: admission is currently free. However, a $5 donation person is recommended (and appreciated!) to visit the centre.
5111 47 St. N.E., 403-428-4530, youthlinkcalgary.com
Visit an art gallery you haven't visited before
You could spend an entire rainy day gallery hopping. If you've never visited them before, check out galleries like The New Gallery, Herringer Kiss Gallery, Truck Contemporary Art, Jarvis Hall Gallery, TrepanierBaer and others.
---
Play indoor sports
If you're longing for beachy weather, head to the Volleydome and play a few games of beach volleyball. If you haven't booked ahead of time, you can drop-in on Friday and Saturday evenings.
2825 24 Ave. N.W., 403-284-3663, volleydome.net
Play singles or doubles at one of the indoor courts at The Tennis Academy. Public rates are $40 per court per hour. The Osten and Victor Alberta Tennis Centre is another good option. Here, there are eight indoor courts and fitness facilities.
The Tennis Academy, 5600 19 St. S.W., 403-243-6717, thetennisacademy.ca; Osten and Victor Alberta Tennis Centre, 295 90 Ave. S.E., 587-393-1600, albertatenniscentre.ca
Gather some friends and play drop-in soccer at this indoor venue. There are eight indoor fields, all of which are regulation size. (If you know it's going to be rainy and can book ahead, try out bubble soccer on a Saturday.) There's also drop-in soccer Monday to Friday before 4 p.m. at the Calgary West Soccer Centre, although space is limited.
Calgary Soccer Centre, 7000 48 St. S.E., 403-300-1091, calgarysoccercentre.com; Calgary West Soccer Centre, 11014 Bearspaw Dam Rd. N.W., 403-203-2972, calgarywestsoccercentre.com
Practice your golf swing indoors
Take out the clubs and spend an afternoon at one of Calgary's indoor driving ranges. The National Golf Academy has 33 hitting stalls and two golf simulators. The Grand Slam Golf Academy is 3,000 square feet and it has numerous virtual golf courses. There's also a RoboGolfPro here, which helps golfers perfect their swing.
National Golf Academy, 50 50 Ave. S.E., 403-605-4653, nationalgolfacademy.ca; Grand Slam Golf Academy, 512 Manitou Rd. S.E., 403-270-4524, gsga.ca
Visit the snazziest yoga and pilates studio in Inglewood. After a class, stick around the gorgeous space for a cup of Phil & Sebastian coffee, True Buch kombucha or a cold pressed juice from Juice Because.
919 9 Ave. S.E., 403-474-9118, junction9.ca
Climb high at a local climbing gym
Visit the Crux Climbing and Bouldering, one of the tallest climbing gyms in North America, and scale a wall that is 72 feet high. If you're scared of heights, or haven't been able to pass your belay test, there's the option to go bouldering here, too. There's over 3,000 square feet of wall just for bouldering. And, there are viewing areas for people who would rather spectate.
Calgary Climbing Centre has four locations across the city. Each location has both climbing walls and bouldering walls, with a range of different routes at varying levels of difficulty. As with Crux, you'll need to pass a belay test if you're planning on top-rope climbing.
1415 28 St. N.E., 403-235-2789, thecruxclimbing.com; Hanger, 106, 588 Aero Dr. N.E., 587-230-0189; Stronghold, 140 15 Ave. N.W., 403-276-6484; Chinook, 6, 7130 Fisher Rd. S.E., 403-252-6778; Rocky Mountain, 10721 West Valley Rd. S.W., 587-231-9116, calgaryclimbing.com
On a rainy day when you're feeling antsy, spending some time bouncing on interlocking trampolines (or bouncing off the walls or playing zero gravity basketball) could be the ideal way to blow off some steam. Here, there's more than 42,000 square feet of interlocking trampoline to jump on.
1411 33 St. N.E., 403-265-2733, extremeairpark.com
On a rainy Wednesday evening, spend $12 for a drop-in gymnastics session. Learn how to do a front handspring or finally master that front tuck. You'll be working under the supervision of a qualified gymnastics coach. Space is limited, so arrive early to be one of the 50 drop-in gymnasts permitted to the session.
104, 3442 118 Ave. S.E., 587-349-2004, kyleshewfeltgymnastics.com
Public skating is available at this indoor skating rink. Check the Markin MacPhail Centre website for details on public skate scheduling.
151 Canada Olympic Park Rd. S.W., 403-247-5452, winsport.ca
Swim in one of the many pools, jump off the diving boards, run around the track or drop into a fitness class if there's still space.
2225 Macleod Tr. S., 403-233-8393, repsolsportcentre.com
Escape the rain to swim some laps, float down a lazy river or just hang out in a hot tub or steam room.
Think of InjaNation as a huge playground that's for both adults and for kids. Adults can try the obstacles inspired by American Ninja Warrior and military obstacle course racing, while the kids can try the Mini Ninja Course. Both kids and grown ups can jump on the trampolines or play trampoline dodgeball, too.
102, 52 Aero Dr. N.E., 587-353-4652, injanation.com
Work on your hook, jab and uppercut
Try out the latest fitness trend to come to Calgary. Two local boxing studios are all suitable for a range of levels. Classes are set to high-energy music and each student will be set up in front of their own punching bag. At both Rumble Boxing Studio and UNDRCARD Boxing Studio, classes have a kind of nightclub setting – there's contrast lighting here.
Rumble 17th Ave., 720, 17 Ave. S.W., 587-352-7625; Rumble Country Hills, 310, 5149 Country Hills Blvd. N.W., 587-352-7625, rumbleboxing.com; UNDRCARD Boxing Studio, 349 10 Ave. S.W., 587-356-3779, undrcard.com
---
Read a book
In addition to checking out a book, movie, CD or more, the public libraries also offer programming and events. Check your local branch for details. If you haven't had a chance to see the new Central Library in the East Village, then it's worth the trek out to spend a rainy afternoon surrounding by books and breathtaking architecture.
New Central Library, 800 3 St. S.E., 403-260-2600, calgarylibrary.ca/central-library/
This independent store is located right by Central Memorial Park. Expect to find any genre of book your heart desires. There are also readings and talks hosted here.
1302 4 St. S.W., 403-265-1033, shelflifebooks.ca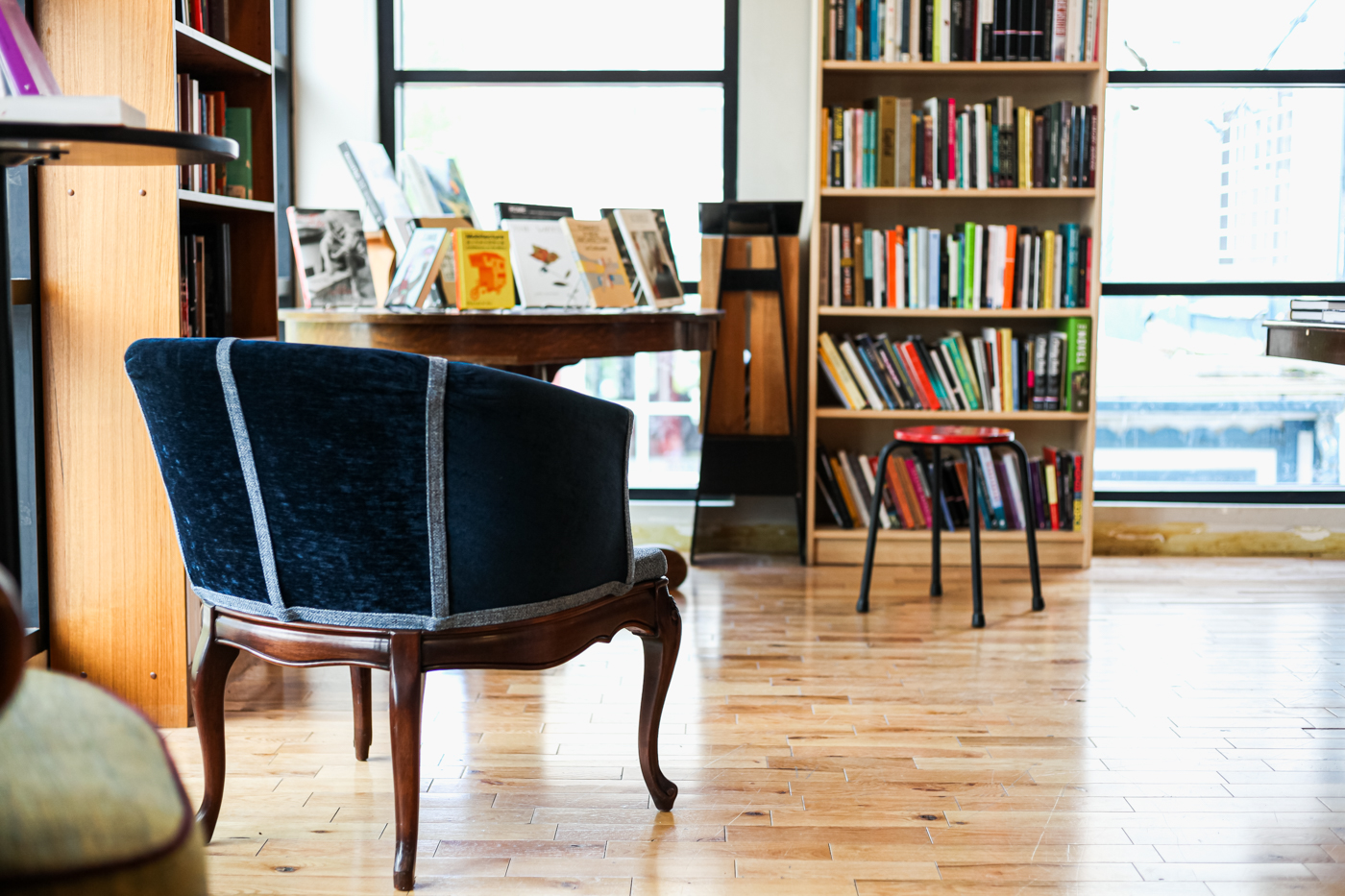 Few people know that this bookstore is actually three levels. Find new books on the main level and upper level, and find bargains on books in the basement of this store.
1135 Kensington Rd. N.W., 403-283-6655, pageskensington.com
This is Calgary's oldest independent bookstore – in February 2015 it celebrated its 40th anniversary. And on a rainy day, you'll be hard-pressed to find a cozier spot in Calgary.
815A 49 Ave. S.W., 403-287-9557, owlsnestbooks.com
Visit another universe here: this store has books, comic books and plenty of games. The Sentry Box has more than 100,000 different products on its shelves and is dedicated to adventure, gaming, science fiction and fantasy.
1835 10 Ave. S.W., 403-245-2121, sentrybox.com
---
Learn about food and drink
Calgary is home to a growing number of craft breweries. Get a group together and tour the Wild Rose Brewery, the Big Rock Brewery or the Minhas Micro Brewery and sample a few of their beers. (Most breweries do require that you make reservations.) Or, try to visit a few of the city's newest breweries.
Go on a tour of Phil & Sebastian's roasterie and get an insight into sustainable coffee buying. The tours are one hour and cost $45 per person. Reservations are required. This local coffee company also offers coffee tastings, lessons in home brewing and classes in latte art. (Classes are at select Phil & Sebastian locations.)
Various locations, philsebastian.com
A rainy day could be the opportunity you've been waiting for to improve your skills in the kitchen. There are various locations in the city that offer classes, including Sunterra Keynote Market, Poppy Innovations, Cuisine et Chateau and Atco Blue Flame Kitchen.
Shop at the farmers' markets
There are multiple indoor farmers' markets that are open all year round. Visit the Calgary Farmers' Market, Crossroads Market or Avenida Food Hall and Fresh Market.
---
More things you probably hadn't thought of doing
Have you ever tried to get from one side of downtown to the other without stepping foot outside? Stay dry and still tour downtown, but do it without leaving the +15 system.
Map of Calgary's +15 network, calgaryplus15.com
You and your group of friends are locked in a room. You'll have one hour to solve puzzles and try to escape before time runs out. (They'll still let you out even if you can't solve all the puzzles in time.) There are different themed rooms at each venue, but a few examples include an abandoned psychiatric hospital at Escape2gether, a prison break at the Locked Room and a haunted apartment at Level 1 Escape (you can also try virtual reality at this venue).
Instead of bouncing off the walls at home, learn how to actually bounce off walls at Breathe Parkour. Both Calgary locations offer drop-in classes for $30, or go really free-form and explore the open gym for $18. If YouTube videos of people flipping off of walls and jumping between buildings is something you want to emulate, you're going to have to start somewhere, and it might as well be somewhere supervised.
8, 401 33 St. N.E., 403-273-2245; 131, 10550 42 St. S.E., 403-726-3758, breathepk.com
Watch a movie
Instead of going to the big theatres, choose to see a movie at an independent venue. The Plaza in Kensington shows a mix of new releases, independent films that never made it to the Cineplex theatres and quirky screenings.
The Globe screens independent art house films from around the world.
The Plaza Theatre, 1133 Kensington Rd. N.W., 403-283-2222, theplaza.ca; Globe Cinema, 617 8 Ave. S.W., 403-262-3309, globecinema.ca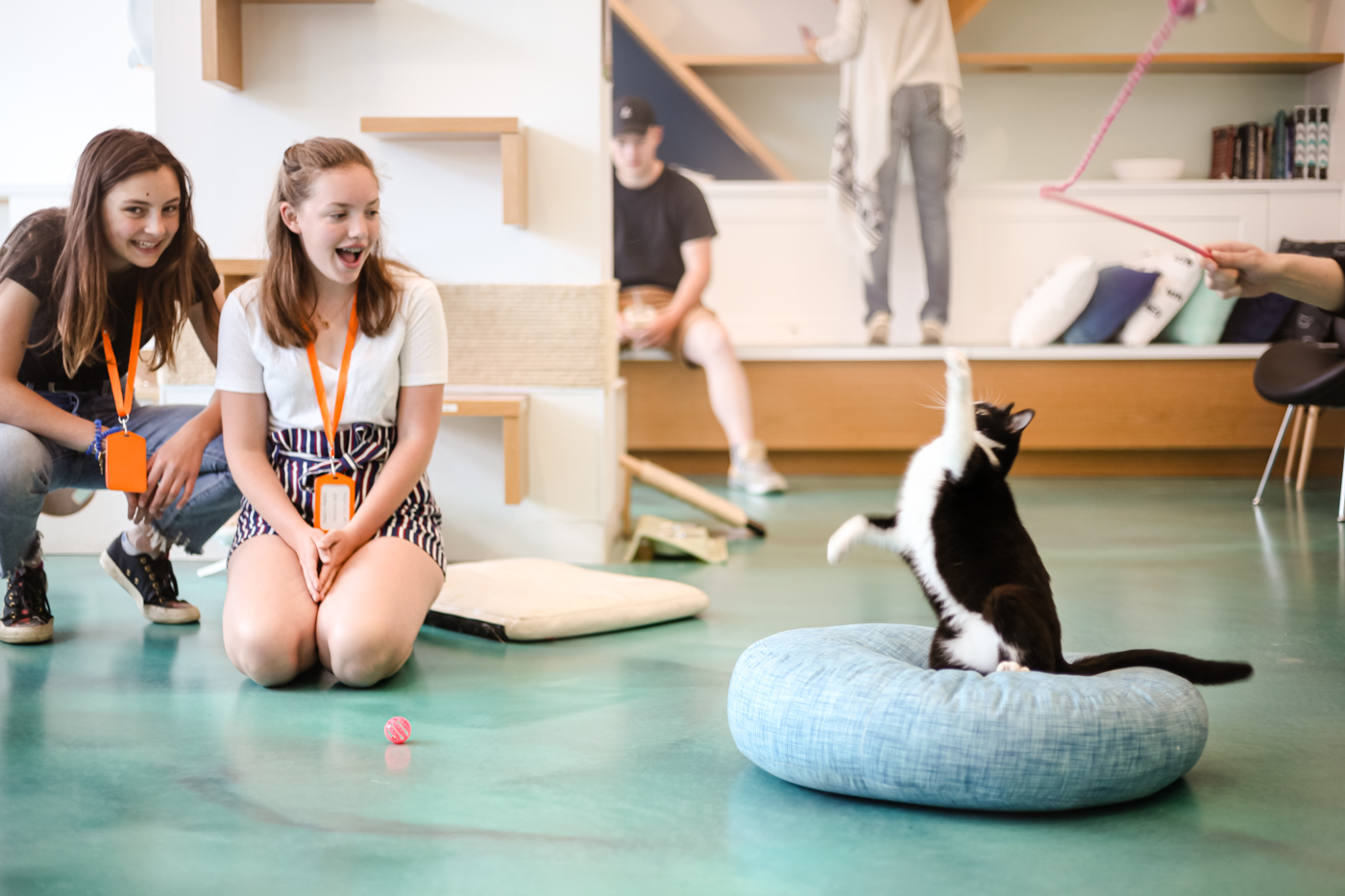 Dark and dreary summer days are the perfect excuse to curl up on a sofa and relax. And you know who's excellent at curling up and relaxing? Cats. The Regal Cat Cafe always keeps four drop-in spots available for their 45-minute kitty sessions, where you can play with cats from the Meow Foundation (and maybe even adopt one if you make a special connection). For those poor souls allergic to felines, the cafe has a partitioned-off cat-free environment as well, where they serve warm drinks and sweet treats.
303 10 St. N.W., 403-455-2287, regalcatcafe.com
Grasby Art Studio offers drop-in classes at various times throughout the week. Think of this as your own personal studio time – you can work on your own project and get guidance from the instructors. The drop-in costs $16 per hour or just $13 per hour if you bring your own supplies.
Or, pair some painting with a glass of wine at Vin Gogh or Raw Canvas.
Grasby Art Studio, 6520 Bowness Rd. N.W., 403-453-1722, grasbyartstudio.com; Vin Gogh, 118, 7004 Macleod Tr., 403-475-4644, vingogh.ca; Raw Canvas, 609 Confluence Way S.E., 587-436-1131, rawcanvas.ca
When golfing outdoors is out of the question, opt for low-risk, high-fun minigolf. Monster Mini Golf promises not only a weather-independent good time, but also a ghoulishly fun ambiance with cartoon creatures stalking through the black-light course. There's even an opportunity to sink a ball into a giant clown's mouth – where else can you do that? It's open until 10 p.m. most nights (11 p.m. on Fridays and Saturdays and 8 p.m. on Sundays), so you can play closer to the witching hour.
2020, 32 Ave. N.E., 587-354-0244, monsterminigolf.com
Visit a board game cafe
You don't have to stay home to play board games. These cafes serve all the regular items you'd find in a cafe — hot drinks, snacks, sandwiches — but there are also hundreds of board games to choose from on their shelves.
Hexagon Board Game Cafe, 200, 1140 Kensington Rd. N.W., 403-209-2881, thehexcafe.com; Metal Galaxy Social Games and Bistro, 4624 Macleod Tr. S.W., 403-253-1414, metal-galaxy.com
Head to Speeders for drop-in indoor go-karting and burn as much rubber as their eco-friendly electric karts allow. Boasting the fastest indoor racetrack and fastest electric Prokarts in the city with 20 horsepower and top published speeds of 75 kilometres-per-hour, you'll certainly have your need for speed met.
109, 58 Aero Dr. N.E., 403-230-3009, speeders.ca
Take a guided meditation class at the spa-like Modern + Mindful meditation studio. There are five different class offerings here and they are all 30 minutes long. Chances are, you'll leave feeling more relaxed and more focused.
343 11 Ave. S.W., 403-690-2256, modernandmindful.com
Throw some axes
Live out your lumberjack fantasies by heading to one of Calgary's axe-throwing institutions. Axe Throwing Calgary has drop-in hours Wednesdays and Sundays and also features a lumberjack lounge with food and Big Rock beers. Despite its name, the Backyard Axe Throwing League (BATL) does take place indoors, and offers walk-in sessions Friday through Sunday, as well as a fully licensed bar and kitchen with menu items from Diner Deluxe chef Chris Lorenz.
Axe Throwing Calgary, 5923 3 St. S.E., 1-844-403-2937, axethrowingcalgary.ca; Backyard Axe Throwing League, 80, 2151 32 St. N.E., 587-747-7606, batlgrounds.com
This 77,000-square-foot recreation facility in Canmore has a variety of activities all under one roof. Go swimming at the aquatic centre (there's a lap pool, a lazy river, a water slide and a steam room), work out in the fitness area, go indoor rock climbing or visit the library or art gallery. After a few hours here, have lunch in town before driving back to Calgary. (We recommend Crazyweed or Mountain Mercato.)
100, 700 Railway Ave., 403-678-8920, elevationplace.ca
There's something going on almost every day at the Banff Centre. It's also a gorgeous facility that will likely ignite some creativity, no matter what the weather.
107 Tunnel Mountain Dr., 403-762-6100, banffcentre.ca
Remember the halcyon days of youth spent in friends' basements eating comfort foods, watching TV and playing video games? The Rec Room is like that, except you're allowed to drink. With dozens of different arcade and video games, everything from racing to shoot-'em-ups, a climbing wall with interactive games projected onto it, as well as classic games like pool, Ping-Pong and shuffleboard, there's enough to keep you occupied until way past your bedtime.
1180, 901 64 Ave. N.E., 587-535-6077, therecroom.com
Go bowling
Head to Mountain View Bowling in Glamorgan for five-pin or ten-pin bowling. There's even glow-in-the-dark bowling.
If you're willing to go a little further, check out High Rollers, a bowling alley on Banff Avenue, Banff. Bowl down some pins, enjoy a pint and chow down on some pizza at this retro-themed venue.
Mountain View Bowling, 11, 3919 Richmond Rd. S.W., 403-249-0858, mountainviewbowling.com; High Rollers, 110 Banff Ave., Banff, 403-762-2695, highrollersbanff.com
Whether you're looking to unload some frustration on a paper target or just see what it's like, the Calgary Shooting Centre has got you covered. No license? No problem. The Centre has drop-in rates for groups of two or more unlicensed walk-ins, as well as staff that can train and supervise first-timers.
4, 7130 Fisher Rd. S.E., 403-451-1777, theshootingcentre.com
Tour Lougheed House on your own or with a group. Often there are exhibitions and events taking place here. You can stay after your visit for lunch at The Restaurant at Lougheed House.
707 13 Ave. S.W., 403-244-6333, lougheedhouse.com
It's no longer the tallest building in Calgary, but visiting the Calgary Tower's Observation Deck is still worth the trip. Get a 360-degree view of the city (if it isn't too socked in, that is) and stand on the glass floor to get a look at the streets.
101 9 Ave. S.W., 403-266-7171, calgarytower.com
The future of gaming is here, and it has weird headgear. Check out one of VRKade's two locations to get strapped into the virtual-reality matrix. Virtual reality archery, multiplayer shooting games and escape rooms are just some of the experiences available. Though it's best to book ahead, VRKade will accept walk-ins if there is space.
1221 73 Ave. S.E., 587-288-1762 and 2020 32 Ave. N.E., 587-288-1892, vrkade.com
Embrace it
A little rain never hurt anyone.