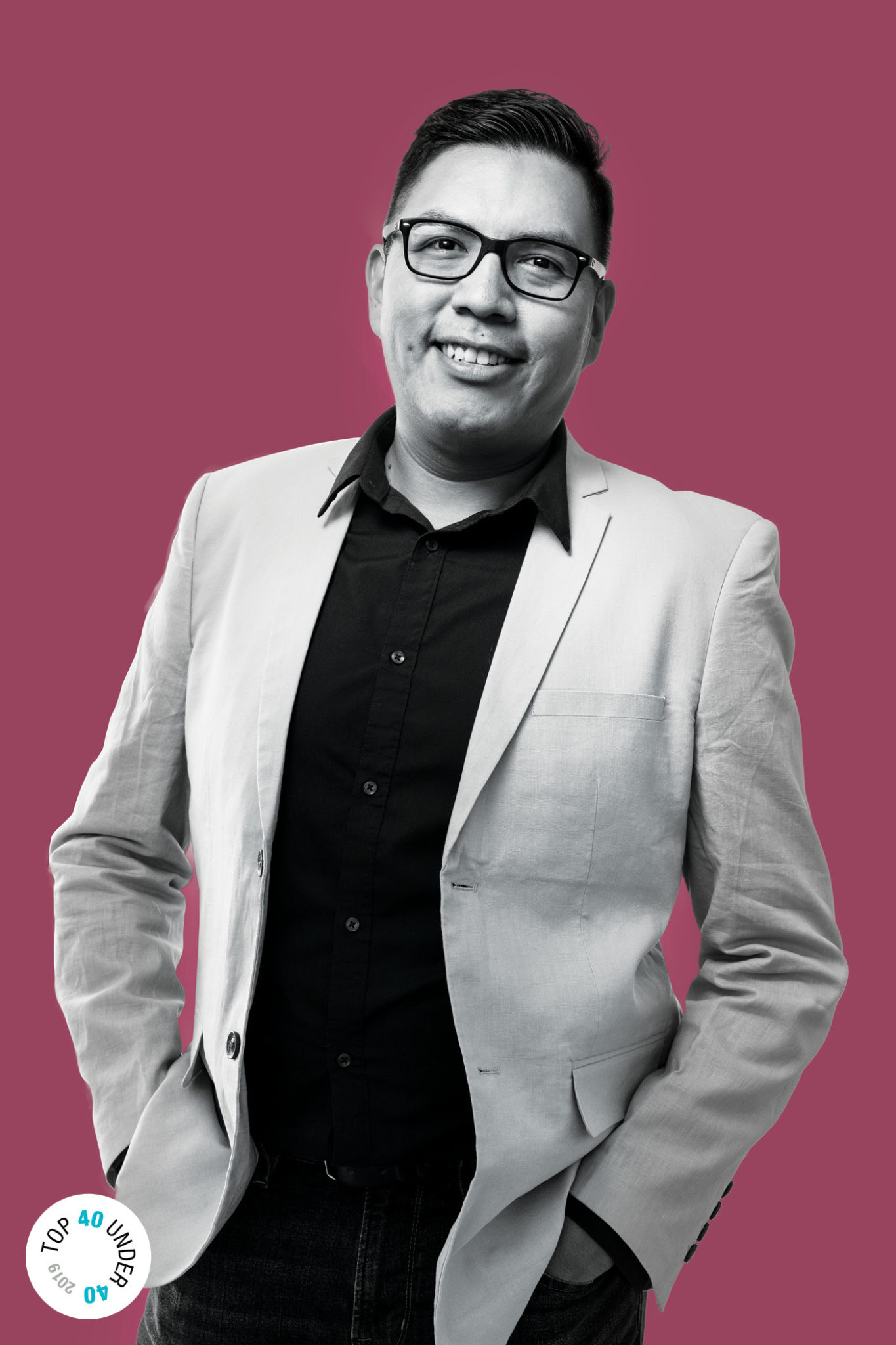 Age: 37
Job title: Vice-President, Indigenous Relations, Calgary Foundation.
Why he's a 2019 Top 40 Under 40:
Tim Fox provides community leadership in helping both Indigenous and non-Indigenous Calgarians work toward an honest understanding of what Truth and Reconciliation really means.

As vice-president of Indigenous relations at the Calgary Foundation, Tim Fox's job is to help the foundation better work with Indigenous communities and in turn help the wider philanthropic sector. As an Indigenous man living through the process of Truth and Reconciliation, the line between his life and his day job can blend together.
At the Calgary Foundation, Fox sees his role as being a "systems changer." Recognizing that simply upping the number of grants allocated to Indigenous-focused projects wasn't enough to facilitate real change, in 2017 the Foundation hired Fox to help shift the organization's culture from within to create a deeper understanding of Indigenous perspectives. Fox's work is not just about making sure Indigenous initiatives get the money they need to operate, he is also working to change the entrenched systems that continue to put Indigenous youth and communities at a disadvantage.
"It's not these young people who have to change to fit into society," Fox says. "It's the systems and surroundings around them that make Indigenous communities and young people so vulnerable. That's what has to change."
Fox has also facilitated hundreds of workshops on Indigenous intergenerational trauma and Indigenous learning opportunities and volunteered on multiple boards. He works with incarcerated Indigenous men at the Calgary Correctional Centre, is the co-chair of the Circle on Philanthropy and Aboriginal Peoples in Canada and has given a TedxBowValleyCollege talk about Indigenous experiences.
Working to eliminate barriers for Indigenous communities is what pays the bills, but it's also an essential part of who Fox is. "It's more than a job, it's a passion," he says. "Indigenous people play such a unique role in this work because we're tasked to walk through this life in two different worlds, trying to bridge that gap."