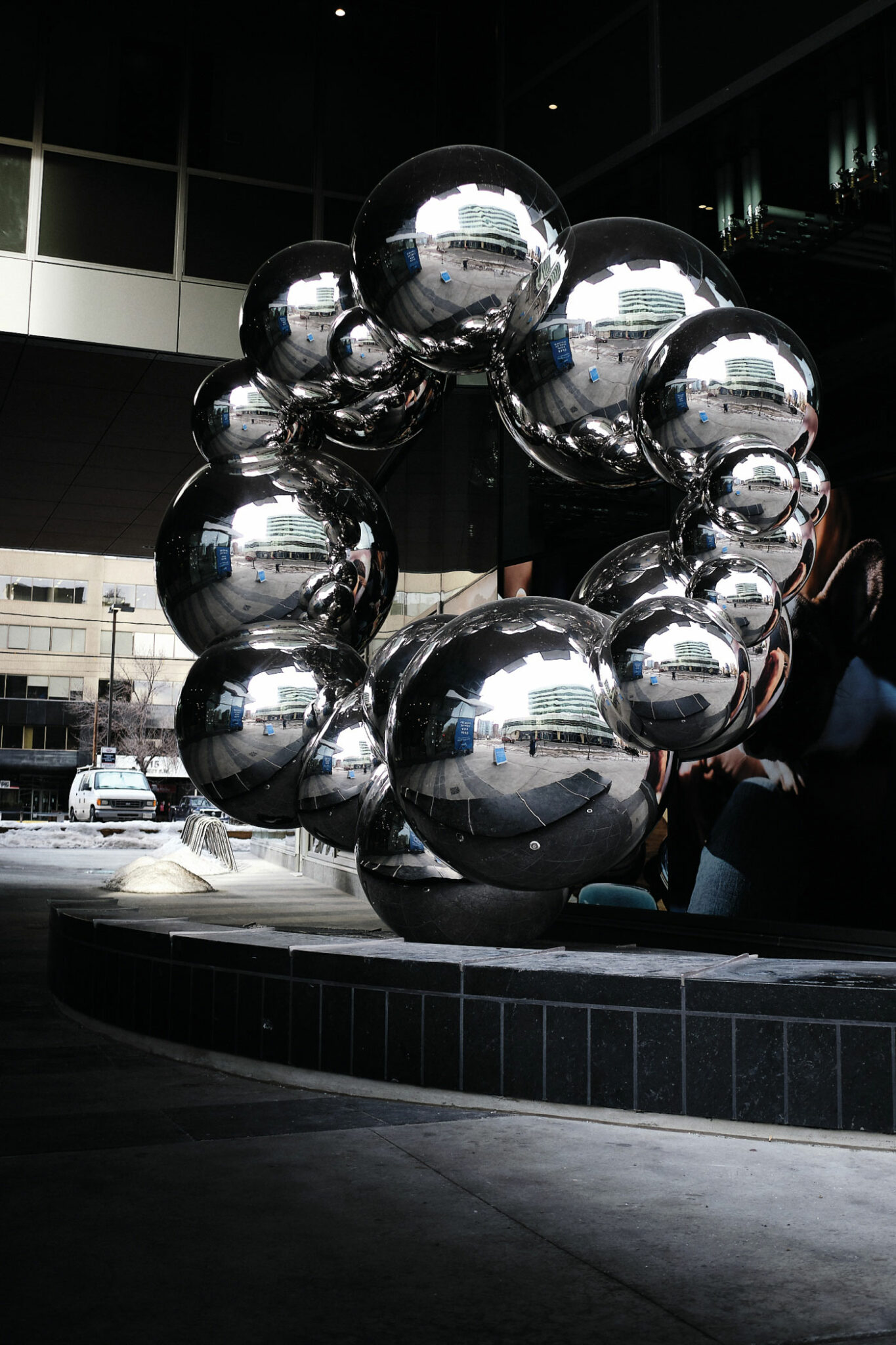 Title: Anomaly
Date: 2020
Artist: Alex Caldwell
Medium: Stainless steel
Size: 156 x 144 x 72 inches
Location: One Park Central, 510 12 Ave. S.W.
Notes: Commissioned by Hines; installation by Crystal Services (Calgary). Alex Caldwell is represented locally by Paul Kuhn Gallery. Another outdoor sculpture by Caldwell is at Drake condo tower at 1500 7 St. S.W.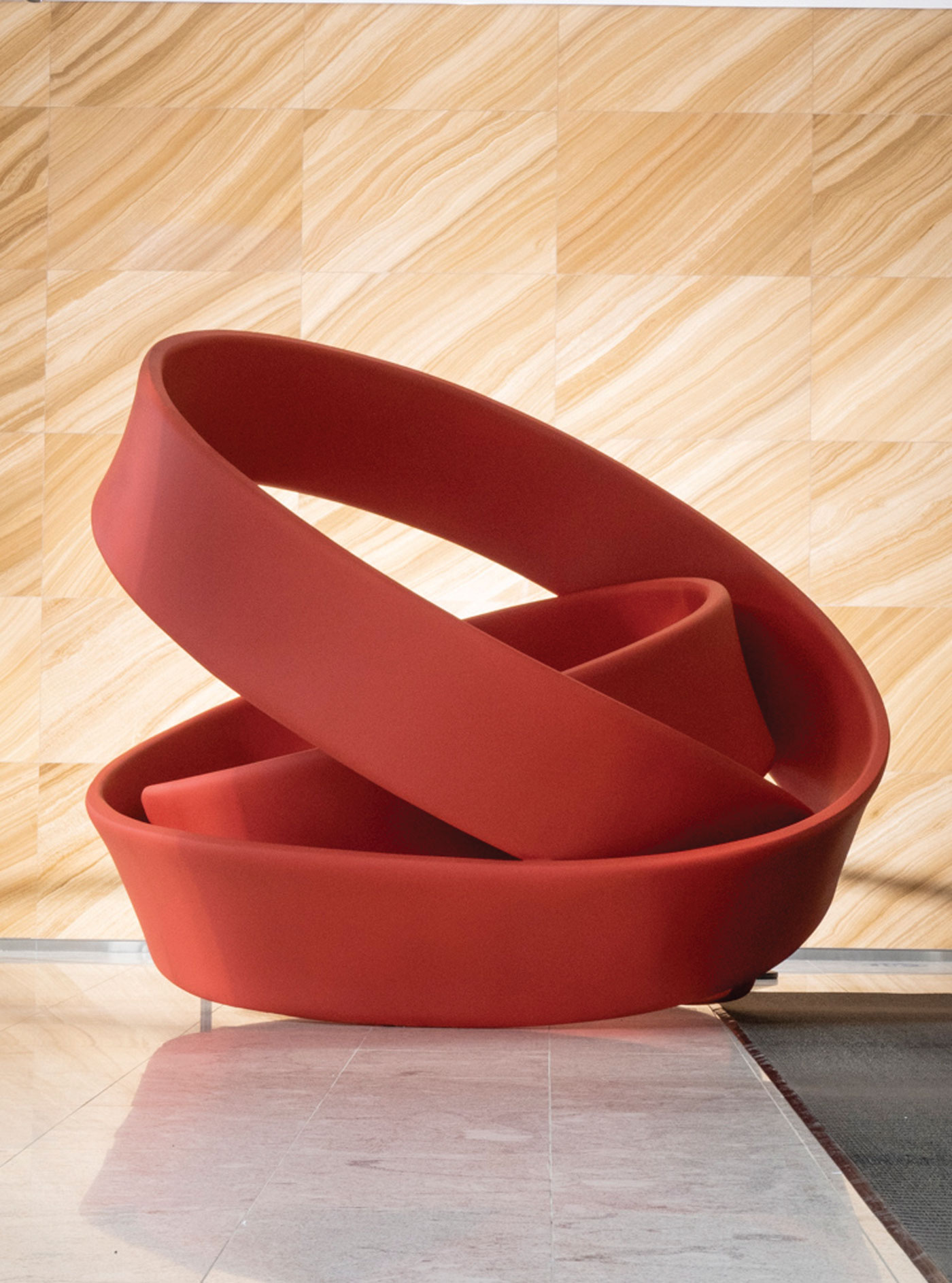 Title: thing's end (Eau Claire – red), thing's end (Eau Claire – yellow)
Date: 2020
Artist: James Carl
Media: Hand-hammered stainless steel with autobody paint finish.
Size: 289.5 x 259 x 259 cm (red), 320 x 274 x 102 cm (yellow)
Location: Eau Claire Tower lobby, 600 3 Ave. S.W.
Notes: Commissioned by Oxford Property Group assisted by Art to Public art consultants. Raw steel forms fabricated in China; paint finish by South Pointe Collision Center, Calgary; installation by Reggin Industries, Calgary. James Carl is represented by Nicholas Metivier Gallery in Toronto and locally by TrépanierBaer Gallery.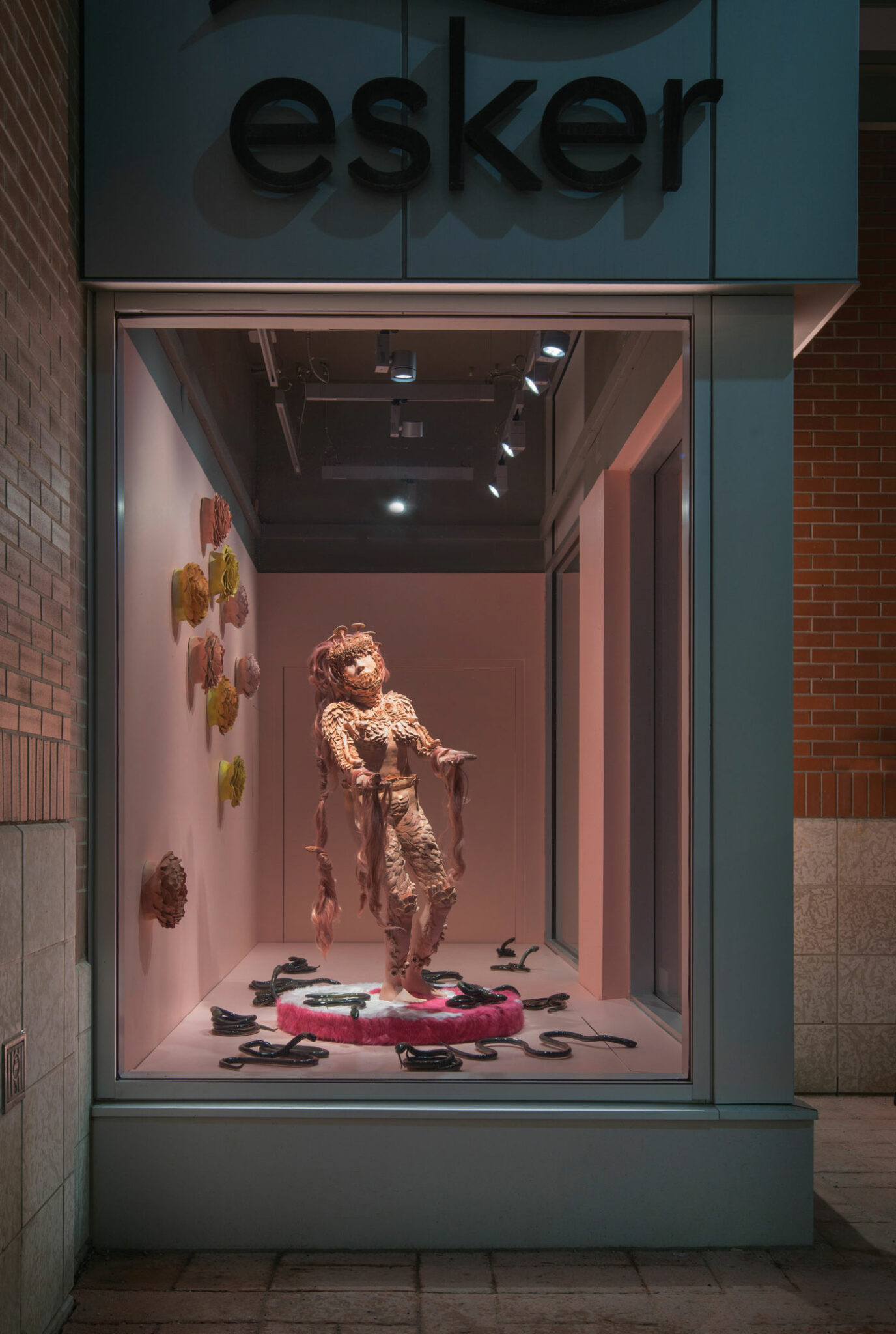 Title: The Garden
Date: 2021
Artist: Yvonne Kustec
Media: Underglaze and glaze on mid-fire white clay, synthetic fibre.
Dimensions: Figure is approximately five feet tall (not including base).
Location: Esker Foundation Project Space, 1011 9 Ave. S.E.
Notes: Curated by Shauna Thompson. Created in studio at Medalta in the Historic Clay District, Medicine Hat, Alta. Base fabricated by Epic Metal Services in Redcliff, Alta. The Garden is on display until June 6.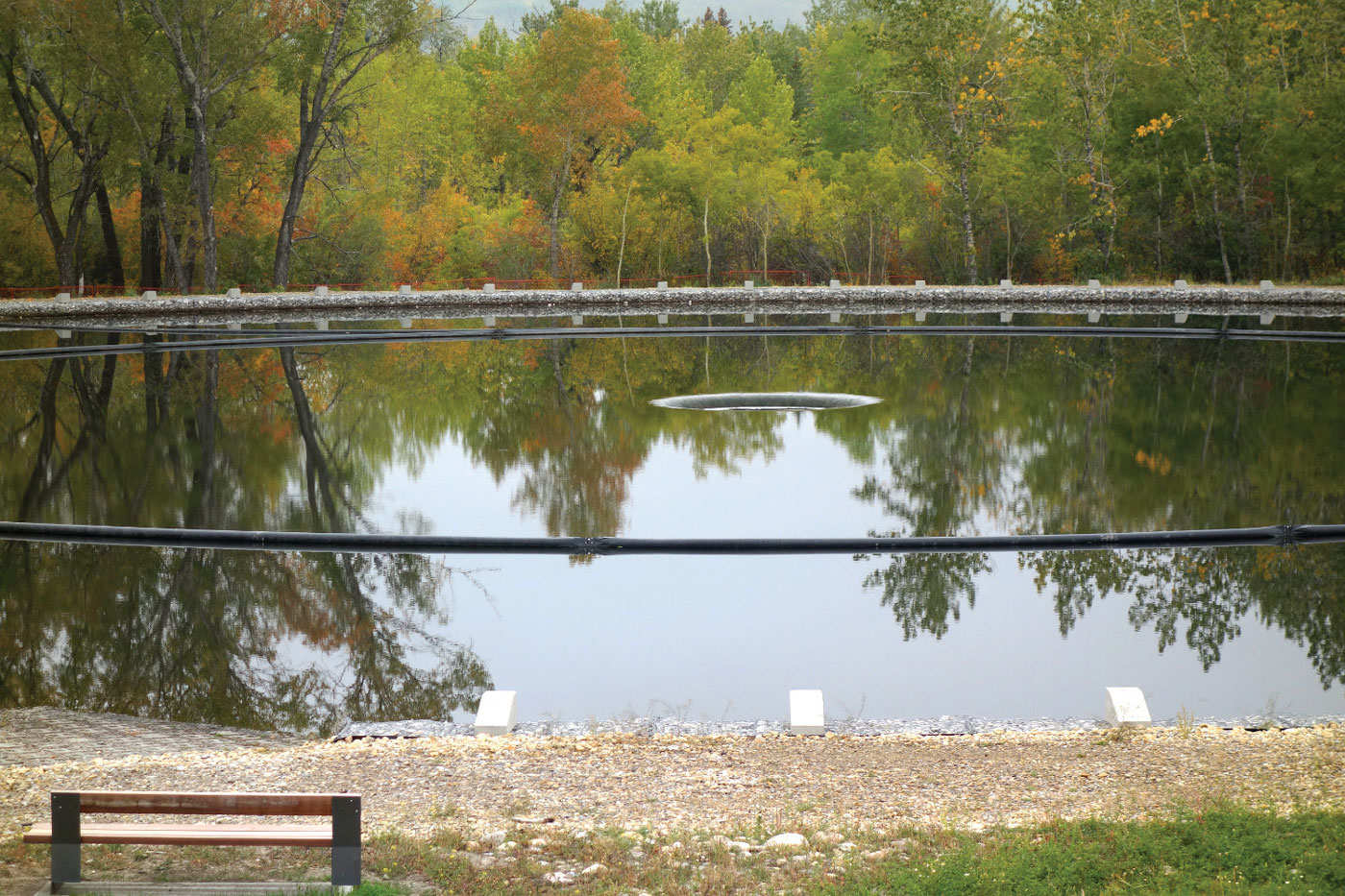 Title: Dale Hodges Park
Date: Dedicated on June 26, 2019
Artists: Sans façon
Media: Natural environment park 
and stormwater system.
Size: 40 hectares.
Location: 2123 52 St. N.W., eastern
side of Bowmont Park.
Notes: Collaboration between the City of Calgary Parks, Water Resources and Public Art departments and the design team of the City of Calgary's Watershed+ program (lead artists Sans façon), AECOM, O2 Planning + Design and Source2Source; with 
construction by Wilco
Contractors Southwest.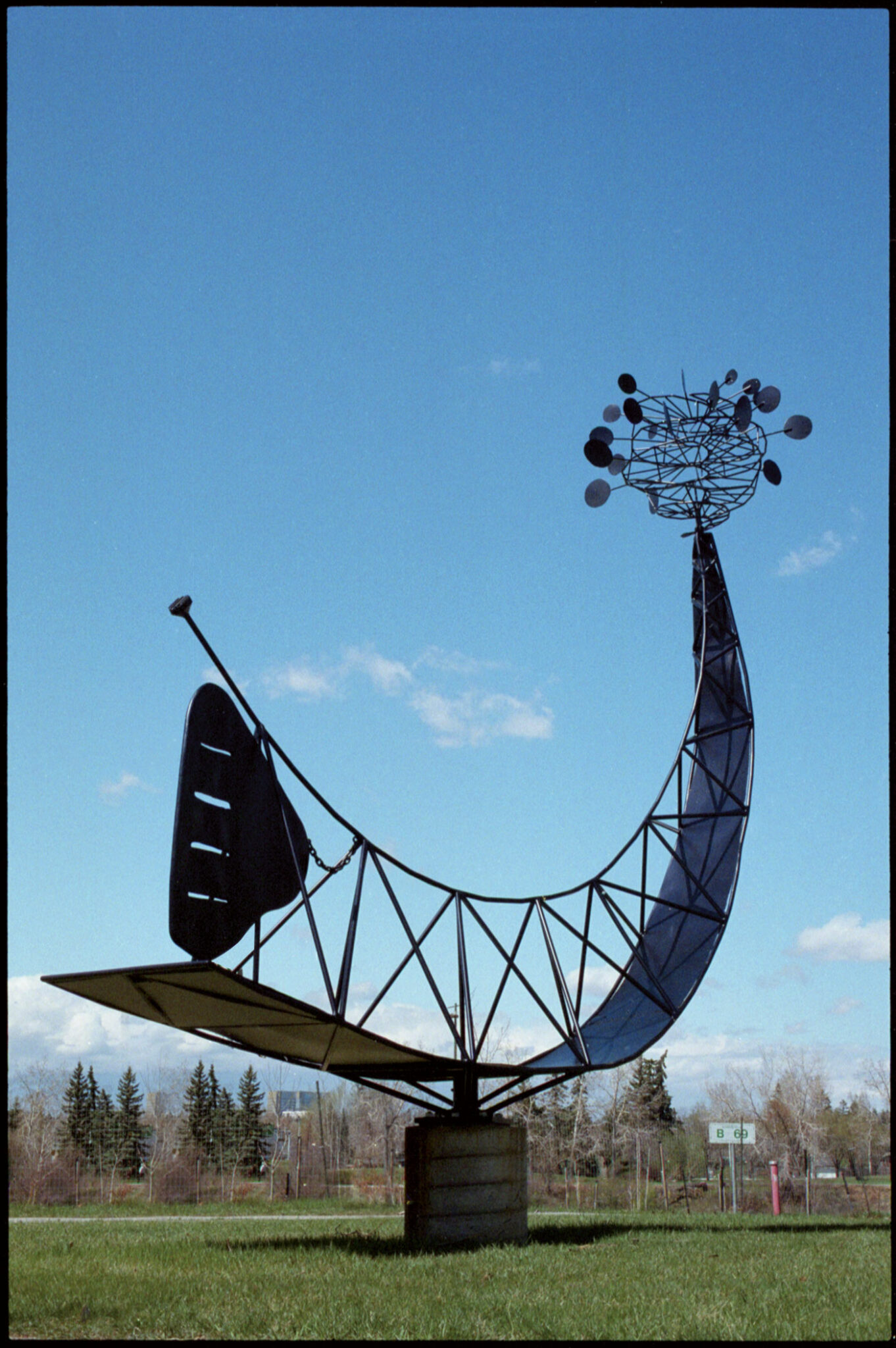 Title: Comet
Date: 1983/2020
Artist: Kathryn Fodchuk Dobbin
Medium: Painted steel and bearings
Size: 5.3 m x 5.5 m x 1.8 m
Location: Intersection of the Bow River Pathway and the pathway east of the Pumphouse Theatre, near stormwater outfall sign B69.
Notes: Originally sponsored by Shell Canada, with assistance of machinist George Petitclerc. Conservation and restoration through the City of Calgary Public Art Program with assistance of John Gohmann (metal fabricator) and Propell, Calgary (paint). Another Dobbin sculpture, Dandelion (1982), is on view at the Kiyooka Ohe Arts Centre.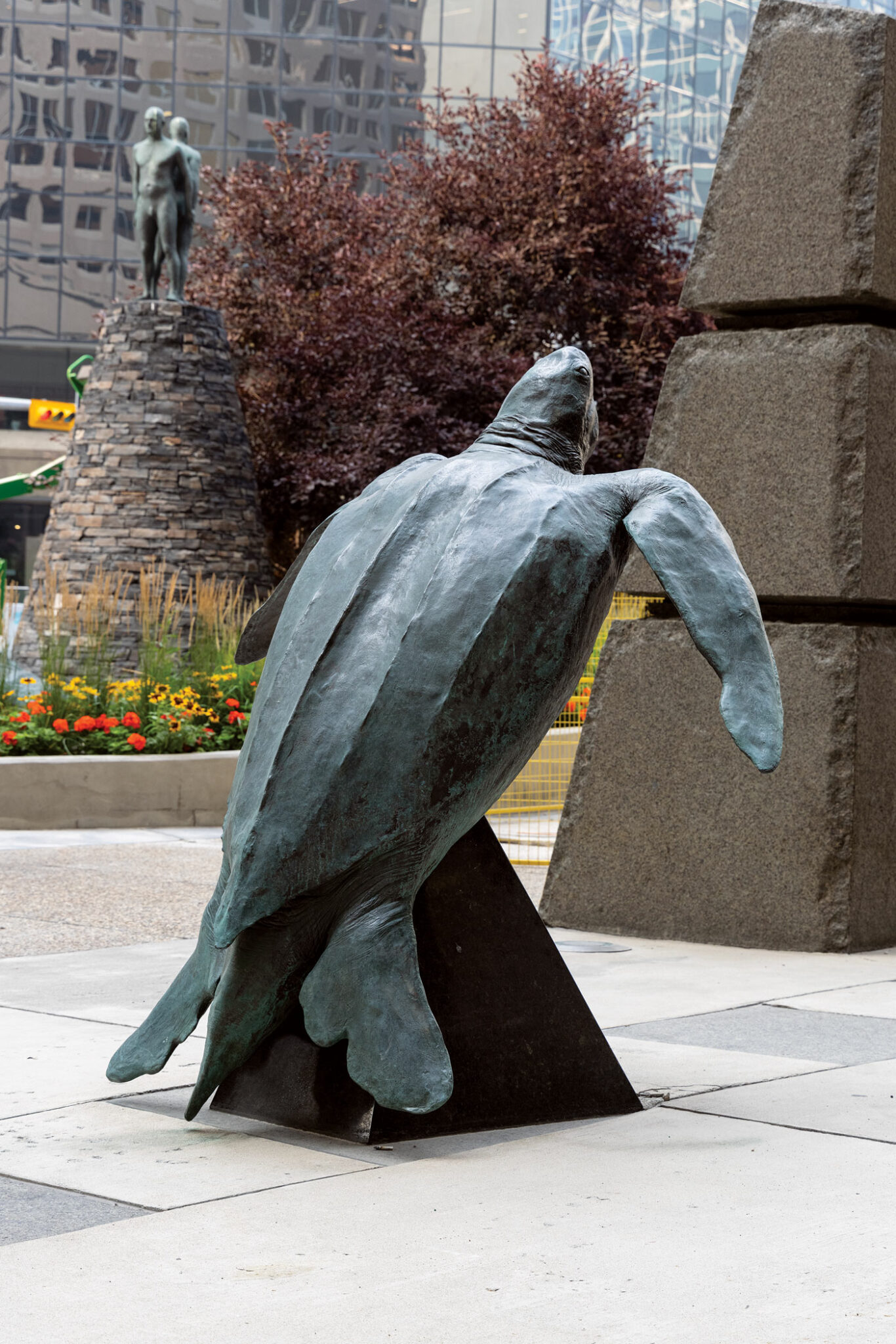 Title: Tribute to Land
Date: 1991/2000
Artist: Irene F. Whittome
Medium: Granite, Bronze
Size: Area of installation is 12.5 feet (height) by 19.5 feet (width) by 57.75 feet (length); Turtle is 72 inches (h) by 77 inches (w) by 50 inches (l).
Location: Southwest plaza of Royal Bank Building, 888 3 St. S.W.
Notes: Commissioned by Trizec for Bankers Hall, currently owned by Brookfield Properties. Bronze fabrication by Fonderie d'Art D'Inverness (Quebec). Whittome is represented by Galerie Simon Blais, Montreal.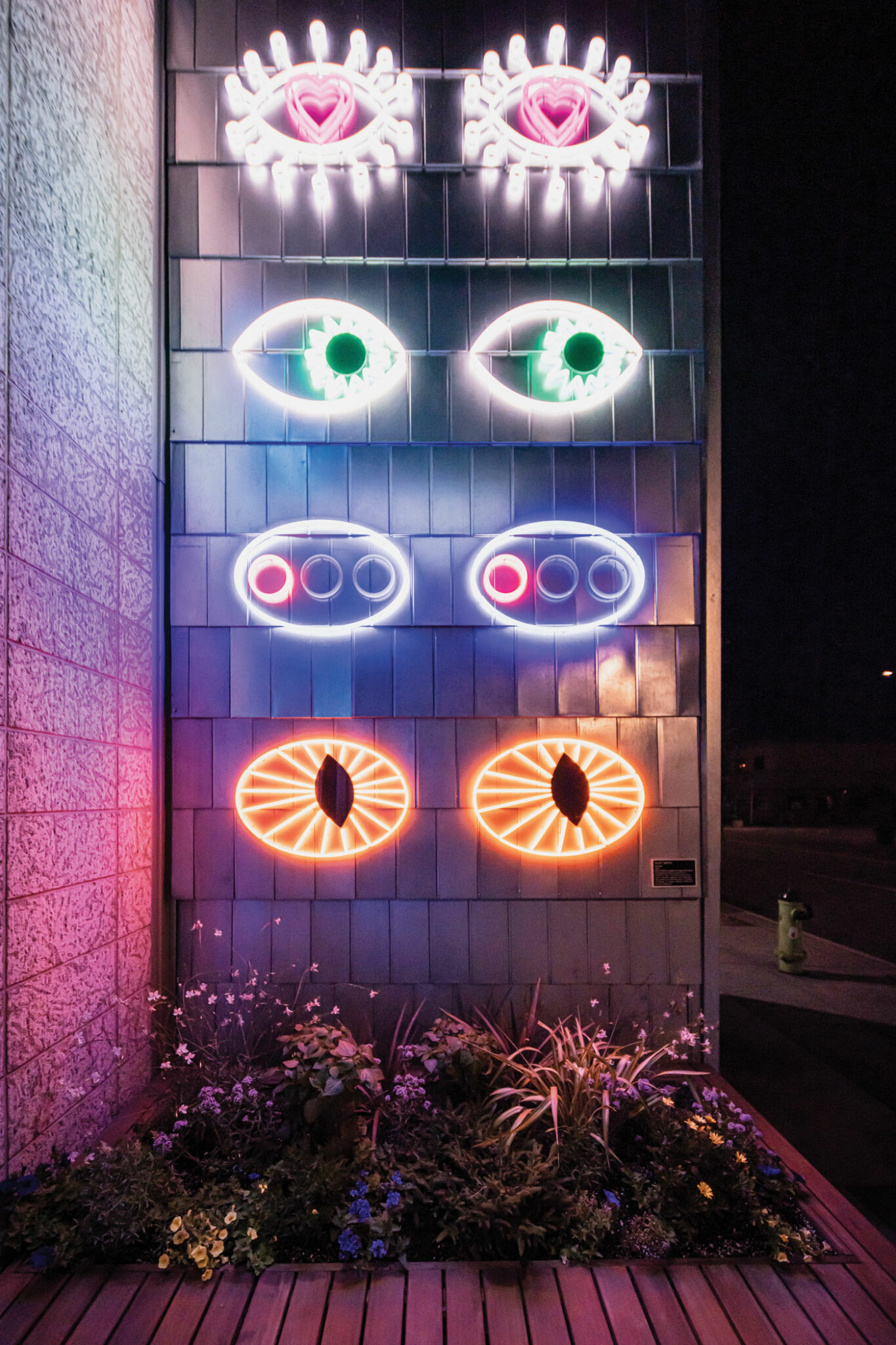 Title: NIGHT WATCH
Date: 2021
Artist: Kyle Beal
Media: LED faux neon, electronic components, zinc and aluminium.
Size: 4.1 x 2.5 metres.
Location: Avli on Atlantic building (exterior) 1020 9 Ave. S.E.
Notes: Commissioned by Jim and Mike Hill and VivianeArt. Fabricated and installed by National Neon Signs (Calgary). Kyle Beal is represented in Calgary by VivianeArt.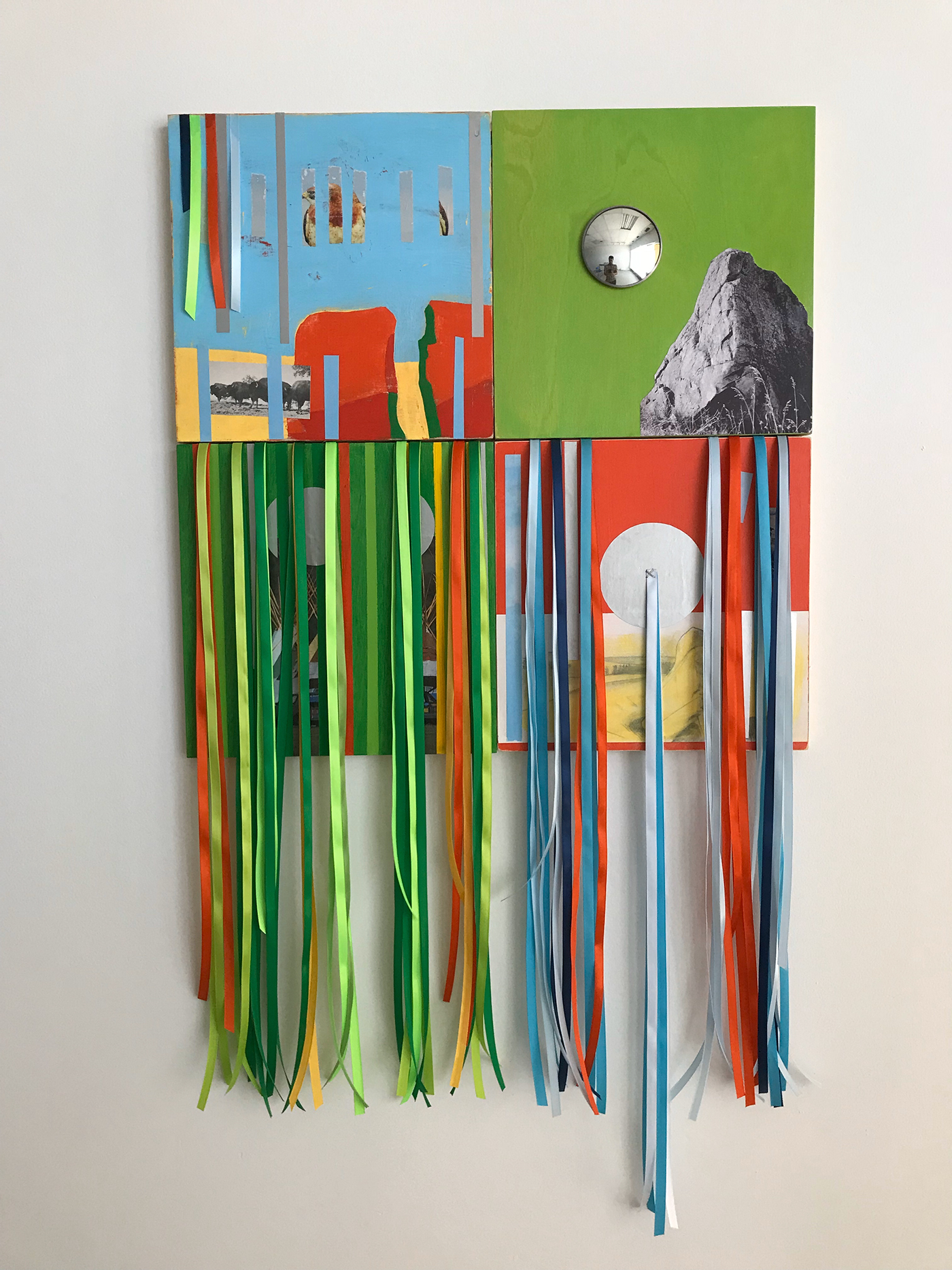 Title: landmarks
Date: 2021
Artist: Bruno Canadien
Media: Acrylic, found images, graphite, satin ribbons, mirror on birch panel.
Size: 40 inches by 24 inches.
Location: Owerko Hall, St. Mary's University, 14500 Bannister Rd. S.E.
Notes: Canadien's landmarks is in the art collection of St. Mary's University. Canadien is represented in public collections such as the Alberta Foundation for the Arts, Glenbow, Nickle Galleries and the Indigenous Art Centre.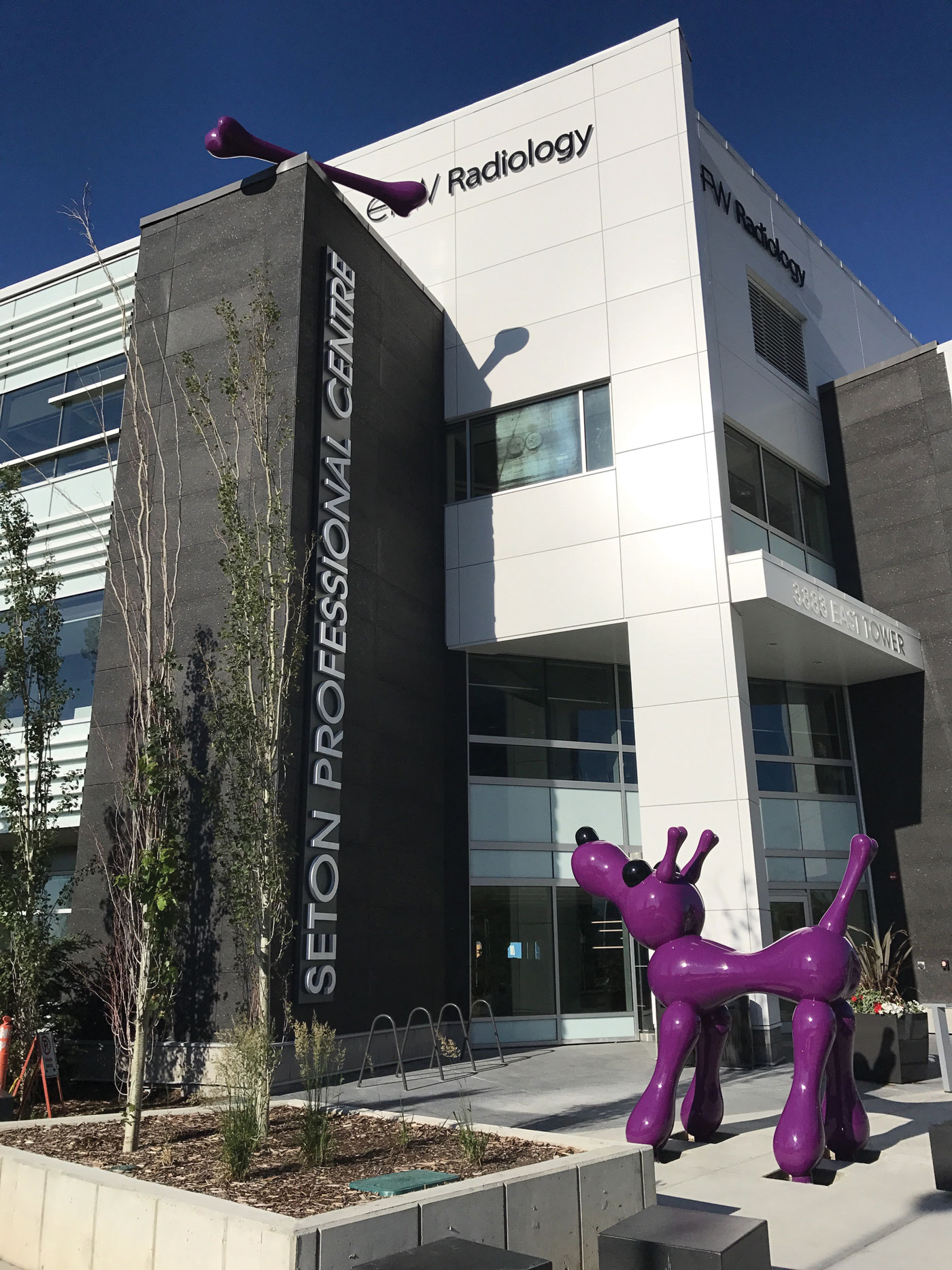 Title: The Bone
Date: 2018
Artist: Inges Idee
Media: High-grade glass paint on cast aluminium.
Size: Dog stands 2.7 metres; bone is about 16 m up.
Location: Seton Professional Building, 3815 Front St. S.E.
Notes: Commissioned by Brookfield Commercial. Fabricated by Heavy Industries. Artist collective Inges Idee also designed the much-maligned Travelling Light (2013) — a.k.a. the "Blue Ring" — near the interchange of Airport Trail and Deerfoot Trail.