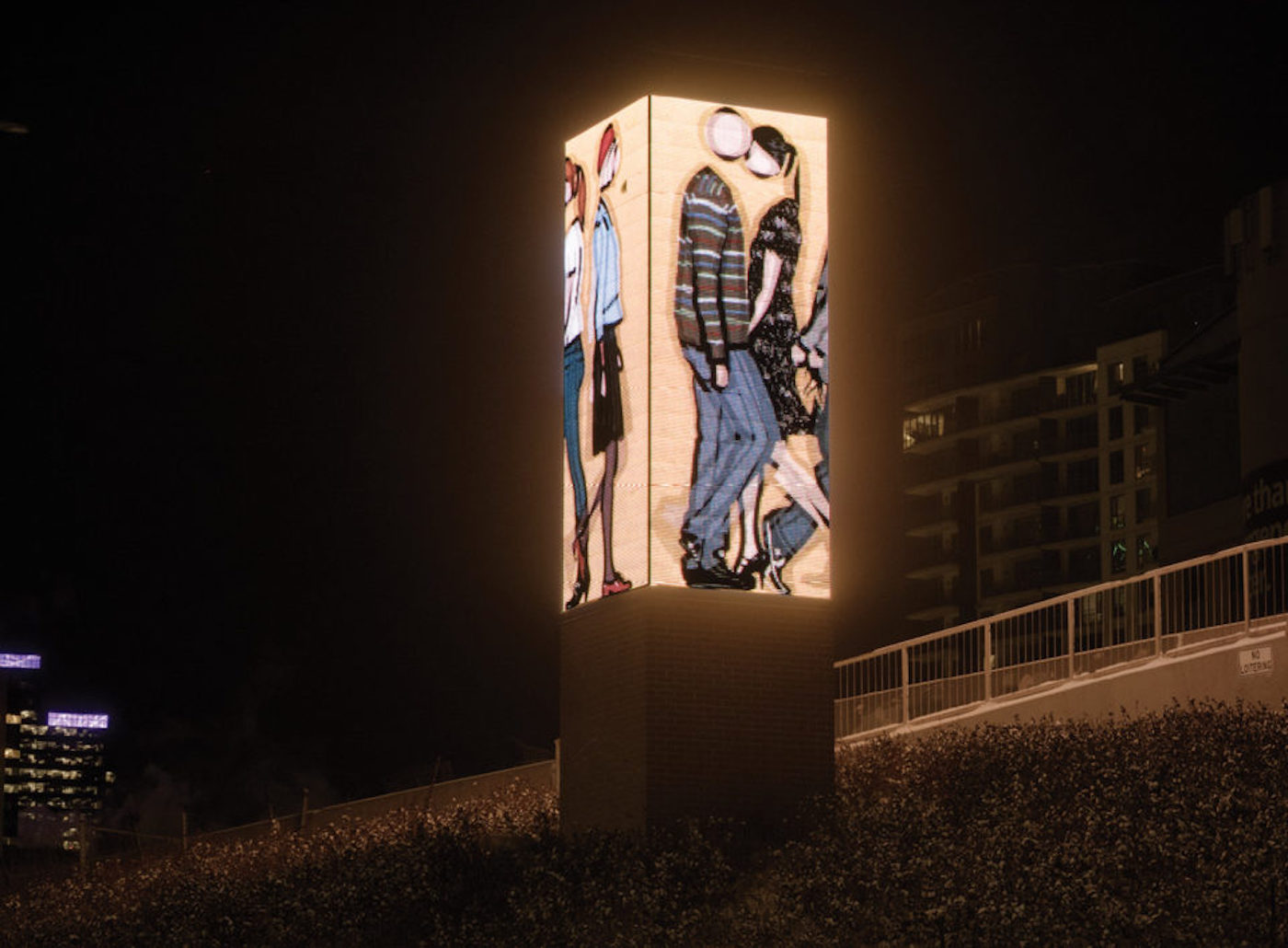 Title: Promenade, 2012.
Artist: Julian Opie.
Medium: Four-sided screening tower programmed with LED continuous computer animation.
Size: 7.3 metres high by two metres wide.
Location: Corner of 4th Street and 5th Avenue S.E. (adjacent to 5th Street flyover connecting downtown to Memorial Drive)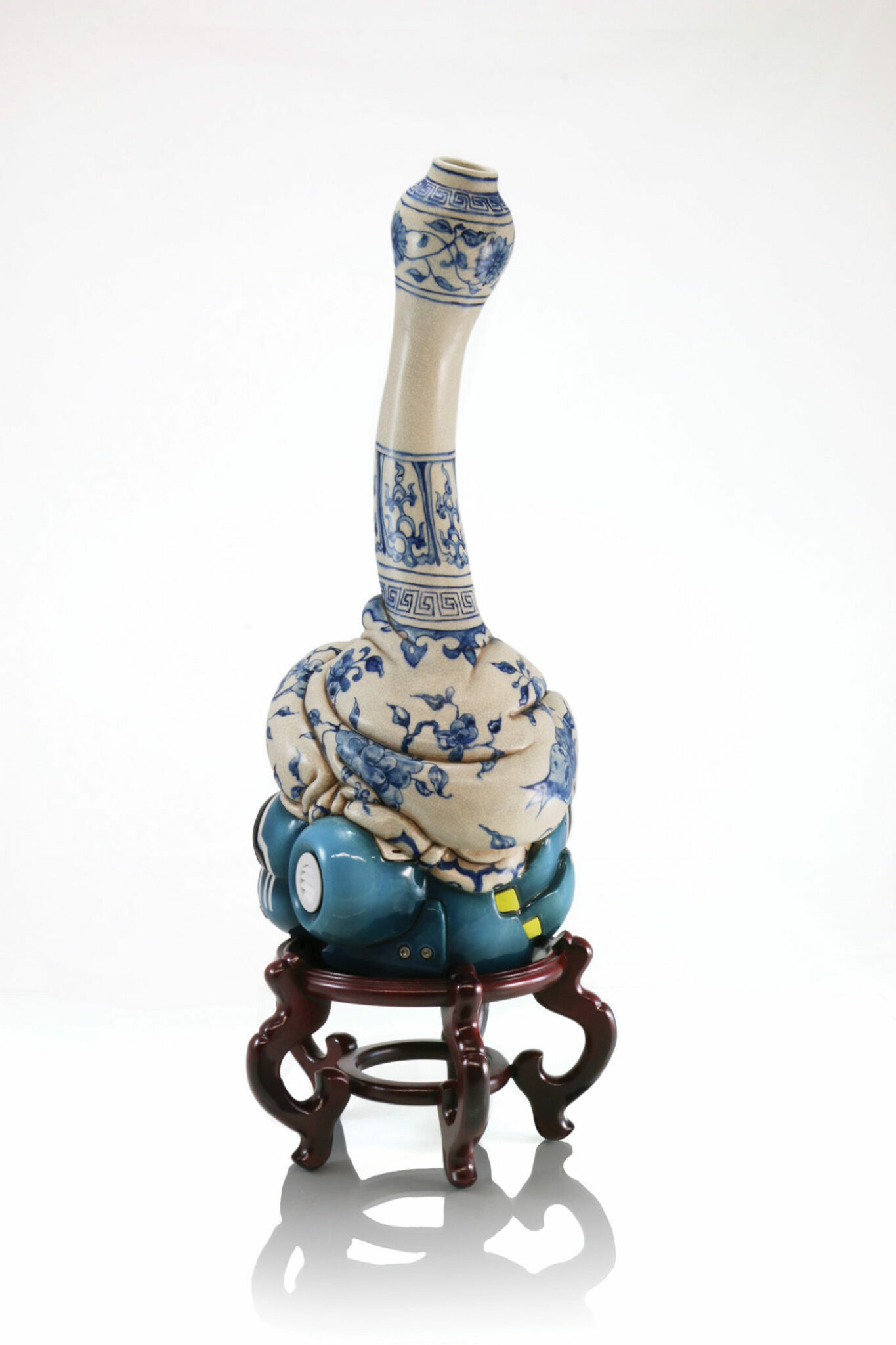 Title: Manga Ormolu Ver. 5.0-Q (2015).
Artist: Brendan Lee Satish Tang.
Medium: Underglaze and glaze on white earthenware, wood.
Size: 24-inches high by 11-inches wide by 11-inches deep.
Location: Illingworth Kerr Gallery, Alberta University of the Arts.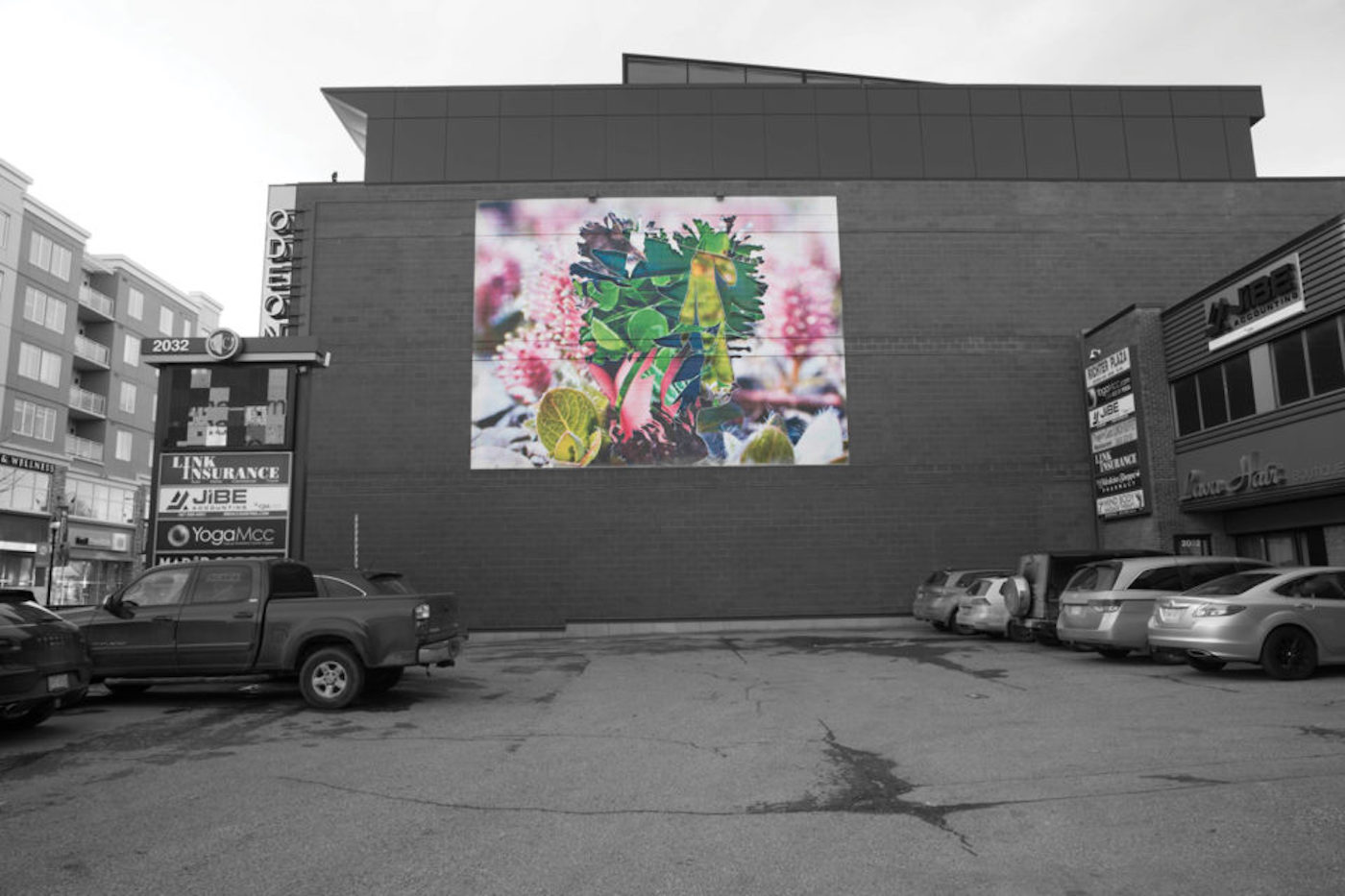 Title: Absentia — Newfoundland and Labrador #6, 2017.
Artist: Jennifer Wanner.
Medium: Digital output on alumigraphic panels. Technical assistance from Resolve Photo and Anvy Digital.
Size: 26 feet by 34 feet.
Location: The Odeon Building, 3332 20 St. S.W.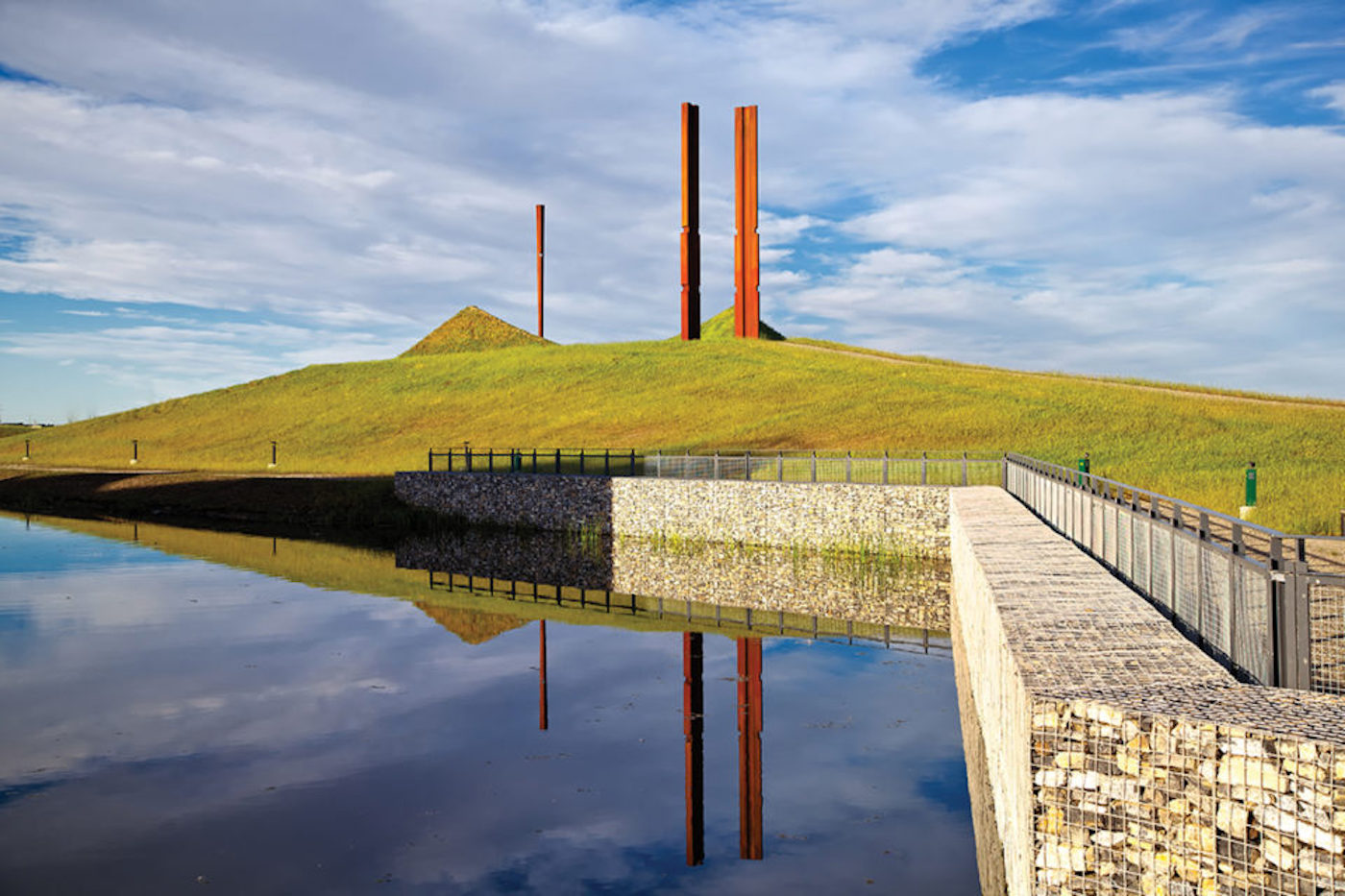 Title: Hawk Hill Calgary Sentinels, completed in 2013.
Artist: Beverly Pepper (1922 to 2020).
Media: Soil, native grasses, Corten steel.
Size: Earthen feature is 41.25 feet high, by 282 feet wide, by 574 feet long; Sentinels stand 41 to 41.5 feet high.
Location: Ralph Klein Park, 12350 84 St. S.E.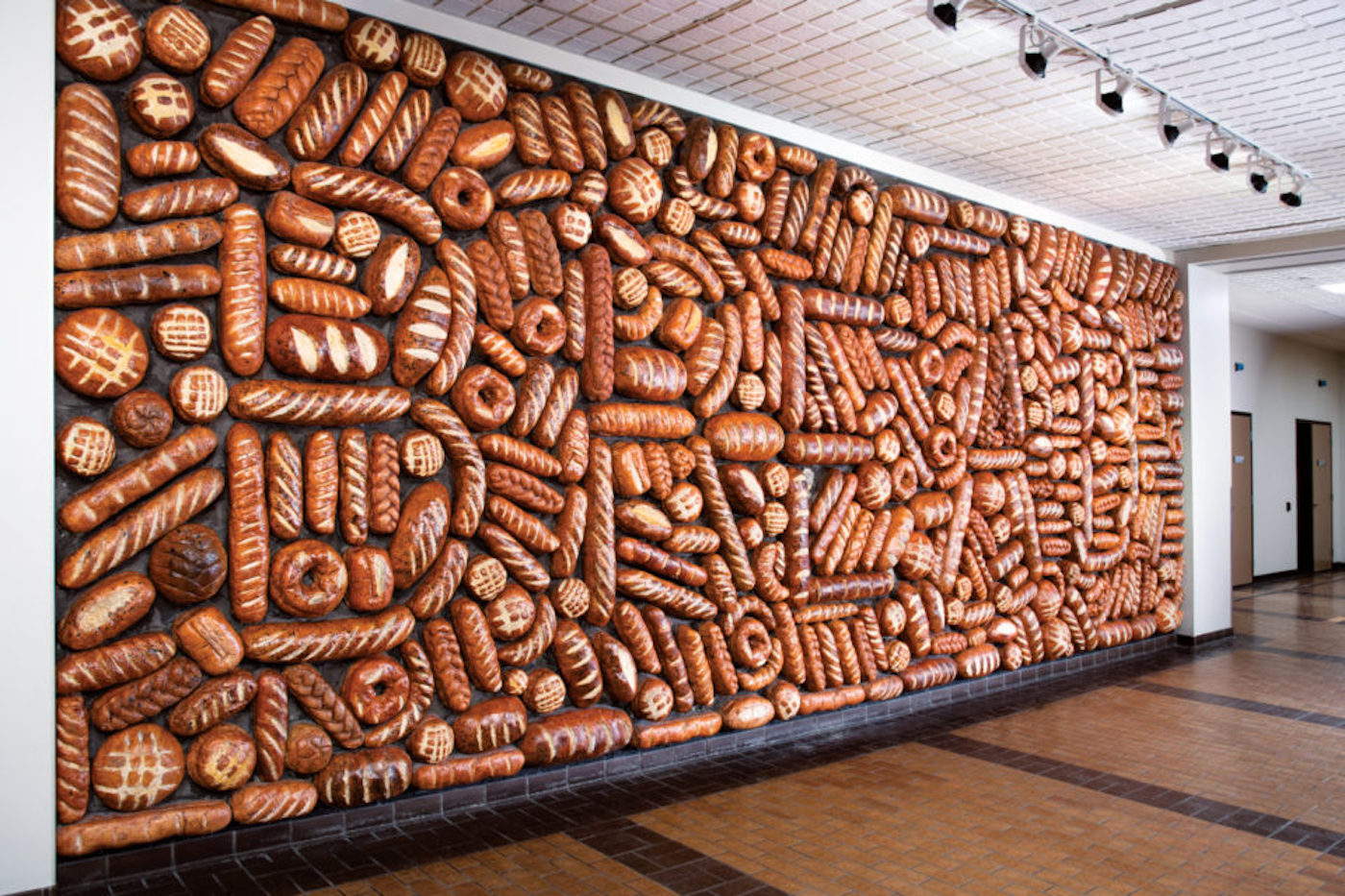 Title: The Breadwall, 1979.
Artist: David Gilhooly (1943 to 2013).
Media: Glazed earthenware.
Size: 10 feet by 40 feet.
Location: Harry Hays Building, 220 4 Ave. S.E.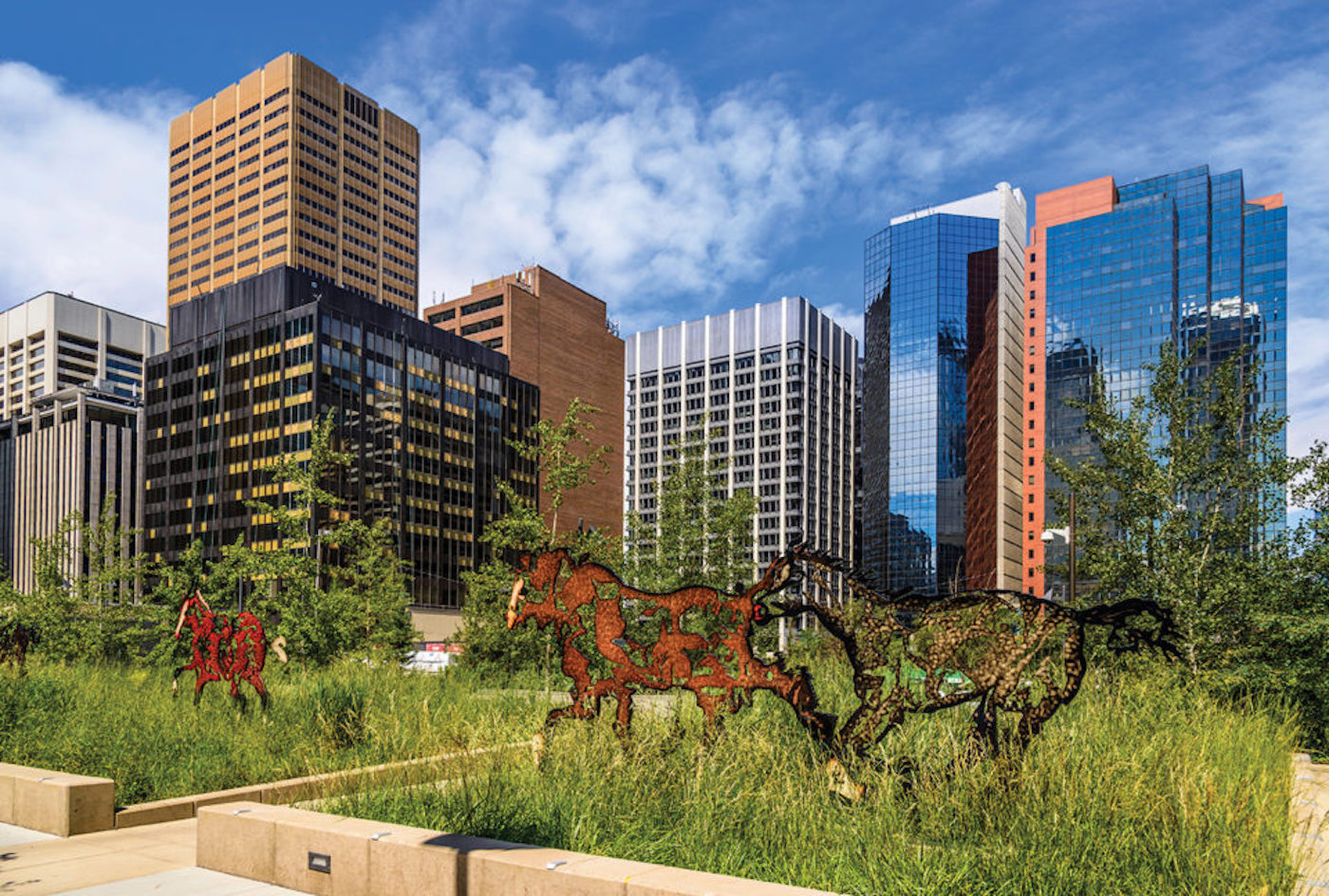 Title: Do, Re, Mi, Fa, Sol, La, Si, Do, 2010.
Artist: Joe Fafard (1942 to 2019).
Media: Powder-coated 5/8-inch-cut steel plate.
Location: Harley Hotchkiss Garden, 611 4 St. S.W.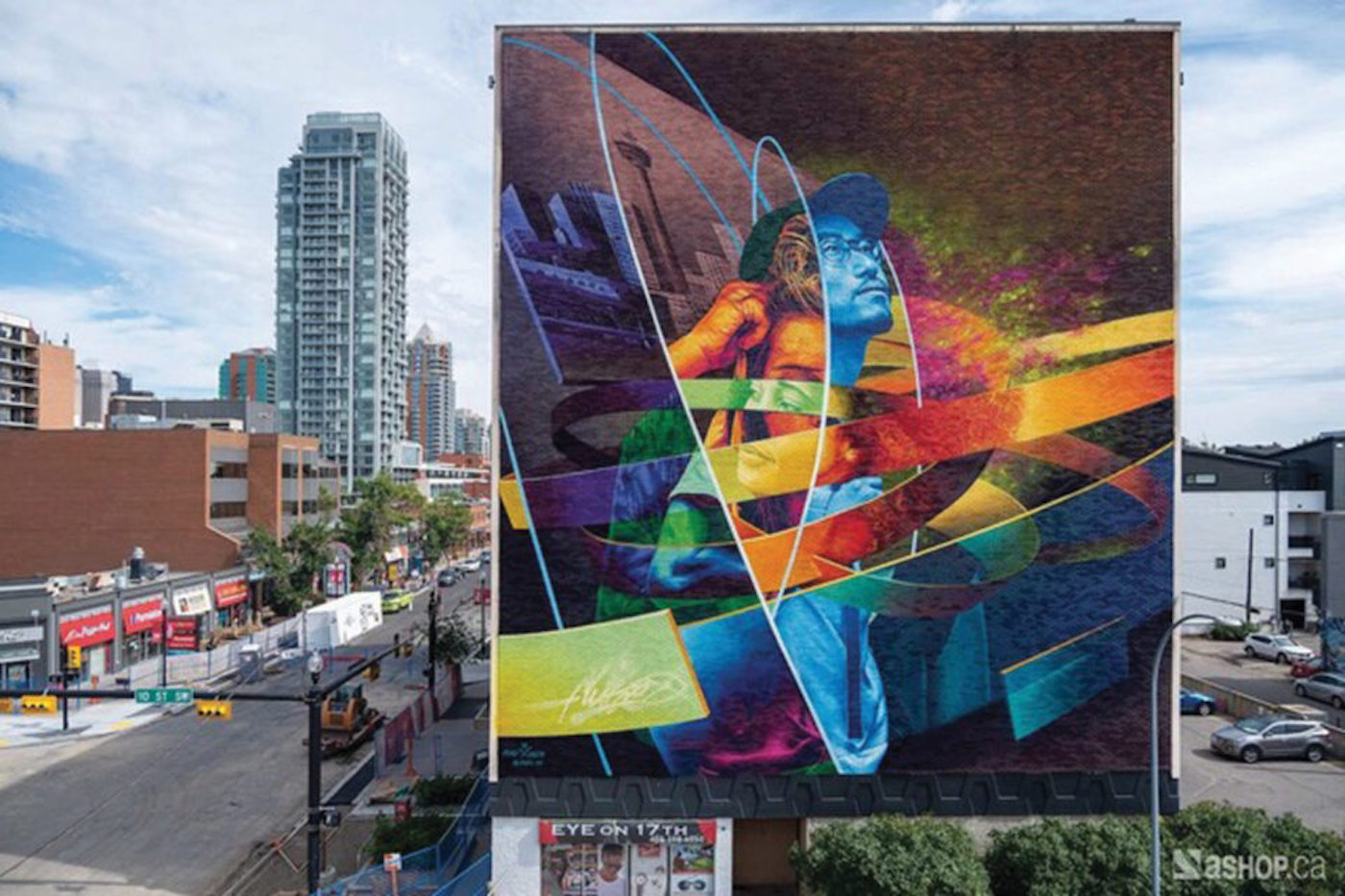 Title: Akin, 2019
Artist: Fluke with assistance from Five8 and Fléo.
Media: Aerosol and bucket paint on brick.
Size: 75 feet high by 60 feet wide.
Location: 1039 17 Ave. S.W. (west-facing wall).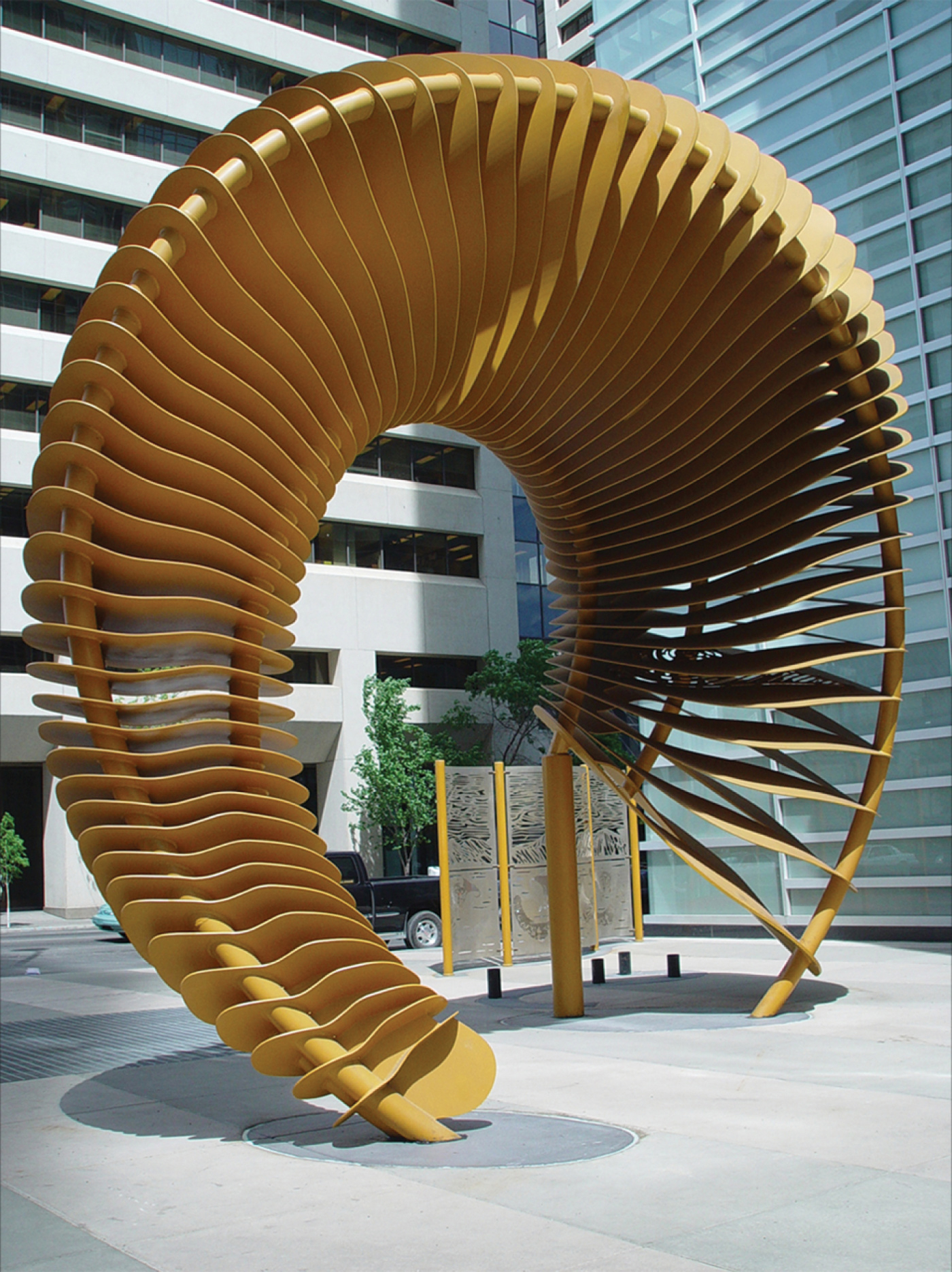 Title: Weaving Fence and Horn, 2002
Artist: John McEwen
Media: Weaving Fence: painted stainless steel; Horn: painted steel.
Location: TC Energy Tower, 450 1 St. S.W.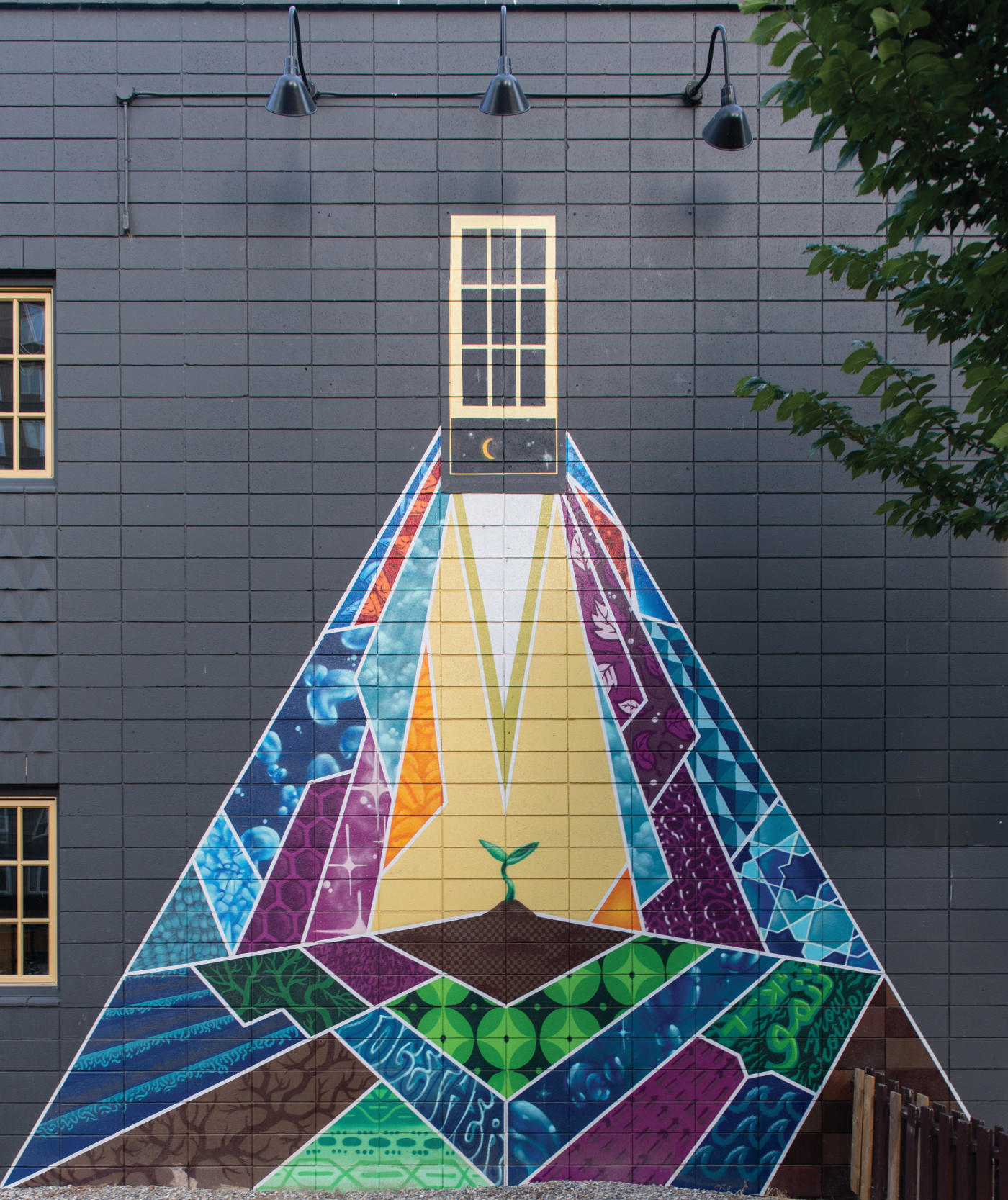 Title: Our Window
Date: 2018
Artist: AJA Louden with participants of the 2018 City of Calgary Street Art Program for Youth
Augmented Reality artists: Augle app, digital animation by Jarrett Sitter and stop motion by The Bum Family
Media: mural: outdoor exterior latex paint and spray paint on cinderblock wall
Augmented reality: delivered through app, Augle
Size: 20.67' (h) x 21.3' (w)
Location: 1009 7 Ave. S.W., East Wall, Downtown Calgary Mosque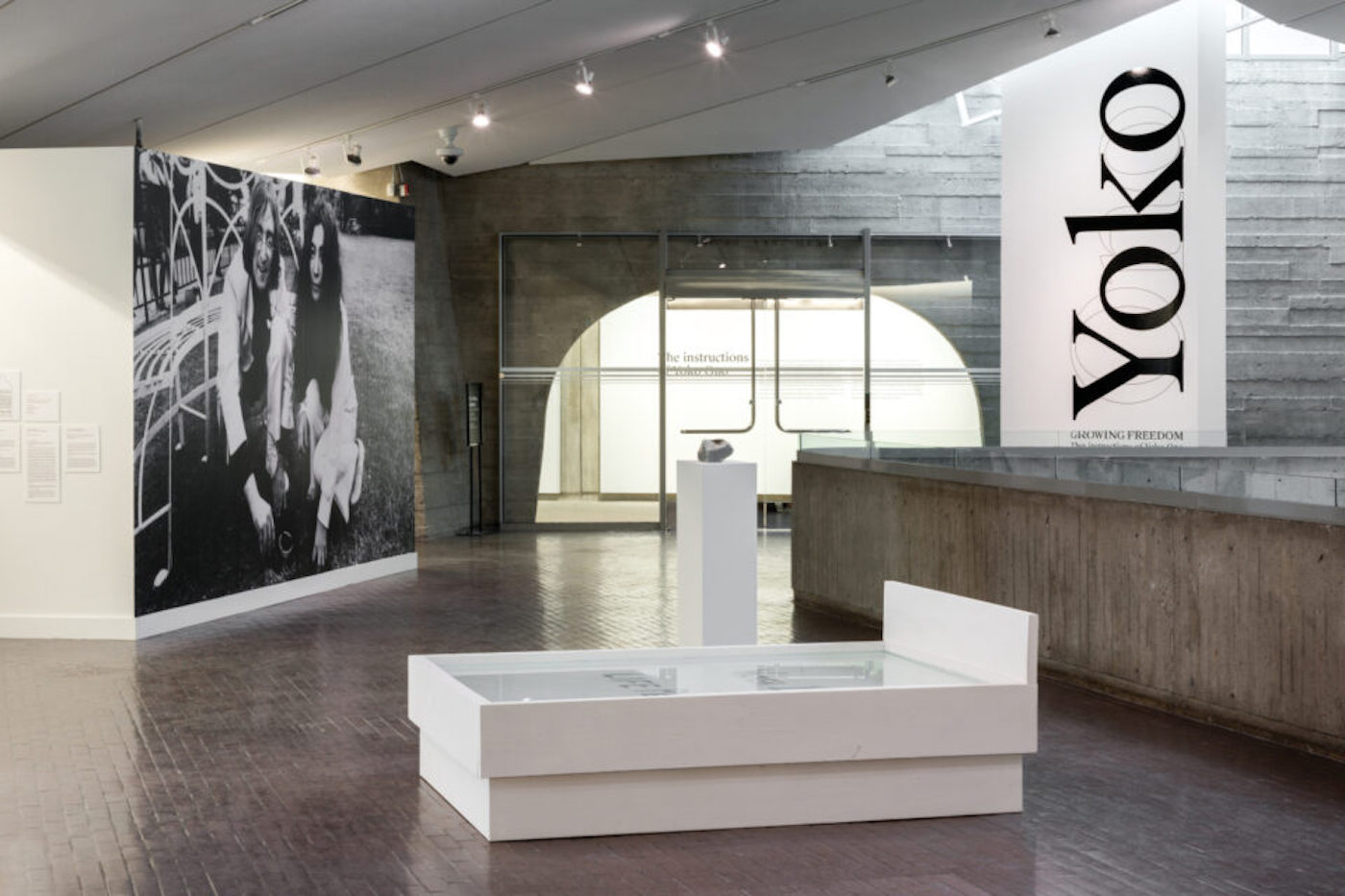 Yoko Ono has invited her audience to become collaborators in the act of making art since the 1960s. With WATER EVENT, a piece launched in 1971, Ono provides the concept and idea of water; collaborators provide vessels. For this exhibit of WATER EVENT on now at Contemporary Calgary until January 31, 2021, Ono worked with six Indigenous artists from southern Alberta, marking the first time she has worked with a fully Indigenous cohort.
Note: Contemporary Calgary is temporarily closed due to Alberta COVID-19 restrictions.