Age: 34
Job title: Board Chair, Epilepsy Association of Calgary; Partner, Longview Communications & Public Affairs
Why he's a 2022 Top 40 Under 40: Evan Legate led the revitalization of the Epilepsy Association of Calgary to provide services for more than 30,000 Albertans.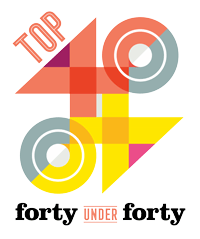 In 2015, Evan Legate was a healthy 27-year-old who didn't know anything about epilepsy. Then he began having seizures. He was diagnosed with epilepsy that year — the same week his son was born — and suddenly found himself coping with a brain disorder and a newborn. It was a lot, and he was terrified. Doctors helped manage the medical side of his epilepsy, but social supports for the new father and his family were scarce.
Now, he's board chair of the Epilepsy Association of Calgary (EAC), leading an aggressive, five-year revitalization plan. His goal is to make sure that the 30,000 southern Albertans of all ages and demographics living with epilepsy have access to community support.
To hit that goal, Legate grew the EAC board and re-staffed. The expanded team introduced and revived programs, including multi-week sessions to help people newly diagnosed with epilepsy adjust to life with active seizures, sessions addressing depression and mental wellness, and programs that teach coping methods for cognitive issues like memory and attention. Group and one-on-one peer supports were brought back, as were programs for parents and spouses. The EAC embedded itself with the Calgary Comprehensive Epilepsy Program making it easier for medical professionals to refer their patients for social supports.
Tapping into the skills he applies to his day job as partner at Longview Communications & Public Affairs, Legate is engaged in ongoing lobbying efforts to secure funding from the Alberta government for the EAC to provide increased community supports and education, and launching awareness campaigns to reduce the stigma associated with epilepsy. In 2022, the EAC held its inaugural Purple Day by Night Gala, which raised $40,000.
"Our goal is to become the leading epilepsy association in Canada and we're well on our way to getting there," Legate says.
Thank Yous
"EAC board members and staff, the Calgary Comprehensive Epilepsy Program, my amazing wife Jenn, and everyone who taught me the importance of being an active member in your community."
[Correction: This story has been updated to remove out-of-date language to describe people with epilepsy.]
Top 40 Under 40 2022
Connor Curran & Dustin Paisley