Age: 35
Job title: Founder & CEO, Tiller
Why she's a 2023 Top 40 Under 40: She founded a successful web design and brand agency, while championing and encouraging other young entrepreneurs.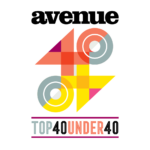 At the age of 19, while doing her undergraduate business degree, Chantelle Little had a summer job that allowed her to play with brand development and marketing. After just one month, she was hooked. "I fell in love with the storytelling part," Little recalls. "I enjoyed that I could help take complex things and make them simple." She decided then and there to start her own company, Tiller. Now, 15 years later, Tiller has grown into a web design and brand agency for B2B (business-to-business) software companies, with multi-millions in annual revenue.
Little leads a team of 30 and works with B2B software companies across North America. "What [these companies] have can truly make people's lives better," she says. "We get to help them articulate their stories in a way that really resonates with their audiences, to reach their full potential."
Key to forging this successful business path, was overcoming and shedding self-limiting beliefs. "At the beginning of my journey, I was really intimidated by hiring people that were older than me," Little says. "But, I really see the value in building intergenerational teams. Working with different generations has been transformational for the business."
Little is also a keen supporter of other young entrepreneurs. In 2022, she launched The Pixel Project, a community initiative to help emerging Calgary web and brand designers connect, learn and grow through events and mentorship. This past summer, Tiller invested $37,300 to bring Lemonade Day to Calgary, a U.S.-based program to help kids from kindergarten to grade eight gain financial and business literacy by starting their first business — a lemonade stand.
Little says there are many people who have guided her and given her the benefit of their experiences. "I have the desire to do that for the generation that comes behind me," she says.
Thank Yous
"My mom, my dad and my sister for being constant cheerleaders and supporters; Brandon Nickerson, Tiller's COO, and my whole Tiller team."
Top 40 Under 40 2023
Barry, Daniel & Lorin Doerksen