Ages: 35 (Dave); 34 (Andrew)
Job titles: Co-founding director and CEO, Leaf Ninjas Inc.
Why they're 2023 Top 40 Under 40s: This powerhouse pair is dedicated to creating a healthier, greener, more beautiful, biodiverse and sustainable city.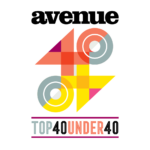 Dave Carlton and Andrew Renaux first met in grade seven drama class, and since then, "life has been a bit dramatic, especially doing business with Dave," says Renaux, with a laugh. The two have been best friends now for nearly a quarter century, and the good-natured ribbing and easy banter between them is natural. It was also natural that, when both found themselves wanting more out of their work lives in their early twenties, they plunged into a new business together.
That fledgling effort, mostly devoted to local food production, has since transformed into Leaf Ninjas Inc., a horticulture-focused ecological restoration company. Together with their business partner Jason Di Pietro, Carlton and Renaux lead a team that works to improve and repair damaged natural areas through vegetation installation, maintenance and an innovative, patent-pending solar irrigation system. Or, as Carlton puts it more simply, "Leaf Ninjas make plants grow."
Leaf Ninjas, in fact, has been at the forefront of revegetating, stabilizing and building back habitat from the 2013 Alberta flood. "It's one of those timing stories," says Renaux, who donates excess materials to other urban food farmers. "This terrible thing happened in our city, and we were primed and ready to step into it." They have also done habitat restoration work in B.C. and up north.
Their efforts have not gone unnoticed. The company has grown from four partners in 2012 to a seasonal peak of 30 employees today, and is the top-rated contractor for the City of Calgary's Habitat Restoration projects.
One of their ongoing efforts, a solar irrigation project, just happens to be right behind the building that once housed Calgary's Montgomery Junior High School, the place where they began their journey first as friends, then business partners. "It reminds us how far we've come," says Renaux. "That's a great full circle."
Thank Yous
Dave Carlton: "Jason Di Pietro; all the Leaf Ninjas past and present; our family, friends, colleagues; all our supporters; most of all, thank you to nature."
Andrew Renaux: "My parents, my old friends and my Ninjas!"
Top 40 Under 40 2023
Barry, Daniel & Lorin Doerksen