Age: 38
Job title: Associate Vice President, People Places & Spaces, ATB
Why she's a 2023 Top 40 Under 40: She has transformed the offices and retail locations at ATB into award-winning inclusive spaces.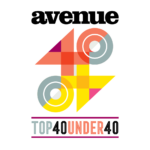 The ATB head office has seating for different body types, a library for dedicated focus and multipurpose wellness rooms. It's all the brainchild of Krista Lauridsen, a registered architect who oversees real estate, facilities and workplace at ATB. "The nature of work is changing, and how we used to work (pre-pandemic) is not how we work today," Lauridsen says.
In April 2022, her team replaced the banking company's cubicles with activity-based spaces (like meeting rooms) that allow for spontaneous conversations. That same year, Great Places to Work named ATB one of the Best Workplaces for Hybrid Work in Canada. In ATB's retail locations, which serve over 800,000 clients, Lauridsen and her team of 50 have responded to changing client expectations in banking by removing some traditional teller counters, adding couches for informal meetings as well as closed-door spaces for more formal meetings.
"You may not be going in every month to cash your paycheque, but you might be going in twice a year for far more meaningful, impactful advice-based conversations, like a mortgage," she says.
Not only do these spaces address people's changing routines, but their design also considers diversity and inclusion, an extension of Lauridsen's experience as the only queer-female executive in the history of the portfolio at ATB. Her design of ATB's corporate spaces keeps in mind the needs of neurodiverse team members from a space perspective. This includes lighting adjustability and variance, stimuli reduction through pods and tents, and textures for seating and flooring.
Lauridsen's underpinning belief that space matters doesn't stop at interiors — she's also a board director for the Calgary Horticultural Society and cares for her garden in her spare time.
Thank Yous
"My supportive wife, Jade Getz; my ATB team for supporting the vision and all the work to bring it to life."
Top 40 Under 40 2023
Barry, Daniel & Lorin Doerksen