Age: 39
Job title: Founder, Uncommon Cider Co.
Why he's a 2023 Top 40 Under 40: He has transformed both liquor laws and local drinking culture with his passion for creating the perfect cider.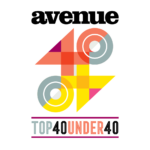 When Brodie Thomas moved back to Calgary in 2009 after several years living in the U.K., he was disappointed by the cider selection in the bars and liquor stores. Mass-market ciders didn't have the same nuance and flavour as his favourite European ciders. Local craft ciders, on the other hand, were non-existent. He realized this was partly because Alberta has no real orchards and AGLC regulations didn't allow for urban cideries.
Thomas started producing test batches of cider as a hobby for a few years. But, seduced by the craft of cider-making and the challenge of pioneering a new local industry, in 2016, he started producing cider commercially under the Uncommon banner. "In the first year, we made 3,200 litres," he says.
He hasn't looked back since. Thomas addressed Alberta's lack of orchards by creating a "community" cider made with excess apples (crab and otherwise) donated from backyard trees throughout the city. His bigger challenge came in revolutionizing provincial liquor laws: no cideries in Alberta meant no existing rules, forcing Thomas to help the authorities write up regulations from scratch, eventually getting what he needed to make a small-batch product made from fruit acquired from both those backyard trees and orchard fruit brought in from B.C.
This opened the door not only for Uncommon's own growth, but also for more than a half dozen other cideries to open in Alberta.
As for Uncommon, Thomas now presses over 180,000 kilograms of fruit a year, producing both easy-drinking cans of cider and more elegant wine-like bottles, as well as the community-sourced ciders, which have raised $14,000 for local not-for-profit organizations over the years.
"We're really trying to make an impact in the world of cider," Thomas says. "Not just for the industry, but also within the community of Calgary."
Thank Yous
"My team at Uncommon Cider; my friends and family."
Top 40 Under 40 2023
Barry, Daniel & Lorin Doerksen