Age: 30
Job title: Artistic Director, Madhuban Performing Arts; Senior Communications Officer, CBC
Why she's a 2023 Top 40 Under 40: She created a safe space for South Asian artists to perform, attracting global attention while staying true to her community roots.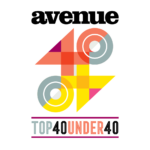 At last February's Chinook Blast, a street festival designed to bring vibrancy to Calgary's downtown core in mid-winter, Ishita Singla watched as spectators climbed up light poles to see her performers dance on Stephen Avenue.
She still gets goosebumps thinking about the numbers who gathered in the cold to support Madhuban Performing Arts, a non-profit organization she founded in 2016 as a safe space for South Asian musicians and dancers.
The idea for Madhuban and what it represents stems from Singla's childhood experiences as a newcomer. Her family moved to Canada from India when she was 11 and Singla was bullied because of her culture. "I ended up using dance as a mechanism to communicate what I was feeling," Singla says. "I found that it was helping me connect with people." At age 23, the self-taught dancer started Madhuban so other South Asian artists didn't have to experience the alienation that she experienced. Madhuban now includes more than 40 artists and has given more than 200 live performances for more than 80 organizations.
A few years ago, Singla got a call from Singapore asking her to choreograph a flash mob to promote a song for the Bollywood adventure-comedy The Extraordinary Journey of the Fakir. The video was filmed in Calgary with local dancers and now has more than 275,000 views on YouTube.
Singla additionally works full-time at the CBC as a senior communications officer, where she started the Asian Changemakers campaign, which profiles Asians and South Asians who are breaking barriers in the community. She's also a founding member of The Sifarish Network, a South Asian professional networking association. For all these community contributions, she received the Queen Elizabeth II's Platinum Jubilee Medal in 2022.
Though Singla has ambitions for Madhuban to tour, she's touched by feedback she received at Chinook Blast from a newcomer group: they told her they felt like they were at home.
Thank Yous
"My mentors — parents, teachers, friends — for guiding me; the universe for opportunities, and the skeptics and challengers who pushed me to exceed my limits."
Top 40 Under 40 2023
Barry, Daniel & Lorin Doerksen