Ages: 35 (Couture); 36 (Loughlin)
Job titles: Co-Founder and Director of Engagement and Collaboration, Plastic-Free YYC (Couture); Co-Founder and Director of Inspiration and Change, Plastic-Free YYC (Loughlin)
Why they're 2020 Top 40 Under 40s: Isabelle Couture and Briana Loughlin initiated a critical conversation about plastic use in Calgary, encouraging thousands of Calgarians to reduce their waste.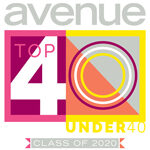 When we picture plastic pollution, the image is often straws caught in sea turtles' noses or the Great Pacific Garbage Patch. But landlocked cities like Calgary are a primary source of that garbage — in fact, 80 per cent of ocean plastic was originally discarded in-land. Through their volunteer-run organization Plastic-Free YYC, Briana Loughlin and Isabelle Couture build awareness of the problem and engage individuals, businesses, and government in making plastic-free changes through initiatives such as Ban the Bag YYC and The Last Straw Calgary.
Plastic-Free YYC began in 2017 as a blog written by Loughlin. She connected with Couture through a zero-waste meetup, and one coffee date later, the two partnered to make Plastic-Free YYC Calgary's leading organization preventing plastic waste.
At that time, China had announced it would ban several plastics for recycling. "That's when people realized recycling wasn't so great, and we got pushed into the limelight," says Loughlin.
They dove into the cause, setting up their non-profit, speaking at events, and to media.
"Our first year was about finding our voice," recalls Loughlin. Drawing on their combined skills and experience in communications and public policy, the two honed their messaging and focus, and now lead a passionate team of more than 20.
Plastic-Free YYC produces the Zero Waste Directory and hosts events like the Zero Waste Festival — the first in Western Canada, which attracted 35 exhibitors and 2,200 attendees in its first year. "We've raised the profile of Calgary as a progressive city with environmental initiatives," says Couture.
COVID-19 has created more work ahead for the team, as it has drastically increased our use of disposable plastics. "We need to get away from the idea that plastics are clean," says Loughlin. "We can be safe and sustainable."