Ages: 36 (Eyford); 33 (Ho); 34 (Put)
Job titles: Co-Founders, Monogram Coffee
Why they're 2020 Top 40 Under 40s: Eyford, Ho and Put have grown their business from a pop-up coffee cart into three bricks-and-mortar cafés and a global-export operation, while holding steadfast to their principles and values.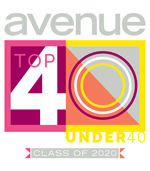 People over profit, community investment and caretaking the future of their industry are values shared by Monogram Coffee's three founders. Jeremy Ho (the wisecracking wit who steers the brand), Justin Eyford (the thoughtful supply chain and operations savant) and Ben Put (the stoic quality-control expert) met while working at Phil & Sebastian Coffee Roasters. They banded together and launched Monogram in 2014.
Since then, Eyford, Ho and Put have grown the business from a single hand-built coffee cart to three bricks-and-mortar cafés and an international export business. Company revenue in 2019 was $4.5 million. That success is partly due to national and global competition wins: Put is a highly decorated competitive barista with an impressive list of honours, who now coaches other baristas. This year, his guidance helped Monogram's Jill Hoff win the Canadian Barista Championship for the first time.
Numbers and prestige aren't the be-all and end-all for the Monogram founders, though. Eyford vets each international coffee supplier to make sure dealings are safe and fair for all parties. Ho keeps the company values — especially that of being of service to the community — front of mind in all decision-making as pertaining to the company's future.
The trio's COVID-19-era decisions demonstrate these values in action. Since June, Monogram has donated all proceeds from in-café drink sales on the first day of the month to justice-focused causes. The company has also given away hundreds of pounds of coffee to front-line workers. When Monogram staff didn't feel safe returning to work, the team kept cafés closed, while translating the Monogram experience to patrons' homes through educational content and new bulk products.
"What we're all truly in this for is to improve people's lives through coffee," says Ho. "When I look at the communities that we're a part of, and how much joy it brings to us as a team and the people that come into our stores … It's something that I see as actually life-impacting."